Directions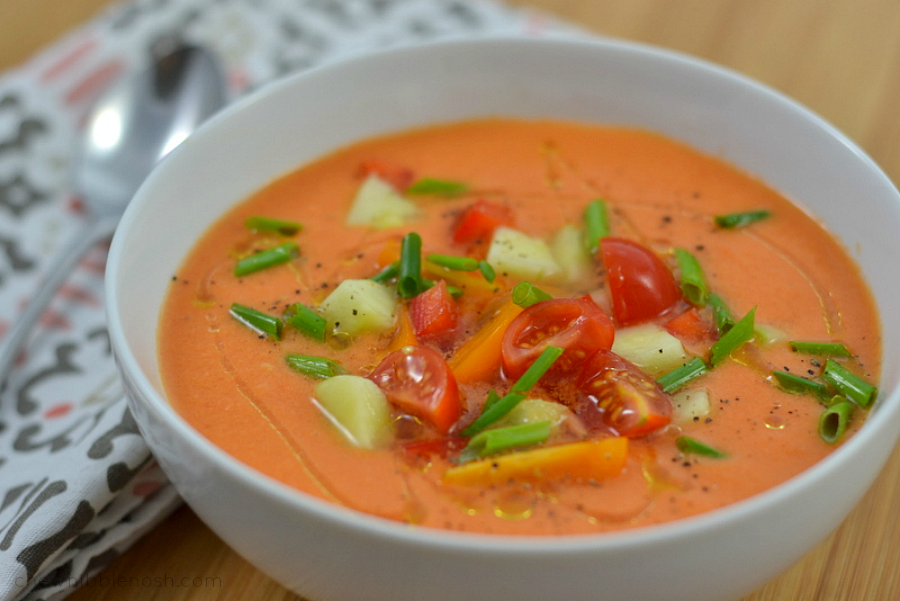 I love gazpacho in the summertime.  And every year, I don't make it nearly often enough.  This year, I somehow made it all the way to August before diving in to a big bowl of it, and I'm already kicking myself.
I ran across this recipe online. In fact, it popped up in my Facebook feed, screaming "Make me!". Never one to argue with a recipe, I figured I better get on it quickly. It's different from a traditional, chunky gazpacho, but I loved its creaminess and delicious fresh flavor.  It's creamy without a drop of cream, and so refreshing. I will say that the recipe serves four exactly.  So, if you're hankering for leftovers, or a second bowl, and you're serving your family, you might want to double up on things.  That's not hard, though, because it's, by far, the simplest gazpacho I've ever made.
I started by gathering two pounds of very ripe Heirloom tomatoes.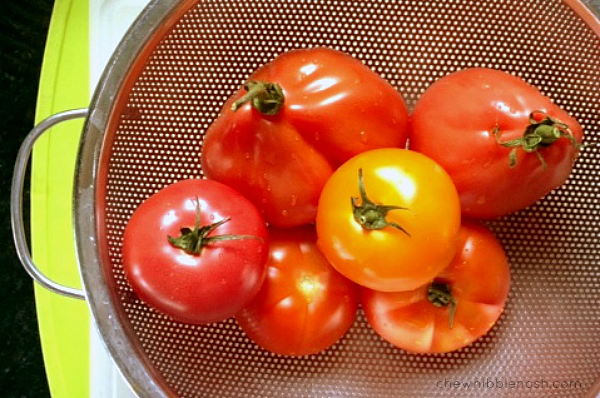 If you know me at all, you know I didn't grow these beauties.  This poor tomato farmer is very thankful that Heirlooms are readily available at her local market.  Heirlooms have a much shorter shelf life than "regular" tomatoes, so odds are great that the tomatoes you find at the market are soft and ready to dive right into.  These gems were exactly what I needed for my gazpacho.
I sliced my tomatoes into wedges, and then added in a chopped shallot, garlic, some diced cucumber, and diced red pepper.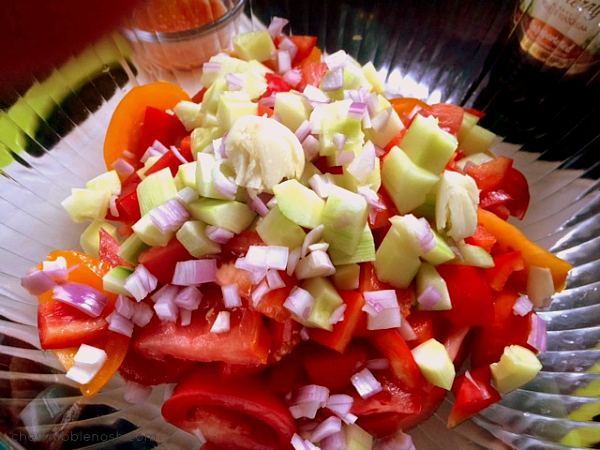 I tossed the vegetables with some Sherry vinegar and flaky salt, and let the whole mixture sit for about twenty minutes at room temperature, to help draw out some of the juices and meld the flavors.
Once that time was up, I transferred the whole bowlful of vegetables and all of the juices to my blender. I drizzled in some olive oil, and gave it a good whirl.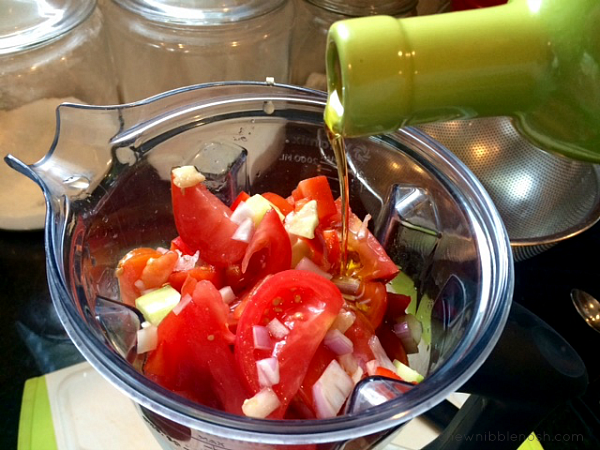 I let the blender spin until it was as pureed as it could get, and then, before popping it into the refrigerator to chill, I poured the soup through a strainer to assure that the finished product was as smooth as silk.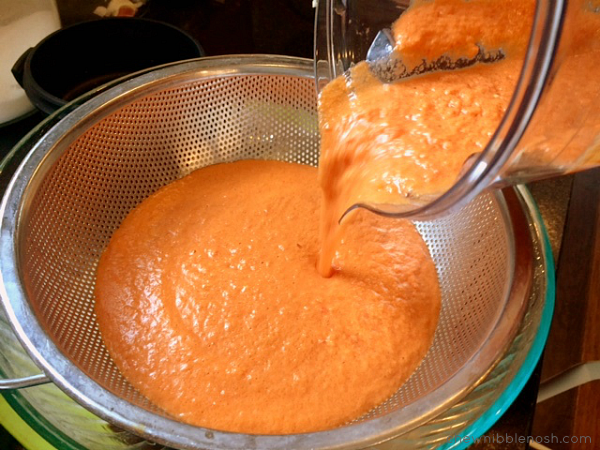 I covered the bowl, popped it into the fridge and it chilled there for most of the day until I was ready to serve it up at dinner time.
Now, for those of you who are thinking "A smooth gazpacho?  What?" Here's where the chunky comes in.  I cut up more tomatoes, cucumber, red pepper and some chives to (heavily) garnish the finished bowls.
It worked out nicely this way for the kids, too, because they could add the extra veggies that they liked (tomatoes) and not the vegetables they groan over (peppers).  As for me, I added a hefty amount of all of them to mine, and then finished off my bowl with a drizzle of olive oil and a few turns of cracked black pepper.
I love this gazpacho.  It's so beautifully fresh and pure, and enjoying a bowl makes me feel like I've done myself a favor.  It's so good for you, and everything I love about summer, right there in a beautiful, little package.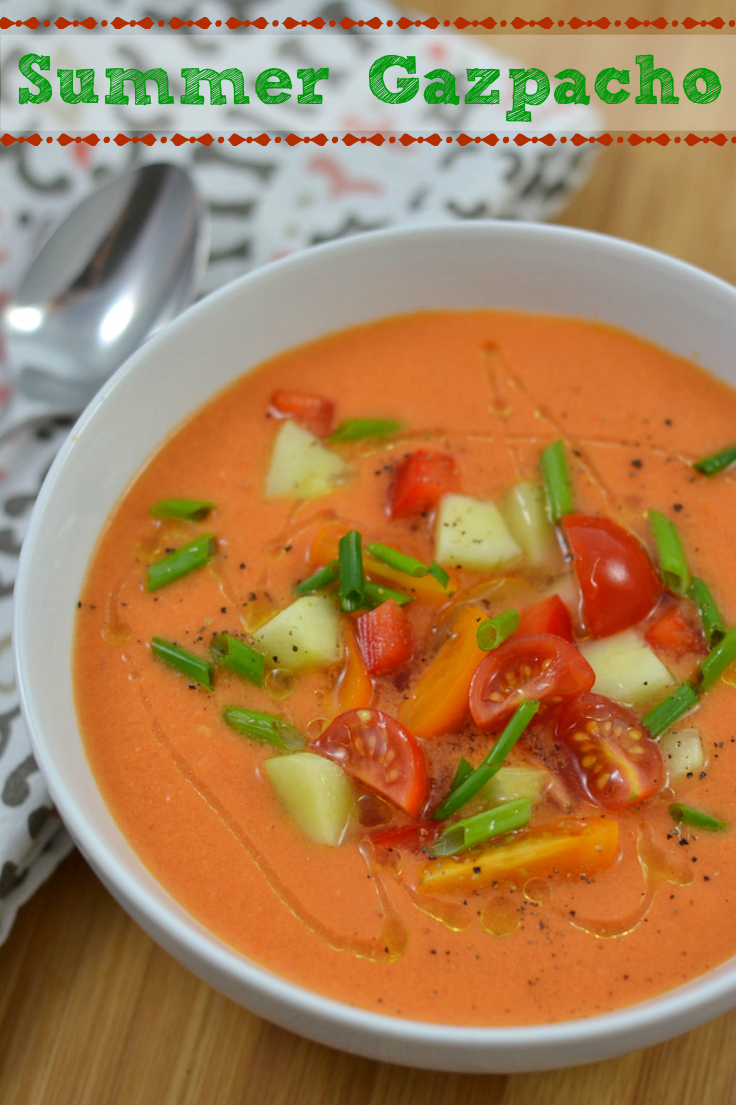 (If you're a gazpacho lover like I am, be sure to check out these other variations…Southwestern Gazpacho and Creamy Green Gazpacho.)
SUMMER GAZPACHO
Summer Gazpacho
Author:
Prep time:
Total time:
Ingredients
2 lbs. very ripe Heirloom tomatoes, cut into 1/2 inch wedges
1/2 of an English cucumber, peeled and seeded
1/2 of a red bell pepper, diced
1/2 of a large shallot, chopped
1 clove garlic, minced
2 Tbsp. sherry vinegar, or more
flaky sea salt (or kosher salt will do)
3 Tbsp. olive oil, plus more for drizzle
sliced cherry or grape tomatoes and chives for serving
Instructions
Slice off two inches of the 1/2 cucumber, and set aside for garnish. Chop the remaining cucumber.
Slice off 1/4 of the of the 1/2 red pepper and set aside for garnish. Chop the remaining red pepper.
Combine the tomato wedges, cucumber, red pepper, garlic, and shallot in a large bowl. Add the 2 tablespoons vinegar and a hefty sprinkle of salt. Stir gently and allow to rest for 20 minutes.
After the rest time, pour the vegetables and accumulated juices into a blender.
Drizzle in the 3 tablespoons of olive oil.
Blend until smooth.
Pour the soup into a large bowl through a strainer. Discard skins. Season soup with more salt and vinegar if needed.
Chill until cool, at least one hour.
Serve soup garnished with lots of sliced tomatoes, chives, reserved cucumber, and red pepper. Drizzle with more olive oil and fresh ground pepper.
ENJOY!
 Adapted from Bon Appetit