Directions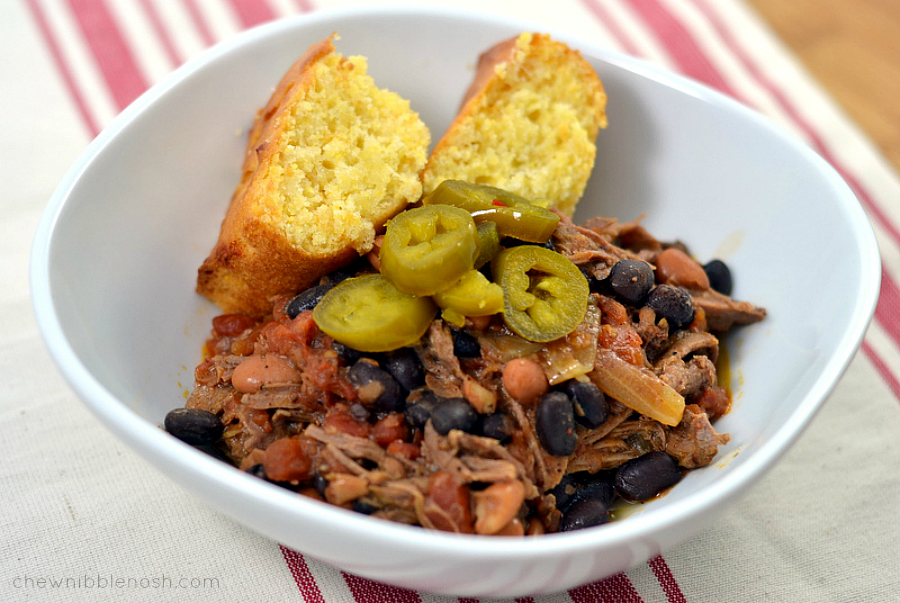 Back to school, back to crazy, back to my assignment as a personal Uber for my kids.  Everything has kicked back into gear here and we are officially back in the swing.  During the craziest nights, I rely heavily on my slow cooker.  I have a ton of slow cooker recipes on this blog, with good reason.  I use it a lot.  I remember a time when I rarely used my slow cooker at all, and it sat collecting dust in my pantry.  No more!  I break it out at least once a week.  And you should too!  It makes dinner time a whole lot easier.
This latest inductee into the Chew Nibble Nosh Hall of Slow Cooker Fame is this hearty, and simple Cowboy Pot Roast.  Why is it named after a cowboy, you ask?  Not exactly sure, but it involves beans and tomatoes instead of the usual pot roasty potatoes and carrots, and follows through with a little spice, so that could be why.  Served alongside some cornbread, it made for a simple, delicious, crazy-activity-laced-evening meal that, apparently, even a cowboy would love.
I started by slicing a sweet onion into wedges and mixing together some tomatoes, chili powder, salt, and pepper.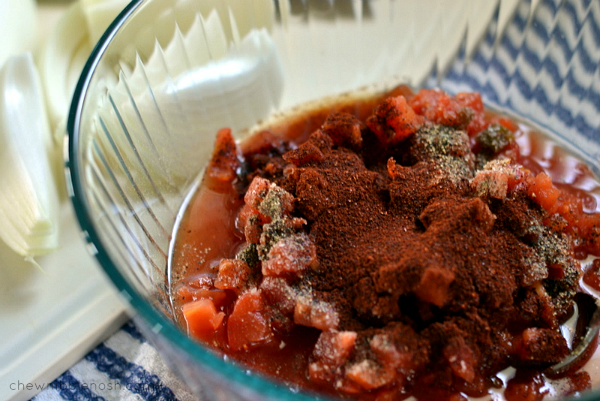 Then, I browned my beef roast on the stove top before adding it to my slow cooker. I finished it off by pouring my tomato mixture and onions over the roast.
I popped the top on the slow cooker and let it cook on HIGH for about five hours, until the meat was flavorful and fall apart tender.
I removed the roast from the slow cooker, and shredded it into large chunks.
Before adding the meat back into the sauce, I drained and rinsed a can of black beans and two cans of pinto beans.  I mashed up about three-quarters of the pinto beans, to help thicken up the sauce for the roast.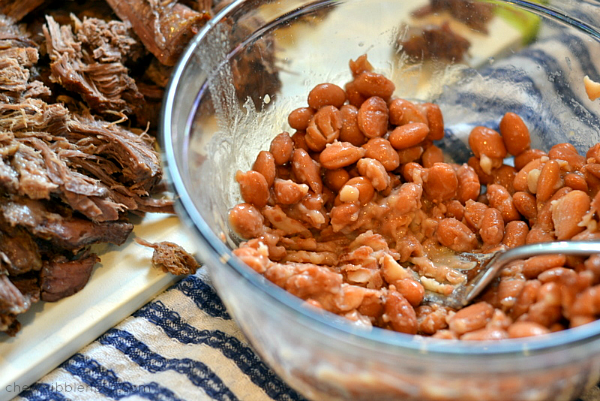 Then, I stirred my mashed beans, whole pintos and the black beans into that thickened sauce.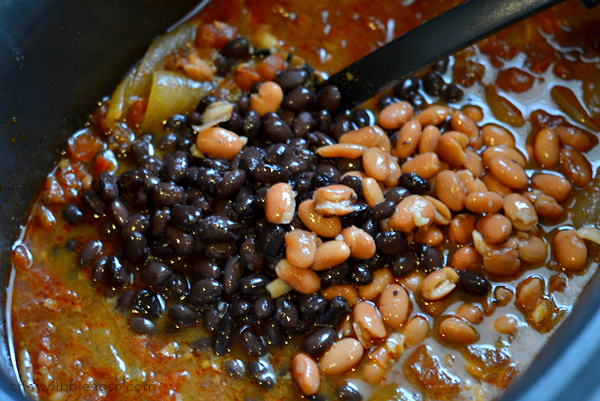 I gave it a good stir, added my roast back in, and let it cook for about twenty minutes more, just to heat everything through and give that shredded roast some time to soak in the juices.
I served heaps of the pot roast and beans with cornbread and these awesome little sweet-hot jalapeno slices I found at the market. The finished dish isn't too spicy, so the peppers gave it just the perfect little kick, and I loved the sweet-spicy combo the peppers added. It was delicious, and the whole family enjoyed it and declared it a keeper.  Who knew we were part Cowboy?
COWBOY POT ROAST
Slow Cooker Cowboy Pot Roast
Author:
Prep time:
Cook time:
Total time:
Ingredients
2 tsp. kosher salt, divided
2 tsp. black pepper, divided
1 (14.5 oz) can petite-cut diced tomatoes, drained
1 (10 oz.) can diced tomatoes with green chiles, undrained
1 large sweet onion, cut into 8 wedges
1 Tbsp. chili powder
1 (2 1/2 – 3 lb.) eye-of-round roast, trimmed of fat
2 Tbsp. canola oil
2 (16 oz.) can pinto beans, rinsed and drained
1 (15 oz.) can black beans, rinsed and drained
sweet-spicy jalapeno slices, optional
Instructions
Combine 1 teaspoon each of the salt and pepper with both types of tomatoes and chili powder. Stir in onion wedges. Set aside.
Sprinkle the roast evenly with remaining salt and pepper. Add the oil to a dutch oven over medium-high heat and brown the roast on all sides.
Transfer the roast to a 5-6 quart slow cooker.
Pour the tomato and onion mixture over the roast.
Cover and cook for 5-6 hours on HIGH or until the meat shreds easily with a fork.
Remove the roast from the slow cooker and cut into large chunks.
Mash about 1 1/2 cans of the pinto beans.
Skim the fat from the liquid in the slow cooker, and then add the mashed beans to the slow cooker. Stir until combined.
Stir in the remaining pinto beans and the black beans, and then add the meat back to the slow cooker and stir to combine.
Allow to cook for 20-25 minutes more to thicken and warm through.
Serve with cornbread and pickled jalapeno slices.
ENJOY!
Adapted from Southern Living