Directions
THIS WAS SO GOOD.
Ok, I got that out there.  I was trying to think about what I could say about this dish to draw you guys in, and that's what I came up with.  (It's one of those days…)
This simple, healthy mash-up of chicken, veggies, and quinoa was the perfect weeknight dinner for us the other night.  We all enjoyed it, and it will definitely be thrown into the regular dinner rotation around here.  I couldn't ask for more from a dinner, really.  It's simple, fresh, healthy, filling, and my kids gobbled it up.  Mom – 1, Picky People – 0.
I started by prepping my veggies.  I chopped up two zucchini, sliced a bunch of sweet little grape tomatoes in half, diced up an onion, and minced up a good bit of garlic.
I sliced up two boneless, skinless chicken breasts and set them aside.
Then, I warmed up a good drizzle of olive oil on the stove and added in my onion and garlic.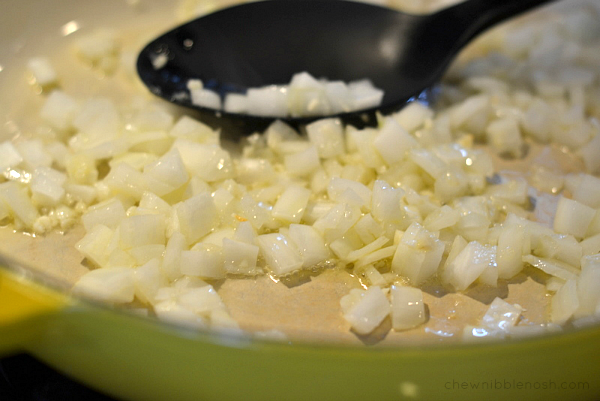 Once the onion was softened and the smell of garlic permeated my kitchen (Yum.), I added in my sliced chicken, and cooked it with the onions and garlic until it was cooked through and starting to brown up on the edges.
The chicken takes a little bit of time, so while it was cooking, I got some chicken broth and quinoa going in another pot so it could cook while I finished up the dish.
Once the chicken was done, I scooped it out of the pan and set it aside.  I drizzled in a little more olive oil, and then added my zucchini and tomato to the pan.
I cooked it until the zucchini was tender and the tomatoes started to release their juices, and then I added the chicken and onion back in, along with a couple large handfuls of baby kale, some fresh basil, lime juice to give it an extra punch, and some crumbly feta cheese.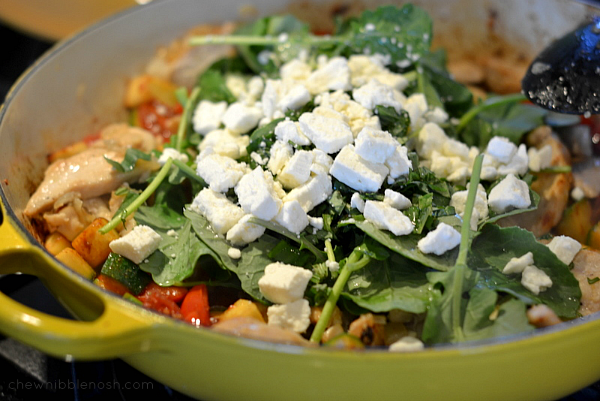 I carefully stirred all of this in, tossing it with the chicken and vegetables so the kale wilted and the feta became melty and smooth.
 I gave it about two minutes more on the stove, just to make sure it was warmed through, seasoned it with a little bit of salt and pepper, and then served it up over heaps of the quinoa on our plates.
As I mentioned before, my entire family gobbled…this…up.  The fresh lime and basil at the end really brighten up the fresh veggies and chicken, and turn what could be a very ordinary chicken dish into something spectacularly fresh and special.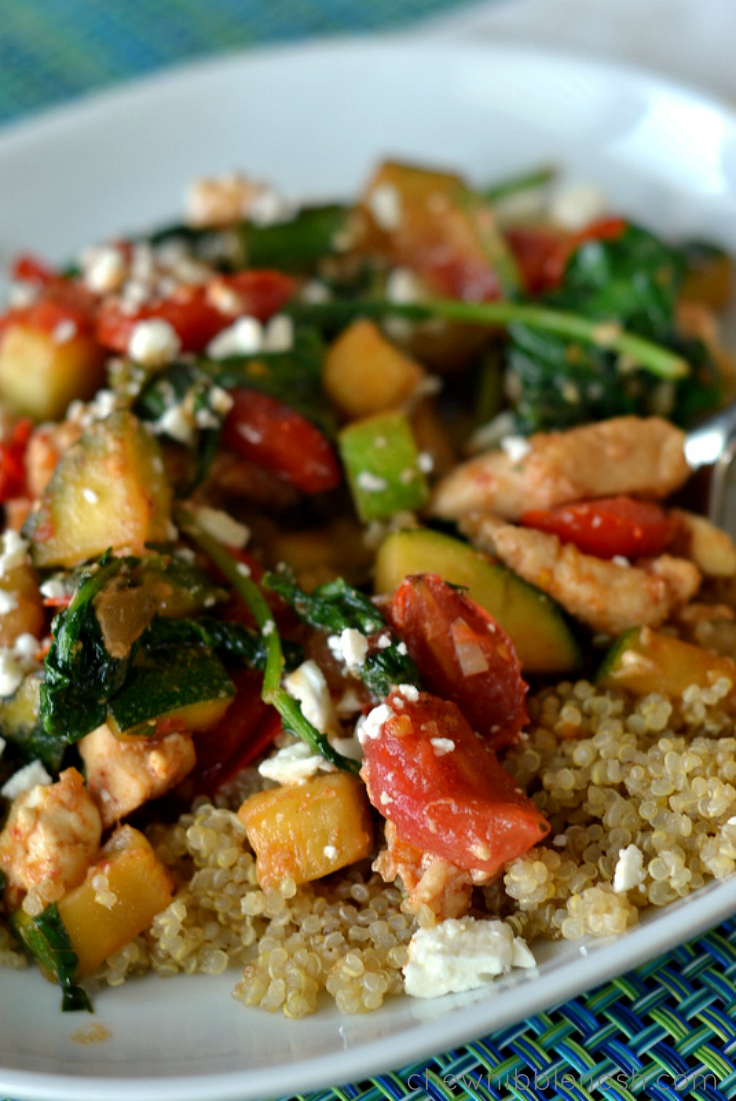 CHICKEN WITH QUINOA AND VEGETABLES
Chicken with Quinoa and Vegetables
Author:
Prep time:
Cook time:
Total time:
Ingredients
1 cup quinoa, rinsed
2 cups chicken broth
2 Tbsp. olive oil
2 cloves garlic, minced
1 cup chopped onion
2-3 boneless, skinless chicken breasts (about 3/4 lb.), sliced into strips
2 small zucchini, cubed
1 cup grape tomatoes, sliced in half
two handfuls baby kale
4 oz. feta cheese, crumbled, plus extra for finishing
8 fresh basil leaves, chopped
juice from 1/2 a lime
Instructions
Bring the quinoa and chicken broth to a boil in a small saucepan. Reduce the heat to a simmer, cover the pan, and allow to cook until the quinoa is cooked and broth is absorbed, about 12-15 minutes.
Heat the olive oil in a large skillet over medium heat. Add the onion and garlic, and cook, stirring, until onion is translucent, about 5 minutes.
Stir in the chicken breast pieces and cook, stirring, until the chicken is cooked through and browned, about 10 minutes.
Remove the chicken and onions and set aside.
Add a little more olive oil to the pan if needed, and then add in the zucchini and tomato. Cook, stirring occasionally, until the zucchini is tender and the tomatoes start to release their juices, about 5 minutes.
Return the chicken back to the skillet and stir to combine. Add in the baby kale, basil, lime juice, and feta cheese. Cook, stirring, for 2-3 minutes until the kale is wilted and the chicken is warmed through.
Serve over the hot quinoa with more feta cheese if desired.
ENJOY!
Adapted from AllRecipes