Directions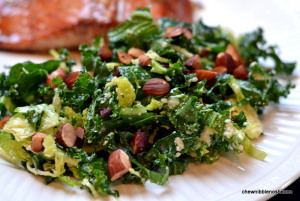 Before I start, I know that writing about kale has become almost as cliché as posting about pumpkin spiced things during fall in the food blogging world.  It's kale this, kale that, kale is so good for you, kale smoothies, kale stew, we love kale, kale will fix all that ails you…yada, yada, yada.  I get it.  The problem arises in that I really do honestly like kale.  I like it a lot.  And so, by default, since I write this blog about the real food I make in my real kitchen, YOU, my lucky friend, get another kale recipe.
We have this local pizza place down the road where the pizza is just amazing, (Coalition, I'm talking to you.) and the salads rank right up there with the pizza, amazing-ness wise.  One of their salads is this lemon-garlic dressed kale salad with roasted sweet potato that they top with salmon.  I love this salad.  I crave this salad.  So when I saw the recipe for the salad I'm about to share with you, and its tangy lemon-garlic dressing, my first thought was that I needed to serve it with salmon.  So I did…and it was delicious.
I started by slicing up a head and a half of leafy green kale.  I also thinly sliced up a pound of brussels sprouts and tossed them with the kale in a (very) large bowl.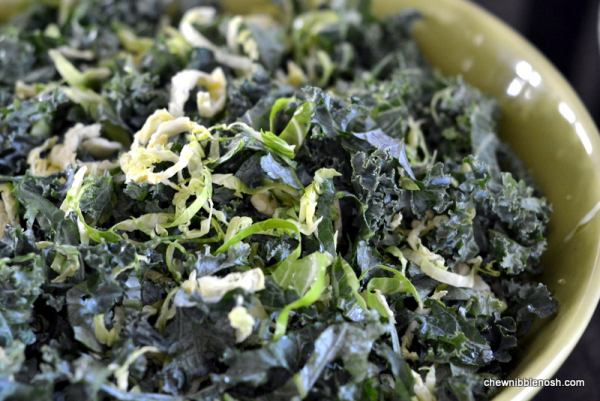 I whisked together most of my dressing ingredients next.  Into the mix went some fresh lemon juice, Dijon mustard, minced shallot, minced garlic, and salt and pepper.
Then, before I whisked in the olive oil, I took a tablespoon of the oil, heated it up in a skillet on the stove top, and toasted up some coarsely chopped almonds for a minute or two in the hot oil.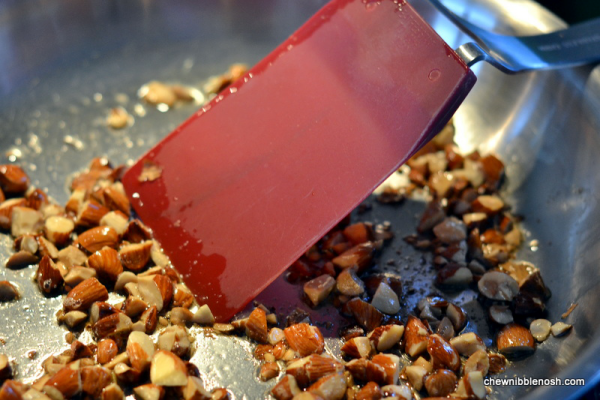 When the almonds were nice and toasty, I removed them onto a plate lined with paper towels, and then sprinkled them with some kosher salt.
Then, I whisked the rest of the olive oil into my dressing ingredients until the dressing was nice and smooth.
Before serving, I tossed my kale and brussels sprouts with the lemon dressing and a cup of finely grated Parmesan cheese.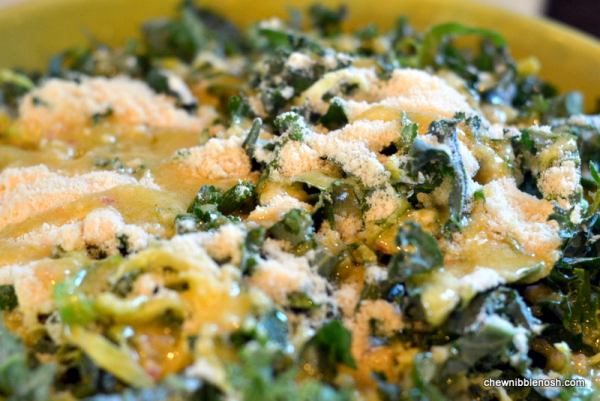 When the salmon was done, I heaped a big scoop of my kale and brussels sprouts salad onto each plate next to the fish, and sprinkled the top with the toasted, salted almonds.
The salad was deliciously hearty, crunchy, fresh, and delicious!  Next time I may just try to add some roasted sweet potato to it like they do at my favorite pizza place.  (Or, Coalition, I'd be more than happy to try out your recipe, if you'd like to share it!  If not, I'll be in for it soon.  No worries.)
So, there you go.  Another kale recipe on another food blog.  Enjoy it!  I did!  (Oh, and odds are, there will be something pumpkin spicy coming up soon, so get ready.)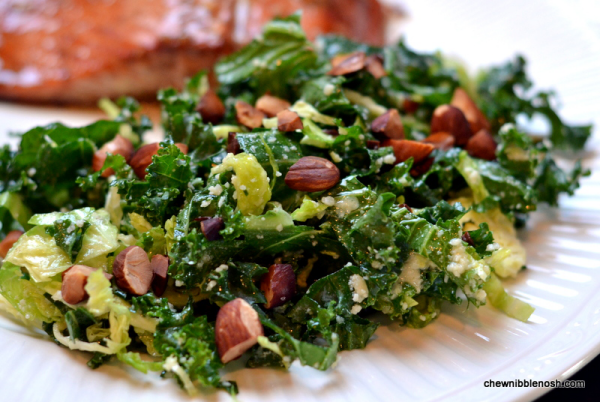 KALE AND BRUSSELS SPROUTS SALAD
Adapted from Bon Appetit
Kale and Brussels Sprouts Salad
Author:
Prep time:
Cook time:
Total time:
Ingredients
1 1/2 large bunches of kale, center stems discarded, leaves thinly sliced
1 lb. brussels sprouts, trimmed, and thinly sliced
1/4 cup fresh lemon juice
2 Tbsp. Dijon mustard
1 Tbsp. minced shallot
2 small cloves garlic, minced
1/4 tsp. kosher salt, plus more for sprinkling on almonds
1/2 cup extra-virgin olive oil, divided
1/3 cup almonds with skins, coarsely chopped
1 cup finely grated Parmesan cheese
salt and pepper to taste
Instructions
Toss thinly sliced kale and sprouts together in a large bowl.
Whisk together the lemon juice, mustard, shallot, garlic, and 1/4 tsp. salt in a small bowl.
Measure 1/2 cup of oil into a measuring cup. Spoon 1 Tbsp. of the oil from the cup and heat it in a small skillet over medium-high heat. Add the chopped almonds to the pan, and stir often, until they are toasty golden brown in spots. Remove the almonds to a plate lined with paper towels. Sprinkle with kosher salt.
Whisk remaining olive oil into the dressing ingredients to combine. Whisk in gradually, until smooth.
Add the dressing and cheese to the kale-sprout mixture. Toss well to combine. Season with salt and pepper. Garnish with the toasted almonds.
ENJOY!