Directions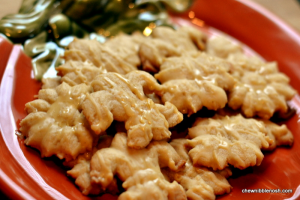 If you're a regular reader of this blog, you know that I'm a huge fan of the OXO company.  I'm not only a big believer in their products, I'm a big believer in their mission to help fund research to help improve treatments for pediatric cancer.  September is Childhood Cancer Awareness Month, and once again, I am honored to be a part of the OXO Good Cookie campaign.  Take a couple of minutes and watch this video to learn more about the OXO Cookies for Kids' Cancer mission.  It's truly amazing what a few good cookies can do.
For each Good Cookie blog post written in the month of September, OXO is going to donate $100 to Cookies for Kids' Cancer.  And you can help too!  For every specially marked OXO baking tool sold, 25 cents will be donated towards the cause, as part of the company's $100,000 pledge.
Just look for this sticker on participating items.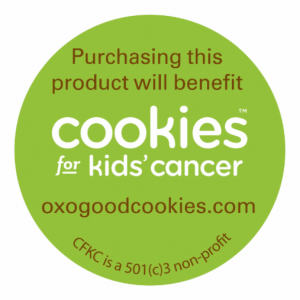 For this year's post, OXO shared their wonderful cookie press with me.  I love a good spritz cookie, but I haven't made them in years because my last cookie press was a huge pain to deal with.  Such a pain, in fact, that I sold it in a garage sale.  This OXO press is, hands down, the best cookie press I have ever used.  So easy to use, easy to clean, and it comes with fun shaped disks (in a handy-dandy storage box) that I hadn't seen with other presses.  Shapes like teddy bears, fleur-de-lis, and sunflowers.  And, they offer fun fall and springtime disk sets too!
I decided to ring in fall with a fall spiced cookie, but I decided to make them even cozier by browning the butter for the cookie.  Browned butter brings a rich, nutty flavor to the cookie and I figured it would go really well with those fall spices.  Browning butter is simple, just melt down some butter on the stove top, and stir it constantly, until it becomes a rich, golden brown.  Browned butter can turn to burnt butter in an instant, so make sure you keep an eye on it!  I was so busy watching it, that I didn't get a good picture of the butter in the pan, but I poured it into a measuring cup to give you a good idea of the color you're shooting for.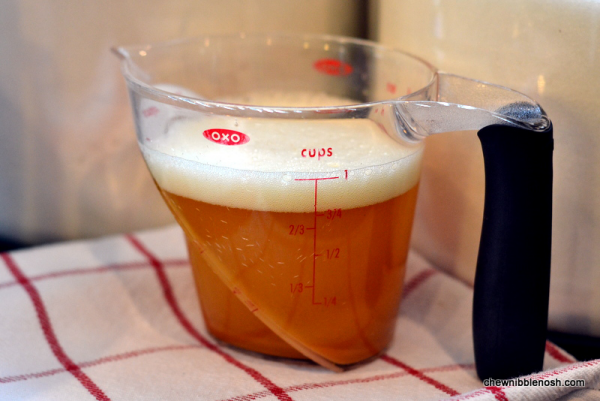 Once the butter was browned, I poured it into the mixing bowl of my stand mixer, and placed the bowl in the refrigerator for about an hour.  I needed the butter to set back up before making the cookie dough.
While the butter was chilling, I preheated my oven, and got my dry ingredients together.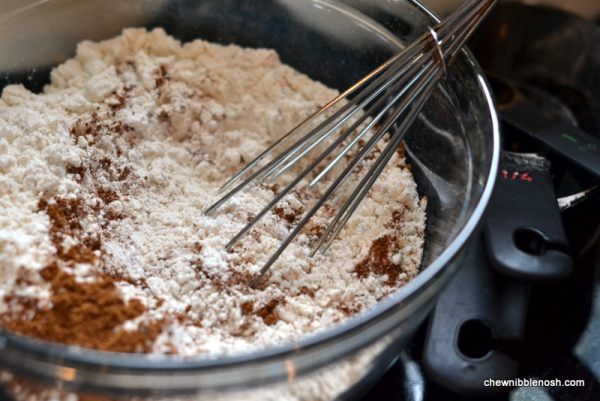 I mixed together some flour, baking powder, salt, and a teaspoon of pumpkin pie spice.
When the butter was set back up, I gave it a good stir to release it from the sides of the bowl, and then added in some sugar.  I beat that until it was nice and creamy, added an egg and some vanilla, and then blended in the dry ingredients and a tablespoon of milk.
Once the dough was together, I loaded my cookie press and started with the leaf disk, in honor of the season.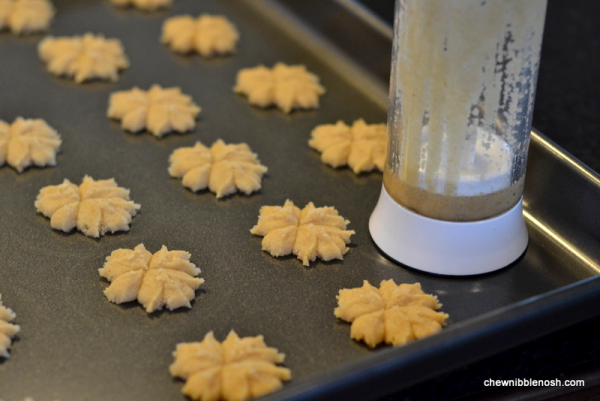 When I finished the leaf batch, I made some fleur-de-lis and sunflowers, and before long, I had dozens of beautiful spritz cooling on my counter…and a hungry puppy at my feet wishing he was just a little bit taller.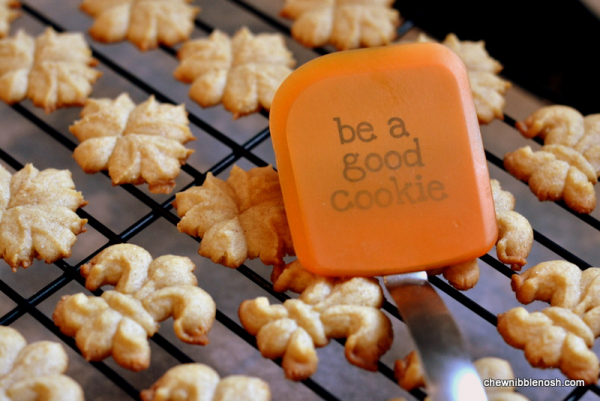 Once the cookies were cool, I decided to give them a drizzle of a simple, sweet, salted caramel glaze.  I mixed together some powdered sugar, some salted caramel sauce (I used Smuckers brand…look in the ice cream aisle) and a little bit of milk.  The glaze just took a little while to set up, and then we were ready to dig in.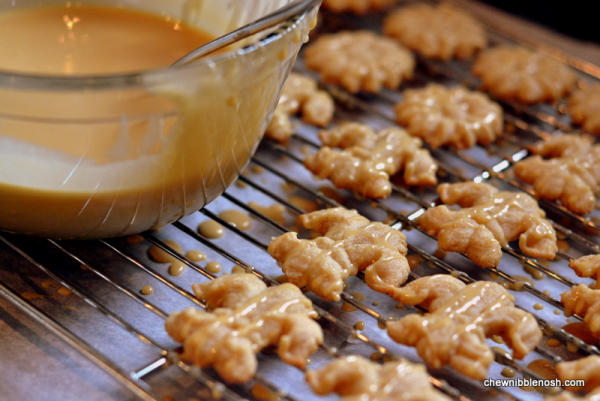 These are the perfect little cookie to have with a cup of tea or coffee on a cool fall afternoon.  They have all the flavors of fall, wrapped up in a tiny, sweet little package.  And I'm proud to say that they aren't just good cookies.  They are OXO Good Cookies.
Check out how you can bake a difference at OXOgoodcookies.com .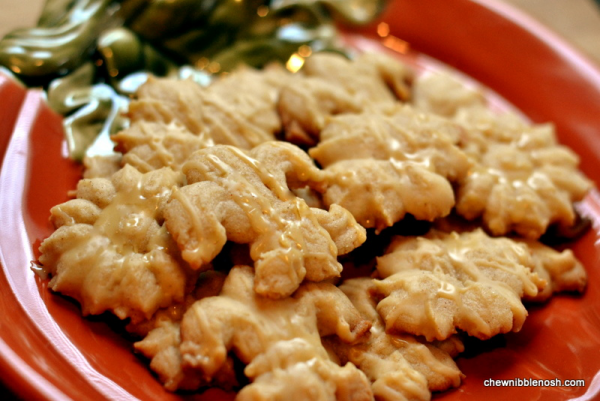 SPICED BROWN BUTTER SPRITZ COOKIES WITH SALTED CARAMEL GLAZE
Spiced Brown Butter Spritz Cookies with Salted Caramel Glaze – #OXOGoodCookies
Author:
Prep time:
Cook time:
Total time:
Ingredients
For the Cookies:
2 sticks butter
2 1/4 cups all-purpose flour
1/2 tsp. baking powder
1/4 tsp. salt
1 tsp. pumpkin pie spice
3/4 cup sugar
1 large egg
1 tsp. vanilla
1 Tbsp. milk
For the Glaze:
2 cups powdered sugar
1/2 cup jarred salted caramel sauce (I used Smuckers. Look in the section of the store where the ice cream toppings are.)
2 Tbsp. milk (plus more, if needed for consistency)
Instructions
For the Cookies:
In a medium saucepan, melt the butter over medium heat. Stir the butter constantly, and remove from the heat when the butter turns a rich golden brown, about 6-8 minutes. Pour the butter in a mixing bowl and chill in the refrigerator for about 40-60 minutes, or until the butter is semi-solid again and cooled.
Meanwhile, mix together the flour, baking powder, salt and pumpkin pie spice.
Preheat your oven to 375*F.
Once the butter is cooled, stir the butter to remove it from the sides of the bowl. Add the sugar, and beat with a mixer on medium speed until creamy. Scrape down the bowl and add the egg and vanilla. Beat until well mixed.
Add the dry ingredients and milk gradually and mix on low speed until combined.
Fit your cookie press with the disk of your choice, and fill with cookie dough according to the directions. Press the dough onto ungreased cookie sheets.
Bake at 375* for 8 to 10 minutes, or until edges just start to brown. Cool on wire racks. Wipe off the baking sheets and let the sheets cool completely before pressing a new batch of cookies onto the sheets.
For the Glaze:
In a small bowl, combine the glaze ingredients. Start with 2 Tbsp. milk, but you may want to add a little more if the glaze seems too thick to you. Drizzle the glaze over the completely cooled cookies. Allow the glaze to set up before storing.
ENJOY!