Directions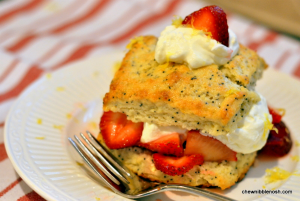 You know, I'm always up for a good challenge.  So, when my friends at The Daily Meal and Driscoll's Berries asked me to enter their Strawberry Shortcake Recipe Contest, I knew I had to be a part of it.  Did you know that June is Strawberry Shortcake Month, and that June 14th is Strawberry Shortcake Day?  It's the perfect time of year for berry desserts, so I was pretty excited about taking this on.
I love the combination of bright, sweet strawberries and tangy lemon, so I knew I wanted to play around with that flavor combination.  I decided to make a lemon poppyseed studded shortcake, and then to take the whipped cream to the next level, I decided to whip up a quick, Devonshire cream that I'd combine with a bit of sweet-tart lemon curd.
You could use jarred lemon curd from the grocery store, but I love making my own lemon curd.  It's so simple to make, lasts for a couple of months in the fridge, and my family loves it on desserts, scones, toast, ice cream, by the spoon…you name it, they'll eat it.  So, first things first, I made up my lemon curd.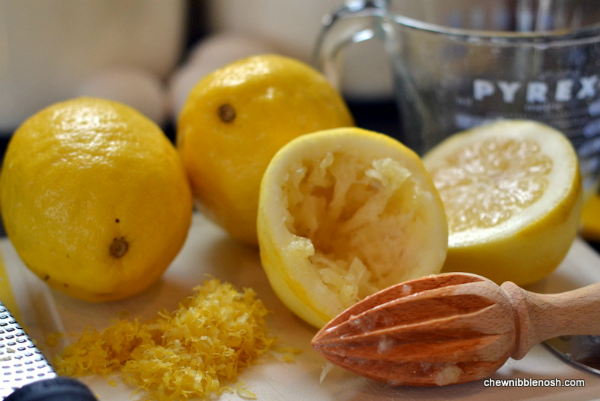 I'll include the lemon curd directions in the recipe.  If you've never made your own, I think you'll be surprised at how easy it really is!
Once the lemon curd was chilling in the fridge, I got to work on my shortcakes.  The nice thing about this recipe is that you can make the shortcakes up earlier and keep them chilled until baking time.  Like biscuits and pie crusts, you want the butter cold when you bake these up, so the pastry stays beautifully flaky.  So, even though I wasn't serving the shortcakes until after dinner, I made my dough up mid-afternoon.
In a large bowl, I sifted together some flour, sugar, baking powder and salt.  Then, I stirred in a hefty amount of poppy seeds and some tangy lemon zest.  Once that was combined, I cut in some cold butter, until the butter pieces were pea-sized.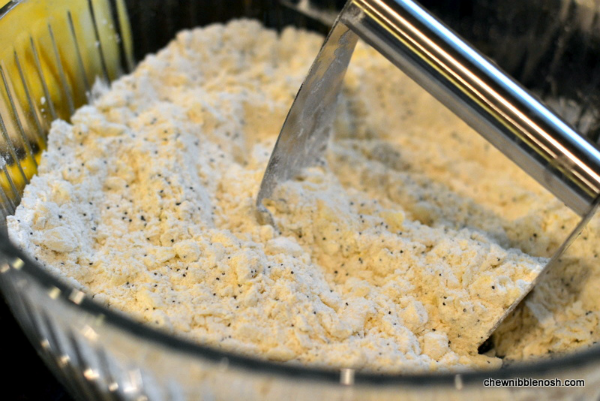 After the butter was mixed in, I combined some heavy cream and some lemon juice, along with a teaspoon of almond extract.  The mixture thickened up like buttermilk, and I made a well in my flour mixture, and then stirred the lemon-cream into the flour.
I mixed it together as best as I could with a spoon, and then finished by kneading it together a bit with my hands.  I laid out some plastic wrap, and patted it into an 8×8 inch square, before wrapping it up and placing it in the fridge to chill.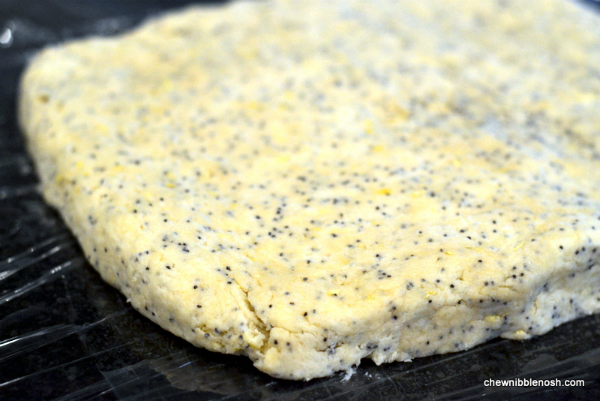 Can you see all of those flecks of lemon zest?  Yum!
Devonshire cream is traditionally served with scones, but I just had a funny feeling it would work out beautifully with this dessert as well.  Plus, I'm all for making things ahead, and Devonshire cream can be whipped together in no time flat and left to chill before serving.  So, I beat together some cream cheese and sugar until it was smooth, and then whipped in some heavy cream until the mixture was thick, creamy, and came to stiff peaks.
About an hour before I wanted to serve my dessert, I mixed my sliced, sweet, Driscoll's strawberries with a bit of sugar.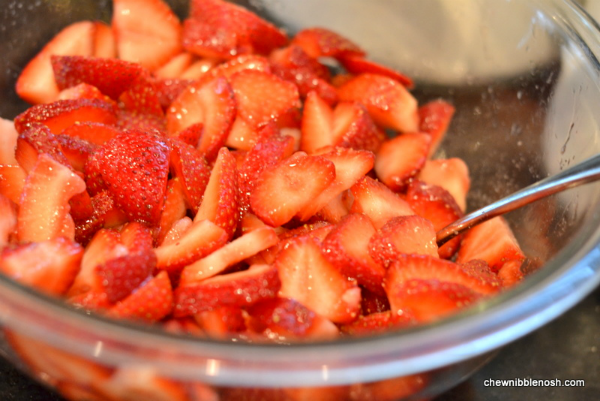 This gave them just enough time to mascerate, and sweeten up, but didn't leave them too mushy and over sugared.
Then, it was time to pop those shortcakes in the oven.  I took my dough out of the fridge, cut it into nine equal squares and placed them on a parchment lined baking sheet.  I brushed the tops with more cream, and sprinkled them with sugar before putting them in to bake.
The shortcakes baked for about twenty minutes, and when they were done, they were beautifully puffed, and golden brown.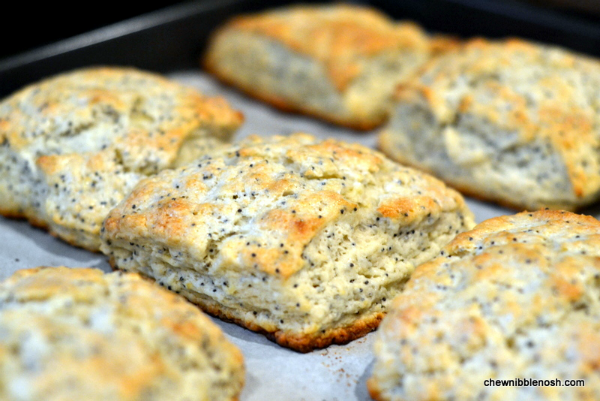 Oh, and they smelled like heaven!
OK, so now the shortcakes were done, my strawberries were deliciously sugar syrupy and ready to go.  I just had to finish off the lemon cream.
So, I folded about a third of a cup of my fresh lemon curd into that Devonshire cream.
And then, I was ready to plate up our dessert!  I sliced the shortcakes in half, piled some of the strawberries and their syrup over the bottom, plopped a heap of the lemon cream over the top of the berries, and placed the top of the shortcake over the cream.  Then, I finished things off with a little more cream, and some lemon zest.
This was one DELICIOUS shortcake recipe!!!  The biscuit was tender, and buttery, with so much lemon flavor bursting through, and the strawberries and lemony cream were the perfect addition.  My family gobbled every last bit up, and I even caught a couple of them licking their plates!
Be sure to enter Driscoll's Strawberry Shortcake Sweepstakes, when you get a chance!  You could win a KitchenAid Mixer AND berries for a whole year, which should help with those strawberry shortcake cravings!!!
I'll keep you posted on the Strawberry Shortcake contest.  I'm hoping that the good folks at Driscoll's find this version of shortcake to be as delicious as we did!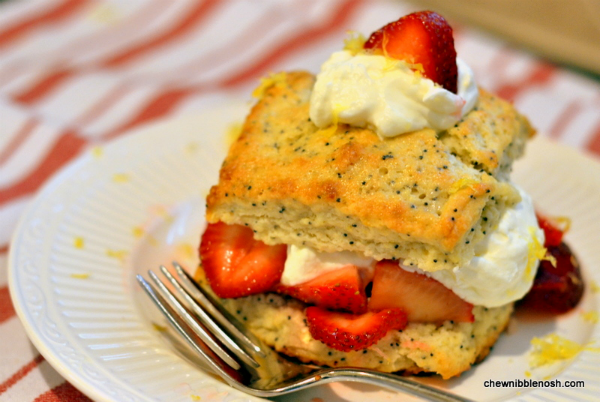 LEMON POPPYSEED STRAWBERRY SHORTCAKES WITH LEMON DEVONSHIRE CREAM
Lemon Poppyseed Strawberry Shortcakes with Lemon Devonshire Cream – @driscollsberry #StrawShortcake
Author:
Prep time:
Cook time:
Total time:
Ingredients
You could absolutely used jarred lemon curd from the grocery store, but if you choose to make your own, here's what you'll need:
1 cup sugar
1 Tbsp. finely shredded lemon peel
1 cup fresh lemon juice (5-6 lemons)
3 Tbsp. butter
3 large eggs, slightly beaten
For the Lemon Devonshire Cream:
3 oz. cream cheese, softened
2 Tbsp. sugar
pinch salt
1 1/2 cup heavy whipping cream
1/3 cup lemon curd
For the Shortcakes:
3 cups all-purpose flour
1/4 cup plus 2 Tbsp. sugar, plus extra for sprinkling
1 1/2 Tbsp. baking powder
3/4 tsp. salt
1/4 cup finely grated lemon zest, plus more for garnish
2 Tbsp. poppyseeds
3/4 cup cold butter, cut into pieces
1 1/4 cup heavy whipping cream, plus extra to brush shortcakes with
1/4 cup fresh lemon juice
1 tsp. pure almond extract
For the Strawberries:
3 cups sliced strawberries
2 Tbsp. sugar
Instructions
To prepare the lemon curd:
Mix the sugar, lemon juice and lemon zest in a heavy 1 1/2 quart saucepan.
Stir in the butter and eggs. Cook over medium heat, stirring constantly, for about 8 minutes, until mixture thickens and coats the back of a spoon. (Do not let mixture boil.)
Immediately, pour the mixture into a 1-pint container, cover, and chill. Chill completely before using. Store in the fridge for up to 2 months.
For the Devonshire Cream:
In a medium sized bowl, beat together the cream cheese, sugar, and salt. Gradually beat in the cream, and beat until stiff peaks form.
Cover and chill until ready to use.
When you're ready to serve dessert, fold 1/3 cup of lemon curd into the cream mixture before serving.
For the shortcakes:
Sift together the flour, sugar, baking powder, and salt into a large bowl. Add the lemon zest and the poppyseeds, and combine with a fork, until well distributed.
Add the butter to the flour mixture and cut in with a pastry cutter until the butter pieces are pea-sized.
Make a well in the middle of the flour mixture. Combine the heavy cream, lemon juice, and almond extract. Mixture will be thick, like heavy buttercream. Pour the cream mixture into the well, and stir into the flour, until the mixture is a bit shaggy.
Using your hands, knead the dough a few times until it comes together in a ball.
On a pieces of plastic wrap, press the dough into an 8×8 inch square, about 1 inch thick. Wrap in plastic wrap and chill until ready to bake.
When ready to bake, preheat the oven to 425*F. Line a baking sheet with parchment paper. Remove the dough from the fridge, and cut into 9 even squares.
Place the squares on the baking sheet, about 2 inches apart. Brush the tops with a little more of the cream, and sprinkle with some sugar.
Bake until golden brown on top, and browned on the bottom, 18-20 minutes.
Let cool for a few minutes before serving, but serve warm.
For the berries:
Mix the sliced berries with the sugar. Cover and chill for 20 minutes to an hour before using.
To assemble:
Slice a shortcake in half. Place the bottom half on the plate. Top with a heap of strawberries, then a large dollop of the lemon cream, then the top half of the shortcake. Finish with a little more cream and some lemon zest to garnish.
ENJOY!