Directions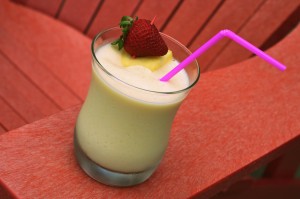 When it's hot and summer-steamy out, we love to break out the blender and whip up delicious frozen drinks when we entertain.  One of my favorite "sit by the pool and relax" drinks is a cool, frosty Piña Colada.  The tropical pineapple-coconut combo always tastes so fresh and light to me.  The problem lies in that Piña Coladas usually aren't really all that fresh.  Most rely on premixed, heavy on the calories drink mixes, which means they aren't all that light either.  They taste great, but did you know that a typical restaurant/bar Piña Colada can pack up to 650 calories and close to 20 grams of fat?  That's more than a Big Mac!  UGH!
Since I read that a while back, I've tried to steer clear of my favorite frozen drink.   If I'm going to blow 650 calories on something, it's not going to be something I can drink.
When I was flipping through my most recent issue of Cooking Light magazine, I came across a recipe for a lightened up version of a Piña Colada using fresh pineapple, pineapple juice, sweetened coconut, and fat-free evaporated milk in place of the gut busting cream of coconut that usually makes my favorite drink so deliciously creamy.  I was intrigued, and thought this may just solve my Piña problem.  I knew I had to try it.
This recipe is incredibly simple, but it does take a little bit of "rest" time.  If you're going to make these, you need to start the night before..or at least a few hours before you want to fill your glass.
I started by stirring together a can of fat-free evaporated milk and some sweetened, flaked coconut together on the stove-top.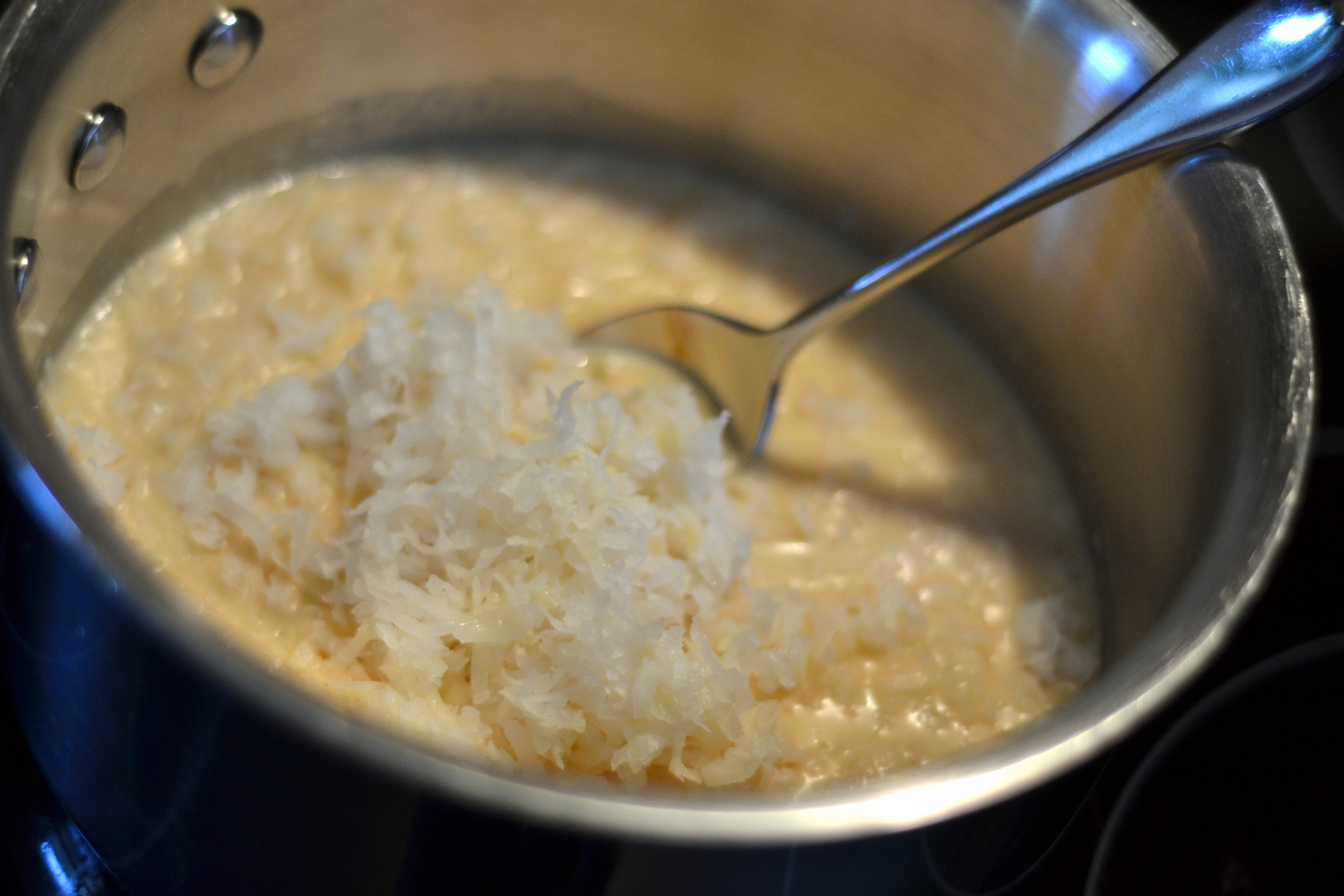 I warmed the milk up over medium heat, careful not to bring the mixture to a boil.  Once it started to bubble a bit, just around the edges, I took it off the heat, poured it into an airtight container, and put it into the fridge.  The "coconut milk" mixture needed to chill for a few hours, at least 4, before I made my drinks.  I figured the longer they hung out, the better, so I did it the night before.
The next day, I cut up some fresh pineapple into cubes and laid them out in a baking dish.  Then, the baking dish went into the freezer.
The frozen pineapple would help assure that my finished drink would be nice, cold and creamy.
When I was ready to put my drinks together, I removed my coconut-milk mixture from the fridge and strained the mixture over a large bowl.
I pressed as much of the milk out of the coconut as I could with a large spoon, and then when it was as dry as I could get it, I threw away the coconut.  Don't worry, though!  That milk was now infused with amazing, sweet coconut flavor…and none of the fat that traditional cream of coconut carries.  One ounce of canned Cream of Coconut has 130 calories and 5 grams of fat.  One ounce!!  This version may have taken a little more time than just popping open a can, but it was worth it!
Next, I placed my frozen pineapple in my blender, along with some ice, some gold rum, a bit of pineapple juice, and two tablespoons of light agave nectar.  Agave nectar is available in your regular grocery store, usually with the artificial sweeteners.  It's totally natural, actually the sap from the agave plant, and can be used as a substitute for sugar.  It has half the glycemic index of sugar, but it's sweeter than sugar, so a little goes a long way.  Light agave nectar, as I used in this recipe, has virtually no taste other than "sweet".  Darker, more amber nectar will taste more caramely.
 I turned my blender on and, almost immediately, had a beautifully fruity concoction on my hands.  But, I wasn't done.  After the pineapple mixture was well pulverized, I added in my coconut-milk and continued to blend it until it was smooth and creamy.
I served the drink up to some of my girlfriends, crossed my fingers, and took a sip.  You know what?  It was REALLY good.  Perfectly creamy, tropical, and refreshing!  The coconut wasn't overpowering, and it wasn't too sweet.  It was as good, if not better, than any Piña Colada I've ever ordered at a bar.  Plus, just knowing that I wasn't drinking a Big Mac made it taste even better!
Next time pineapple is on sale, I'm going to stock up, chop a bunch up and keep it in my freezer.  I'll grab a couple of cans of evaporated milk and some more shredded coconut to keep on hand, and I'll be ready to go, next time I'm craving my favorite summer drink.  This one's a keeper!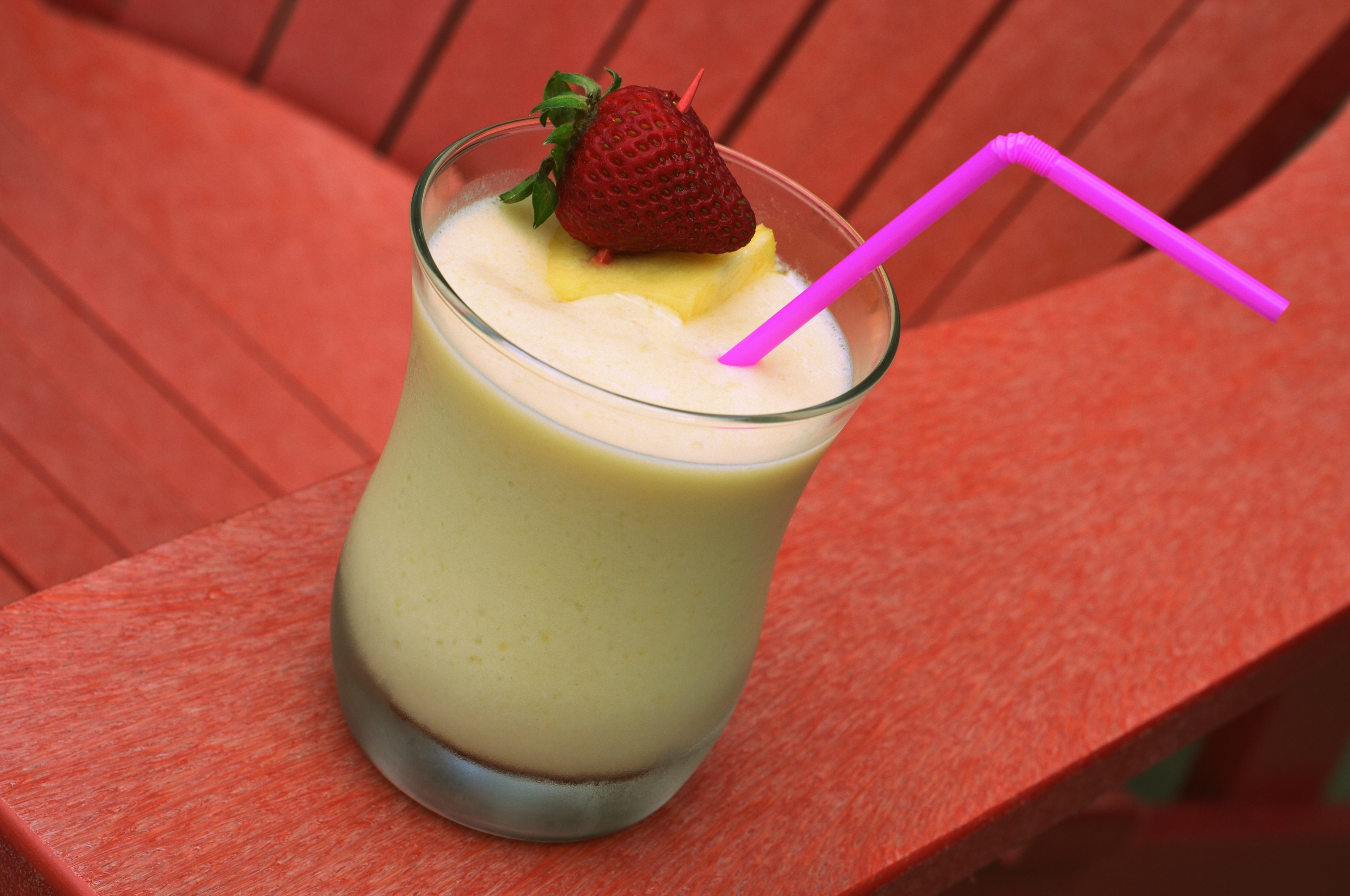 LIGHTENED UP PIÑA COLADA
Adapted from Cooking Light
| | | |
| --- | --- | --- |
| Lightened Up Piña Coladas | | |
Author:
Ingredients
2 cups flaked, sweetened coconut
1 (12 oz.) can evaporated fat-free milk
2 cups cubed fresh pineapple
2 1/2 cups ice cubes
3/4 cup gold rum (such as Bacardi Gold)
1/4 cup pineapple juice
2 Tbsp. light agave nectar
fresh pineapple, strawberries, cute little umbrellas, for garnish
Instructions
Combine the coconut and evaporated milk in a medium-sized saucepan. Place on the stove and cook, over medium heat, until small bubbles form around the edges. Do not bring the mixture to a full boil. Once the bubbles start, remove it from the heat. (The mixture will should cook for 5-7 minutes.) Pour the mixture into an airtight container, cover, and chill at least 4 hours or overnight.
Arrange cubed pineapple in a single layer on a baking dish. Place the dish in the freezer and freeze, until firm, at least 1 hour.
Strain the coconut-milk mixture through a sieve, over a medium-sized bowl. Press the coconut with the back of a spoon to make sure you get all of the milk into the bowl. Once you've done that, discard the coconut.
Put the frozen pineapple, ice cubes, gold rum, pineapple juice, and agave syrup in a blender. Process until the mixture is nice and smooth. Add the coconut-milk and process until well mixed and smooth. Serve with pineapple, strawberries and any cutesy little tropical garnish of your choice. Makes approx. 8 cups.
Nutritional Info (2/3 cup = 1 serving. My servings were larger, but I still felt good about it considering the alternative!)
Calories: 158,Fat: 1.2 g, Saturated Fat: 1 g, Protein: 3.5, Carbohydrates: 18.6 g, Fiber: 1.1 g, Cholesterol: 2 mg, Iron: 0.4 mg, Sodium: 57 mg, Calcium: 124 mg
ENJOY!