Directions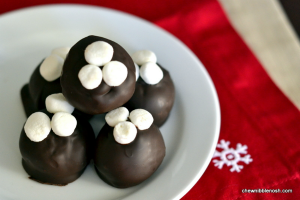 This assignment was a holiday game changer!
 The good people at OREO asked me if I'd like to take a swing at their classic OREO Cookie Ball Recipe.  Have you ever tried them?  They are simple enough to make, but you'd never really know how simple they are once you bite into one.  They are incredibly delicious and fudgy, which isn't surprising given what the main ingredient is…OREOS!
OREO asked me if I'd like to try to change things up a bit with their little truffles for the holidays, and since I'm always up for a challenge, I accepted.  I debated what I should do, and thought I'd settled on an idea, when a wave of inspiration struck me in the hot chocolate aisle of the grocery store.  I decided to try Mexican Hot Chocolate OREO Cookie Balls!  If you've never had Mexican Hot Chocolate, you really should try it (at least) once in your life.  I've found that the special chocolate they used is now pretty readily available in grocery stores.  Mexican Hot Chocolate is sweet like traditional hot chocolate, but bumped up a notch with a little bit of cinnamon and sometimes a pinch of heat from pepper.  At first glance, it doesn't sound like the combination would work, but it really does.
So, I decided to give my Mexican Hot Chocolate OREO Cookie Balls a go, and in doing so, I managed to find a new holiday favorite for my family!
I started by emptying a package of OREOS into my food processor, and gave them a good whirl until they were finely chopped.  If you don't have a food processor, you could empty the OREOS into a large zip-top bag and roll over them with a rolling pin until they are crushed up nice and fine.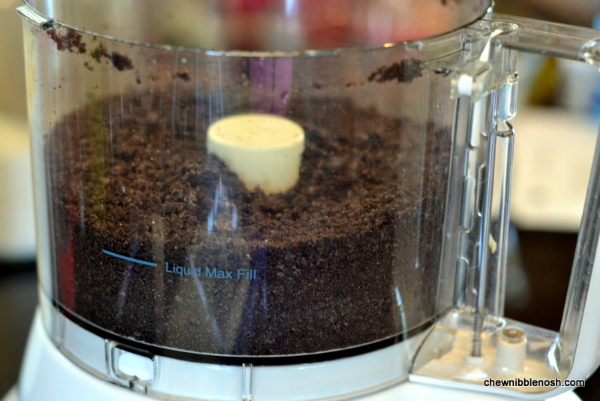 Once the cookies were finely ground, I mixed them with a softened block of cream cheese.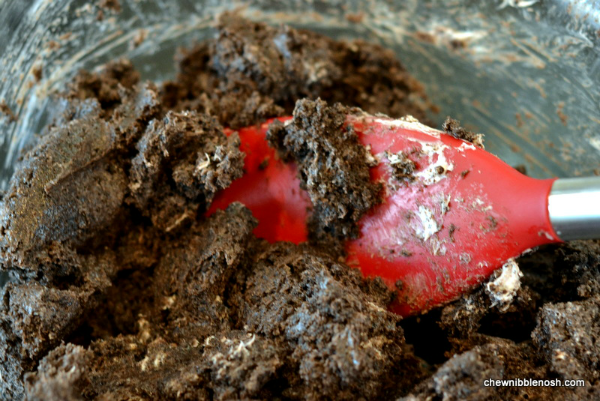 If I were making regular OREO Cookie Balls, I'd be ready to roll them up at this point, but this time I wasn't quite ready.  First, I needed to stir in some cinnamon and a dash of cayenne pepper.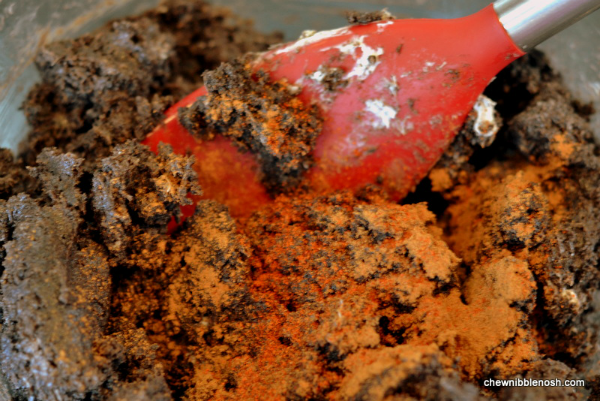 Once it was thoroughly mixed up, I rolled the dough into 1-inch balls, and laid them on a cookie sheet that I'd lined with parchment paper.  Once the pan was filled, I popped the sheet into the freezer for ten minutes, which was just enough time to help set up the truffles.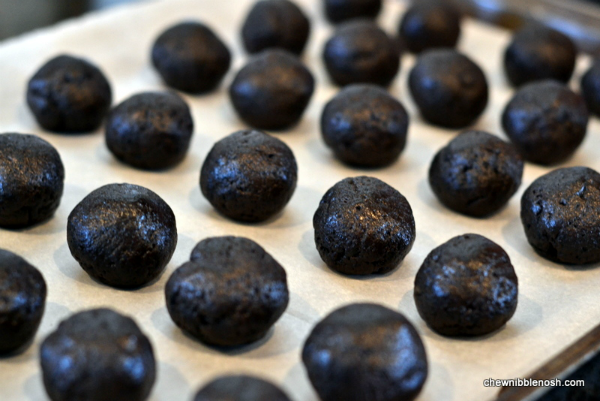 As the OREO Balls were chilling, I melted some semi-sweet baking chocolate in the microwave, and sliced some mini marshmallows in half for my topping.
Then, it was time to dip and decorate.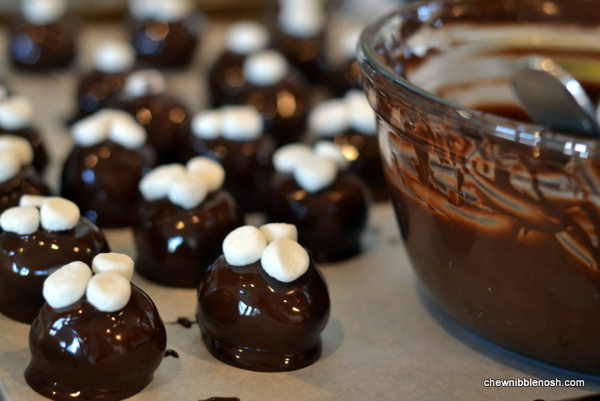 Once these delicious little guys were dipped and dressed up, I popped the cookie sheet back into the refrigerator so the chocolate would set.
See how easy that was?  Three simple ingredients and a couple of dashes of spice, and I happened upon a new family favorite.  They are so good, that when I shared them with my mom and dad, they gave me the container back to refill for them.  The kids loved them so much that I was even able to bribe them with "Clean up your Rainbow Loom mess and you can have an OREO Ball!"  We worked through the batch so quickly that I've had to promise my family that more will appear this holiday season, and they will…because I loved them too!
Be sure to follow OREO on Facebook and Twitter (@OREO) for more holiday recipes and ideas!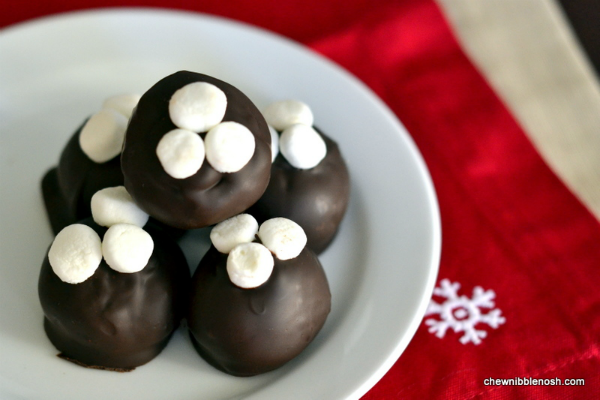 MEXICAN HOT CHOCOLATE OREO COOKIE BALLS
Adapted from OREO
Mexican Hot Chocolate OREO Cookie Balls
Author:
Prep time:
Total time:
Ingredients
1 (8 oz.) pkg. low-fat cream cheese
36 OREO Cookies, finely crushed
1/2 tsp. cinnamon
1/8 tsp. ground cayenne pepper
4 (4 oz.) packages semi-sweet baking chocolate (I used Baker's), melted
mini marshmallows, sliced in half, for decoration
Instructions
Mix the cookie crumbs and the cream cheese until well blended.
Stir in the cinnamon and pepper.
Shape the mixture into 48 (1 inch) balls, and place on a cookie sheet lined with parchment or wax paper. Freeze for 10 minutes.
Meanwhile, melt the chocolate and slice some mini marshmallows in half.
Once the OREO balls have chilled, dip them in the melted chocolate, place them on a parchment lined cookie sheet and top with the marshmallow halves.
Refrigerate for 1 hour, or until firm.
ENJOY!
This is a sponsored post written by me on behalf of OREO Cookies.