Directions
One of the interesting perks of being a blogger, is having access to your blog's statistics.  If you know a blogger, they're lying if they say they don't check their stats.  I check it daily, at least once, to see which posts are getting hits, where the hits are coming from (I'm amazed on a daily basis how far the internet reaches.), and how many times people have taken time out of their days to hang out at Chew Nibble Nosh.  It's just good blogging practice to keep track of trends, and know what your readers are looking for.
Last year, I posted a recipe for Braised Beef Short Ribs that has become one of the more popular posts on this site.  It gets consistent hits year-round, and many people have commented and even written directly to my inbox that they are so happy that I posted the recipe because it's hard to find recipes that use boneless short ribs.
So, when I ran across another amazing looking recipe for boneless short ribs, it made sense from a blogging perspective to try it out.  Plus, if you've ever eaten out with me and short ribs are on the menu, you know that it's probably what I'm going to order.  I'm a short rib junkie and will splurge on them whenever I have the chance!  It seemed like a win-win situation.
I found this recipe in one of my slow-cooker cookbooks.  Short ribs have to be slow cooked, so using a Crock Pot to do the job just makes sense. One of the other trends on the blog that I've noticed is that you people love a good slow cooker recipe.  That's a good thing, because due to our crazy holiday schedule, my Crock Pot has been kicked into high gear.  I made this last week for dinner, and we all decided it was a winner.  In fact, I may have even enjoyed it more than the other short rib recipe I posted…and that one is really good!
I started by mixing together my base for the sauce.  I chopped up a couple of onions and some garlic, and stirred it together with some tomato paste, olive oil, oregano and red pepper flakes.  Then, I let the mixture cook in the microwave for about five minutes.
This was just enough time to soften the onion and garlic, and to bring the flavors together.  Once it was ready, I poured the mixture into my slow cooker.  Then, I drained a can of whole tomatoes and nestled the tomatoes down into the onion mixture.  Finally, I nestled my short ribs down in the veggies, covered the cooker, and walked away.
The short ribs cooked for about eight hours on low, and then it was time to get the sauce together.  The sauce is so rich and delicious, and comes together easily.
I removed the short ribs from the vegetables, and covered them with foil to keep them warm.  Then, I took the tomatoes out of the slow cooker and set them aside.  Finally, I poured the sauce into a fat separator and let the fat rise to the top before skimming it off.  If you don't have a fat separator, just pour the lot into a bowl and let it sit for a few minutes.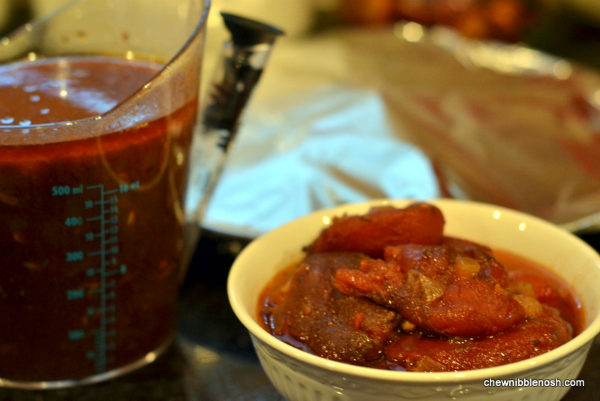 I defatted the sauce, and then broke the tomatoes up into large chunks, and added it all back into the slow cooker.  I seasoned it with salt and pepper, and then we were ready to eat!
I served the short ribs and sauce over cheesy, Parmesan polenta (I'll include the recipe), and sprinkled the dish with fresh chopped basil.  It was delicious, and the perfect meal for chilly winter nights.  It's a soul warming, sticks-to-your-ribs kind of meal, made easy with my handy dandy slow cooker.
RUSTIC ITALIAN BRAISED BONELESS SHORT RIBS
Adapted from America's Test Kitchen: Slow Cooker Revolution Vol. 2
Rustic Italian Braised Boneless Short Ribs
Author:
Prep time:
Cook time:
Total time:
Ingredients
2 cups chopped onions
10 garlic cloves, sliced thin
3 Tbsp. tomato paste
1 Tbsp. olive oil
1 tsp. dried oregano
1/2 tsp. red pepper flakes
1 (28 oz.) can whole peeled tomatoes, drained
4 ( 10 oz.) boneless beef short ribs
salt and pepper to taste
1/4 cup chopped fresh basil
For the polenta:
2 cups water
2 cups milk
1 cup instant polenta
3/4 cup grated Parmesan cheese
salt and pepper
Instructions
Place the chopped onion, garlic, tomato paste, olive oil, oregano and red pepper flakes in a microwave safe bowl. Stir to combine, and then microwave until the onions and garlic have softened, about 5 minutes, stirring occasionally. Pour the mixture into the slow cooker.
Stir in the drained tomatoes.
Trim any excess fat from the short ribs, season with salt and pepper, and nestle the ribs down into the tomato and onion mixture.
Cover and cook on LOW for 8-9 hours or HIGH for 5-6 hours.
Transfer the cooked ribs to a serving dish, and cover with foil.
Pour the sauce into a fat separator, reserving the tomatoes on the side, and allow the fat to rise to the top of the sauce before skimming it from the surface (about 5 minutes).
Break up the tomatoes into large chunks, and add them back to the slow cooker along with the defatted sauce. Season with salt and pepper.
Serve the ribs topped with the sauce and chopped fresh basil. Serve over Parmesan Polenta, if desired.
For the Polenta:
Bring the water and milk to a boil in a large saucepan. Slowly whisk in the polenta, and stir until thick and creamy, between 3-5 minutes.
Stir in the Parmesan and season with salt and pepper before serving.
ENJOY!