Directions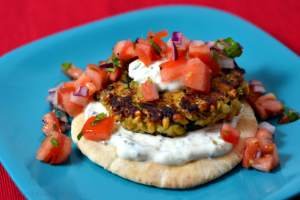 My husband is not a veggie burger guy…at all.  I can't keep track of how many times he's given me that "Why would you do that?" look in a restaurant as I order a veggie burger over something else, anything else, on the menu.  I love a good veggie burger, but have found that really good veggie burgers are like finding a needle in a haystack. The restaurant burgers I've tried run the gamut from delicious and hearty to mushy and meh.  It's hard to find a really, really good one.   I've tried a few different versions at home, and I'm pleased to announce that this is the first one we all went nuts over, my husband included.
These are so tasty, and different.  And if you're into Mediterranean flavors like I am, you'll really enjoy this.  They are so flavorful on their own, but when you throw in creamy cool Tzatziki and this fresh tomato salad on top, you have a winner.
I started by sauteing some fresh spinach just long enough until it was wilted, and then I set it aside.  I added some more olive oil to the pan and softened an onion until it just started to caramelize, and then added in some garlic. Then, I threw in a half cup of Freekeh.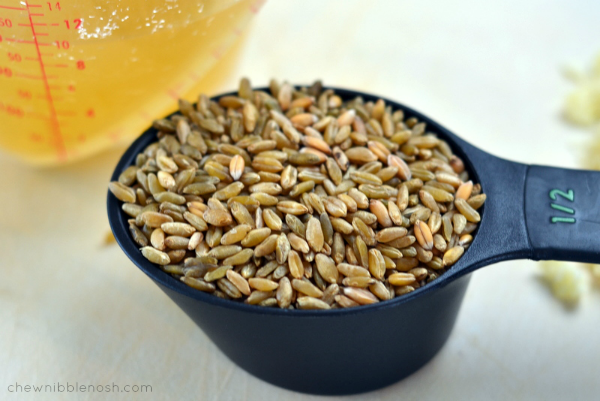 Have you ever heard of Freekeh?  If I'm being completely honest, I hadn't either.  But I'm always up for trying something new, so when the recipe called for it, I sought some out in the bulk section of my local organic market.  If you like wheat berries or other grains with a bit of bite (texture, not heat), you'll like Freekeh.  (Side Note:  If you're nine, you'll think the name is hilarious, and walk around the kitchen singing a song about it.)
I added the Freekeh to the onion and garlic, poured in some vegetable broth and brought it to a boil, and then let it cook for about twenty minutes.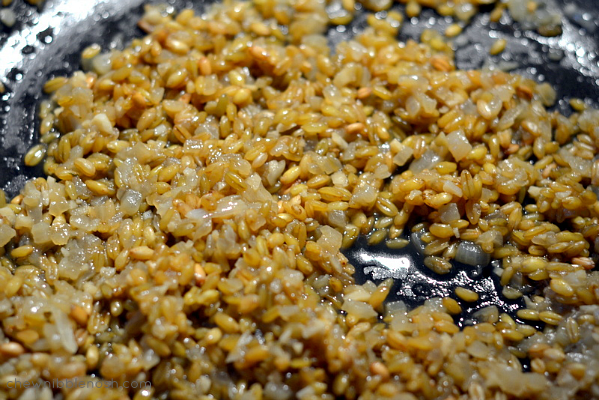 At that point, the broth had been absorbed and the Freekeh had that great grainy bite I was looking for.
I let the Freekeh cool for a few minutes and, while it was sitting, chopped up some parsley and my cooled spinach, zested a lemon, juiced the lemon, and chopped up some sunflower seeds.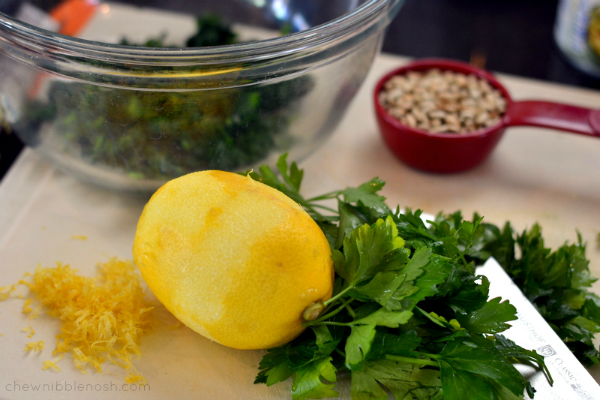 After ten minutes, I mixed together the Freekeh, a can of drained chickpeas, the sunflower seeds, some Panko bread crumbs, the lemon juice and zest, the spinach, and a bit of cumin and coriander.
I mashed the mixture together with a potato masher until the chickpeas were broken up but still a little chunky.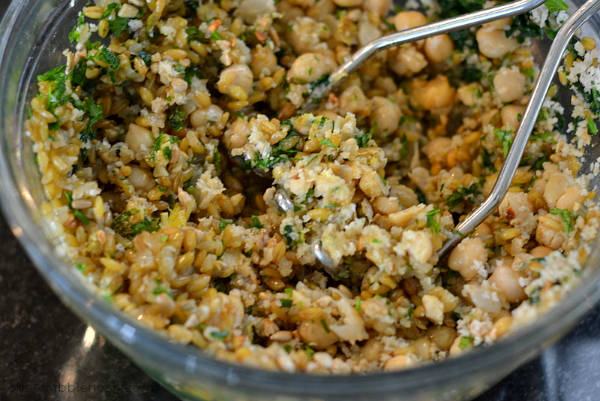 I seasoned the mixture with salt and pepper and then stirred in a beaten egg to help bind the mixture together, and popped the bowl into the fridge to chill.  You could make this mixture up ahead of time and chill it up to four hours.  I left it in for about thirty minutes.
While the burger mixture was chilling out, I threw together a quick, cool Tzatziki sauce and a light, fresh tomato salad chock full of beautiful summer tomatoes, red onion, parsley, and lemon.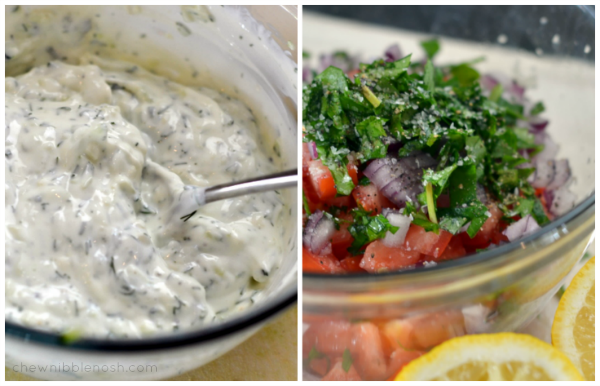 When it was time to build the burgers, I grabbed the chickpea mixture from the fridge, and portioned out the mixture first, before forming them into 3/4 inch patties.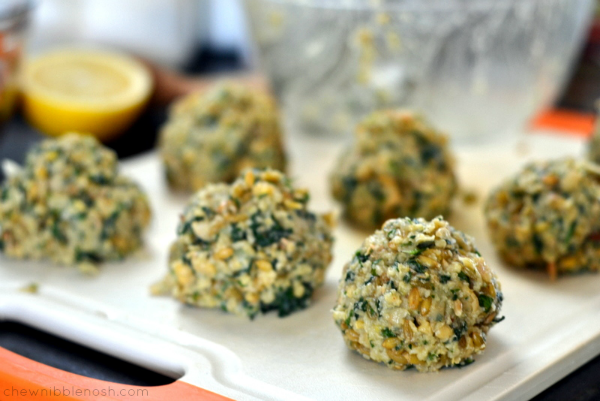 Just looking at this picture, you can see that these aren't your average mushy veggie burger.  There's a lot going on in there!
I cooked the burgers carefully on the stove top, flipping gently after each side browned up.  They cooked for about 4-5 minutes on each side, and I had to cook them in two batches, so I kept the already cooked burgers warm in the oven before serving.
When the burgers were done, I spread some of that awesome Tzatziki sauce (that I swear, I could dip pretty much anything in) over some toasted pita bread.  Then, I placed a burger on top, and spooned a hefty serving of the tomato mixture over the top.
Throwing this meal together took a little more time than simply ordering a veggie burger at a restaurant, but the result was definitely worth it.  And my husband went back for seconds!  The burgers are delicious, packed with tons of flavor and texture.  The sunflower seeds, chickpeas and Freekeh give it the perfect hearty bite, and the cool Tzatziki and tomatoes take an already really tasty burger to whole a new level.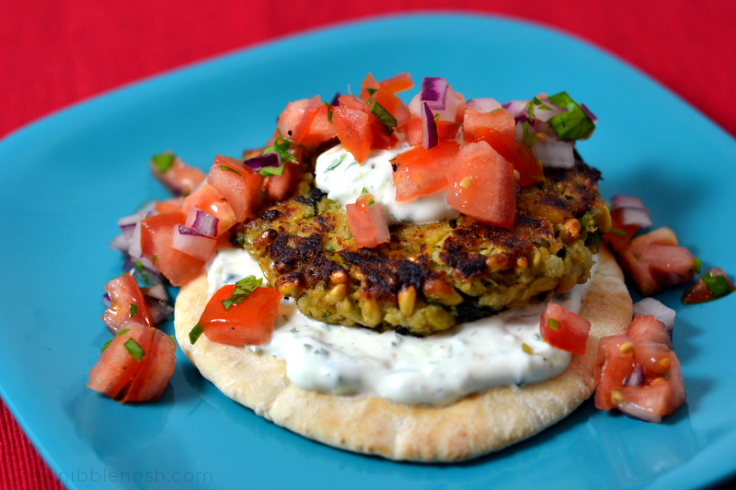 MIDDLE EASTERN CHICKPEA BURGERS
Adapted from Fine Cooking Magazine
Middle Eastern Chickpea Burgers
Author:
Prep time:
Cook time:
Total time:
You can make bits and pieces of the recipe up ahead of time! The burger mixture can be chilled for up to four hours before you press it into patties, and the Tzatziki sauce can be made a few hours ahead of time as well, and kept in the refrigerator until serving time.
Ingredients
For the Burgers:
2 Tbsp. plus 1 tsp. olive oil
3 cups baby spinach
1 large yellow onion, chopped
4 cloves garlic, minced
1 1/4 cups vegetable broth
1/2 cup cracked Freekeh (look in the bulk section of your market, or near the grains)
1 (15 oz.) can chickpeas, drained, rinsed, and patted dry
1/2 cup Panko bread crumbs
1/4 cup chopped flat leaf parsley
1/4 cup sunflower seeds, chopped
2 Tbsp. fresh lemon juice
1 1/2 tsp. grated lemon zest
1 1/2 tsp. ground cumin
1 tsp. ground coriander
salt and pepper to taste
1 large egg, beaten
2 Tbsp. canola oil
small pita breads, for serving
For the Tzatziki:
1 cup plain Greek yogurt
1/4 cup finely shredded cucumber
1 clove garlic, minced
2 tsp. fresh minced dill
salt and pepper, to taste
For the Tomato Salad:
2 tomatoes, chopped
1/4 cup. finely chopped red onion
2 Tbsp. chopped flat leaf parsley
juice from 1/2 of a lemon
salt and pepper to taste
Instructions
For the Burgers:
Heat 1 tsp. of the olive oil over medium heat in a 12 inch skillet. Add the spinach and stir until wilted, 1 to 2 minutes. Remove the spinach from the heat to a bowl and allow to cool. Press as much liquid out as possible, and then chop the spinach. Set aside.
Heat the remaining 2 Tbsp. olive oil in the pan over medium heat. Add the chopped onion and cook, stirring occasionally, until onion begins to brown around the edges, about 5 minutes.
Add the garlic and cook, stirring, for 45 seconds. Add the broth and Freekeh and bring to a boil. Cover, reduce the heat to medium-low, and cook until the Freekeh has softened and the liquid is almost completely absorbed, 20-25 min. Set aside and allow to cool for 10 minutes.
In a large bowl, combine the spinach, Freekeh, chickpeas, Panko, parsley, sunflower seeds, lemon juice and zest, cumin and coriander. Mash with a potato masher until the chickpeas are mashed, but still a little chunky in parts. Season with salt and pepper. Stir in the beaten egg. Chill the burger mixture for at least 30 minutes and up to 4 hours.
If you haven't already made the Tzatziki and tomato salad, do that now.
Portion the burger mixture into 7-8 balls. With moist hands, press the mixture into 3 1/2 inch patties, about 3/4 inch thick.
Heat the canola oil in a 12 inch nonstick skillet over medium heat. Add the burgers, reduce heat to medium-low and cook until browned on one side, about 4-5 minutes. Carefully flip with a thin spatula and cook until browned on the other side, another 4-5 minutes.
Serve on toasted pita breads with Tzatziki and tomato salad.
For the Tzatziki:
Combine all of the ingredients in a small bowl. Season with salt and pepper to taste. Chill until ready to serve. May be made ahead of time.
For the Tomato Salad:
Combine all of the ingredients in a small bowl. Chill until ready to serve.
ENJOY!