Directions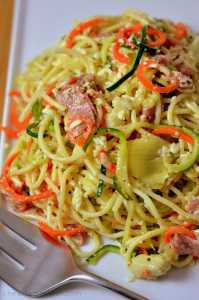 Zucchini noodles seem to be all the rage right now and spiralizers are moving from a fancy garnish tool to an everyday kitchen gadget. My friends at OXO asked me to try out their new Hand Held Spiralizer, and of course, I told them I'd love to give it a try!
What to make, though?  As I was trying to figure out what to tackle first with my new gadget, I ran across an old recipe, written on a postcard, from my mother.  I have no idea where this recipe came from.  Probably from the pages of an old, yellowed cooking magazine or from one of her gazillion cookbooks (I come by my book hoarding tendencies honestly).  It's simply written on a notecard, and this delicious, blast-from-the-past spaghetti salad struck me as the perfect thing to modernize with a little spiralize.
I started by bringing a pot of water to a boil on the stove top and cooking up four ounces of spaghetti, that I'd snapped in half.  As it was cooking, I chopped up a jar of marinated artichoke hearts, sliced up some thin sliced deli salami, and measured out some shredded mozzarella cheese.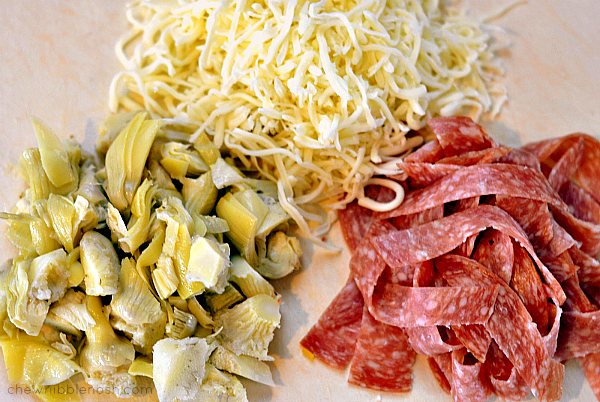 Then came the fun part, and my daughter couldn't wait to jump in.  I cut a large zucchini in half, pressed it into the center of the spiralizer, stuck the top with the handle into the other end, and handed it over to Avery.
In seconds flat, I had a pile of beautiful, perfectly uniform zucchini noodles.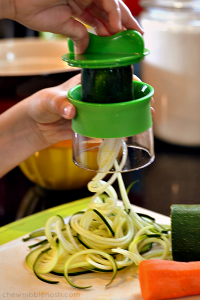 It really couldn't have been easier.  The no-slip grip helps press the vegetable down into the blades, and also keeps little fingers (or big fingers) safely away from the sharp stuff.  After I was done making zucchini noodles, and carrot noodles, I simply ran the blade under the water in the sink and threw it into the top rack of my dishwasher!  The cap fits snugly on the top, to protect you from the blades when storing it, and it's small enough to fit right in my utensil drawer.
Once I had my zucchini noodles and carrot spirals ready, I whipped up the simple vinaigrette dressing.
I'd saved the marinade from the artichokes, and to that I added a little more oil and white wine vinegar, along with some dry mustard, oregano, basil, and fresh minced garlic.
By this time, the spaghetti was done, and I drained it and rinsed it with cool water to bring the temperature down.  Then, I added it to a large bowl along with the zucchini, carrot, salami, cheese, and artichokes, and gave it a good toss to combine.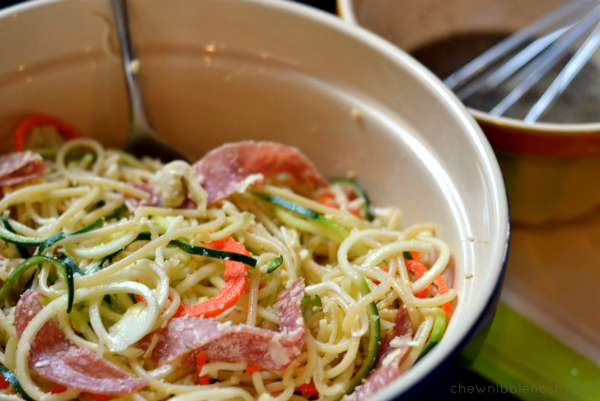 I know it looks like a lot of pasta, but there are actually more zucchini noodles in the bowl than spaghetti!  If you're counting your carbs or gluten, substituting delicious, carb-free/gluten-free "zoodles" for the real deal is the way to go!
I poured the dressing over the salad, and gave it a good stir to make sure everything was well coated.
Then, I covered the bowl and let it hang out in the fridge for a couple of hours until we sat down to dinner.
I served it alongside grilled steaks, and it made for a simplistic, delicious summer dinner.  The salad was chock full of so much flavor, and the zucchini noodles and carrots were softened, and perfectly marinated by the zesty dressing.  What a fun salad!  And it, literally, took mere minutes to throw together with the help of my new OXO Hand Held Spiralizer.  Thanks, OXO!  You've done it again!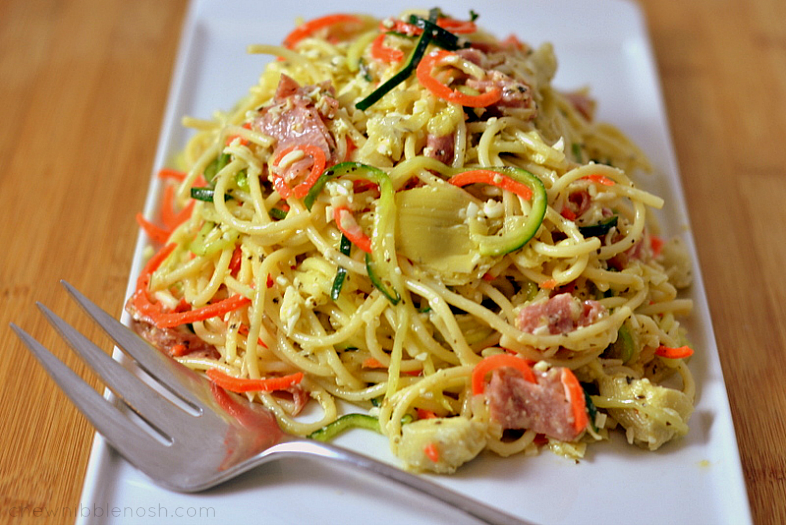 SPIRALIZED ITALIAN PASTA SALAD
Spiralized Italian Pasta Salad
Author:
Prep time:
Cook time:
Total time:
Ingredients
4 oz. spaghetti, snapped in half
7 oz. jar marinated artichoke hearts
2-3 cups of spiralized zucchini noodles, about 1/2 of a large zucchini
1 carrot, peeled and spiralized
2 oz. thin sliced deli salami, cut into thin strips
1 cup shredded mozzarella cheese
2 Tbsp. grated Parmesan cheese
2 Tbsp. vegetable oil
2 Tbsp. white wine vinegar
1 tsp. dry mustard
3/4 tsp. dried basil
3/4 tsp. dried oregano
1 clove garlic, minced
Instructions
Bring a pot of salted water to a boil on the stove top. Add the broken spaghetti and cook according to the package directions. Drain, and rinse with cool water to bring the temperature down. Set aside.
Drain the artichokes, but save the marinade! Chop the artichokes into smaller pieces.
If your zucchini noodles are really long, slice them in half or in thirds.
In a large bowl, combine the artichokes, salami, mozzarella cheese, zucchini and carrot spirals, and Parmesan cheese.
In a small bowl, whisk together the reserved artichoke marinade with the vegetable oil, vinegar, dry mustard, basil, oregano, and garlic.
Pour the dressing over the salad, and toss to coat.
Cover and refrigerate until ready to serve.
Before serving, toss to coat again.
ENJOY!