Directions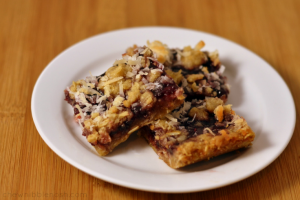 A couple of weeks ago, I got to cross off something on my bucket list.  My dear friend Kristin told us earlier in the summer that she had two extra tickets to see Harry Connick Jr. at The Ravinia Festival in Chicago, and she asked if we'd like to join her and her husband.  You may be thinking that seeing Harry live would be the bucket list item.  Nope.  I've seen Harry perform a few other times, and he's wonderful, he really is. If you ever have the chance to see him, go.  He's ridiculously talented, funny, and charming.  Every show of his is different, and he is so personable he can make a large venue seem like a small, intimate jazz club.  I had the opportunity to meet him when we lived in New Orleans, and he is refreshingly genuine.  I could go on and on about how much I love Harry…and I think I have.
Like I said, as much as I adore Harry, he wasn't the bucket list item.  I have always wanted to visit Ravinia.  The Ravinia Festival is the oldest outdoor music festival in the country.  Located in Highland Park, just north of Chicago, the venue includes a beautiful pavilion where everyone from the Chicago Symphony Orchestra to ZZ Top has played/or will be playing this summer, and surrounding the pavilion is an amazing, park-like lawn where thousands of concert goers grab a piece of grass and set up picnics fit for a king.  The lawn is beautiful, sprinkled with statues and artwork, impressively landscaped, and just downright lovely to wander.  The picnics that the concert goers bring are equally impressive.  Some people brought a simple cooler filled with wine and cheeses, others brought massive tables, linens, and candelabras.  Eating at Ravinia is as much of an event as the concert, it seems.
I'd told Kristin that one of the things I'd bring for our picnic would be a little something sweet.  I knew I needed something portable, and preferably something that wouldn't melt if it happened to be a typical August day.  (I'm happy to report that it was beautifully mild, and more like September that night.)  I'd first tried these raspberry bar cookies when another dear friend of mine, Sallie, baked them up.  They popped into my head immediately, even though I hadn't had them in years, when I was trying to figure out my menu. I texted Sallie to ask for the recipe and, understanding the importance of a proper picnic, she sent me the recipe right away.
These bars are everything I look for in a summer bar cookie.  Buttery, crisp, crunchy toasted coconut, tart raspberry jam…they are just delicious.  Plus they are super easy to throw together, which is an added bonus.
I started by making my cookie base in the food processor, and then toasted up some flaked coconut in the oven.
 I blended together the flour, white sugar, brown sugar and salt, and then added in cubed cold butter, and gave it another whirl.  Once the dough came together in the food processor, I removed it to a bowl and stirred in some oats and the toasted coconut.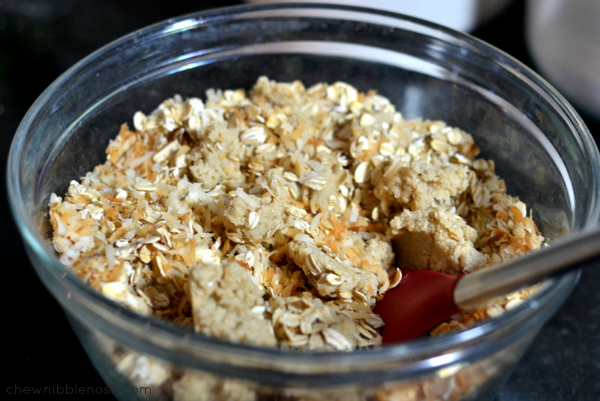 I pressed all but 3/4 cup of the dough into the bottom of a 9×13 inch baking pan.  Once the cookie dough was evenly distributed, I spread some seedless raspberry jam over the top of the dough.
You could substitute any kind of jam, really, but I love raspberry and coconut together.
Once the jam was spread, I sprinkled the top with the rest of the dough that I'd set aside, and then finished it off with more of the coconut flakes.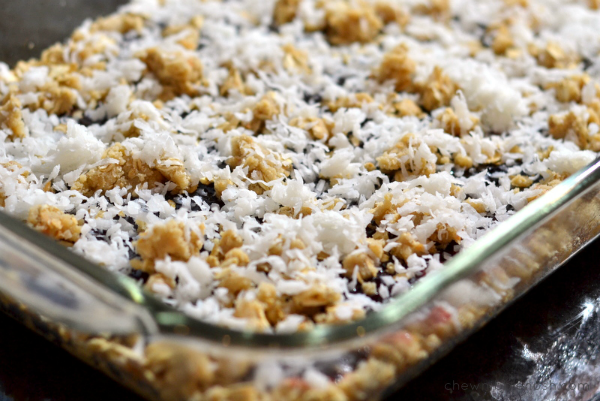 The bars went into the oven for about 25 minutes, and then I let them cool on a wire rack before diving in.
They slice up beautifully, and were perfectly portable to take to our concert picnic.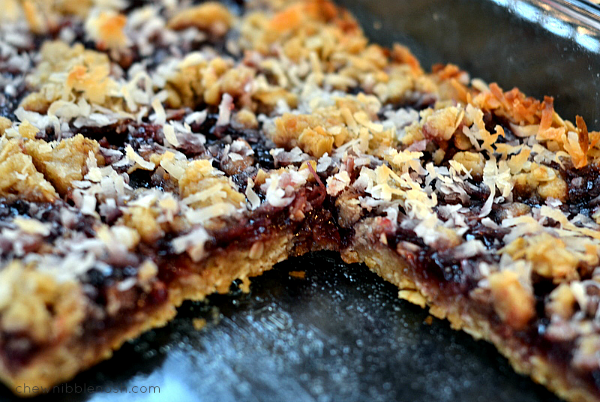 I especially love the crunchy edge pieces. Yum.
The night was perfect all around.  Wonderful venue, wonderful Harry, super wonderful friends, and loads of tasty treats.  I've officially checked Ravinia off my bucket list now, but I think we need to pretend I didn't, and head back next summer.  I'll bring the cookies.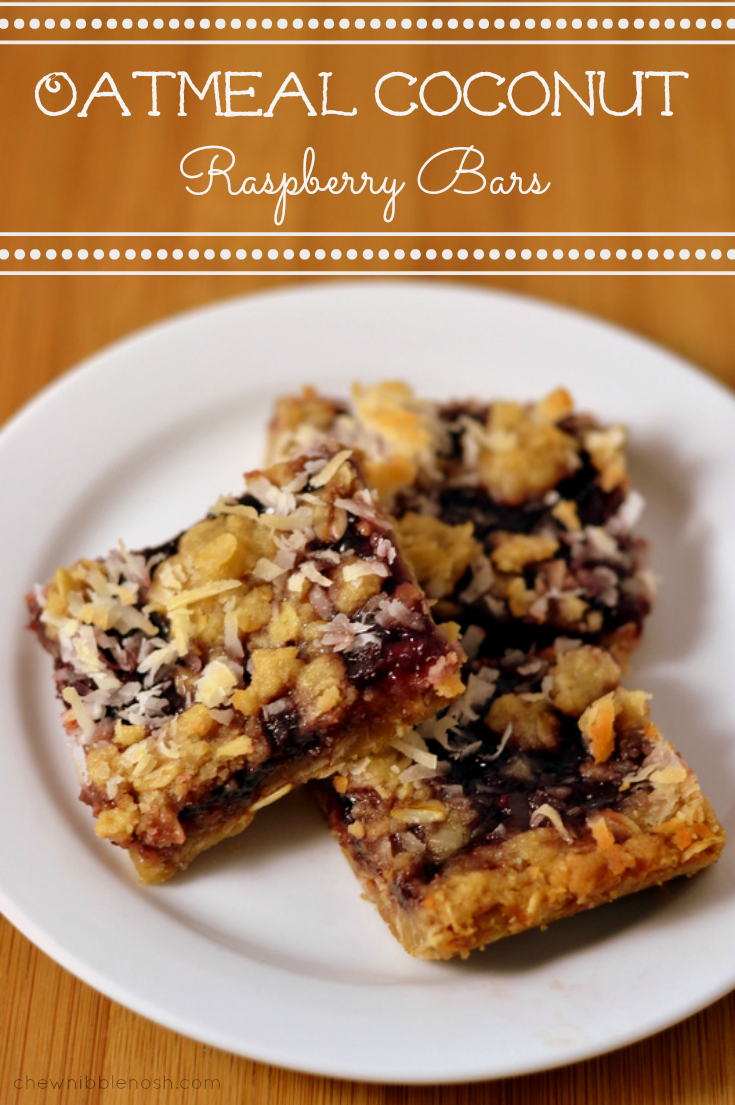 OATMEAL COCONUT RASPBERRY BARS
Adapted from Epicurious
Oatmeal Coconut Raspberry Bars
Author:
Prep time:
Cook time:
Total time:
Ingredients
1 1/2 cups sweetened flaked coconut
1 1/4 cups all-purpose flour
3/4 cup packed light brown sugar
1/4 cup granulated sugar
1/2 teaspoon salt
1 1/2 sticks (3/4 cup) cold unsalted butter, cut into pieces
1 1/2 cups old-fashioned oats
3/4 cup seedless raspberry jam
Instructions
Preheat your oven to 375*F. Spray a 9×13 inch baking dish with nonstick spray and set aside.
Spread 3/4 cup of the coconut onto a cookie sheet. Toast in the middle over the oven, stirring a few times, until golden brown, about 8 minutes. Set aside to cool a bit.
Combine the flour, sugars, and salt in a food processor. Add the cold butter, and process until the dough begins to come together. Transfer the mixture to a bowl and stir in the toasted coconut and oats.
Set aside 3/4 cup of the dough, and press the rest of the dough into the prepared baking dish. Spread the jam over the cookie layer.
Crumble the remaining dough over the top of the jam. Sprinkle with remaining (untoasted) coconut.
Bake, at 375*F, for 20-25 minutes, until edges are golden and cookie is baked through. Cool completely in pan on a wire rack before slicing.
Slice into bars and keep in an airtight container for up to three days.
ENJOY!