Directions
 Before I get into the heart of this recipe, let me just state that this tomato-onion-garlic-basil concoction is delicious on pork chops.  It would be delicious over chicken, or delicious over fish.  It would be delicious served over sliced baguette as an appetizer, spread on a pizza, or delicious simply eaten out of the pan with a spoon (I'm guilty).  If you haven't guessed yet, it's really good stuff.
And it is so simple and fresh, and perfect for a busy back to school weeknight.
I started by slicing up a sweet onion, halving a bunch of red and yellow cherry tomatoes, mincing up some garlic, and chopping up some fresh basil from my garden.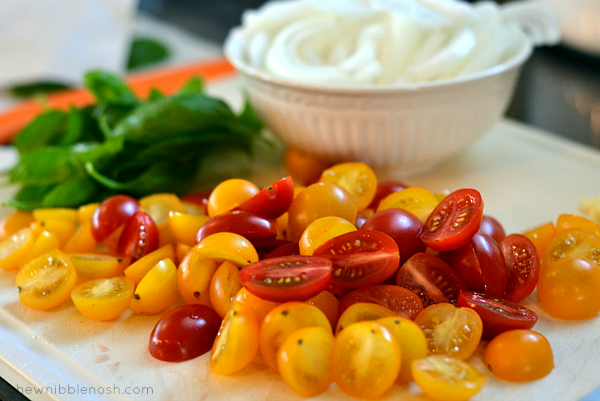 I heated a dab of olive oil in a skillet, and added my onion.  I let it cook down, slowly, until it was just starting to caramelize, and then I added in my tomatoes and garlic.
I let that mixture cook down until the tomatoes had started to pucker and release their juices, and the onions had cooked down some more, and then I added in my fresh basil and some balsamic vinegar.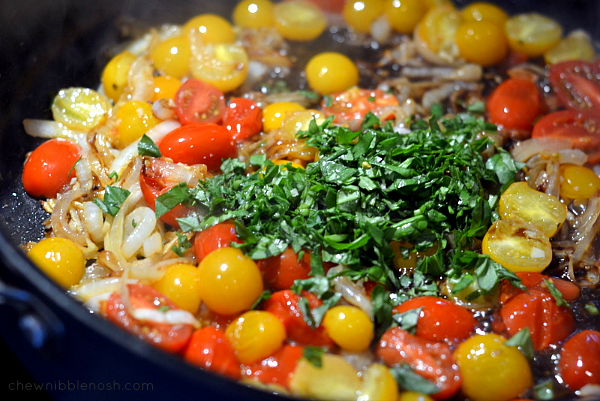 I let all of the flavors mingle in the pan for a minute or so, seasoned the mixture with salt and pepper, and then poured it all out into a bowl where I set it aside until the pork chops were cooked.
I added a little more oil to the same pan I cooked the tomatoes in, salted and peppered my chops, and added them to the pan.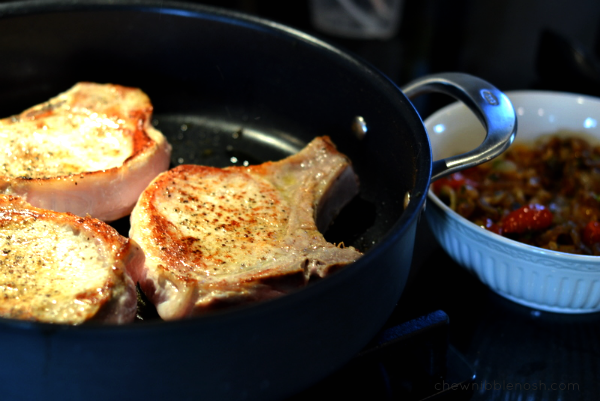 I browned them on both sides, about three minutes per side, and then put the pan in the oven to finish them off.  They baked for about 15 minutes more, until the internal temperature was 145*F.
When the chops were done, I spooned a hefty dose of that drool-worthy balsamic tomato mixture over the top, and sprinkled it with crumbled feta cheese.
The chops were tender and juicy, perfectly cooked.  But like I said, you could top a shoe sole with this tomato stuff and have a winner.  OK, maybe not a shoe sole, but you get where I'm going with this.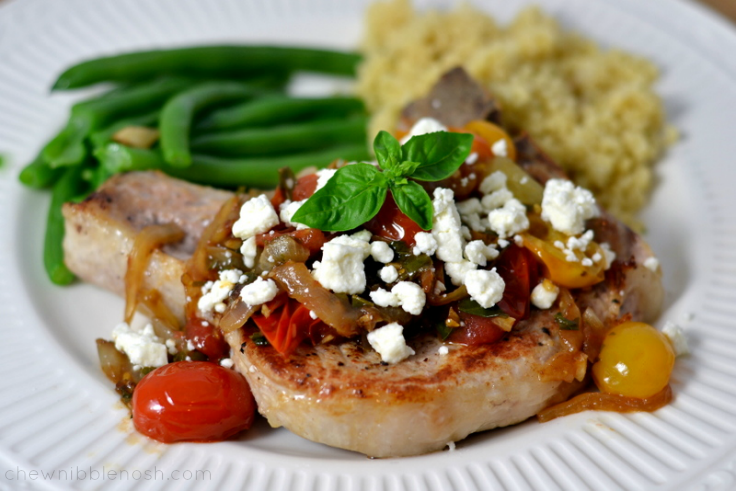 PORK CHOPS WITH FRESH TOMATO, ONION, GARLIC & FETA
Adapted from AllRecipes
Pork Chops with Fresh Tomatoes, Onion, Garlic, and Feta
Author:
Prep time:
Cook time:
Total time:
The tomato mixture can be made ahead of time, chilled, and brought to room temperature or gently warmed before serving.
Ingredients
2 Tbsp. olive oil, divided
1 large sweet onion, halved, and thinly sliced (about 2 cups)
1/2 pint red grape tomatoes, halved
1/2 pint yellow grape tomatoes, halved
4 cloves garlic, finely chopped
1 tsp. salt
2 1/2 tsps. balsamic vinegar
3 Tbsp. chopped fresh basil, or 1 Tbsp. dried
4 1-inch thick pork loin chops
3/4 cup crumbled feta cheese
Instructions
Heat 1 1/2 tablespoons of the oil in a large ovenproof skillet over medium heat. Add the onion, and cook until golden brown, stirring occasionally, about 10 minutes.
Add the tomatoes, garlic, and 1/2 tsp. salt. Cook, stirring occasionally, until the tomatoes start to pucker and give off their juices, about 4 minutes. Stir in the vinegar and basil, allow the flavors to come together, and then transfer the mixture to a bowl. Set aside.
Wipe out the skillet.
Heat the remaining 1/2 tablespoon of the oil in the same skillet. Sprinkle the pork chops with the remaining salt, season with pepper, and cook until browned on both sides, about 3 minutes per side.
Move the pan to the oven, and cook until a thermometer reads 145*F in the thickest part of the chop, about 15 minutes.
Top each pork chop with some of the tomato mixture, and sprinkle with the feta.
ENJOY!