Directions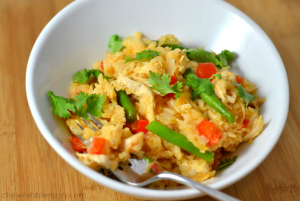 And just like that, it's September and I'm back to playing extracurricular taxi driver after school. Wow, that was fast.
Getting back into the swing of things always takes some adjustment.  We're all going through that transition now, and one of the ways I can help navigate the crazy is with some simple meals to throw together come dinnertime.  Plus, if I can work it so clean up time is minimal, that's a huge bonus.
When I run across one pot meals, I'm usually pretty quick to schedule them in on our busiest nights.  This chicken and rice dish combines that Asian-coconut-curry flavor that I love, with fresh veggies and simple, rotisserie chicken from the grocery store.  Dinner can go from chopping board to table in about thirty minutes.
I started by prepping everything.  I shredded my rotisserie chicken into big chunks earlier in the day when I brought it home from the store.  So, I just chopped up a red bell pepper, some onion, and garlic and then I cleaned and sliced up a half-pound of green beans.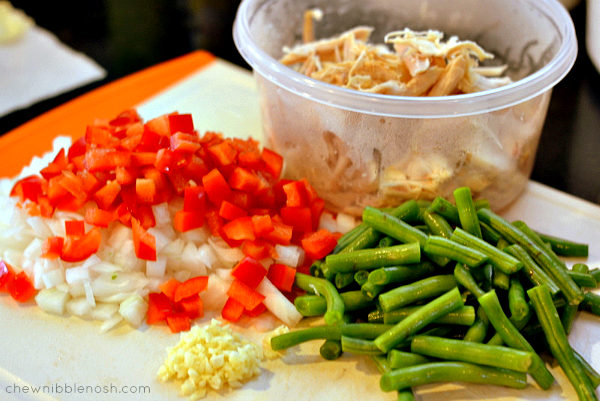 I started by heating some coconut oil on the stove top in my pot, and then sauteing my onion and bell pepper until it was softened.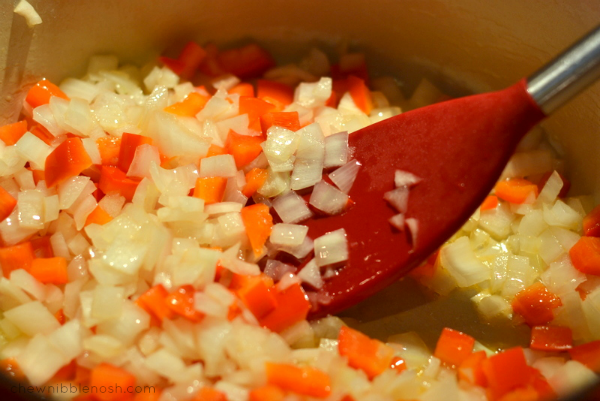 I added in my garlic and the rice, and stirred that for another couple of minutes. This gives the garlic time to cook, and the rice starts to toast up just a bit in the oil.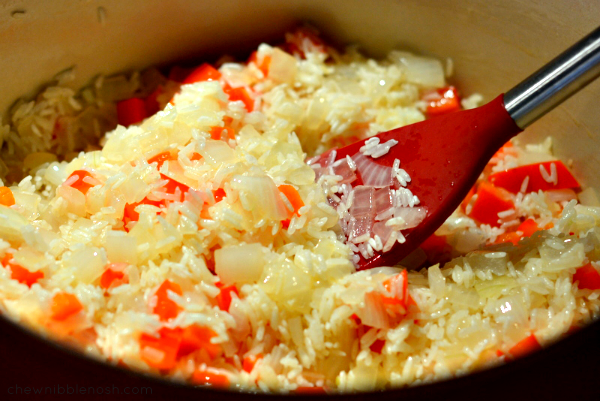 To that I added in some chicken broth, a can of light coconut milk, and some red curry paste.  I used about a tablespoon of red curry paste, but I would probably add more next time.  Add whatever you feel comfortable with!
I brought that to a simmer, and then added in my shredded chicken.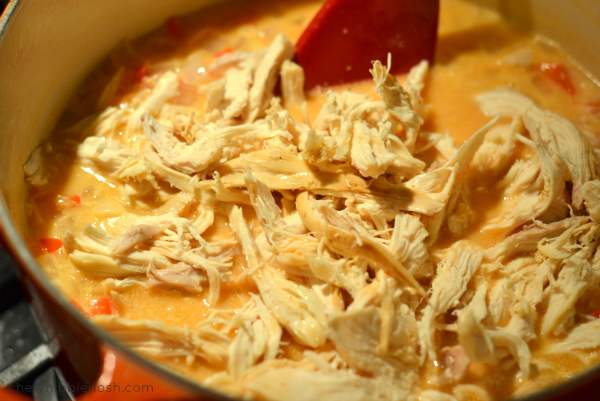 I gave it a good stir, popped the top on the pan, and lowered the heat to a simmer.  I allowed it to cook for about twelve minutes, before I gently stirred it again and scattered the green beans over the top of the chicken and rice.  I put the top back on the pan and let it cook on the stove top for a few minutes more to help finish off the rice and steam the beans until they were crisp tender.
Before serving it up, I stirred in some fresh lime juice and seasoned the rice with salt and pepper, and then we were ready to go!
The dinner was deliciously cozy after a long, busy day, and it was exotic enough to satisfy our grown-up palates and familiar enough that the kids didn't think twice about it.  All in all, exactly what I'm looking for come dinner time on a busy night!
ONE POT COCONUT CHICKEN AND RICE
Adapted from Cooking.com
One Pot Coconut Chicken and Rice
Author:
Prep time:
Cook time:
Total time:
Ingredients
2 Tbsp. coconut oil
1 1/2 cups finely chopped onion
1 1/2 cups diced red bell pepper
3 cloves garlic, minced
1 1/2 cups jasmine rice
1 1/2 cups chicken broth
1 (14 oz.) can lite coconut milk
1 Tbsp. (or more) red curry paste
3 cups shredded cooked chicken
1/2 lb. green beans, cut into 2-inch pieces
juice from 1/2 lime
salt and pepper, to taste
chopped cilantro, for garnish.
Instructions
Heat the oil in a heavy round pot over medium-high heat until hot. Add the onion and pepper and cook, stirring, for 5 minutes.
Add the garlic and the rice, and continue to cook and stir for 2 minutes.
Add the chicken broth, coconut milk, and curry paste. Bring to a simmer, stirring.
Add the chicken, cover, and simmer for 12 minutes.
Stir the rice to help make sure none is sticking to the bottom of the pot, and then scatter the green beans over the top of the rice. Cover the pot again, and allow to cook until the beans are just tender, 5-6 minutes.
Stir in the lime juice and season with salt and pepper.
Sprinkle with cilantro, and serve.
ENJOY!