Directions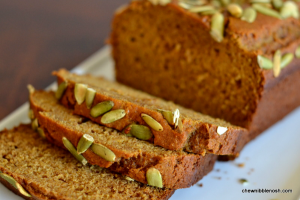 What do we do with a vast amount of canned pumpkin that I couldn't resist buying?  We bake!
I came across this recipe a while ago, and wanted to try it come pumpkin season.  I'm so glad I did.  This will be my new, go to pumpkin bread recipe!  It was a huge hit with my family, and easy enough to throw together, that we can enjoy it often throughout the season.  Substituting antioxidant-rich olive oil for less-healthy fats like butter and vegetable oil, and swapping out the bulk of the white flour for whole wheat, make this a better option for me and my family…and a delicious one, at that.
I started by mixing together my dry ingredients in one bowl, and my wet in another.  In the dry bowl we have all-purpose flour, some whole wheat flour, cinnamon, baking soda, baking powder, nutmeg and salt.  In the wet corner, we have two eggs, some canned pumpkin, brown sugar, olive oil, and honey.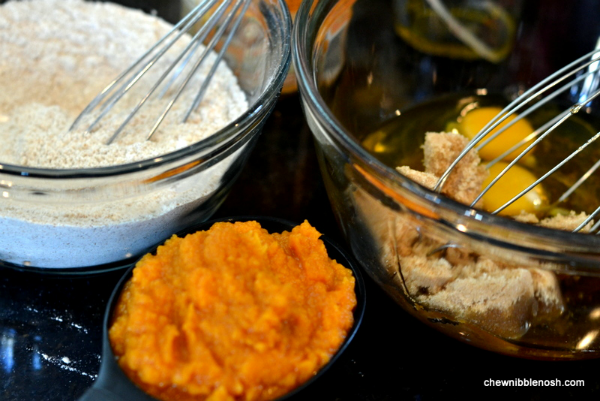 Dry was mixed in with wet, and then I poured the batter into a greased loaf pan.  I decided to sprinkle some shelled pumpkin seeds (Pepitas) over the top, for a little extra crunch. This part is purely optional, of course.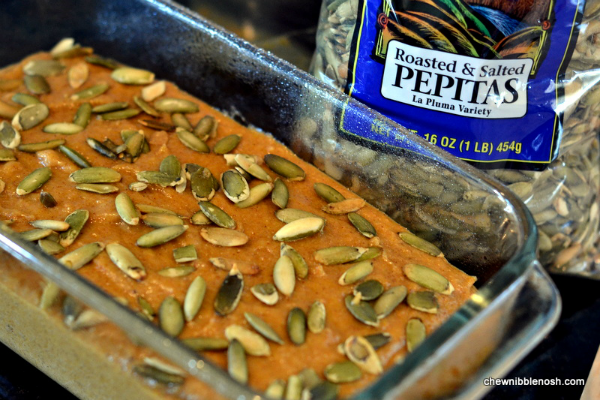 Into the oven it went for just under an hour.  When you can stick a cake tester or toothpick in the middle of the loaf and it comes out clean, it's time to remove it from the oven.
I let it cool in the pan for about fifteen minutes before removing it and allowing it to finish cooling on a wire rack.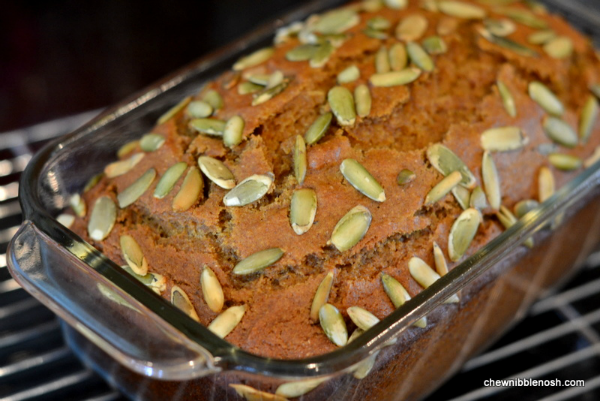 Soon after, my girls came home from school, and their first words once they were in the door were "Ooooh!  What smells so good?  Can we have some?"  So, we dove right in.  We munched on slices of still-a-little-bit-warm pumpkin bread, slathered with some cream cheese, and chatted about their days at school.  The bread was a hit, and I can't think of a better way to end a fall day at school.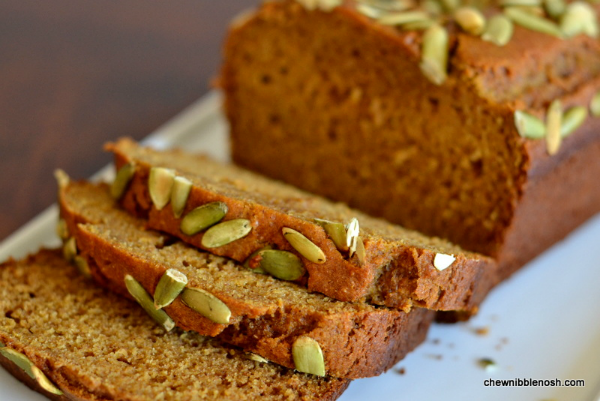 OLIVE OIL PUMPKIN BREAD
Adapted from Fine Cooking: Cooking Fresh
Olive Oil Pumpkin Bread
Author:
Prep time:
Cook time:
Total time:
Ingredients
3/4 cup whole wheat flour
2/3 cup all-purpose flour
1 tsp. cinnamon
1 tsp. baking soda
1/2 tsp. baking powder
1/2 tsp. ground nutmeg
1/4 tsp. table salt
2 large eggs
1 cup canned pumpkin
1/2 cup packed light brown sugar
1/3 cup olive oil (make sure it's a mild olive oil, and not too peppery)
1/3 cup honey
2 Tbsp. pumpkin seeds (optional)
Instructions
Spray a 9×5 inch loaf pan with nonstick cooking spray and set aside. Preheat your oven to 350*F, and make sure the rack in your oven is in the center.
In a medium-sized bowl, whisk together the two flours, cinnamon, baking soda and powder, nutmeg and salt. In a larger bowl, whisk together the eggs, brown sugar, pumpkin, olive oil, and honey until well combined.
Add the dry ingredients to the wet ingredients, stirring just until combined.
Spoon the batter into the prepared pan and smooth out the top. Tap the pan on the counter a few times to break up any air bubbles and to settle the batter.
Sprinkle the pumpkin seeds, if you're using them, over the top of the batter.
Bake at 350*F until the top is browned and puffed, and a cake tester or toothpick come out of the middle clean, about 40-45 minutes. If the bread browns up a bit too quickly on top before the bread is done, lightly place a sheet of aluminum foil over the top of the loaf and continue baking until finished.
Cool in the pan for 15 minutes. Then, run a knife around the edges of the pan and remove the loaf to a wire rack to cool completely.
ENJOY!