Directions
Mmmm…pork, sauerkraut, and apples.  There's something about it all together that just warms the soul, and this slow cooker version is perfect for a busy, chilly fall night.
I started by browning up a 1 1/2 pound pork loin roast on the stove top.  I'd sprinkled it with some salt, pepper, and dried thyme beforehand, and made sure to brown it up well on all sides.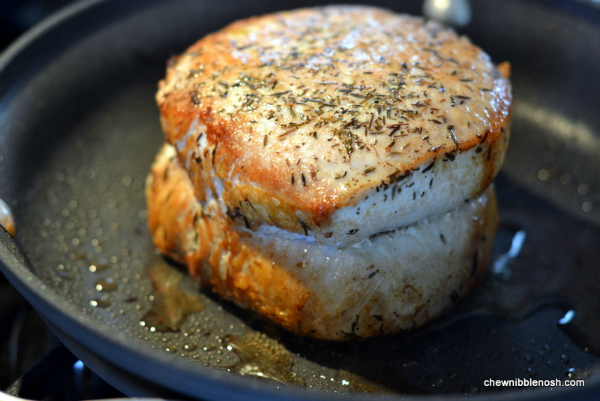 In my slow cooker, I mixed together two pounds of drained, rinsed sauerkraut, a red onion that I'd sliced thinly, an apple that I'd chopped, and some caraway seed.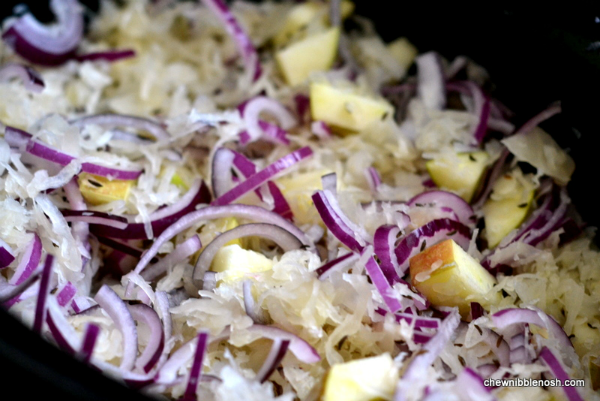 I nestled the browned pork roast down into the sauerkraut mixture, poured a little white wine over the top, popped the lid on the cooker, and then let it cook on low for about eight hours.
Talk about easy, right?
Just a few simple ingredients, but they smelled so good as they cooked!  It's one of those homey, yummy smells you wish you could just bottle up and keep around.  So, so good.
When it was time to eat, I lifted the lid off my slow cooker to find a perfectly tender pork roast, and a pot of amazing, hearty, tummy-warming, sweet and tangy sauerkraut, just ready for us to dive into.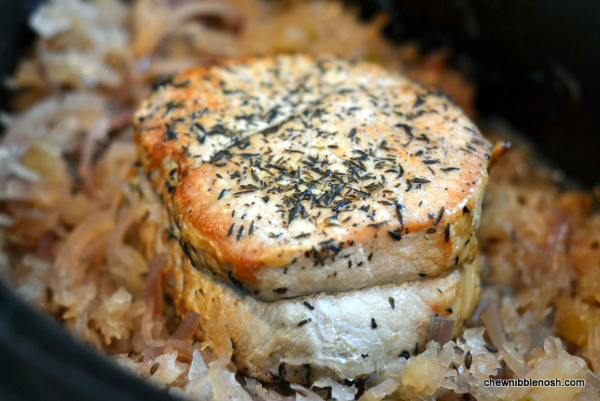 I attempted to slice the roast into picture perfect slices, but the meat was so tender it just fell apart after the first couple of slices.  So, it wasn't exactly award winning picture material, but it sure was tasty.  It was the perfect meal for a busy, chilly fall night.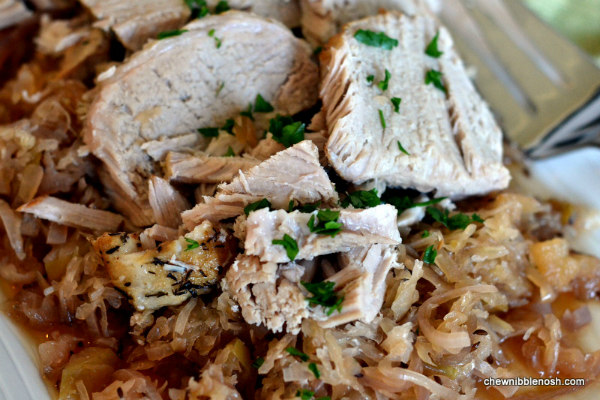 SLOW COOKER PORK ROAST WITH SAUERKRAUT AND APPLES
Adapted from Weight Watchers
Slow Cooker Pork Roast with Sauerkraut and Apples
Author:
Prep time:
Cook time:
Total time:
Ingredients
1/2 tsp. dried thyme
1/2 tsp. pepper
1/8 tsp. salt
1 (1 1/2 lb) boneless pork loin roast, trimmed
2 tsp canola oil
1 (2 lb.) package sauerkraut, rinsed and drained
1 red onion, thinly sliced
1 red apple, cored and diced
2 tsp. caraway seeds
1/2 cup dry white wine
chopped fresh parsley
Instructions
Sprinkle the roast all over with the thyme, salt and pepper. Heat the oil in a nonstick skillet over medium-high heat. Add the pork and brown well on all sides, about 6 minutes.
Combine the sauerkraut, apple, onion, and caraway seeds in a 5-6 quart slow cooker.
Place the pork roast on top of the vegetables, and pour the white wine over the top. Cover and cook until the pork and kraut are fork tender. 4-5 hours on HIGH or 8-10 hours on LOW.
Transfer pork to a platter and cut into six slices. Spoon the sauerkraut mixture around the pork and sprinkle with chopped parsley.
ENJOY!