Directions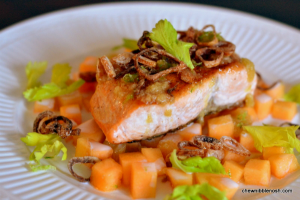 A girl should always listen to her Mama.
My mom has been telling me about this recipe for years now, about how amazing it is, and how it's her and my father's favorite salmon dish EVER.  I've heard nothing but glowing reviews for this recipe.  Last week, a wonderful, dear friend of mine from Seattle decided to grace my doorstep with a beautiful side of salmon straight from Pike Place Market.  When I told my mom that I had this amazing piece of fish on my hands, she copied the recipe (along with a couple more) and sent my father over to my house to hand deliver them.  No joke.  This recipe is serious business.
So, armed with their favorite recipe, I decided to give it a try last night.  Honestly, it sounded a little bit too weird, but my parents aren't into weird food, they're into GOOD food, so I figured that if they raved about it, I needed to take a chance.
The recipe isn't difficult.  I made it last night, a weeknight, for dinner.  It would be a perfect meal to entertain with, however, because you can make up a lot of the pieces ahead of time and just cook the salmon up at the end.  Plus, the finished plate looks so pretty, and fairly impressive, if I do say so myself. Bear with me as I piece the recipe together.  It sounds weird, it really does, but it all worked out to be absolutely perfect.
Like I said, a girl should always listen to her Mama!
I started by whisking together a quick, Asian inspired dressing that would, eventually, be drizzled over the salmon.  Into my bowl went some fresh lime juice, Asian fish sauce, brown sugar, olive oil, salt and pepper, and two tablespoons of horseradish.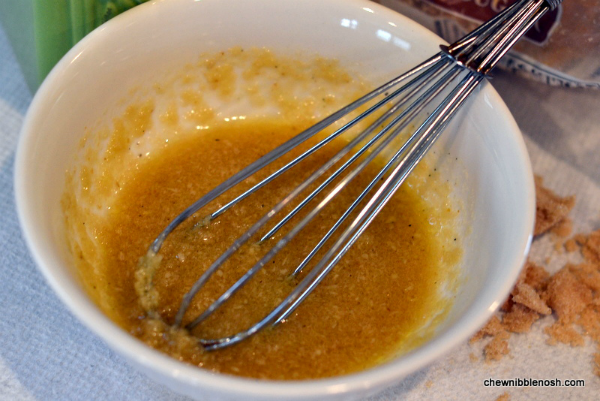 The original recipe called for fresh grated horseradish, but I just took two tablespoons of the jarred horseradish I had in the fridge and squeezed the water out of it with some paper towels, before adding it to the bowl.
The dressing can be made up to four hours ahead of time.
Next, I fried up my shallots that would also top the fish.  I sliced up three shallots and separated them into rounds.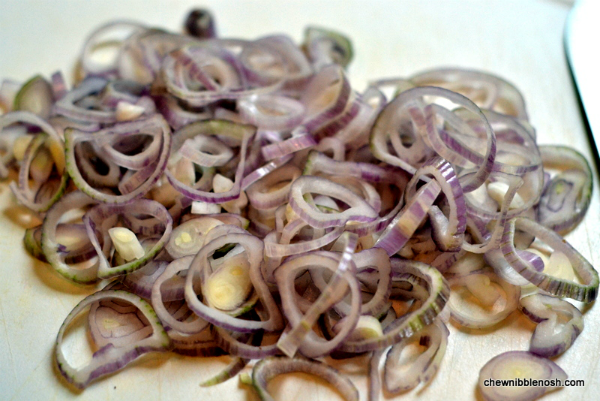 Then, I gave them a quick coating of cornstarch and lightly fried them in some vegetable oil.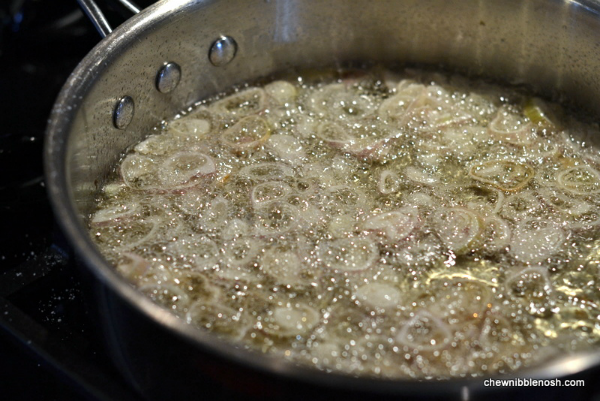 Once they were browned and crisp, which didn't take long, I removed them with a slotted spoon to a paper towel lined plate, and sprinkled them with some salt.
The shallots can also be made up to four hours ahead of time.
Once those were done, I finished off all of the other bits and pieces before I dove into the salmon.  I diced up some fresh, juicy, cantaloupe, grated the zest of a lime, and washed up some (get this!) celery leaves!!  I figured each little oddball piece must be there for a reason, so I did it all.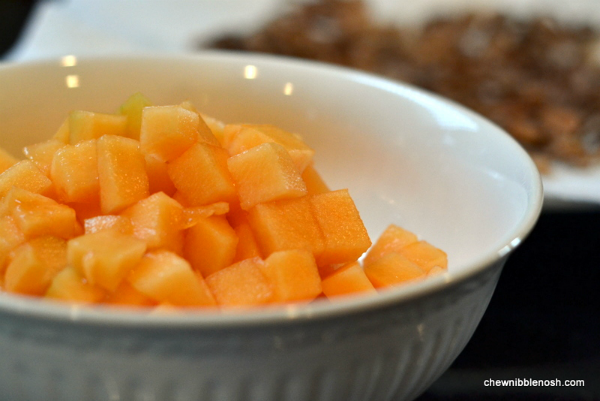 Then, it was time to cook up the salmon.  I salted and peppered each piece of salmon, on both sides.  Then, I heated up a bit of oil on the stove top til it was nice and hot and laid my salmon fillets, skin side down, onto the hot pan.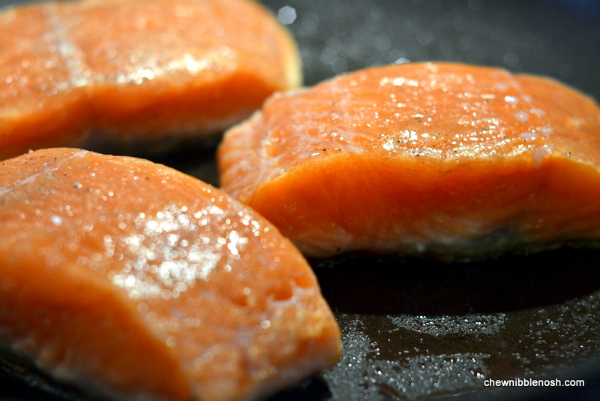 I let the salmon cook there for about three minutes, until the skin was browned and crispy.  Then, I carefully flipped the salmon pieces over, and placed the pan into my oven, which had been preheated to 400*F.
The salmon continued to cook in the oven until it was perfectly tender, with a nice brown crust on both sides, about five more minutes.
As the salmon was cooking, I started plating the pieces of my dish.  First off, I covered the bottom of my plate with the diced cantaloupe.  Then, I drizzled some buttermilk (I know, right??) over the fruit, and sprinkled it with salt.
When the salmon was done, I laid a piece of salmon on the melon, spooned over some of that horseradish dressing, sprinkled it with lime zest and then topped it off with some of those crunchy, fried shallots and the fresh, green celery leaves.
I had to admit, it was a beautiful plate.  Beautiful doesn't even begin to describe how good it tasted, though.  My parents were right…it was about as good as you can get!  Every slightly-weird little piece fit together so perfectly, and it was deliciously fresh.  There are so many wonderful flavors, and textures, working together in this dish.  It is truly a work of art.  Even the celery leaves!  Aaron left the leaves off of his plate, so I gave him one of mine to try, and he couldn't believe how much they added to the dish.
And, might I add, there's something to be said for fresh, Seattle salmon. AMAZING.  Thank you, Joan!!
Give it a try.  Trust me!  Trust my parents!  This is one fabulous salmon dish you really need to try to believe.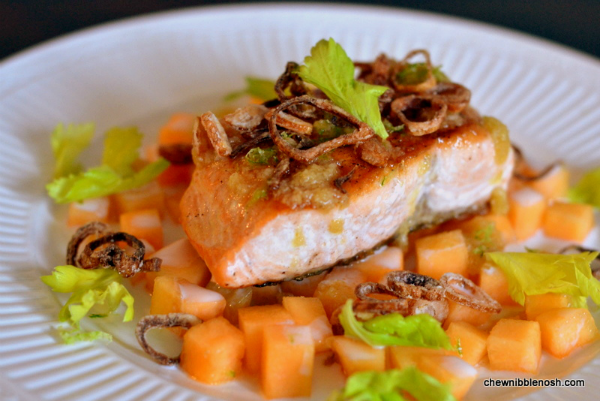 SALMON WITH CANTALOUPE AND FRIED SHALLOTS
Adapted from Food & Wine
Salmon with Cantaloupe and Fried Shallots
Author:
Prep time:
Cook time:
Total time:
Ingredients
For the Vinaigrette:
2 Tbsp. jarred horseradish, squeezed between some paper towels to remove the extra moisture
1 1/2 Tbsp. fresh lime juice
1 Tbsp. Asian fish sauce
1/2 Tbsp. brown sugar
1 Tbsp. extra virgin olive oil
salt and pepper to taste
For the Fried Shallots:
3 large shallots, sliced crosswise and separated into rings
cornstarch, for dusting
vegetable/canola oil
salt
For the Salmon and Garnishes
4 (6 oz.) skin-on salmon fillets, bones removed
salt and pepper
1 Tbsp. vegetable/canola oil
2 cups diced cantaloupe
1/2 cup buttermilk
1 tsp. freshly grated lime zest
1/4 cup celery leaves
Instructions
*The dressing and fried shallots can be made up to four hours ahead of time and kept at room temperature.
Make the dressing:
In a small bowl, whisk together the horseradish, lime juice, fish sauce, brown sugar, and olive oil. Season with salt and pepper. Set aside.
Make the fried shallots:
In a large skillet, heat 1/4 inch of oil until it shimmers, over medium-high heat.
Place the shallot rings in a small colander and dust them with cornstarch, making sure each ring is coated lightly and evenly.
Add the shallots to the oil in an even layer and fry, until browned and crisp, about 3-4 minutes, stirring occasionally.
Remove the shallots from the oil with a slotted spoon and allow to drain on a plate lined with paper towels. Sprinkle with salt. Set aside.
Prepare the salmon:
Preheat the oven to 400*F.
Sprinkle both sides of the salmon pieces with salt and pepper.
Heat the 1 Tbsp. oil in a large, nonstick, ovenproof skillet until shimmering.
Add the salmon pieces to the pan, skin side down. Cook until the skin is crisp and browned, about 3-4 minutes.
Flip the salmon pieces over and place the pan in the preheated oven to finish cooking. Cook the salmon for about 4-5 more minutes in the oven, until fish is just cooked through and tender.
Divide the cantaloupe among four plates. Drizzle the melon with the buttermilk, and season with salt.
Place one salmon fillet on each plate, on top of the melon.
Drizzle each fillet with the horseradish dressing.
Sprinkle with the lime zest.
Top the salmon with a few of the celery leaves and a hefty dose of the crispy, fried shallots.
ENJOY!