Directions
I just saw our weather report for Halloween.  It's supposed to be miserably rainy and gross.  Yuck!  What a bummer.  I haven't told the kids yet.  I'm holding out for some sort of Halloween miracle, but the forecast looks pretty dim.
I knew I would make these cookies again soon, but I may just have to make them again for Halloween to raise the spirits of my most-likely-soon-to-be-sad Despicable Me Minion and Witch.  My little trick or treaters love these cookies, and ever since the last one disappeared, they have been asking me to make more.
I have to thank my sister-in-law, Karin, for playing around with recipes and hooking me up with this delicious cookie/frosting combo.  It's definitely a winner, and will be a new fall tradition in our house!
I started by creaming together some butter and sugar, along with some baking powder, baking soda, salt, cinnamon and nutmeg.
I mixed in some eggs and vanilla, and then added one can of pumpkin to the mix.  All that was left to add was the flour, and then I was left with a beautifully orange, toasty looking dough to scoop out onto my cookie sheets.
This recipe makes a ton of cookies, I counted around 5 dozen, so it's the perfect recipe to share with friends, teachers and coworkers.  I gave a lot of them away, because it would be too dangerous to keep them all for myself!  Don't forget to top them with this amazing frosting, though!  It's a simple one to throw together and adds just the perfect amount of YUM to the finished product.
For the frosting, I creamed some butter and cream cheese together.  Then, I mixed in some powdered sugar, and finished it off with some vanilla and cinnamon.
Easy enough, right?  And it's totally worth it!
You could easily spread the frosting onto the cooled cookies, but I decided to scoop the frosting into a large zip top plastic bag, snip off the end, and pipe the frosting onto the cookies.  Then, I finished them off with some fall sprinkles I had on hand.  To set the frosting, after they'd set up on the cooling racks for a while, I did layer them in an airtight container, with layers of parchment in between, and place them in the fridge to chill for a bit.  They taste best at room temperature, though, so let them warm back up for a minute before diving in.
They were perfect, and so, so incredibly tasty!  Honestly, I think I'd skip the fun size candy bars and dive into these instead.  (And I love chocolate, so for me to say that, you know these have got to be good!)
I hope you all have a wonderfully spooky, not-too-wet, Halloween.  Stay safe, and have fun!  Enjoy a cookie or two while you're at it!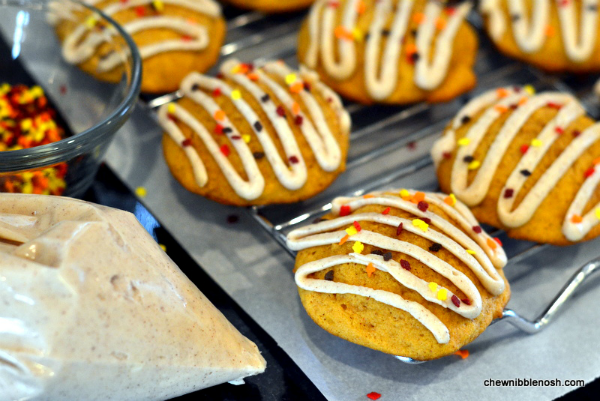 SOFT PUMPKIN SPICE COOKIES WITH CINNAMON CREAM CHEESE FROSTING
Cookie recipe adapted from Better Homes and Gardens, Frosting recipe adapted from www.the-baker-chick.com
Soft Pumpkin Spice Cookies with Cinnamon Cream Cheese Frosting
Prep time:
Cook time:
Total time:
Ingredients
For the Cookies:
2 cups butter, softened
2 cups sugar
2 tsp. baking powder
2 tsp. baking soda
1 tsp. salt
1 tsp. cinnamon
1/2 tsp. nutmeg
2 eggs
2 tsp. vanilla
1 (15 oz.) can pumpkin puree (not pumpkin pie filling)
4 cups all-purpose flour
For the Frosting:
1/2 cup butter, softened
4 oz. cream cheese, softened (I used reduced fat)
2 cups powdered sugar, add more if you want it thicker
1 tsp. vanilla
1 tsp. ground cinnamon
Instructions
Preheat your oven to 350*F.
In a large bowl, beat the butter with an electric mixer for 30 seconds, until creamy. Add the sugar, baking powder, baking soda, salt, cinnamon and nutmeg. Beat until combined.
Beat in the eggs and 2 teaspoons vanilla until combined.
Beat in the pumpkin.
Gradually add the flour and beat in as much as you can with the mixer. If it gets too hard, stir the remainder in.
Drop the dough onto parchment lined cookie sheets in heaping teaspoonfuls, 2 inches apart.
Bake for 10-12 minutes, or until tops are set. Transfer to wire racks to cool completely before frosting them.
For the Frosting:
Cream the butter and cream cheese together with an electric mixer. Slowly beat in the powdered sugar and mix until thick and creamy.
Add the vanilla and cinnamon, and mix until smooth.
Spread or pipe the frosting onto the cooled cookies.
To store: Layer in an airtight container, with layers of parchment or wax paper in between layers, and store in the fridge. Allow them to warm up to room temperature when serving.
ENJOY!