Directions
Have you ever watched any of those food competition shows on TV where cooks are given a mysterious combination of ingredients that they have to turn into a culinary masterpiece?  I love those shows!  I'll be completely honest and also add that those shows make me a nervous wreck.  As a cook, I like to be in control.  I'm a little Type-A in the kitchen, I'm not gonna lie.  Not having any control over what ingredients I'm handed to cook with, and having to make something spectacular out of them is pretty intimidating.
That said, when the good people at McCormick Gourmet, yes the wonderful spice people we all know and love, invited me to be a part of their Go 4 Gourmet program, I couldn't help but be excited about the opportunity.  It was like one of my favorite cooking shows coming to life right in my own kitchen…just without all of the crazy sound and film equipment, incredibly talented panel of judge chefs and the make up and hair crew.  (I kind of wish the make up and hair crew had been a part of it.)
Every couple of weeks, McCormick posts a challenge, asking its fans to create a recipe using four key ingredients.  They go through the submissions, and the best ones of the bunch are featured on their Go 4 Gourmet website, and have a chance at winning an incredible seasonal prize package including a pantry refresh and a $500 Amex gift card!  They asked me if I'd like to try my hand at early November's ingredients, so of course, I said I'd love to!
My challenge ingredients?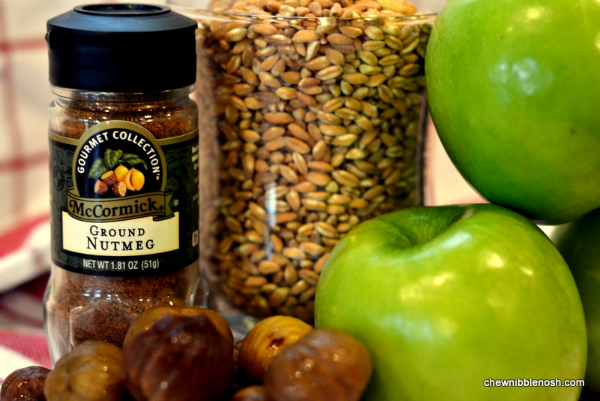 Apples, Nutmeg, Farro and Chestnuts.
Having never cooked with Farro before, I was curious, but not scared.  I love working with whole grains, and this was yet another I was willing to try.  The four ingredients, though somewhat savory, made me think of a cozy, fall dessert, and I wanted to see if I could figure out something to do along those lines.
For some reason, I instantly thought of rice pudding, and I wondered if I could do such a thing with Farro.  So, I Googled "Farro pudding" and sure enough, recipes popped up.  I did some research, and then came up with my own concoction that, if I do say so myself, turned out to be pretty darn good!  It really would be a wonderful dish to serve around the holidays.  It does take a significant time to bake, but if you can get over the time issue, it's well worth it.
I started by parboiling my Farro, to help take it from a hard grain to something softer.  I brought it to a boil with some water on the stove top and let it sit in the warm water for about fifteen minutes.  Then, I drained it.  This was just enough time for the Farro to soften up and expand just a bit.
As the Farro was cooking, I shredded three Granny Smith apples using my food processor, and tossed the apples with some lemon juice, so they wouldn't brown up on me.
Once the Farro was drained, I put the Farro into my food processor and gave it a few good whirls to coarsely chop up the grains.  Then, into a big bowl it went, along with my apples, some skim milk, some heavy cream, sugar, salt, cinnamon, the nutmeg, and vanilla.
Once it was mixed nicely, I poured it into a 2-quart baking dish and popped it into the oven.
 The pudding needed to bake for 3 1/2 – 4 hours, at a low temperature.  All I needed to do during that time was give it a stir, once every hour. That gave me plenty of time to work on my chestnuts.
Have you ever had a roasted chestnut?  They aren't crunchy like a lot of other nuts.  They are almost meaty in texture, and naturally sweet, but even after roasting, they don't crisp up.  During the holiday season, roasted chestnuts (and even un-roasted chestnuts) are pretty easy to find. They are delicious on their own, but I wanted to jazz them up a little bit for this dish.
In Europe, candied chestnuts, or Marron Glacés, are quite popular.  A traditional Marron Glacé  takes quite a long time to make…we're talking days here.  I didn't have days, but I did have an afternoon, so I decided to try a quick candied chestnut, and it actually ended up being perfect compliment to the Farro pudding.
First, I diced up enough roasted, peeled chestnuts so that I had about one cup on my hands.  Then, I melted some sugar and water in a small saucepan on the stove.  Once the mixture was boiling, and the sugar had dissolved, I poured in my chestnuts.
I cooked the chestnuts in the boiling sugar mixture for probably about eight minutes, stirring frequently.  As the moisture evaporates from the sugar mixture, the nut and sugar syrup combination gets thicker and thicker.  Once it seemed as if not much more liquid could be removed, and the nuts looked glazed, I poured them out on a sheet of parchment paper, where I allowed them to cool.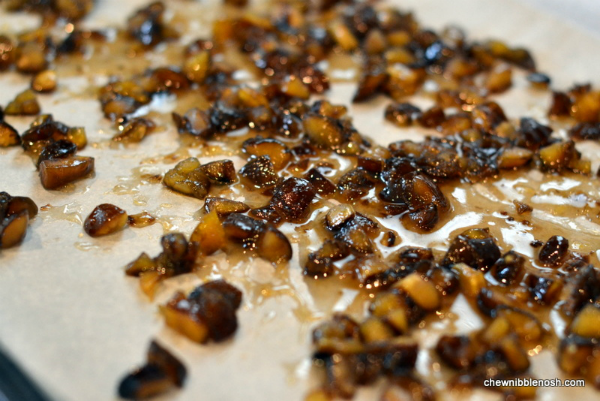 Once I poured them out, I spread them out with a fork as best as I could before the sugar cooled so much that they wouldn't budge. In hindsight, I should have pulled more of those clumps apart while the sugar was warm, but I didn't. Lesson learned!  We still had plenty for our dessert, though.
The chestnuts don't crisp up, but they did have a lovely sugared glaze, and were perfectly sweetened.
Fast forward three and a half hours, and my house smelled like spiced apple pie, vanilla and cream.  My girls came home from school wide-eyed and wondering what could possibly smell so fantastically delicious.
I pulled the pudding from the oven, and it was beautifully thick and creamy.
The pudding could be served warm, but I had a feeling that chilling the pudding would help the flavors settle in even more, so almost as soon as I'd taken it out of the oven, I pressed a sheet of plastic wrap over the top of the pudding, so a skin wouldn't form, and I placed it in the fridge to chill for a few hours.
After the pudding had chilled, it was even thicker, and the flavors were so much more pronounced.  I highly suggest waiting to dive in until after the pudding has had time to chill out a bit.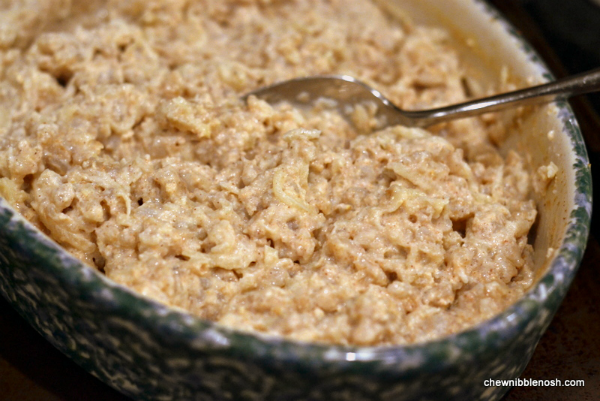 When it was time for dessert, I spooned the pudding into bowls, topped it with some fresh sweetened whipped cream, and then sprinkled the top with plenty of those wonderful little candied chestnuts.
I have to admit, since this was my first foray into food competitions, I was a little nervous about being "judged" by the critics in my household.  Thankfully, they all agreed that this one was a hit!  It really was delicious.  The pudding wasn't terribly rich, but it was certainly filling enough that a little goes a long way.  The apples stayed tart, with a little bit of bite, and the farro added another hearty layer to the sweet, creamy pudding.   I think we've found a new holiday favorite!  And now, I'm even brave enough to change things up a bit, depending on the occasion.
Do you have what it takes to compete in McCormick's Go 4 Gourmet competition?  Check out their website!  Every couple of weeks, the inspiration ingredients change, and there are new ideas to be explored!  If I can do it, you can too.  It was fun!
SLOW BAKED SPICED FARRO PUDDING WITH APPLES AND CANDIED CHESTNUTS
Slow Baked Spiced Farro Pudding with Apples and Candied Chestnuts – Cooking with McCormick Gourmet
Cuisine:
Fall/Winter/Holiday
Author:
Prep time:
Cook time:
Total time:
Ingredients
For the Pudding:
1/2 cup Farro
3 cups skim milk
1 cup heavy cream
2-3 Granny Smith apples, peeled and shredded (you need about 1 1/2 cups of shredded apple total)
2 tsp. lemon juice
1/2 cup sugar
1/4 tsp. salt
1/2 tsp. ground nutmeg
1/2 tsp. ground cinnamon
1 tsp. pure vanilla extract
For the Candied Chestnuts:
1 cup roughly chopped roasted and peeled chestnuts
1/2 cup sugar
1/4 cup water
Instructions
For the Pudding:
Preheat your oven to 275*F.
Pour the Farro into a small saucepan, and cover with at least two inches of water. Bring the water to a boil and cook for 2 minutes. Remove the pan from the heat, cover the pan, and allow the Farro to sit for 15 minutes. Drain the Farro well. Place the Farro in a food processor and pulse a few times until the Farro is coarsely chopped, but not pureed.
As the Farro is cooking, shred your apples and mix the shreds with the fresh lemon juice. This will keep the apple from turning brown.
In a large bowl, combine the Farro, apple mixture, skim milk, heavy cream, sugar, salt, nutmeg, cinnamon, and vanilla.
Spray a 2-quart baking dish with nonstick cooking spray, and pour the pudding mixture into the prepared dish, making sure that the apple and Farro are distributed evenly.
Bake, at 275*F, for 3 1/2 – 4 hours, until thick and creamy. Stir the pudding mixture every hour, so a skin doesn't form on the top of the pudding.
Remove the pudding from the oven and either serve warm, or place a piece of plastic wrap directly on the top of the pudding before putting it in the refrigerator to cool completely before eating. The plastic wrap keeps a skin from forming on the pudding as it chills.
For the Chestnuts:
In a small saucepan, combine the water and the sugar.
Bring the mixture to a boil on the stove top. When the sugar has dissolved, and the mixture is boiling, add the chestnuts.
Stir until the mixture has boiled down quite a bit, about 8 minutes, until the sugar is thick and syrupy, coating the chestnuts, and it doesn't look like there's much more water left to evaporate.
Pour the chestnut mixture out onto a piece of parchment paper. Using a fork, spread out the pieces of chestnut as quickly as possible, before the sugar sets back up. Allow to cool completely before serving. Can be stored in an airtight container at room temperature.
To Serve:
Spoon the pudding (either warm, or chilled) into dessert bowls. Top with fresh whipped cream, and sprinkle the top with the candied chestnut pieces.
ENJOY!