Directions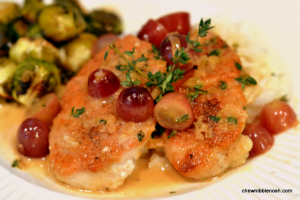 Don't let that pretty plate fool you.
This dinner was delicious, and so simple to throw together that we had it on a weeknight!  From start to finish, it can be done in less than thirty minutes.
This also means that this would be a great Fall dish to entertain with, because you could spend most of your entertaining time with the people you're entertaining!  Just make sure to have the turkey prepped and everything measured out beforehand, and it would make things super simple.  It would even make a great Thanksgiving dinner for a smaller crowd.  It's turkey, right?  Throw some Thanksgiving-ish sides in with it, and you're good to go!
Anyway, here we go…
I started by prepping my turkey tenderloins.  Turkey tenderloins are actually large pieces of white meat that are hidden under the turkey breast.  Because they are an underutilized muscle, they are very tender.  If fact, you can think of them as the turkey's version of a Chicken Tender…they are just much larger!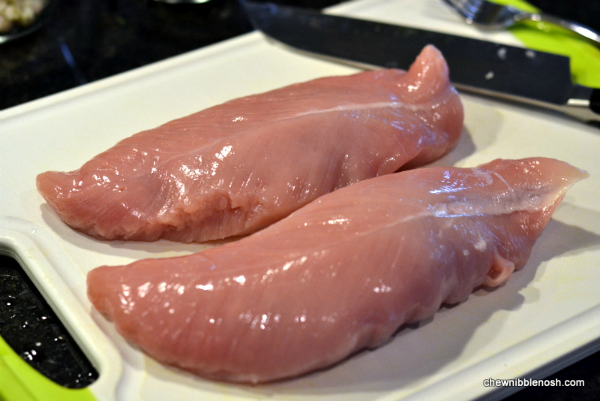 I sliced each tenderloin into four portions, and then pounded them out until they were about a half of an inch thick.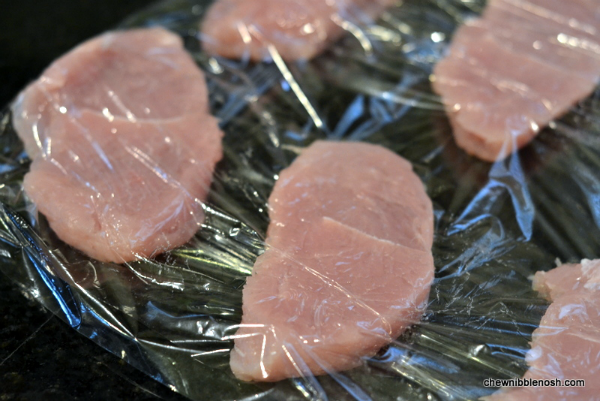 Then, the turkey cutlets were sprinkled with salt and pepper, dredged in some flour, and sautéed on the stove top until they were nice and golden brown.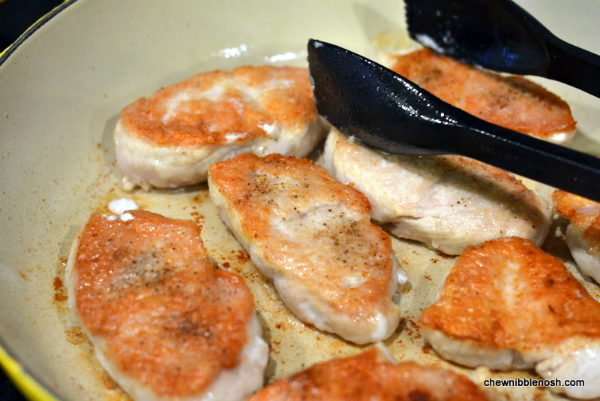 As the turkey was cooking on the stove, I got together my other ingredients for the sauce.  I halved about a cup of seedless red grapes, minced up a shallot, and chopped up some fresh thyme.  Then, I grabbed some white wine, chicken broth, and just a couple of tablespoons of heavy cream.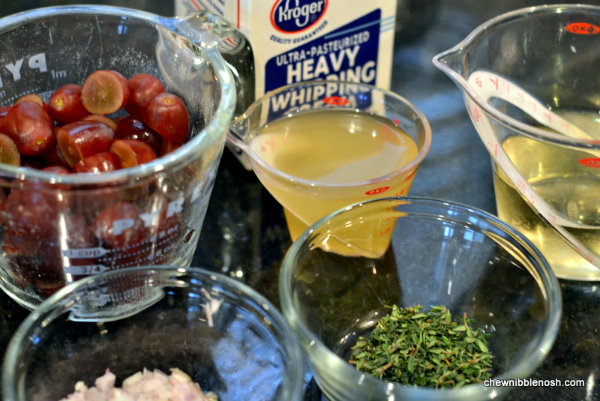 When the turkey cutlets were cooked through, I removed them from the pan and kept them warm on the side.  I added my shallots to the pan, and cooked them down for about a minute before deglazing the pan with the wine.
Once all of the little browned bits were scraped into the sauce, I added the broth and cream and brought it to a simmer.  The sauce bubbled away for just a few minutes, until it was reduced by half, and then I added in my grapes and fresh thyme.  Don't be turned off by the grapes in the sauce.  They add some of that sweet/savory combo to the mix, that I love so much.  They are really worth trying, and they don't get mushy. They keep their bite!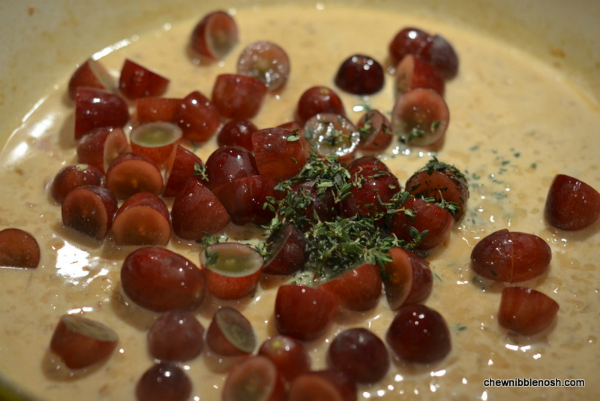 Before serving it up, I whisked in two tablespoons of butter to finish off the sauce.
That's it!
I spooned the sauce (which was really, really, tasty) over those buttery, tender turkey cutlets, and served it alongside some rice (used to sop up more sauce!) and some roasted Brussels sprouts.
It was a dinner made in Fall heaven!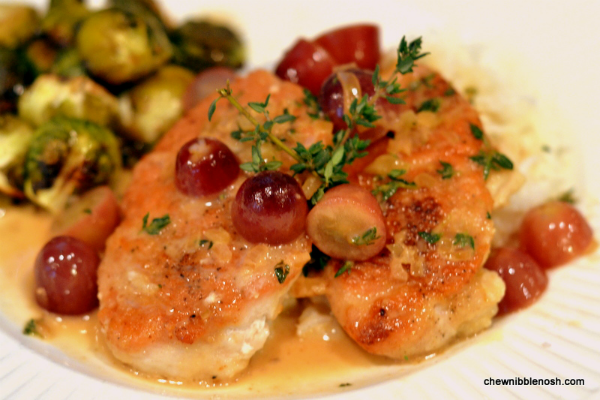 TURKEY VERONIQUE WITH THYME BUTTER SAUCE
Adapted from Cuisine Tonight
Turkey Veronique with Thyme Butter Sauce
Author:
Prep time:
Cook time:
Total time:
Ingredients
2 (12 oz. each) turkey tenderloins
salt and pepper
2 Tbsp. all purpose flour
2 Tbsp. vegetable or canola oil
1 Tbsp. minced shallots
1/2 cup dry white wine
1/4 cup low-sodium chicken broth
2 Tbsp. heavy cream
1 cup halved seedless red grapes
1 Tbsp. fresh thyme leaves, roughly chopped
2 Tbsp. cold butter, cubed
Instructions
Slice each tenderloin crosswise into four portions. Pound out the pieces, in between sheets of plastic wrap or wax paper, until the cutlets are 1/2 inch thick. Sprinkle both sides of the cutlets with salt and pepper, and dredge lightly in flour.
Heat the oil in a large saute pan over medium high heat. Saute the cutlets until golden brown, about 2-3 minutes on each side. When cooked through and golden, remove them from the pan. Keep warm.
Add the shallots to the pan and saute until soft, about 2 more minutes.
Deglaze the pan with the white wine, making sure to scrape up the browned bits from the bottom of the pan. Add the broth and the cream to the pan and bring to a boil. Allow the sauce to simmer until it is reduced by half, about 3-5 minutes.
Stir in the grapes and the thyme, and heat the sauce through, about 1-2 minutes.
Off the heat, add the cubes of butter and whisk in until blended into the sauce and smooth. Season with salt and pepper.
Serve the turkey cutlets with the sauce over the top.
ENJOY!