Directions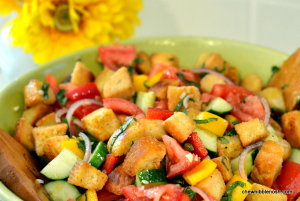 One look at this salad, and I'm thinking about summer, in all of its glory.  Warm weather, cool, crisp veggies fresh from the farmer's market, lazy days, get togethers and BBQs with friends and family…this salad encompasses it all.
I've been making this salad for a few summers now, and every time I do, I get just as excited about it as the first time I've made it.  Maybe even more so, because I know how good it really is now!
I start by whisking together a speedy quick dressing of olive oil, some red wine and white wine vinegar, a dash of Dijon, minced garlic, salt, and pepper.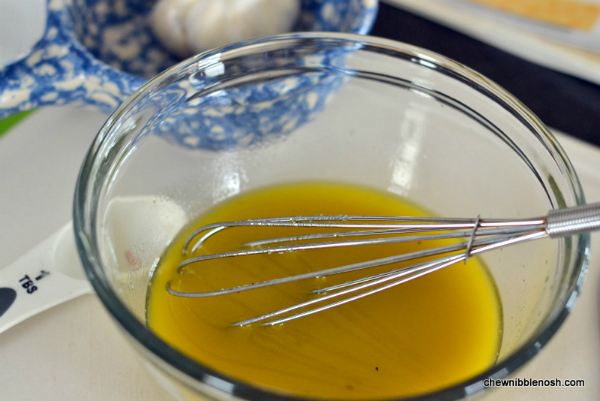 Once that comes together, I chopped up all of my veggies into large chunks.  Three good-sized summer-fresh tomatoes, a red pepper, yellow pepper, and a cucumber all went under the knife.  So did half of a red onion, but it was sliced thinly so as not to overwhelm my salad eaters.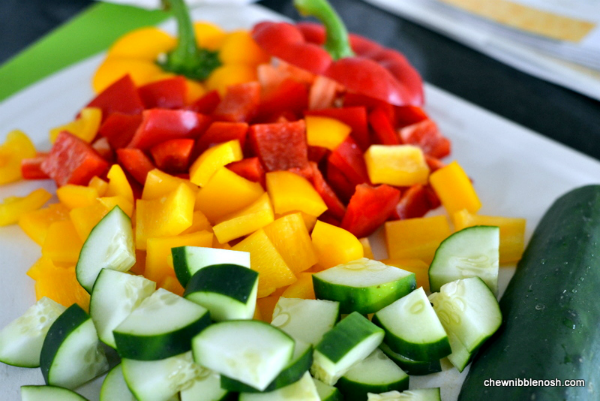 Once all of the veggies were prepped, it was time to make the croutons.  Panzanella is, traditionally, an Italian "bread salad".  Chunks of stale bread were tossed with tomatoes, basil, oil, etc. and allowed to soak for a bit before serving.  Bread is a pretty important part of this version as well, but here, I've made homemade croutons on the stove-top.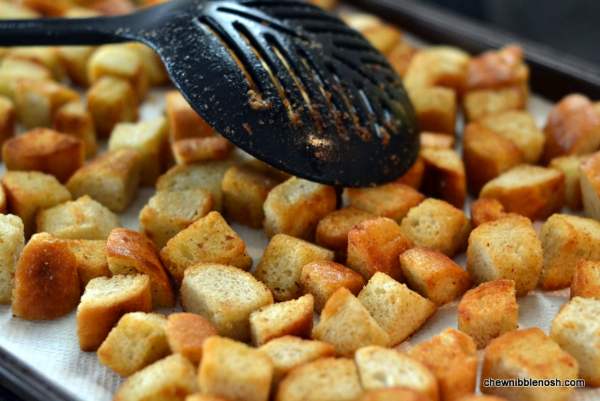 I cut up an entire baguette into cubes and then, in batches, toasted them up in some olive oil on the stove, until they were crisp and golden.  Then, I laid them out on a baking sheet covered in paper towels to drain and cool off completely.
About a half hour before I was ready to serve the salad, I tossed together all of the vegetables, some fresh basil and some salty capers, with the dressing and the croutons.
Then, I had to wait.
Waiting a bit before diving in is crucial.  It gives those veggies time to marinate in the dressing, and also gives the bread time to soak up some of that flavor and soften, just a bit.  We're not talking soggy bread here, but if you can imagine perfectly marinated bread (because that happens often, right?), that's what we're going for.  Leave it for too long, and it's going to be soggy.  Leave it for a half hour or so, and you've got a bowl full of summer flavored heaven.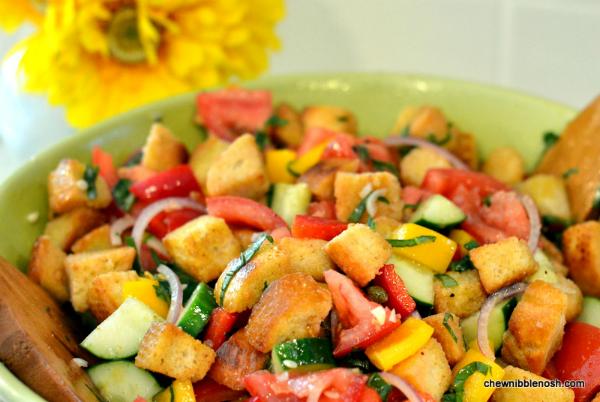 PANZANELLA SALAD
Adapted from Coming Home with Gooseberry Patch
Panzanella Salad
Author:
Prep time:
Cook time:
Total time:
Ingredients
For the Salad:
1/2 cup olive oil, divided
1 long, crusty baguette, cut into 1-inch cubes
1 tsp. salt
3 ripe tomatoes, cut into 1-inch cubes
1 red pepper, seeded and cut into cubes
1 yellow pepper, seeded and cut into cubes
1 cucumber, halved and cut into 1/2 inch thick pieces
1/2 red onion, halved and thinly sliced
1 bunch fresh basil, coarsely chopped
3 Tbsp. capers
salt and pepper to taste
For the dressing:
1 clove garlic, minced
1/2 tsp. Dijon mustard
2 Tbsp. red wine vinegar
1 Tbsp. white wine vinegar
1/2 cup olive oil
1/2 tsp. salt
1/4 tsp. pepper
Instructions
Whisk together all of the dressing ingredients. Set aside.
Heat 2 Tbsp. of the olive oil over low to medium heat in a large skillet. Add half of the bread to the skillet and toss. Sprinkle the croutons with some salt. Saute until deep golden brown, about 10 minutes. Toss frequently and add more oil if needed. Drain on paper towels and then repeat with remaining bread pieces.
Once the croutons are cool, mix the remaining ingredients, except for salt and pepper, in a large salad bowl. Add the bread.
Drizzle with the dressing and toss, adding salt and pepper to taste, if necessary.
Let stand for 30 minutes, at room temperature, before serving.
ENJOY!