Directions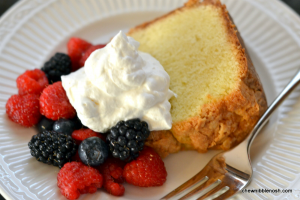 This is one of my favorite cakes to bake in the summertime.  I'm not a huge fan of biscuit based shortcakes, but pairing berries with this deliciously, buttery, moist pound cake is one of the best ways, in my opinion, to sweeten up the summer.
This cake is pretty easy to throw together, and the beauty of it is, it can be made a day or two ahead of when you need it, or frozen for up to a couple of months, and it still tastes perfectly delicious when it's time to eat.
Pound Cake got its name because it is, traditionally, a simple cake made with a pound of butter, pound of flour, pound of eggs, and a pound of sugar.  That's an easy recipe to remember, but it sounds a bit rich, doesn't it?  This version doesn't seem as heavy and it also gets some tang from sour cream and a little punch of flavor from some lemon and almond extracts.  It's really, just about perfect.
I start by creaming some butter and sugar together.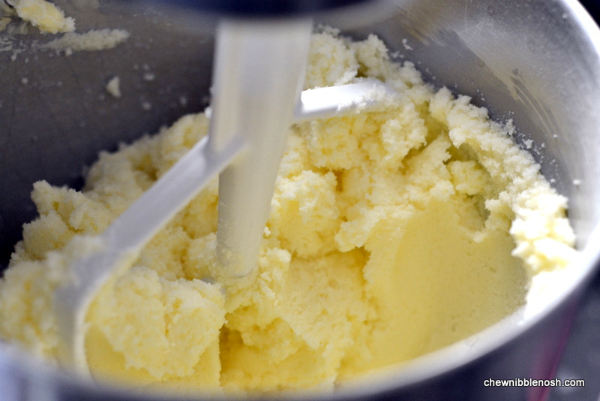 Once the butter and sugar are nice and creamy, I add six eggs, one at a time.
Before adding the dry ingredients, I sift them together.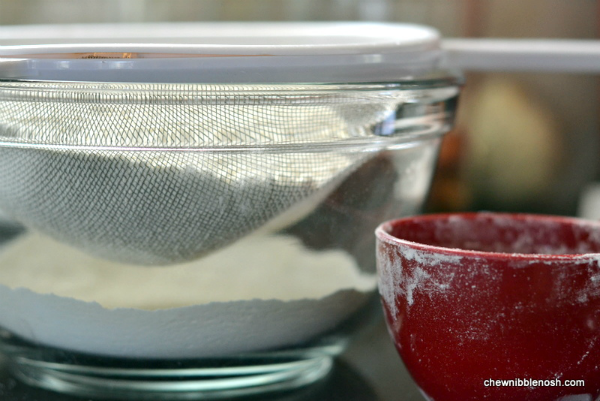 The dry ingredients are mixed into the butter mixture, and in between each scoop of the flour mixture, I toss in a bit of the sour cream.  Once everything is mixed together nicely, I stir in my almond and lemon extracts and spread the batter into a greased and floured tube pan.
Right about this time, someone usually wanders into the kitchen, spies an empty batter bowl, and goes to work.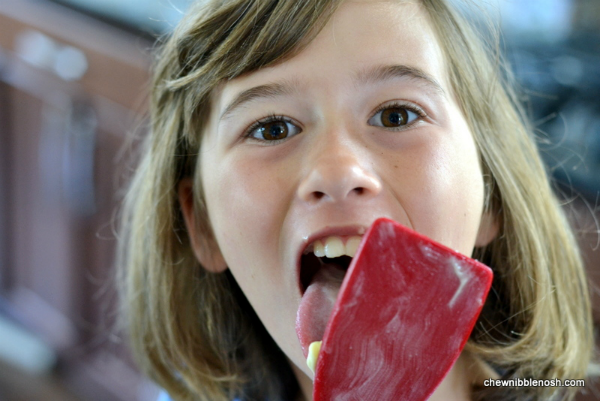 (Please, no lectures from the raw batter police.  I know, I know…it's just so good!)
The cake bakes for a little over an hour, until it's nice and golden brown on top and a toothpick can poke the middle and come out clean.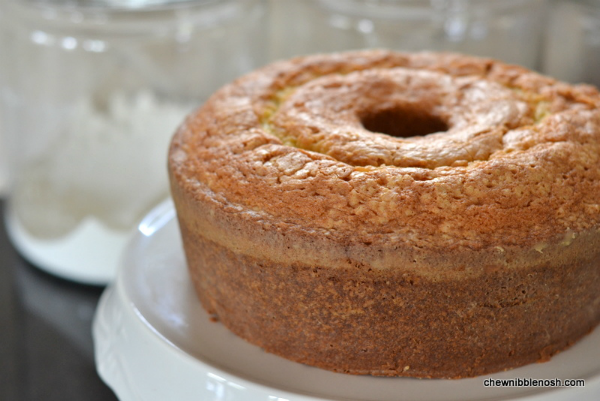 Isn't it pretty?  Just a good, old-fashioned, Pound Cake.  No muss, no fuss.  The top bakes up slightly crunchy and sweet, and tucked inside is a perfectly moist, buttery cake.  It's the perfect vehicle for summer fresh berries and freshly whipped cream.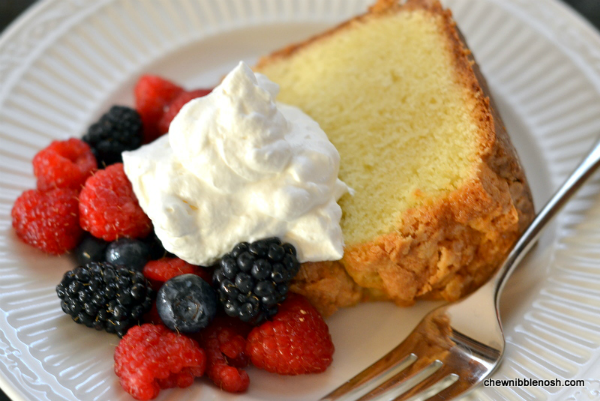 SOUR CREAM POUND CAKE
Adapted from Southern Living
Sour Cream Pound Cake
Author:
Prep time:
Cook time:
Total time:
Ingredients
1 1/2 cups butter, softened
3 cups sugar
6 large eggs
3 cups all-purpose flour
1/2 tsp. salt
1/4 tsp. baking soda
1 (8 oz) container sour cream
1 tsp. lemon extract
1/4 tsp. almond extract
whipped cream
fresh berries
Instructions
Preheat your oven to 325* F.
Beat the butter at medium speed with an electric mixer until creamy. Gradually add the sugar, and beat until the mixture is light and fluffy. Add the eggs, one at a time, and beat just until each yolk disappears.
Sift together the flour, baking soda and salt. Add the dry ingredients to the butter mixture, alternately with the sour cream, beginning and ending with the flour mixture. Beat the batter on low-speed just until blended after each addition.
Stir in the extracts.
Pour the batter into a greased and floured 12-cup tube pan.
Bake at 325*F for 1 hour and 20 minutes, or until a long wooden pick inserted in the center of the cake comes out clean. Cool in the pan, on a wire rack, for ten minutes.
Run a knife around the edges of the cake and remove the cake from the pan to cool completely on a wire rack.
Serve with fresh berries and whipped cream.
*Cake can be wrapped tightly and stored at room temperature for up to 3 days, or wrapped in a freezer bag and frozen for up to 2 months.
ENJOY!