Directions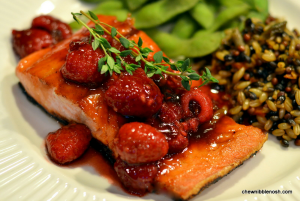 Alrighty then, we're almost done.  Just one more holiday and we can all start those New Year's resolution diet and exercise plans.  I'll be right there alongside all of you.  I have a big trip planned for spring break, and this current holiday bloat thing I've got going on just isn't going to cut it.
That said, it's always nice to start off the New Year with a nice meal.  This salmon dish is absolutely delicious, and beautifully simple.  It comes together in no time flat, and looks spectacular enough that you could serve it to company.  Plus, it's not going to weigh you down, so if you want to indulge in the last of those Christmas cookies, go for it.  After all, it's the holiday season!  Take it for all it's worth!
I started by making my sweet-tangy glaze.  On the stove top, I combined some peach all-fruit spread, a little bit of dark brown sugar, some balsamic vinegar, and crushed red pepper.  I let that bubble for two minutes over the heat, and then poured out a bit of the sauce to use for basting, before carefully stirring in a cup of beautiful, fresh raspberries.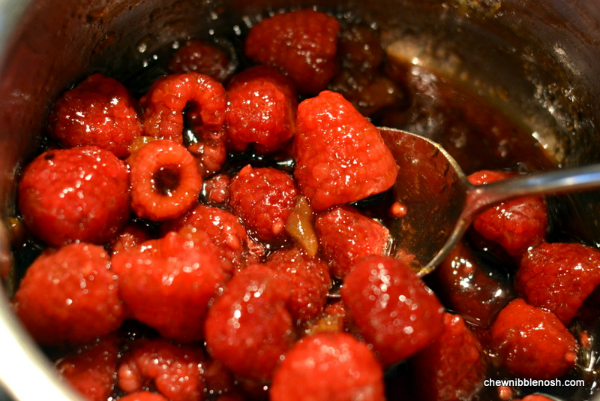 The raspberry mixture would top my salmon at the end, so I set it aside while I got working on the fish.
I heated a dab of coconut oil in a pan on the stove top, and then added my salmon fillets skin-side up.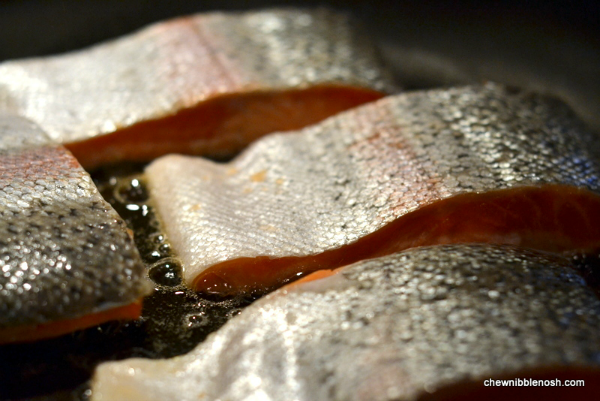 I let the salmon cook for about four minutes, until there was a nice, golden crust on the fish, and then I carefully flipped them over to continue cooking.
Once they were flipped, I spread some of that peachy-balsamic glaze generously over the fish.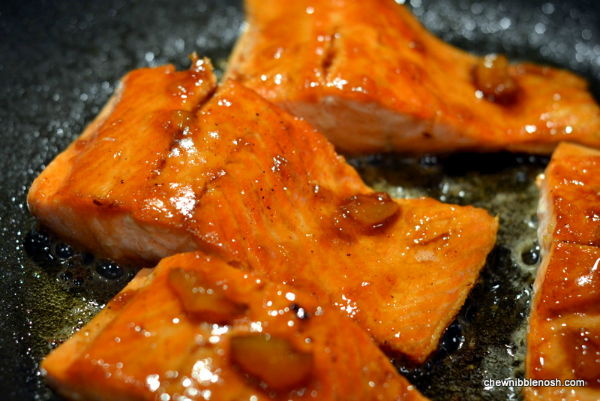 After a couple more minutes, the fish was done, flaking perfectly when I tested it with a fork.  I removed the fillets to their plates, and topped them with some of that amazing raspberry topping.
My husband mentioned that when he first saw this recipe, it struck him as a rather odd combination.  It works so well, that he said it may be his new favorite salmon dish.  It really was delicious, and the finished plate is so pretty, that I'd have no problem serving it up to guests.  So, tuck this one in your back pocket for New Year's Day, or whichever big occasion comes to your kitchen next.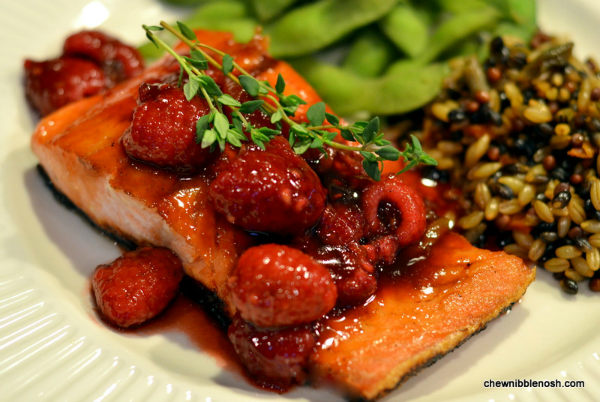 PEACH GLAZED SALMON WITH RASPBERRIES
Adapted from Cooking Light: Fresh Food Fast
Peach Glazed Salmon with Raspberries
Author:
Prep time:
Cook time:
Total time:
Ingredients
1/2 cup peach "all-fruit" spread (such as Polaner All Fruit)
1 1/2 Tbsp. dark brown sugar
2 Tbsp. balsamic vinegar
1/8 tsp. crushed red pepper
1 cup fresh raspberries
4 (6 oz.) salmon fillets
1/4 tsp. salt
1 Tbsp. coconut oil
Instructions
Combine peach spread, brown sugar, vinegar, and crushed red pepper in a small saucepan. Cook over medium-high heat for 2 minutes, stirring frequently. Set aside 2 Tbsp. of the sauce for basting. Add raspberries to the sauce in the pan and stir carefully to combine. Set aside.
Sprinkle the fish with the salt. Place a large skillet over medium-high heat and add the oil. Swirl to coat.
Add the salmon, skin side up, and cook for 4 minutes.
Carefully flip the salmon over, and baste with the reserved peach glaze a few times as the salmon finishes cooking, about 4 minutes more. Fish should flake easily with a fork.
Remove fish from the pan and spoon Raspberry sauce over the top to serve.
ENJOY!