Directions
When you think of the holidays, and this time of year in general, what flavors come to mind?  You might instantly be drawn to thoughts of crisp cool peppermint, or spicy gingerbread, sweet sugar cookies heaped with sprinkles, and cocoa and marshmallows by the fire.  Sweets often take the lead during the holidays, but there's still a lot of room for the savory.
That brings me to these little guys.  Gougères are savory little puffs, light as air, and filled with cheese and my favorite savory flavors of the season.  I love making them around the holidays, because they can easily be made ahead, frozen, and reheated for your next Christmas or New Year's gathering.  I am all about stocking my freezer with goodies to help get us through the next couple of weeks' activities.  They are a perfect accompaniment for a grown-up wine and cheese party, but the kids love them too.  In fact, when I made this batch, it took everything I had to keep little hands from grabbing every last little puff!
I started by shredding up some nutty Gruyère cheese, measuring out some grated Parmesan, and grabbing my McCormick dried thyme.  The thyme and Gruyère pair perfectly together.  Neither are overpowering, and they lend wonderful savory flavor to the mix.
The dough for the puffs comes together very quickly.  I start by melting some butter into some water on the stove top, and then I add some flour, salt, and a dash of McCormick Cayenne pepper.
I stir together that mixture to blend it, and then return the pan to the heat, where I stir it vigorously for a minute or so until the mixture comes together in a velvety smooth ball.  See that thin film along the edge of the pan?
When you see that forming, the dough is ready to go.
I transferred the dough to my stand mixer and added the dried thyme, shredded Gruyère and Parmesan.  Once that was blended in, I beat in four eggs, one at a time, until the eggs were fully incorporated.
At this point, it was time to get the dough onto my baking sheets.  You could just spoon little bits of dough onto the cookie sheet, but the dough is rather sticky, so I decided to pipe it.  I didn't get out a pastry bag, though, I just filled a large zip-top bag with the dough, and snipped off the end.  I've found it's easier to fill these bags if I use a large glass to hold the bag as I fill it.
I snipped off the end, and piped small mounds of dough onto two baking pans that I'd lined with parchment paper.  Before popping them into the oven, I brushed them with an egg wash, and sprinkled them with just a little more Gruyère and a little bit of kosher salt.
After a little while in the oven, those unimpressive looking little blips of dough puff up into these beautiful, savory little cheese puffs.  They are golden on the outside, and the inside is soft, light and airy.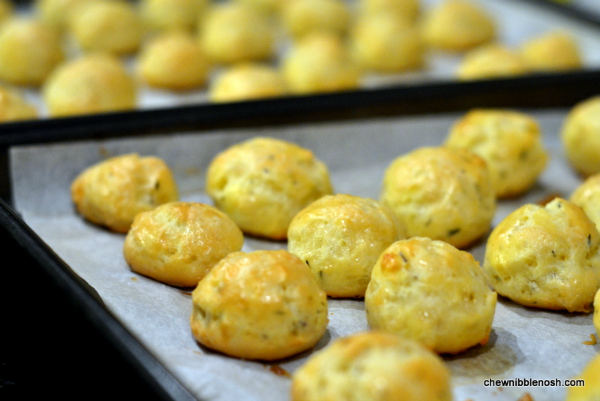 Serve them just like this, or you can split them and fill them with savory fillings like chicken salad or sliced turkey and cranberries.  Or, cool them completely and then pack them gently into an airtight container, and freeze them for up to a month!  You can easily reheat them.
Once you try these little guys, they'll quickly become a holiday favorite in your house, as they have in mine.  Something special, a little bit different, and light enough that they don't weigh you down…so you're free to fill up on that gingerbread that's calling your name!
Looking for more savory snacks for the holiday season?  Be sure to create your own Flavor Print with McCormick!  Just plug in your favorite tastes and flavors, and McCormick will come up with recipe ideas with just you in mind!
 THYME AND GRUYÈRE GOUGÈRES
Thyme and Gruyère Gougères – Cooking with McCormick
Cuisine:
Holiday, make ahead
Author:
Prep time:
Cook time:
Total time:
Cooled, and stored in an airtight container, these savory cheese puffs can be frozen for up to a month! To reheat: Bake in a 325* oven for 20-25 minutes.
Ingredients
1/2 stick butter (1/4 cup)
1 cup water
1 cup all-purpose flour
generous pinch of McCormick Cayenne pepper
kosher salt
1 cup shredded Gruyere cheese, plus a few extra tablespoons for sprinkling
1/2 cup grated Parmesan cheese
1 1/2 tsp. McCormick dried thyme
5 large eggs
Instructions
Preheat oven to 400*F. Line two cookie sheets with parchment paper and set aside.
In a 2 quart saucepan, bring the butter and water to a boil.
Remove from the heat and stir in flour, cayenne pepper, and a dash of kosher salt. Stir quickly to blend. Put the pan back on the heat, and stir continuously until the mixture comes together into a smooth ball and a light film appears on the sides of the pan.
Transfer the dough to a stand mixer with the paddle attachment (or large bowl, just use a regular hand mixer). Add the Gruyere, Parmesan, and thyme. Beat on low to combine.
Add 4 of the eggs, one at a time, fully beating in each egg before adding the next (scrape down the sides when needed).
Spoon the dough into a pastry bag fitted with a round tip, or into a large zip-top bag, snipping off a 1/2 inch opening at the tip. Pipe the dough onto the cookie sheets in 1 1/4 inch rounds, about an inch apart.
Whisk the remaining egg together with 1 Tbsp. water. Brush the tops of the puffs with the egg mixture, and smooth out the tops of the puffs so they are rounded. Sprinkle the tops with a little bit more of the shredded Gruyere, and a little kosher salt.
Bake, at 400*F, for 20-25 minutes, until golden and puffed, but still a bit moist inside. Cool slightly, and serve. Or cool completely and freeze.
ENJOY!