Directions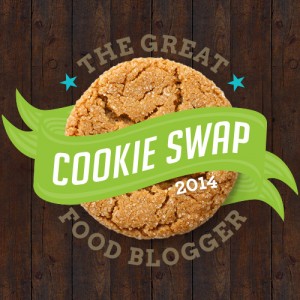 It's that time of year again!  I can't believe that this is my fourth year participating in The Great Food Blogger Cookies Swap.  It's always such a special, fun, part of my holiday season, and I look forward to sharing great recipes with you from hundreds of talented food bloggers in the coming days.   I'll announce the round-up link on my Facebook page, so stay tuned! This year, I was lucky enough to receive these delectable creations from three amazing ladies:
We gobbled up Shortbread Turtle Thumbprint Cookies from Mary, at GoodieGodmother.com, enjoyed Oatmeal Chocolate Chip Pecan Cookies from Katie at ThePerfectBrownie.com, and devoured delicious Chocolate and Vanilla Pinwheel cookies from Ashley at SpoonfulofFlavor.com. Be sure to check out their beautiful recipes when you get a chance.  What a treat!  Thank you, ladies!
My choice for this year's exchange is one of my oldie-but-goodie Christmas cookie recipes that was passed down from my mother, and that I've been making for years.  These wonderful little bars are chock full of dried cranberries, sweet white chocolate and crunchy, salty macadamia nuts.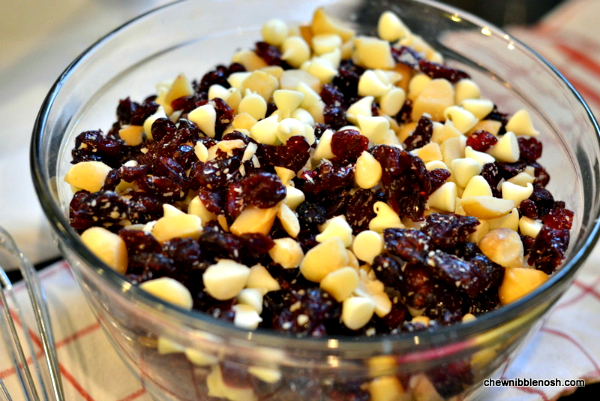 They are always a hit, and wonderful to make for the holidays because they don't only just taste really good, they freeze REALLY well, and can be made ahead of the holiday craziness…although, who are we kidding, right?  The holiday craziness starts LONG before the actual holiday!  Every little bit helps, though.
I started by mixing together my cookie base for the bars.  It's nothing too tricky, and the dough comes together quickly.  Once it's well combined, I add in all of those chunky cranberries, nuts, and white chocolate chips.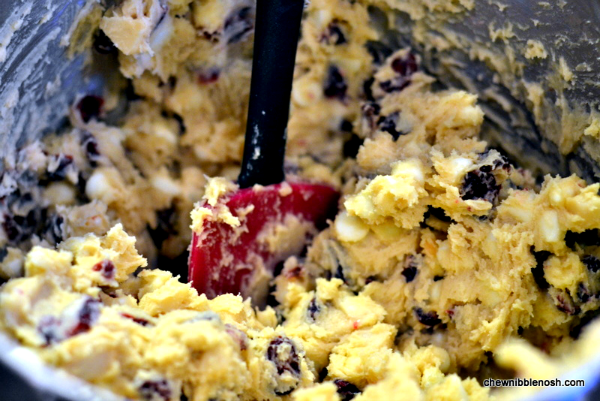 There are so many add ins, that as you're stirring the dough, it may seem like there are more things added to the dough than actual dough.  That's about right.  You can't take a bite of these without getting a little bit of every flavor in the cookie.
Once the dough is mixed well, I spread it out into a greased jelly roll pan.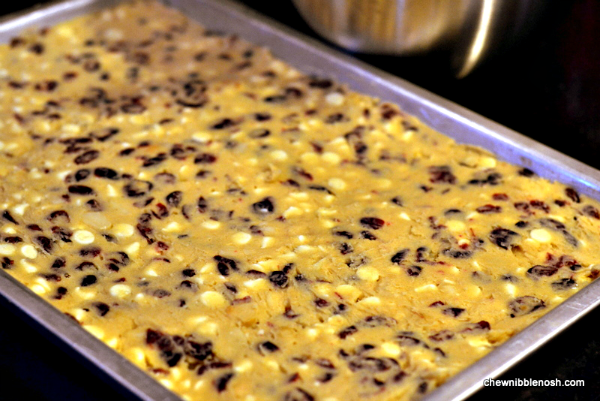 Then, the bars go into the oven for 20-25 minutes, until they are golden and baked through.
I let them cool completely in the pan before slicing them into four dozen bars.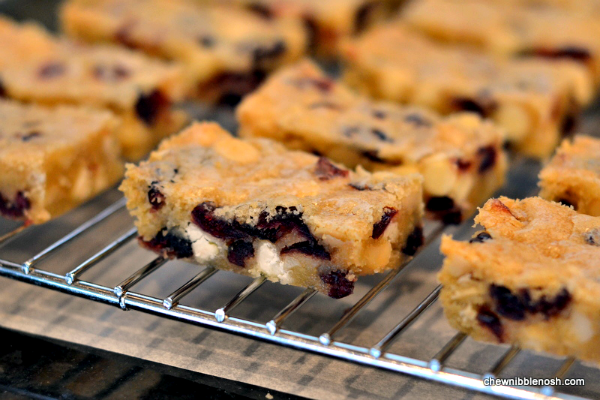 I could have stopped there, but since these cookies were for a special occasion, I decided to dress them up a little bit more.  My all-time-favorite-cooking-tool friends at OXO were nice enough to send me their fantastic 8-piece Silicone Decorating Bottle Kit to try, and I thought these would be the perfect way to test it out.  I melted some more white chocolate, with a little bit of shortening, and then scooped the melted mix into my decorating bottle.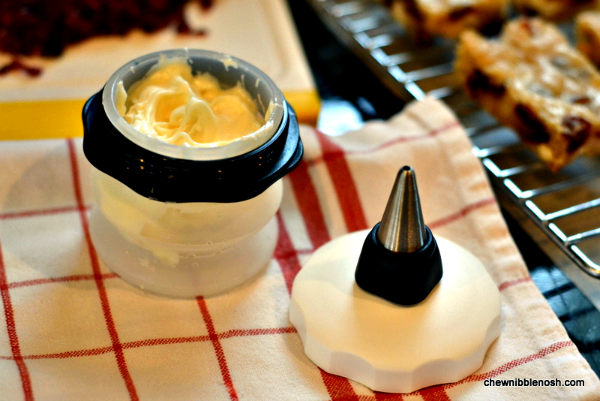 Then, I easily drizzled my bars with the creamy chocolate, and there was a lot less mess than if I'd used a pastry bag!  Easy cleanup is just one reason why I'm a huge OXO fan.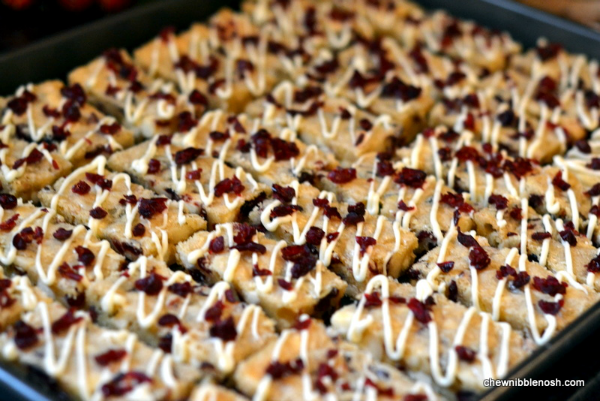 I sprinkled the bars with some chopped up dried cranberries for a final touch, before the chocolate had hardened up, and the bars were ready to go.
I shipped off my Cranberry Dream Bars to Colleen at Secrets From the Cookie Princess, Sarah at Fantastical Sharing of Recipes, and Shelby at Grumpy's Honey Bunch.  I hope they enjoyed them!  (Based on what I've heard back, they really did!)
My family enjoyed the few that I had left over so much, that I'm going to whip up another batch this week to pop in the freezer for Christmas day.
Thank you, once again, Lindsay and Julie, for organizing such an amazing event.  I'm so proud to have been a part of it for four years running.  This year, the bloggers helped raise over $12,000 for one of my favorite causes, Cookies for Kids Cancer.  Check out their link to see how you can help these wonderful, brave kids, too.
Happy Baking!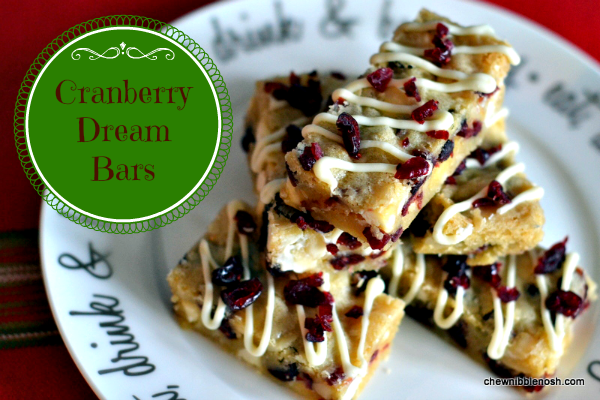 CRANBERRY DREAM BARS
Recipe Adapted from Ocean Spray
Cranberry Dream Bars – The Great Food Blogger Cookie Swap 2014
Author:
Prep time:
Cook time:
Total time:
These bars freeze well too!
Ingredients
1 cup (2 sticks) butter, softened
3/4 cup sugar
3/4 cup packed brown sugar
2 eggs
1 tsp. vanilla
2 1/4 cups all-purpose flour
1 tsp. baking powder
1 (12 oz.) package white chocolate chips (plus 1 cup extra if you're wanting to drizzle more chocolate on the top)
2 cups dried cranberries
1 cup coarsely chopped macadamia nuts
For the topping:
1 cup white chocolate chips
1 tsp. shortening
1/2 cup chopped dried cranberries
Instructions
Preheat the oven to 350*F. Spray a 15x10x1 inch jelly roll pan with nonstick spray. Set aside
Combine the butter, sugar, and brown sugar in a large mixing bowl.
Beat, on medium speed, until well blended. Add the eggs and vanilla, and beat well.
Combine the flour and baking powder in a separate bowl. Gradually add the flour mixture to the sugar mixture, beating until combined.
Stir in the white chocolate chips, dried cranberries, and chopped macadamia nuts.
Spread the (thick) dough evenly in the greased jelly roll pan.
Bake for 20-25 minutes, until the bars are light golden brown and baked through. Do not overbake.
Cool completely in the pan. Cut into bars.
For the topping:
Combine the white chocolate chips and shortening in a small bowl.
Microwave, on high, for 1 minute. Stir, and microwave in 15 second increments until melted and smooth.
Drizzle the chocolate over the sliced bars and sprinkle with the chopped cranberries before the chocolate sets. (You may want to chill the bars for a bit to help the chocolate along.)
Store in an airtight container, or freeze.
ENJOY!