Directions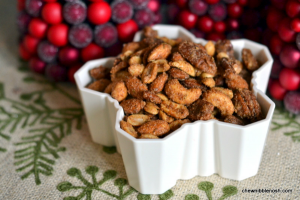 The holiday season may be "The Most Wonderful Time of the Year", but if you're like me, and I would wager that many of you are, it's also the busiest time of the year. Our December is jam packed, and as the holidays grow closer, our schedule gets even busier.  This is when it's great to have a few go-to recipes that you can make ahead for the holidays to share when friends and family drop in, at a holiday office pot luck, or to share as teacher and Secret Santa gifts.
This is a recipe that my family has enjoyed for years.  These little spiced nuts are delicious, and so easy to throw together.  I've already made two batches to share this season, and I'm going to whip up many more before the month is out, I'm sure.  They are deliciously different, sweet and savory, and always a hit.
Before getting the nuts involved, I start by mixing together a simple spice mix.  Roughly everything but the kitchen sink goes into this spice mix.  You won't need all of it for one recipe of nuts, just a couple of tablespoons, so after you mix it together it's extra easy to whip together a batch of these nuts.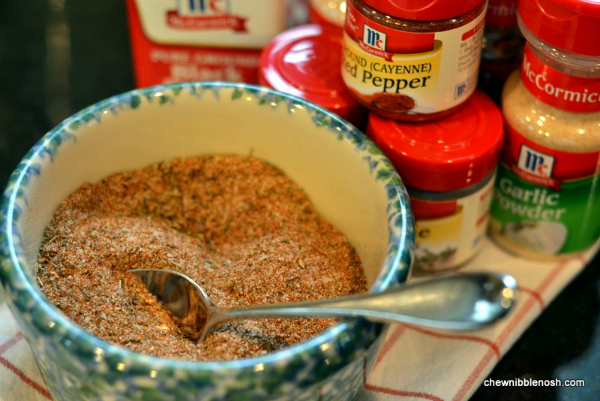 The spice mix includes: Paprika, Salt, Garlic Powder, Cayenne Pepper, Thyme, Black Pepper, Onion Powder, and Oregano.
Stir that all up, and store it in an airtight container to get you through the season.
To make the nuts, first I beat an egg white and a dab of water in a large bowl until it's nice and frothy.  Then, I add my nuts.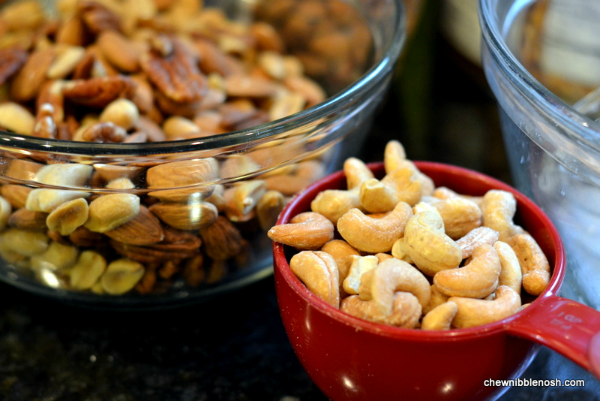 Four cups of nuts per batch, and you can use whichever type you like.  I like a combination of cashews, almonds, peanuts, and pecans, but you can use whatever floats your boat.
I mix the nuts in with the egg white, and then add some sugar, salt, two tablespoons of the spice mix, and a little extra cayenne pepper.  The sugar balances out the heat perfectly.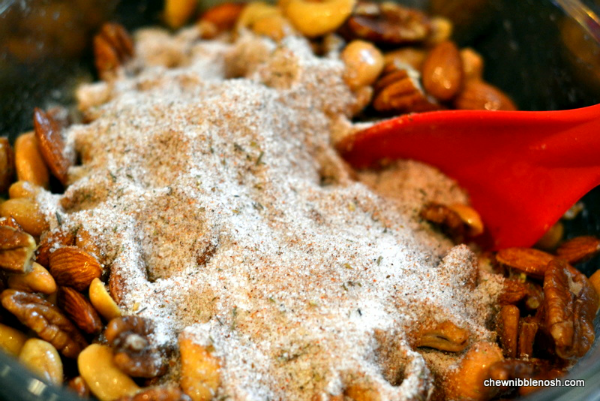 I give them a good stir, and then spread them out on a cookie sheet that I line with parchment paper.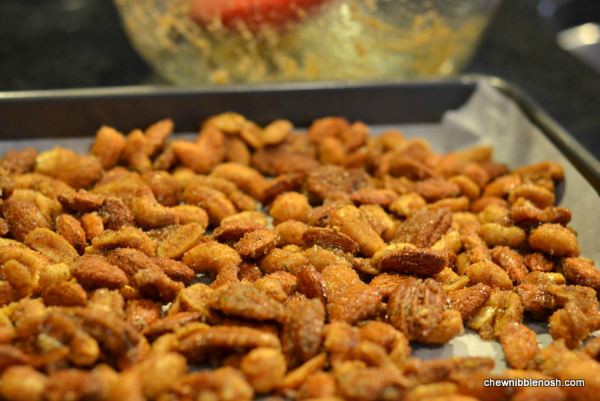 Then, into the oven they go for about forty-five minutes.  I give them a stir very fifteen minutes or so, and when they look like they've toasted up and dried out a bit, it's time to take them out of the oven.
Once they cool, I scoop them into a container, and have them ready to go for any time when I might need them over the holidays….or for my hungry family to dive into time and time again as they wander through the kitchen, which is where the first batch went in no time flat.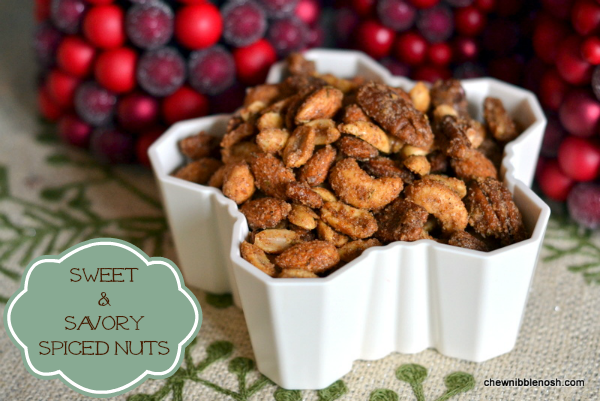 SWEET & SAVORY SPICED NUTS
Adapted from Emeril Lagasse
Sweet & Savory Spiced Nuts
Author:
Prep time:
Cook time:
Total time:
Ingredients
For the Spice Mix:
2 1/2 Tbsp. paprika
2 Tbsp. salt
2 Tbsp. garlic powder
1 Tbsp. black pepper
1 Tbsp. onion powder
1 Tbsp. cayenne pepper
1 Tbsp. dried oregano
1 Tbsp. dried thyme
For the Spiced Nuts:
4 cups assorted nuts (I use pecans, peanuts, almonds and cashews)
1 egg white
1 tsp. water
1/2 cup sugar
2 Tbsp. spice mix
1/2 tsp. cayenne pepper
1/4 tsp. salt
Instructions
For the spice mix: Combine all ingredients. Store in an airtight container until ready to use.
For each batch of nuts
Preheat oven to 250*F. Line a rimmed baking sheet with parchment paper.
In a large bowl, beat the egg white and water with a whisk until frothy.
Add the nuts and stir to coat.
Add the sugar, 2 Tbsp. of the spice mix, sugar, cayenne pepper, and salt. Stir to combine and distribute spices evenly.
Spread the nuts out in a single layer on the parchment covered baking sheet.
Bake for 45 minutes, or until nuts are toasted and look "dry". Stir every 15 minutes.
Allow to cool on the baking sheet. Break up the nuts and store in an airtight container.
ENJOY!