Directions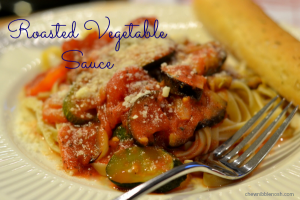 I was so excited when my friends at Tuttorosso got in touch with me about their holiday promotion this year.  In the spirit of the season, they are "Celebrating the Sauce", with amazing Sunday-dinner-type special recipes, as well as the most important ingredient needed for dinner…YOU!
Tuttorosso has recently launched a beautiful new website, full of ideas and recipes to inspire all of us year round, not just during the holiday season.  As a special gift to their Facebook fans, they are hosting a month-long Facebook promotion called "Celebrate the Sauce".  Everyone who enters will have a chance to win one of 1,000 Tuttorosso aprons, heirloom wooden spoons and one fabulous grand prize, a Martha Stewart Cookware set!  Just head over to Tuttorosso's contest page to check out the details.
But that's not all!  Tuttorosso also gave me the opportunity to give away a fabulous prize pack to one very lucky Chew Nibble Nosh reader!  At the end of this post, find out how you can win this wonderful prize!
Tuttorosso offered me many recipes to choose from for this post, but this Roasted Vegetable Sauce especially caught my eye.  It's rich and hearty, but filled with delicious, healthy roasted vegetables, and during a month where I feel like I'm often not doing my fair share of heathy eating, this delicious sauce seemed liked exactly what I needed.
The sauce is simple enough to put together, thanks to Tuttorosso and loads of fresh ingredients.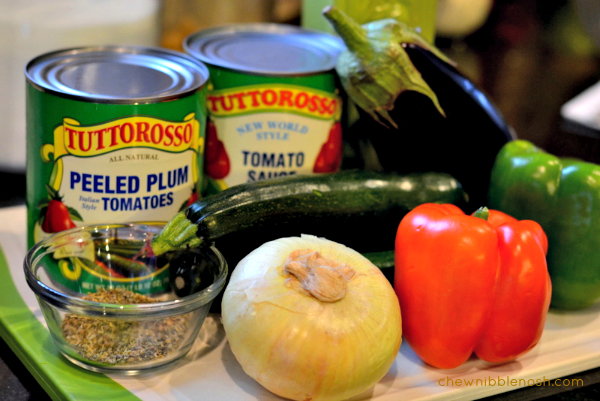 I sliced up all of my vegetables, tossed them with a little bit of olive oil, salt, and pepper, and arranged them on a cookie sheet, before popping them in the oven.  I used eggplant, zucchini, green and red bell peppers, and onion, but you could easily add in your favorite veggies and change things around to suit your tastes.  If you have leftover produce in your crisper, this would be a great way to take advantage of it!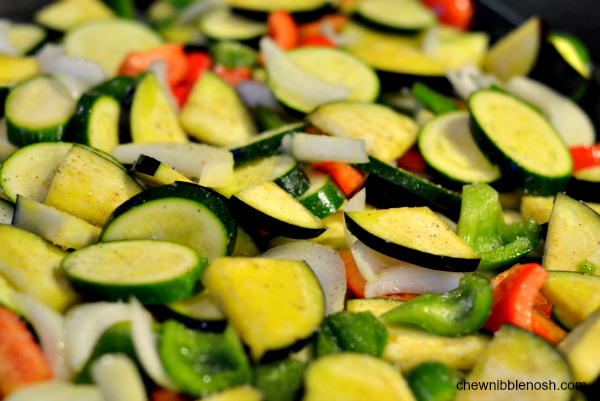 The vegetables went into the oven to roast for ten minutes, and then I gave them a good stir, and let them roast for about fifteen minutes more.  When the vegetables are soft and starting to brown up, they are ready to go.
While the veggies were cooking, I started my sauce base, and got my pasta cooking.  This sauce is just about as simple as it gets.  In a large pot, I combined a large can of Tuttorosso Peeled Plum Italian Style Tomatoes and a large can of Tuttorosso Tomato sauce.  I stirred in some Italian seasoning, dried rosemary, and dried basil, and let the mixture come to a simmer.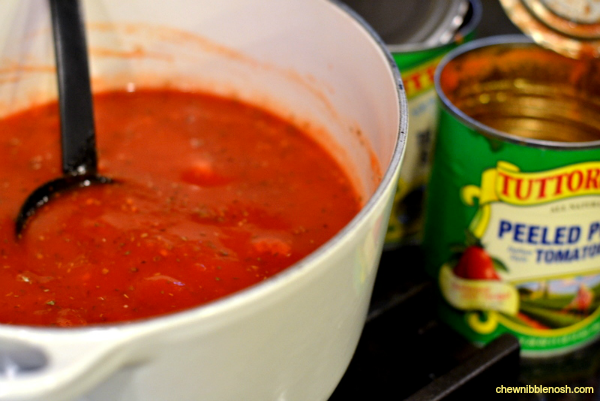 As the sauce simmered, I used my spoon to break up the whole tomatoes into smaller chunks, and then when the veggies were done cooking, I added them into the pot.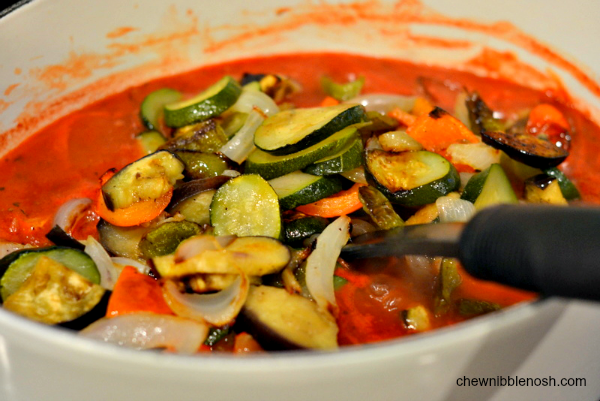 Roasting vegetables brings out so much of their flavor, so I'm sure you can imagine how simply delicious this sauce was!
I let the flavors simmer together for a few minutes, while I drained the pasta and heaped it onto our plates.  And then, dinner was as easy as spooning this delicious, hearty, healthy sauce over our fettuccine.
This is just one of the deliciously simple Sunday sauce recipes you'll find if you're the big winner of the Tuttorosso giveaway!  Just enter below!  And don't forget to check out their Facebook page to enter the big "Celebrate the Sauce" giveaway!
[promosimple id="63af"]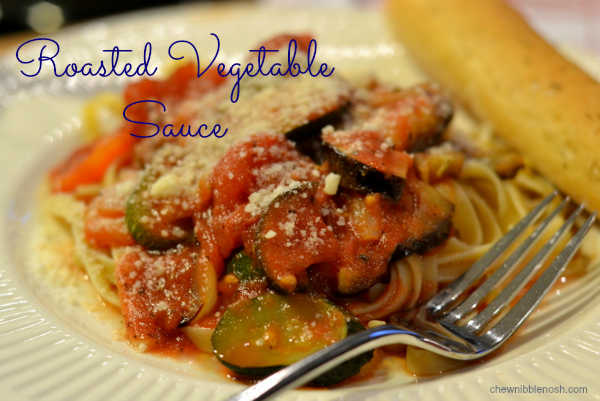 ROASTED VEGETABLE SAUCE
Recipe courtesy of Tuttorosso Tomatoes
Roasted Vegetable Sauce
Author:
Prep time:
Cook time:
Total time:
Ingredients
1 small eggplant, cut into 1/4 inch slices
3 medium zucchini, cut diagonally into 1/4 inch slices
1 medium onion, cut into 1/4 inch wedges
1 green bell pepper, cut into large chunks
1 red bell pepper, cut into large chunks
2 Tbsp. olive oil
salt and pepper, to taste
1 (28 oz.) can Tuttorosso Peeled Plum Italian Style Tomatoes
1 (28 oz.) can Tuttorosso Tomato Sauce</span>
1 Tbsp. Italian seasoning
1 tsp. dried rosemary
1 tsp. dried basil
cooked pasta
Instructions
Preheat oven to 450*F.
Toss the sliced vegetables together in a large bowl with the olive oil. Spread out in a single layer on a lightly greased shallow baking pan. Sprinkle with salt and pepper.
Bake for 10 minutes. Turn vegetables over, and bake for another 10-15 minutes or until the vegetables are lightly browned on both sides.
In a large saucepan, heat the Tuttorosso Peeled Plum Italian Style Tomatoes, the Tuttorosso Tomato sauce, Italian seasoning, rosemary, and basil.
Heat through, and break up the tomatoes while stirring.
Add the roasted vegetables, and serve over pasta.
ENJOY!