Directions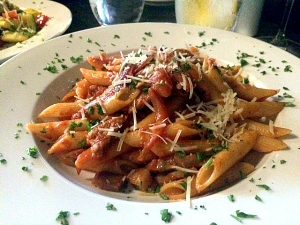 I'm tough to please when it comes to Italian food.  My dad's side of the family is Italian, so I was lucky to grow up in a kitchen where tomatoes, basil, and garlic were a way of life.  I often find that Italian restaurants don't exactly live up to my expectations.
So, imagine how excited I was when I found, and devoured, one of the best Italian meals I've ever had right here in Indy!  I was so eager to try out Sangiovese Ristorante's new location.  I'd heard that they'd moved from their former location into the beautiful, new Ironworks building on 86th street.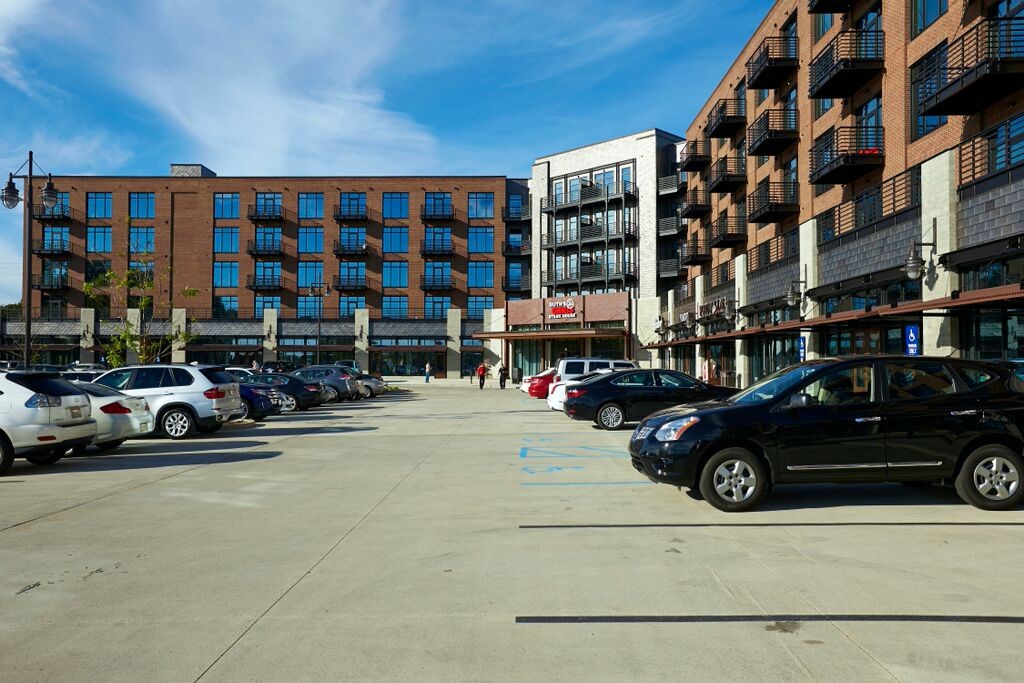 I'd heard nothing but amazing things from friends and family about Sangiovese, so when they asked me to stop on in, I jumped at the chance!
We were greeted by Chris Evans, Sangiovese's CEO and Master of Ceremonies.  He couldn't have been more welcoming, and I watched him greet each and every guest in the restaurant.  I could tell that he was as excited about sharing Sangiovese with us as we were to be there.
We started with their unbelievable Antipasto della Casa platter.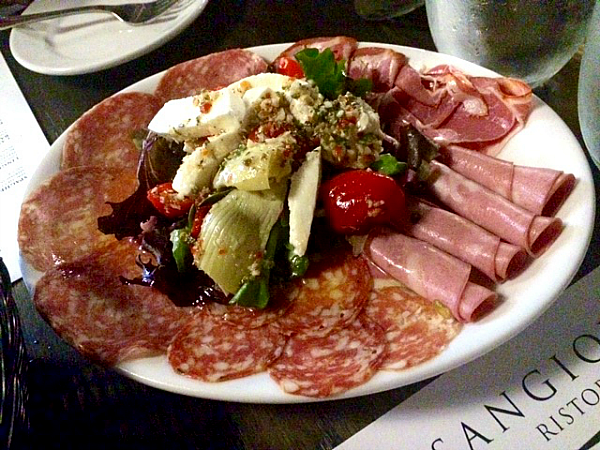 It was a spectacular assortment of the finest Italian meats, cheeses, and vegetables, and it paired beautifully with the warm Italian bread and herb infused olive oil that were brought to the table.  Tucked in there is a dollop of the most creamy, delicious Gorgonzola I've ever had.  I could have eaten it with a spoon.
Next up was the Zuppe du Bisque, a creamy tomato bisque, studded with buttery blue fin lump crab meat.  It may be the best tomato bisque I've ever had, and the crab certainly didn't hurt!
Our entrees were beautiful, and tasted as amazing as they looked.  My husband ordered the Rosticciana, a sautéed pork loin stuffed with Mortadella, Italian sausage, fennel and provolone, and then topped with a Gorgonzola cream sauce.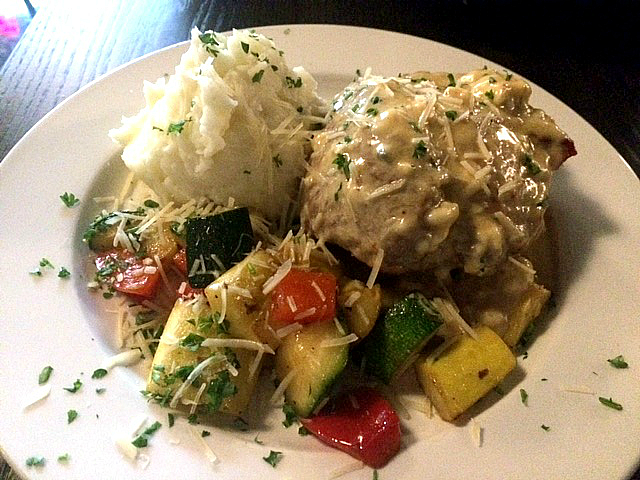 My entrée, though, was pretty brilliant in its own right.  I ordered the Penne alla Emiliana, which is described as "Penne served with sautéed Italian sausage, prosciutto, and caramelized red onions in a tomato and butter sauce.
Oh my goodness.
When I told Chris that this was what I intended on ordering, he mentioned that the flavors were just out of this world, and he was right.  The dish boasts just a few simple ingredients, but it all marries together so perfectly.  The pasta dish was absolutely delicious.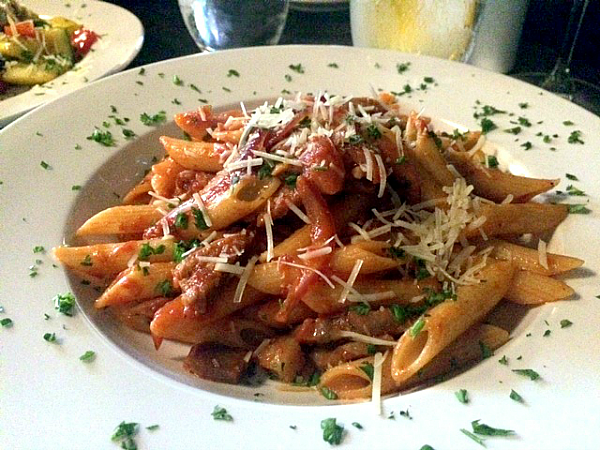 And lucky for us, Chris was generous enough to share the recipe with Chew Nibble Nosh's readers!
We couldn't have asked for a better dining experience.  The restaurant is sleek and stylish, sophisticated, but friendly and welcoming.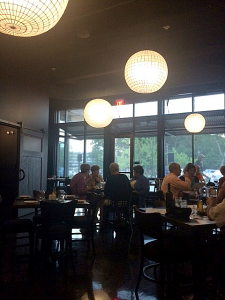 The service staff couldn't have been more on top of things.  The food was superb, and Chris was a most gracious host.  What more could you want?
Thanks for having us, Sangiovese!  If you're in the Indianapolis area, make sure you stop in for a bite.  You'll be glad you did!  You can find them at:
2727 E. 86th St. Suite 110, Indianapolis, IN 46240
We'll be back soon!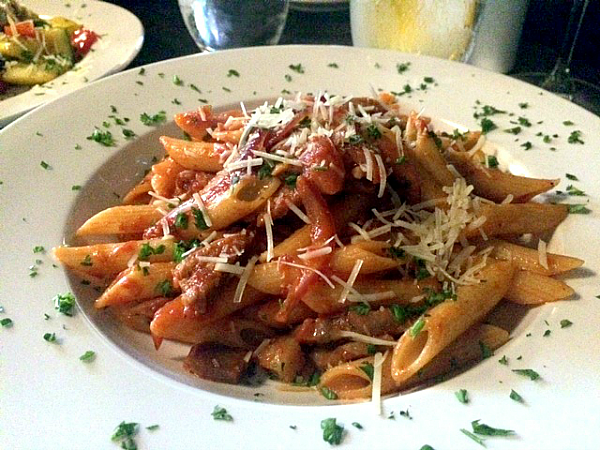 PENNE ALLA EMILIANA
Recipe provided by Sangiovese Ristorante, Indianapolis
Penne alla Emiliana – Dinner at Indy's Sangiovese Ristorante
Author:
Prep time:
Cook time:
Total time:
Ingredients
3/4 lb. of Penne pasta, cooked al dente
8 oz unsalted butter
1 small red onion, thinly sliced
12 oz italian sausage links cut in to thin pieces
8 oz prosciutto diced into small pieces
6 oz. canned whole peeled tomatoes
2 cloves garlic, minced
salt and pepper, to taste
Instructions
Heat saute' pan over medium-high heat. Add butter to the pan to melt. Add the red onions, and cook until softened, and caramelized.
Add sliced Italian sausage, prosciutto, tomatoes, garlic, and salt and pepper. Stir to combine and heat through. Break up the tomatoes a bit.
Add the cooked pasta to the pan, and toss with the sauce.
Serve with fresh grated parmesan.
ENJOY