Directions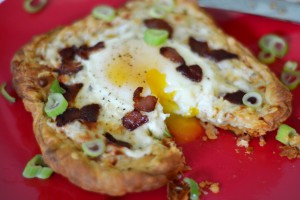 I've mentioned before that we are big fans of breakfast for dinner at our house.  When we do have "Binner", as my daughter calls it, it's usually something pretty kid friendly…pancakes, waffles, eggs and bacon.  That's one of the nice things about Binner.  Nobody complains!  I decided to try this egg tart out the other night on the family, and fully expected the kids to turn their noses up at it.  You know what?  They didn't!  They loved it.  Both of them.  I'm still amazed.
I figured they'd be freaked out by the egg on top, but instead, they both were excited about the "Egg Pizza" we were having for dinner and they gobbled it up!  Lesson learned!   Avery even asked if we could have it again the next night.  (We didn't, but it was nice of her to ask.)
I found this recipe in an issue of Food Network Magazine.  It was part of a contest they hold every month where they provide the recipe and ask the readers to submit the perfect name.  The recipe didn't have a name when I found it, and I couldn't find the next issue where the official name was announced, so I named it something incredibly mundane.  If you can think of anything better, please let me know and I will rename it!  It really does deserve something a little more fun, but after driving for eleven hours yesterday, up to my Mom and Dad's house, my brain is still a little fried. 😉
I started by rolling out a thawed sheet of frozen puff pastry.  I cut the sheet into four, equal squares and then pinched and folded around the edges of the squares until I'd made four tart "shells".
Before I popped them in the oven, I pricked the middles all over with a fork so they wouldn't rise up too much as they baked for the first time.  They baked for about 9 minutes, and came out of the oven a beautiful, golden brown.
The middles still puffed up a little bit, so I got that fork back out and poked them a little more so they'd deflate.  I know the point of puff pastry is that "it puffs", so it was really just doing its job well, but I needed it a little flatter if I was going to fill it with all kinds of goodies.
Once the shells had cooled a little bit, I filled the center of each shell with some shredded cheese.  The original recipe called for havarti cheese, which is a mild, smooth, melting cheese.  I didn't have any havarti on hand, but I did have a block of Garlic and Pesto Monterey Jack and I figured that would work just fine.  I shredded it up and used it as my base.
Then, as if that wasn't cheesy enough, I sprinkled each one with a little bit of parmesan.
After the cheeses were settled, I made a little well in the middle of each cheese pile and cracked one egg on top, making sure that the yolk fell into that well.  After the eggs were on, I sprinkled each tart with some bacon that I'd cooked up and crumbled.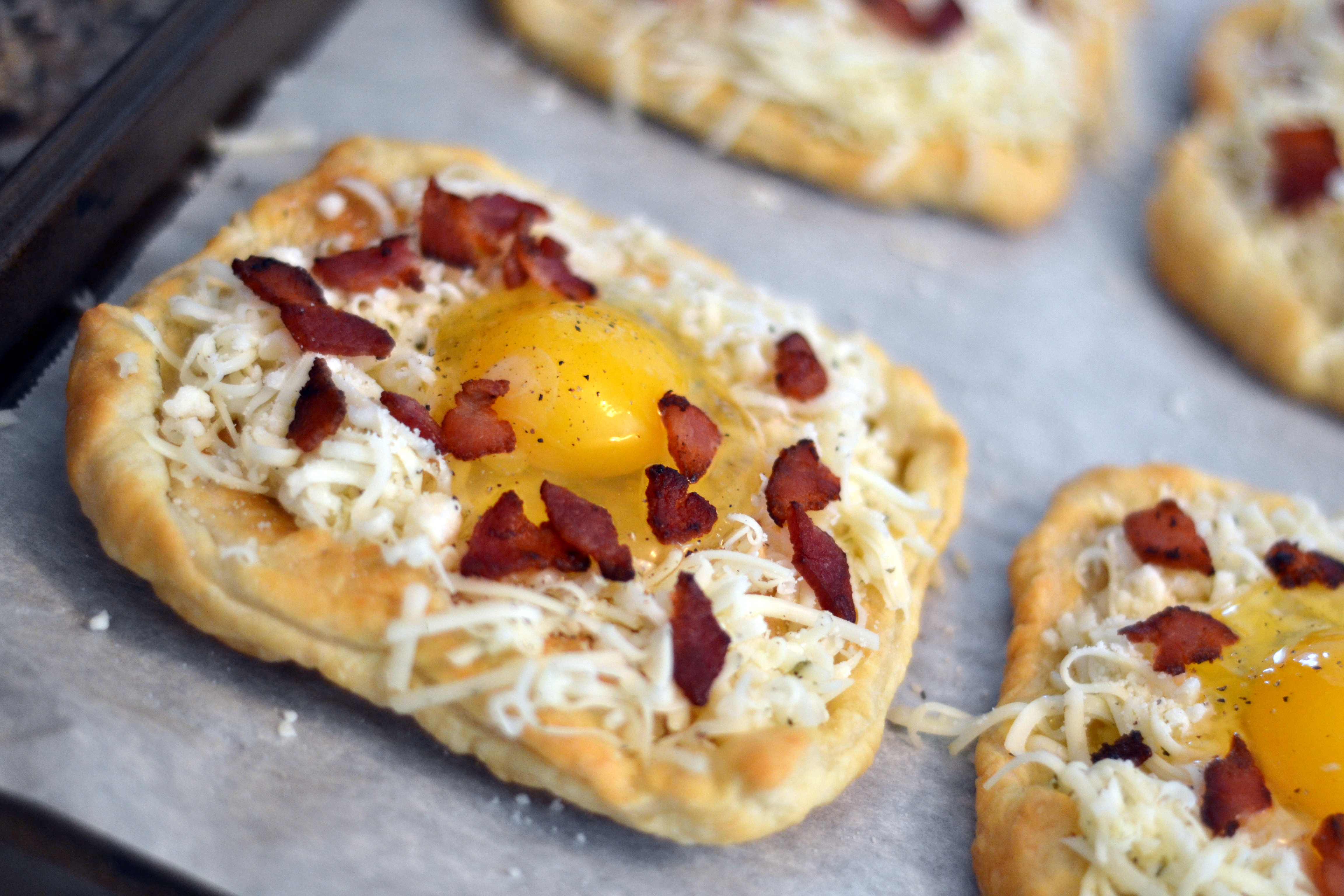 I sprinkled the tarts with some salt and pepper and put them back into the oven.  How long they need to bake now, is really up to you.  I baked mine for about fifteen minutes, which was long enough to cook the egg, but leave the yolk just a little bit runny.  If you would like your egg a little more well done, just keep it in the oven a little while longer until the yolk is completely set.
When the "egg pizzas" (I still think there has to be a better name out there.  HELP!) came out of the oven, my family pounced on them. The pesto flavored cheese really worked well, so if you can find something like that, give it a try!  The girls gobbled them up, and my husband and I were pretty happy with it as well.  It was grown up enough to suit our tastes, but fun enough that the kids loved it too!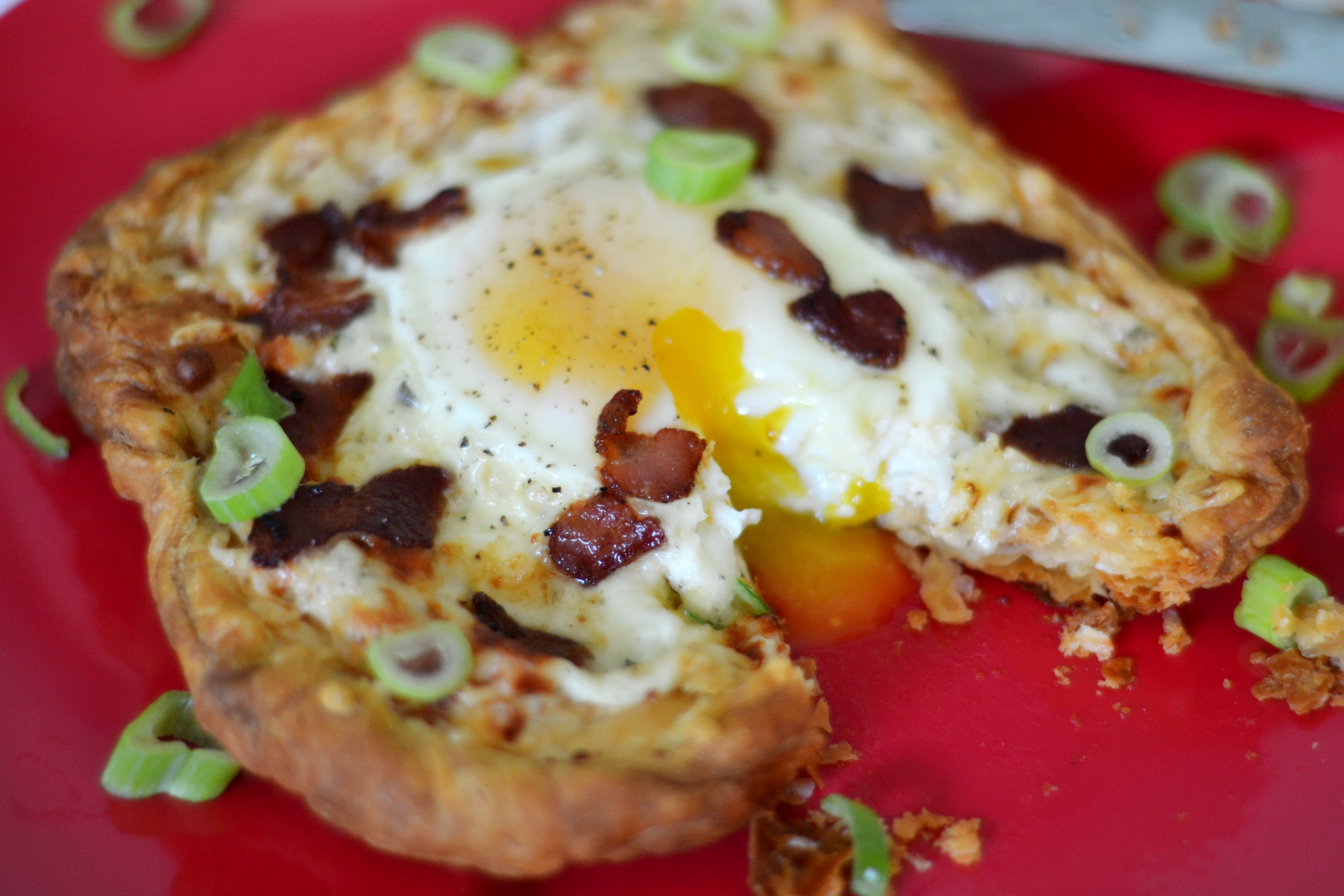 QUICK AND EASY EGG TARTS
Adapted from Food Network Magazine
Author:
Ingredients
1 sheet frozen puff pastry, thawed
3 strips bacon
1 1/2 cups havarti cheese, or any other smooth melting cheese (I used Garlic and Basil Pesto Monterey Jack)
3 Tbsp. grated parmesan cheese
4 large eggs
salt and pepper
chopped chives or green onion for garnish
Instructions
Preheat the oven to 425*. Line 2 baking sheets with parchment paper. On a lightly floured surface, roll out the puff pastry into a 12 inch square. Cut the square into 4 equal squares. Fold and pinch the edges of each square to form 4 rounded tart shells. Transfer two to each baking sheet and prick all over with a fork. Bake until golden brown, 8-10 minutes.
Meanwhile, cook the bacon in a medium skillet of medium heat, turning often, until crisp. Transfer to paper towels to drain, then crumble.
Let the tart shells cool slightly on the baking sheets. If the centers are very puffy, prick them with a fork to deflate. Sprinkle evenly with the two cheeses. Make a shallow well in the cheese in the center of each tart and crack an egg into each. Season with salt and pepper. Top with the bacon. Return the tarts to the oven and bake until the egg whites are set, about 15 minutes. Top with chives.
ENJOY!