Directions
This salad may go down in history as the prettiest salad I've ever made.  Even better?  It was delicious.  If you're heading to a 4th of July party and have been asked to bring a dish, this is the perfect thing!  The ingredients all need to hang out in the bowl and marinate for a while before diving in, so you can put it together at home, hang out with your friends for a bit and then, just have the salad whenever you want.
I started by grilling up a few chicken breasts.   I chose boneless, skinless breasts that weren't too thick.  Just a little bit of olive oil, salt and pepper, and they were ready to throw on the grill.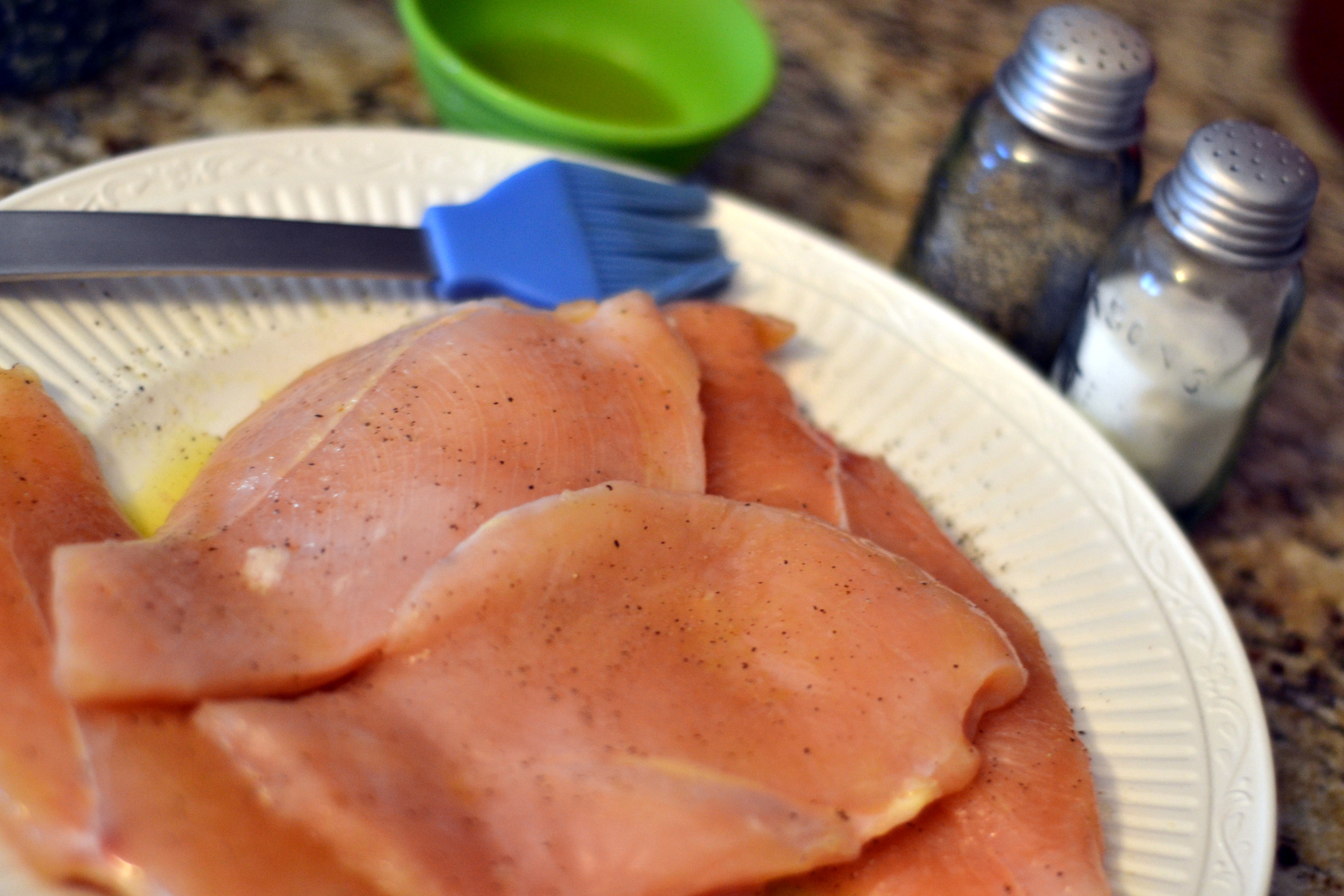 Once they came off the grill, I let them cool before slicing them.
As the chicken was cooling, I started slicing up my peppers.  This salad calls for a lot of peppers:  Red, yellow, orange, green, Poblano and even a jalapeno.   I love all of the colors!  Don't be thrown off by the chiles, though.  The salad really isn't spicy, just full of flavor, and the salad doesn't feel too "peppery" once it's all put together.
I sliced the peppers up into thin strips and tried to make sure that everything was, roughly, the same size.  The only exception to this was the jalapeno.  I sliced it lengthwise and then sliced those pieces in half.  I took this salad to a party and didn't want someone who didn't like jalapenos getting a huge bite.  Also, because I wasn't sure of how spicy this crowd liked things, I only used half of the jalapeno.
Once the peppers were sliced and the chicken was cool, I sliced up the chicken, added it to the bowl with the peppers and some sliced red onion, and then tossed them with a quick dressing I put together.  Into the bowl went some balsamic vinegar, red wine vinegar, minced garlic, crushed red pepper flakes, and some olive oil.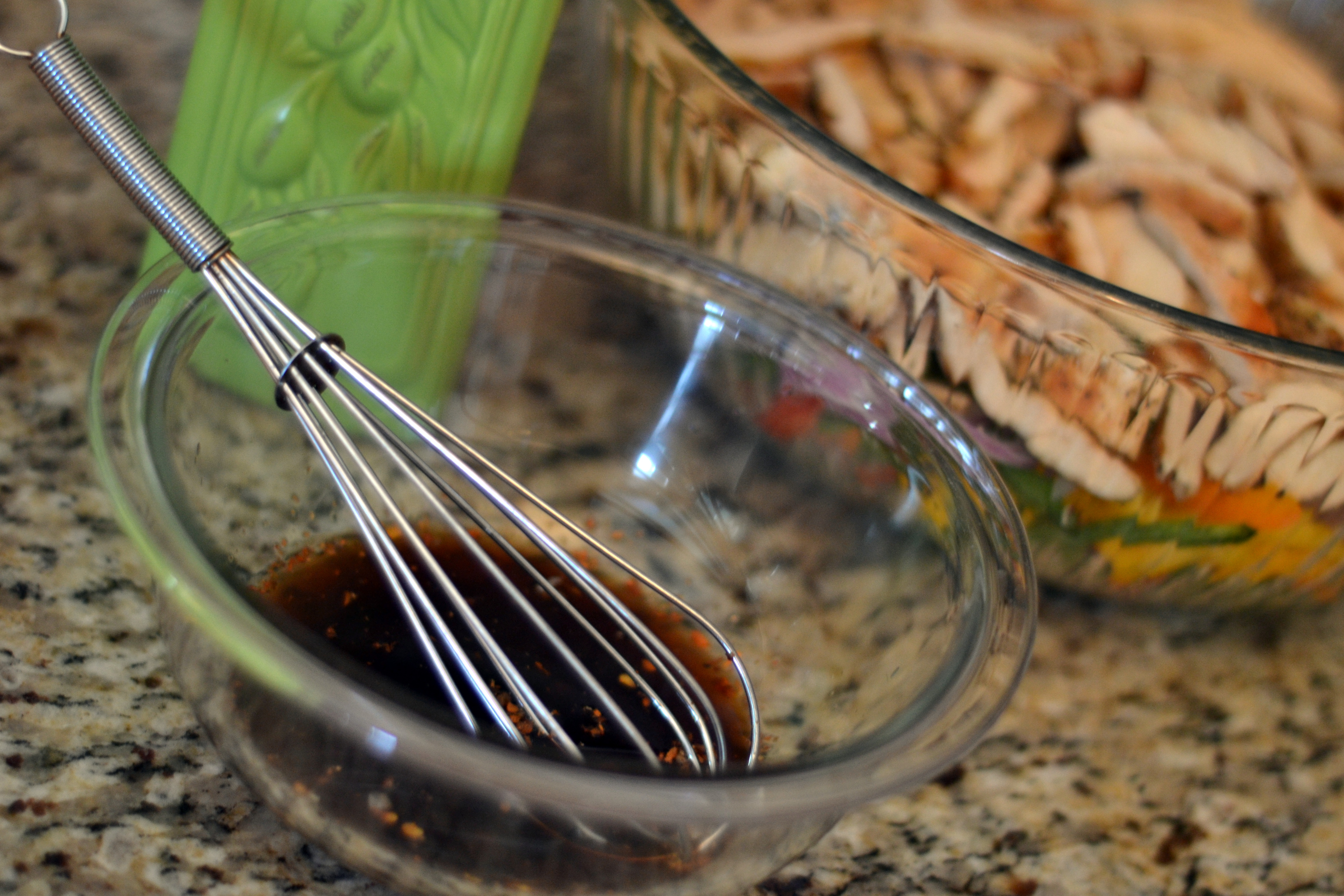 I whisked the dressing up, poured it over the salad and tossed it up so that every bit was covered in a little bit of the dressing.  Then, it was hands off for a while.  The salad, at this point, needs to stand at room temperature for thirty minutes to an hour.
Once the time had passed, I added in two pints of grape tomatoes that I sliced in half, some kalamata olives and a bunch of fresh basil from my crazy basil plant.  (Have I mentioned that this salad can feed a small army?)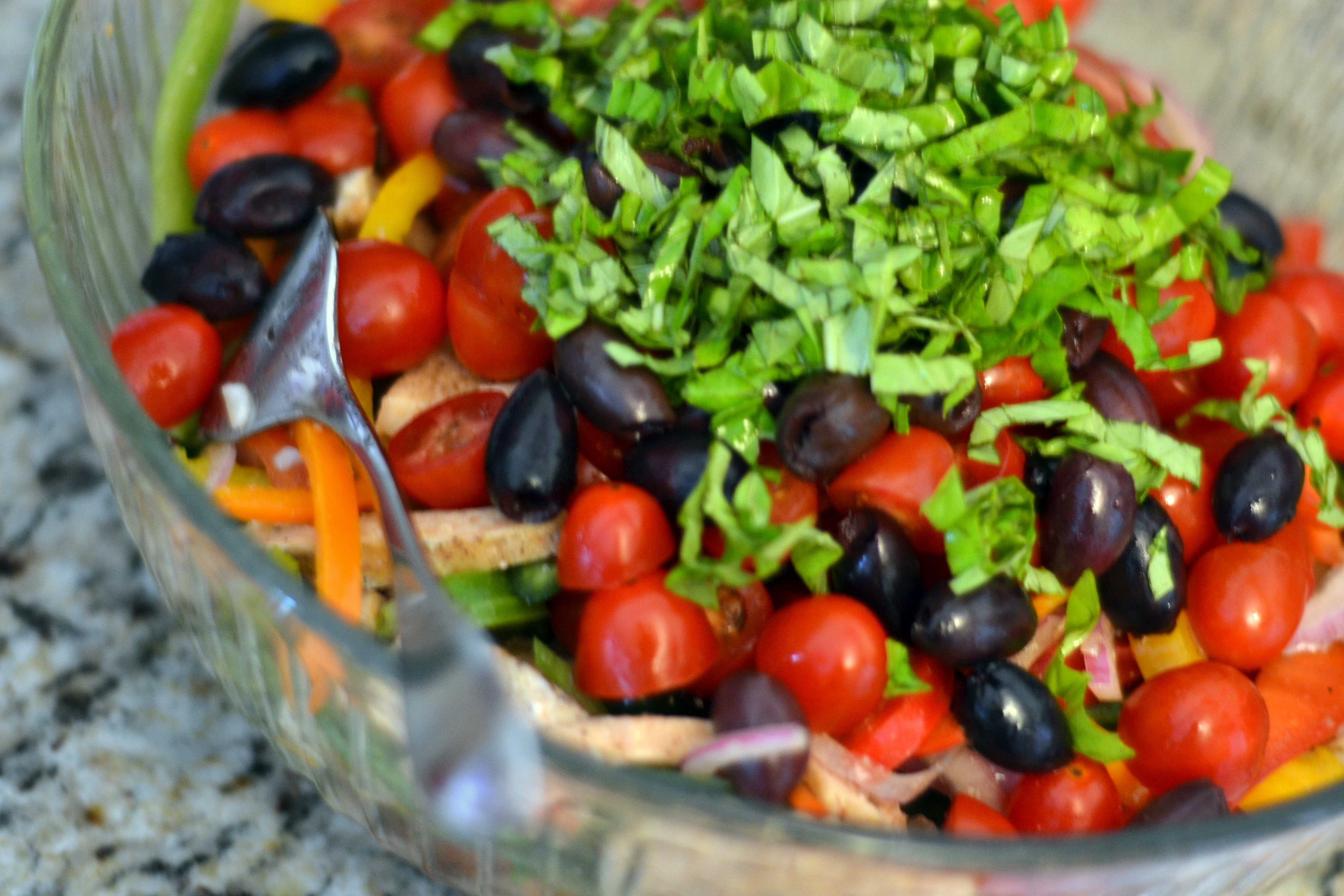 I tossed all of the new veggies in, and then the salad needed to sit for at least another fifteen minutes before serving.  I took it to a party and, quite honestly, it sat for about two hours (at least) before we all dove into it.  It was perfect!  It tasted so summery and fresh, plus it was so pretty.  For those of you with young kids, you may have noticed that Cookie Monster tells everyone to "Eat Your Colors" now.  I guess he's gone low-carb?  I kept thinking about Cookie Monster as I ate.  This salad would have made Cookie Monster proud!
We had a great afternoon with friends, and at the end of it, I took home a big, empty salad bowl.  Summer party success!
TUSCAN GRILLED CHICKEN & PEPPER SALAD
Adapted from Cooking New American
| | | |
| --- | --- | --- |
| Tuscan Grilled Chicken & Pepper Salad | | |
Author:
Ingredients
5 boneless, skinless chicken breast halves
extra virgin olive oil
salt and pepper
1 red bell pepper
1/2 yellow bell pepper
1/2 orange bell pepper
1/2 green bell pepper
1 Poblano chile
1/2-1 jalapeno pepper
1/2 small red onion, thinly sliced
1/4 cup red wine vinegar
1 Tbsp. balsamic vinegar
2 cloves garlic, minced
1/2 tsp. crushed red pepper flakes
1/4 cup extra virgin olive oil
2 pints cherry tomatoes (1 red and 1 yellow would be pretty!), halved
3/4 cup kalamata olives, pitted
30 basil leaves, washed, dried and cut into small pieces
Instructions
Core, seed, and thinly slice all of the peppers and chiles. Heat a gas or charcoal grill to medium heat. Lightly brush the chicken with olive oil and sprinkle both sides with salt and pepper. Grill the chicken on one side for 4-5 minutes, flip and grill for 3-4 minutes more until done. Let cool and cut the chicken on the diagonal into thin slices. Put the chicken in a large bowl along with the sliced peppers, chiles, and onion.
Whisk together the two vinegars, garlic, crushed red pepper flakes, and 1/4 cup olive oil. Toss the vinaigrette with the chicken and peppers and let stand for 30 minutes to an hour. Add the tomatoes, olives, and basil. Gently toss, season to taste with salt and pepper, and let stand at least another 15 minutes before serving.
ENJOY!