Directions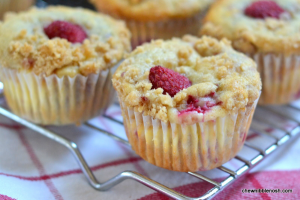 I love a good challenge, and when the good people at Driscoll's Berries asked me if I'd like to participate in their Muffin Madness promotion for the month of March, I couldn't resist!  All this month, Driscoll's will be featuring mouth-watering berry muffin recipes on their website.  You've heard of March Madness, right?  Well, Muffin Madness is a whole lot tastier!
They have some amazing recipes on their site, but I decided to try to concoct my own variation.  My all-time favorite berries are sweet, tart raspberries.  My favorite muffins are those yummy pumpkin cream cheese muffins you see in, virtually, every coffee shop and cafe during the fall months.  I thought a raspberry cheesecake muffin sounded like the perfect Spring variation to try.
I started by mixing up a quick streusel topping for my muffins.  In a bowl, I quickly mixed together some flour, brown sugar, a dash of cinnamon, and some melted butter together until the mixture was nice and crumbly.
I set that aside and got to work on my muffin batter.
It came together with the usual suspects, as well as some tang from fresh, creamy buttermilk and a bit of lemon zest.  When the batter was thick and creamy, I carefully folded in almost two cups of fresh, bright raspberries.
Once that was done, I beat together some cream cheese, an egg yolk, a little bit of sugar and some vanilla in a smaller bowl, for my cheesecake filling.
Into my muffin pan went a scoop of the raspberry studded batter, and I topped each bit with a dollop of the cheesecake mix.
I finished each muffin off with another scoop of the raspberry batter and a bit of the buttery streusel crumb.  Then, I plopped a fresh berry on top and popped them into the oven.
They spent about twenty-five minutes in the oven, and when they were done, I was left with some of the most beautiful muffins I'd ever made.  You could see those wonderful, juicy berries bursting throughout the muffins, and there was this lovely, velvety ribbon of creamy cheesecake running through the middle.  They were pretty amazing, if I do say so myself!
Needless to say, they were quite a hit with my family.  The girls were pretty upset when we ran out of them.  I guess I'll just have to make up some more!  Good thing we're getting into berry season!
Thanks for including me in your muffiny good time, Driscoll's!  Be sure to check out their site for more amazing muffin recipes to try during #MuffinMadness!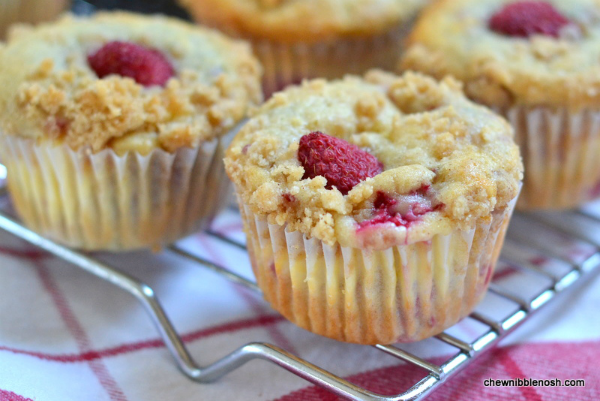 RASPBERRY CHEESECAKE MUFFINS
Raspberry Cheesecake Muffins – #MuffinMadness with Driscoll's
Author:
Prep time:
Cook time:
Total time:
Ingredients
For the Streusel Topping:
1/4 cup brown sugar
1/2 cup flour
1/4 tsp. cinnamon
1/4 cup butter, melted
For the Muffin Batter:
2 cups all-purpose flour
2/3 cup sugar
1/2 tsp. baking soda
2 tsp. baking powder
1/2 tsp. salt
1/4 tsp. cinnamon
2 eggs
1 stick butter, melted
1 cup buttermilk
zest from one lemon
1 1/2 cups fresh raspberries, as well as extras to place on the tops of each muffin
For the Cheesecake Filling:
8 oz. reduced fat cream cheese, softened
1 egg yolk
1 tsp. pure vanilla extract
3 Tbsp. sugar
Instructions
Preheat oven to 400*F. Line muffin pans with liners or spray with nonstick spray.
Make the Streusel:
In a small bowl, stir together all of the streusel ingredients with a fork until crumbly. Set aside.
Make the Muffin Batter:
In a medium-sized bowl, whisk together the flour, sugar, baking soda, baking powder, salt, and cinnamon.
In a large bowl, beat the eggs together with the melted butter. Add the buttermilk and the zest from the lemon, and whisk to combine.
Slowly add the dry ingredients and stir just to combine. Batter will be thick, and still somewhat lumpy.
Carefully, fold the raspberries into the batter, trying not to break all of the berries.
Make the Cheesecake Filling:
In a small bowl, beat the cream cheese until fluffy. Add the egg yolk, vanilla, and sugar, and beat until creamy.
Assemble the Muffins:
Scoop a generous spoonful of the muffin batter into 18 muffin cups. Top with a hefty spoonful of the cheesecake mixture, and then add another spoonful of the raspberry batter. Muffin cups should be just about full.
Sprinkle the tops with some of the streusel topping, pressing in a bit to make sure it sticks. Press a raspberry into the top of each muffin.
Bake, at 400*F, for 20-25 minutes, until golden and puffed, and until the top of the muffin springs back when touched and a cake tester comes out clean.
Let cool in the muffin pans for 10 minutes before removing to a cooling rack to cool completely.
Store in an airtight container.
ENJOY!