Directions
Happy Almost St. Patrick's Day!
'Tis the season to make corned beef and cabbage for dinner.  Much like Thanksgiving dinner, one of the best parts about St. Patrick's Day dinner are the leftovers!  I love good corned beef…can't get enough of it.  I love good corned beef sandwiches…can't get enough of them either.  This year, I thought I'd turn some leftovers into a fun version of one of my favorite sandwiches.
Before I started assembling my quesadillas, I prepped all of the goodies that would be tucked inside.  I drained a pound of sauerkraut and then squeezed out the excess liquid with some paper towels.  I was afraid that my quesadillas would become quesa-soggy with all of that juice.
As the sauerkraut drained, I quickly browned up a bit of my leftover corned beef that I'd sliced into thin pieces.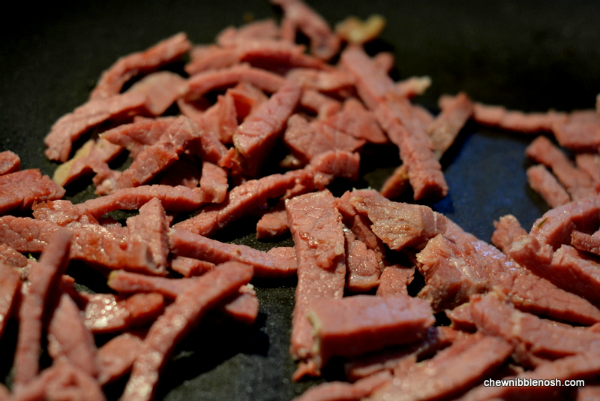 I just let it sizzle in my frying pan enough to warm it through and let some of the edges brown up a bit.
After the beef was done, I added my kraut to the pan and let it sizzle a bit to heat through, and warm up.
As it was cooking, I also combined some shredded Swiss cheese with some shredded mozzarella.  I threw some mozzarella in with the traditional Swiss cheese to up the melty factor a bit.
In no time flat, I had my ingredients ready to go!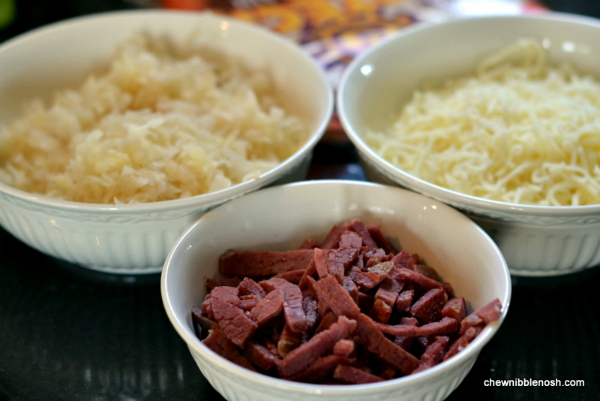 For each quesadilla, I sprayed my frying pan with some nonstick spray, and then laid one large tortilla in the hot pan.  On one side, I layered my ingredients.  First, came some of the cheese, then the corned beef, then the kraut, some more cheese, and what the heck…a few more pieces of that yummy corned beef, just for kicks.  I just needed to make sure that I had enough cheese exposed on the top to melt and serve as the glue to hold my quesadilla together.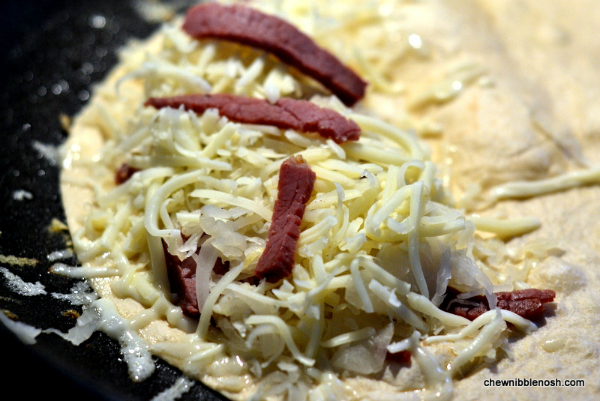 I folded the empty tortilla half over the filled half, and pressed it together a bit.  When the filled side was browned and toasty, I flipped the quesadilla and let it toast up a little more on the other side.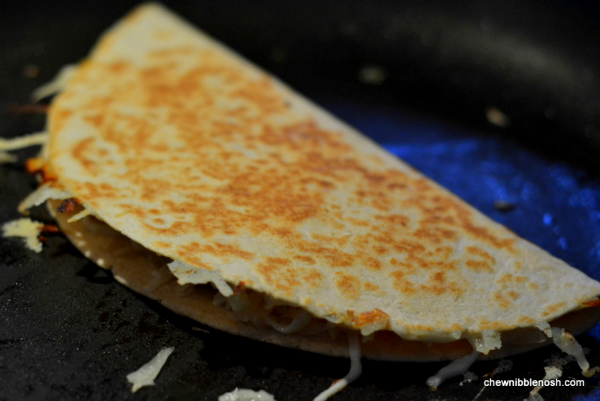 When it was sufficiently toasty and melty, I took it out of the pan, cut it into wedges and served it up alongside some creamy Thousand Island dressing.
They were delicious!  The cheese was perfectly melty and gooey, as it should be in any quesadilla, the sauerkraut added a tangy crunch, the meat was tender and well spiced, and the tortilla was crisped up just the way I like it.  I hate when I order a quesadilla in a restaurant and the tortilla is soggy.  Blech.  None of that here, thank goodness!
I hope you enjoy a wonderfully delicious  St. Patrick's Day!  Have fun, be safe, and enjoy those leftovers!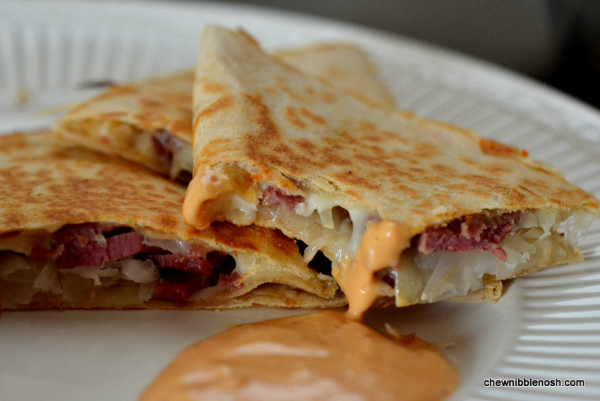 REUBEN QUESADILLAS
Reuben Quesadillas
Author:
Prep time:
Cook time:
Total time:
Ingredients
4 10-inch tortillas (I used whole-grain)
1 lb. sauerkraut, drained
1/2 lb. corned beef, sliced, and cut into strips
1 cup shredded Mozzarella cheese
1 cup shredded Swiss cheese
Thousand Island dressing, for dipping
Instructions
Make sure the sauerkraut is well drained, and then squeeze out any excess liquid with paper towels.
Spray a 12 inch skillet with nonstick spray, heat over medium heat, and add the corned beef. Cook for a couple of minutes, just until the meat is heated through and starting to brown up a bit on the edges. Remove the meat from the pan and set it aside.
Add the dried sauerkraut to the same pan, over medium heat, and stir for a minute until heated through. Remove from the pan, and set aside.
Combine the Mozzarella and Swiss cheeses.
Wipe out the pan with a paper towel, re-spray with nonstick spray, and heat the pan over medium-high heat.
For each Quesadilla:
Add one tortilla to the pan.
Layer some of the ingredients onto one half of the tortilla, beginning and ending with some of the cheese. Fold the empty half over the full half.
Cook until the grilled side is nice and toasty, then carefully flip the quesadilla to toast up the other side.
Slide the quesadilla out of the pan. Slice it into triangles, and serve with the Thousand Island dressing.
ENJOY!