Directions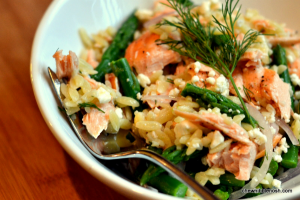 This meal is, simply, summer in a bowl.
It's light, and fresh, and so easy to throw together…because who wants to think when the weather is beautiful and you'd rather be hanging out by the pool?  This amazing summer meal can be put together in the time it takes for the kids to take showers after swimming so their hair doesn't turn green.
I put a pot of water on the stove, and started heating it up to a boil.  As it was heating, I was busy prepping my fresh asparagus, slicing a red onion, and whisking together a quick, but super tasty, dressing of lemon juice, fresh dill, olive oil, salt, pepper, and a hefty dose of feta cheese.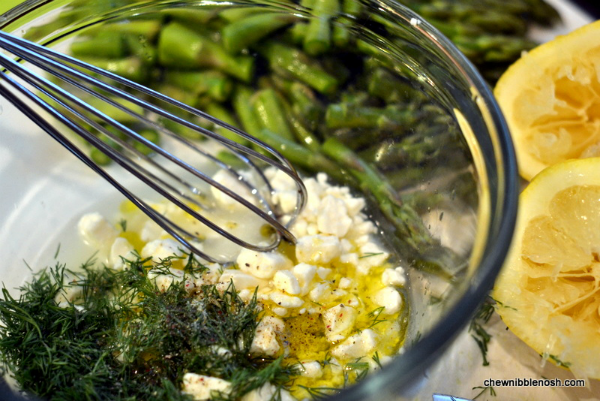 Once my water was boiling, I added the asparagus pieces, let them cook for about 3 minutes, and while they were still bright green and crisp-tender, I removed them from the water with a slotted spoon and plunged them into an ice bath to stop the cooking.
As the asparagus cooled for a bit, I added my orzo pasta to the boiling water and let that cook.
The orzo gave me the perfect amount of time to cook my salmon under the broiler.  I placed my salmon pieces on my broiler pan, sprinkled them with salt and pepper, and popped them under the broiler for five minutes.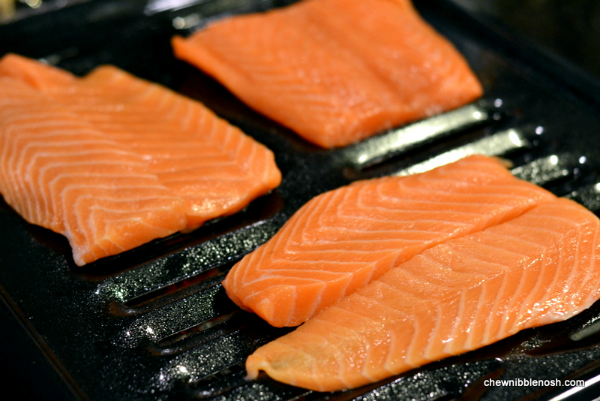 The pieces of salmon I had were pretty thin, so they didn't take long at all to cook up to be nice and flaky.  If your salmon is thicker, it may take a couple of minutes longer.
Once the salmon was done, I flaked it apart with a fork.
By this time, the orzo was finished, so I drained the pasta, and then tossed it together with everything else.  In went the pasta, the salmon, the asparagus, the red onion, and that tangy, feta-studded vinaigrette.  I seasoned it to taste with salt and pepper, and we were good to go!
It could easily be a side dish, but I served this as our entrée that night.  You've got everything you need for a light, summer dinner, right in one bowl.  One bowl means less mess.  Less mess means more time to enjoy a wonderful summer night.
Perfect.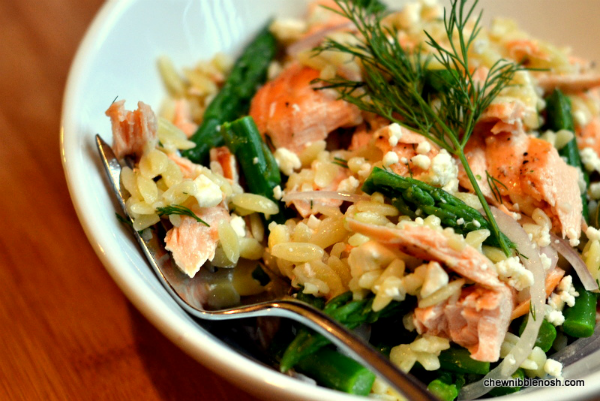 SALMON, ASPARAGUS, AND ORZO SALAD WITH LEMON-DILL VINAIGRETTE
Adapted from Cooking Light
Salmon, Asparagus, and Orzo Salad with Lemon-Dill Vinaigrette
Author:
Prep time:
Cook time:
Total time:
Ingredients
1 lb. asparagus, trimmed and cut into 3-inch pieces
1 cup uncooked orzo
1 1/4 lb. skinless salmon fillets
1/4 tsp. salt
1/4 tsp. pepper
1/4 cup thinly sliced red onion
For the vinaigrette:
1/3 cup crumbled feta cheese
1 Tbsp. chopped fresh dill
3 Tbsp. fresh lemon juice
1 Tbsp. extra virgin olive oil
1/4 tsp. salt
1/4 tsp. pepper
Instructions
Preheat your broiler. Bring a large pot of water to a boil on the stovetop.
Prepare the vinaigrette: Combine all vinaigrette ingredients in a small bowl with a whisk. Set aside.
Add the asparagus to the boiling water, and allow to cook for 3 minutes, or until crisp-tender. Remove the asparagus from the water with a slotted spoon, and place the asparagus in a bowl filled with ice water. Once the asparagus is cool, drain off the ice water, and set the asparagus aside.
Return the cooking water to a boil, add the orzo and cook according to the directions on the package.
While the orzo cooks, sprinkle the salmon with salt and pepper. Place the fish on a broiler pan that has been lined with foil, and coated with cooking spray. Broil the fish for 5 minutes, or until the fish flakes easily with a fork.
Using two forks, flake the fish into large chunks.
Drain the orzo.
In a large bowl, combine the orzo with the salmon, asparagus, red onion, and vinaigrette. Season with salt and pepper to taste.
Serve slightly warm or at room temperature.
ENJOY!