Directions
Well, this worked out nicely.  I received my latest issue of Food Network Magazine

in the mail last week, and I opened it right up to this recipe. I made it, loved it, and now you get to have it. Let's hear it for efficiency!
My family loved this simple take on traditional Chicken Parmesan.  This is a one skillet dish, and with the added artichokes and chunky breadcrumbs, there's really no need for pasta.  It's filling and hearty enough to go on its own.  I paired it with a simple salad, and we were ready to go.
I started by thawing a package of frozen artichoke hearts, mincing up some garlic, and pouring a large can of whole tomatoes into a bowl, where I hand crushed them.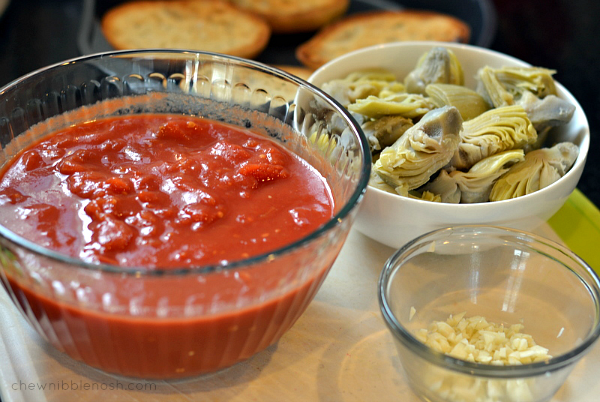 I also ran a couple of crusty, split rosemary focaccia rolls under the broiler until they were nice and toasty.  The bread will come into play later.
I started on the stove top by sauteing the artichokes in a bit of olive oil. Once they had softened a bit and were just beginning to brown up, I added in my garlic and some crushed red pepper.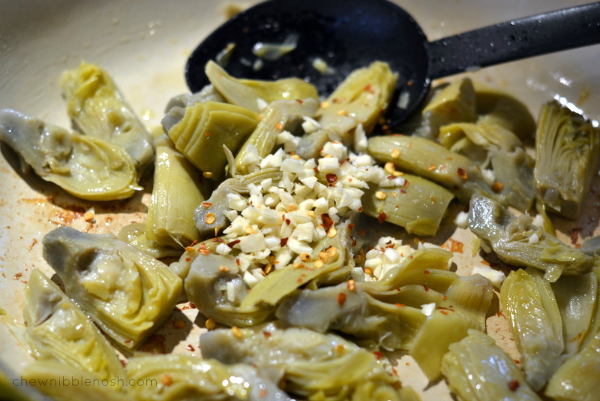 I stirred in the garlic and pepper, and let that mixture cook for about a minute, to let the garlic soften and become fragrant.
Then, I poured in my chunky tomatoes, a cup of water, some salt, and then finished the sauce with a good grind or two from my pepper mill.
I brought the mixture to a boil and allowed it to simmer for about ten minutes to thicken up.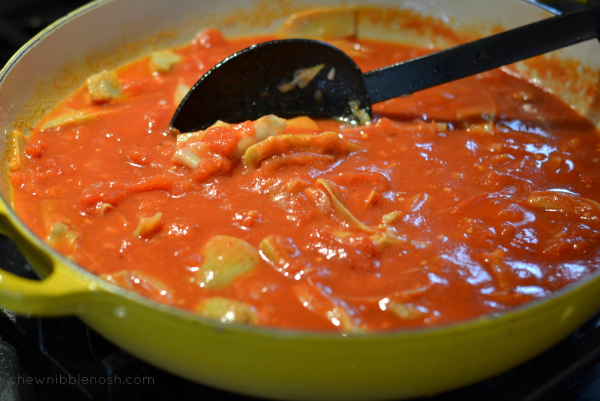 While the sauce was simmering away, I chopped those toasty rolls up into small chunks.  You could use any really crusty, hearty bread for this.  I had some rolls in the freezer, so I used a couple of those, but you could easily just use a few slices of crusty bread instead.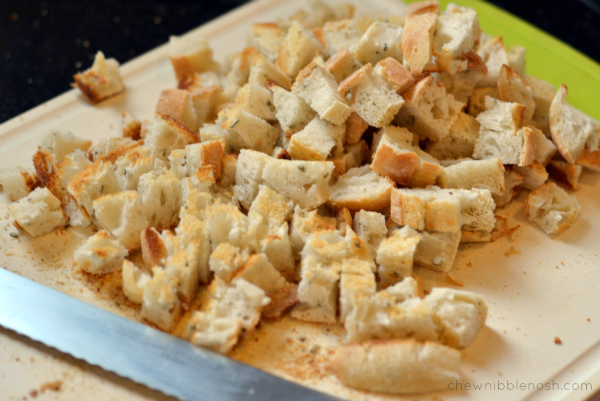 Once the sauce had cooked down a bit and thickened up nicely, I stirred in my shredded rotisserie chicken and a hefty dose of dried basil.  The original recipe called for fresh basil, and if I'd had it on hand, I would have used that.  But…I forgot to buy it at the store, so I went with dried.  It worked perfectly well, so use whichever you please!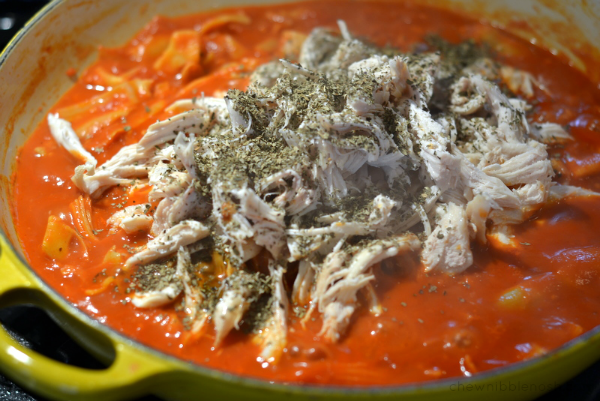 I seasoned the sauce with a bit of salt, and then removed the skillet from the heat.  I sprinkled my toasted bread crumbs over the top of the dish, and then sprinkled some grated Parmesan cheese over that, and finished the dish off with a few slices of fresh mozzarella cheese before popping it under the broiler.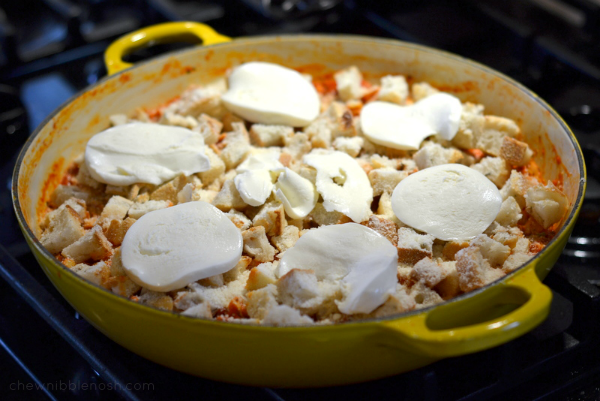 I let it bubble away for a few minutes under the broiler, and then we were able to dig into dinner.
It was fresh and delicious, saucy, and savory, with all of those delicious flavors we love in traditional Chicken Parm, and some extras that bucked tradition. But they were certainly welcome!  And as simple as this was, it won't be long until we enjoy it again.
SKILLET CHICKEN PARMESAN WITH ARTICHOKES
Adapted from Food Network Magazine
Skillet Chicken Parmesan with Artichokes
Author:
Prep time:
Cook time:
Total time:
Ingredients
2 Tbsp. extra virgin olive oil
1 (12 oz.) package frozen quartered artichoke hearts, thawed
2 cloves garlic, chopped
1/4 tsp. red pepper flakes
1 (28 oz.) can whole peeled San Marzano tomatoes, crushed by hand
1 cup water
salt and pepper
3 cups chopped rotisserie chicken (skin removed)
1 Tbsp. dried basil or 1/4 cup chopped fresh basil
4 slices crusty, dense bread (rosemary focaccia or similar)
4 oz. fresh mozzarella, thinly sliced
1/4 cup grated parmesan
extra basil or chopped parsley for garnish
Instructions
Preheat the broiler.
Place the bread on a cookie sheet and place under the broiler until toasted, flipping to make sure that both sides toast up. Remove from the oven and set aside.
Heat the olive oil in a large ovenproof skillet over medium-high heat. Add the thawed artichokes, and cook, stirring every once in a while, just until they start to brown up, about 5 minutes.
Add the garlic and the red pepper. Cook, stirring for about a minute, until garlic softens and is fragrant.
Add the tomatoes, 1 cup of water, 1 teaspoon of salt, and a few grinds of pepper. Stir to combine, and bring to a boil. Reduce the heat to a simmer, and cook until the sauce thickens a bit, stirring occasionally, about 10 minutes.
Chop the toasted bread into small pieces. Set aside.
Stir the chicken and basil into the sauce, season with salt if necessary.
Remove the skillet from the heat.
Sprinkle the toasted bread crumbs over the top of the dish. Evenly sprinkle the parmesan cheese over the bread, and top with the sliced mozzarella cheese.
Place the skillet under the broiler and cook, 3-5 minutes, until mozzarella is bubbly and breadcrumbs are toasty.
Sprinkle with extra basil or parsley and serve.
ENJOY!