Directions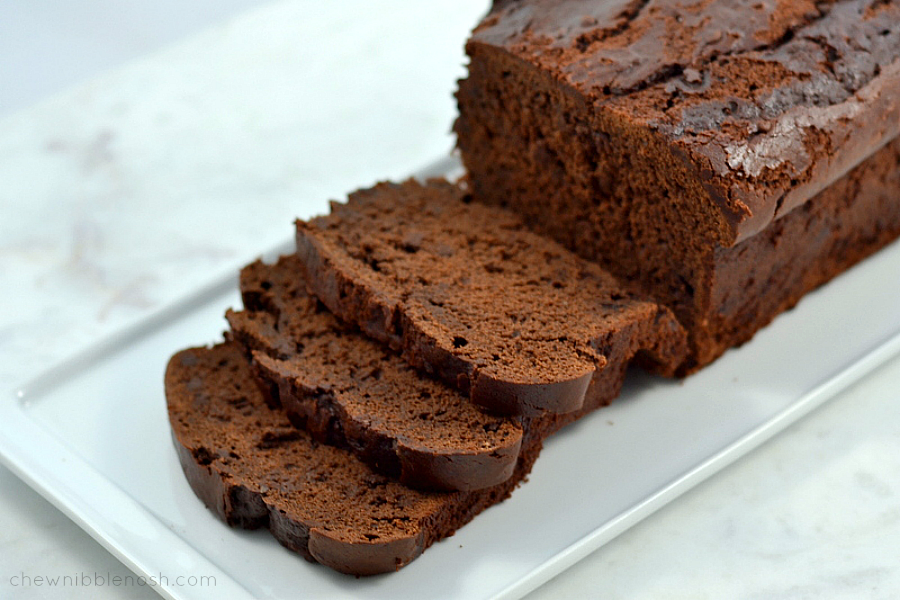 I have notoriously bad luck with banana bread.  Every time I try to bake a loaf, it's either overbaked or raw in the middle.  Despite that, I haven't given up trying to make a decent loaf, and when I realized the bananas on our counter were brown and spotty, and wouldn't be going anywhere, I decided I should give a new recipe a try.
This deeply rich, chocolate banana bread comes from Dorie Greenspan's spectacular book, Baking: From My Home to Yours . It's, quite honestly, my baking bible, and I have yet to make anything from it that isn't truly fantastic.  (If you enjoy baking, or want to enjoy baking, you should really treat yourself to a copy.) I was confident that Dorie wouldn't let me down, and I'm happy to say I was right!  Not only was this a successful loaf of banana bread, but it was truly delicious and different.  It's not your everyday banana bread, it's quite rich, but when you're craving some chocolate and have a few bananas on their last leg hanging around, it's a pretty worthwhile treat to whip up.
I started by grabbing my handy-dandy banana masher, my daughter Avery, and I put her to work.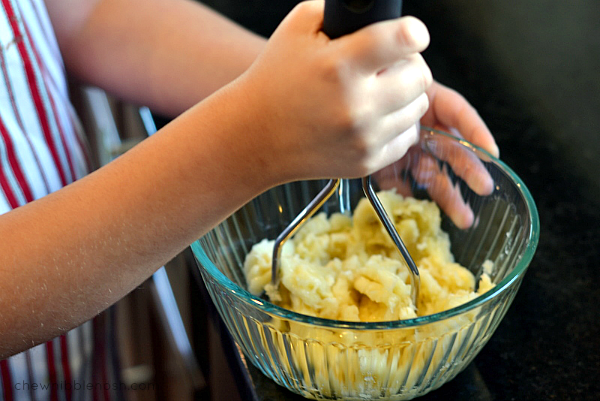 There is something truly satisfying about mashing bananas for a child and she was eager to help.  Note the stripes, as she even put on her apron for the job. This is serious business.
As Avery was mashing away, I gathered my dry ingredients and sifted them together.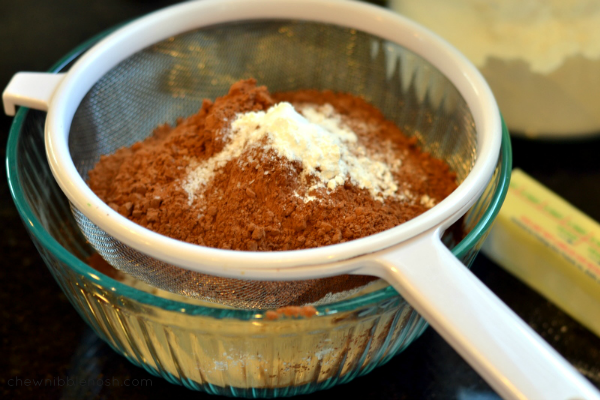 With two cups of flour and one cup of cocoa powder, this little loaf isn't messing around. It's easily the tallest loaf of quick bread I've ever made.
Once the bananas were mashed and dry ingredients ready, Avery and I beat the butter and sugars together in my stand mixer.  Both white and brown sugar, and a couple of eggs were beaten in, and then it was time to add the banana.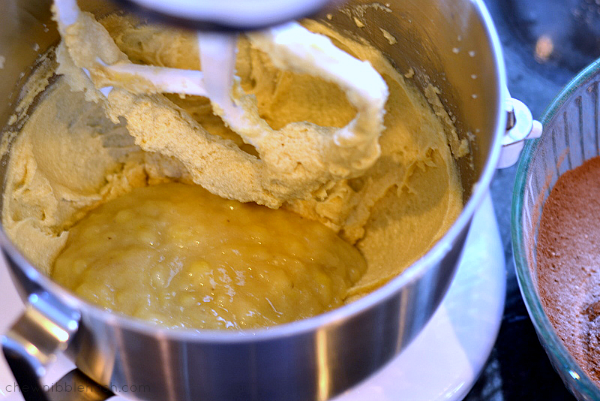 We mixed that in slowly and then gradually added in the chocolate-flour mixture and finished it off with a good dose of buttermilk.
Again, this loaf isn't messing around. Can anything bad come from chocolate and buttermilk?
Once the buttermilk was in, and the batter was creamy and chocolatey, we stirred in a heap of chocolate chips and scooped it into a buttered loaf pan.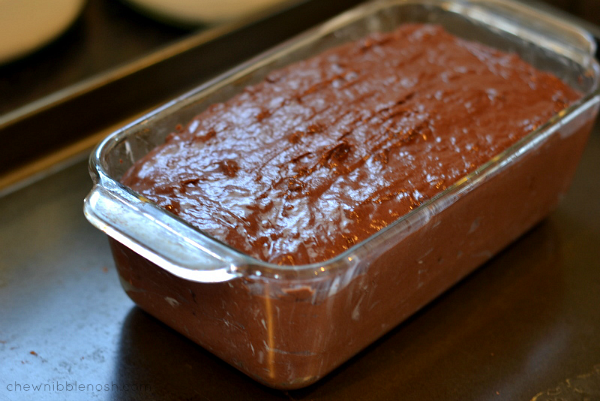 Before it even hit the oven, the loaf pan was just about full.  I was really curious to see how this would end up, and also wondered a bit if I wouldn't have a lava flow of molten batter spewing out the top of the pan once it hit the oven.
Thankfully, my fears were put to rest as it just rose beautifully and tall during its baking time.
The loaf took about 75 minutes, total, to bake.  For most of that baking time, it was covered in a foil tent so that it wouldn't burn on top, or stay mushy in the middle
I let the loaf cool in the pan for about twenty minutes, before turning it out and then allowing it to cool completely before slicing.
It's so rich and chocolatey, and such a treat.  Perfect for breakfast, or even dessert. In fact, if you're just kind of "meh" about chocolate overall, you probably won't like this.  My husband isn't a big chocolate guy, so he had one bite and walked away.  The girls and I, however, were a different story, and gladly gobbled up what he'd left behind.  It's intensely chocolatey from the start, and then you can taste the banana once you get on in there.  The banana flavor intensifies as the bread sits, so enjoy it over a couple of days.
CHOCO-NANA BREAD
Adapted from Baking: From My Home to Yours
Choco-Nana Bread
Author:
Prep time:
Cook time:
Total time:
**This rich, chocolatey bread can stay wrapped in plastic on the counter for 2 days, or wrapped air-tight in the freezer for up to two months.
Ingredients
2 cups all-purpose flour
1 cup unsweetened cocoa powder
1 1/2 tsp. baking powder
1/2 tsp. salt
1/4 tsp. baking soda
1 stick (8 tablespoons) unsalted butter, at room temperature
3/4 cup sugar
1/2 cup packed, light brown sugar
2 large eggs
2 ripe bananas, mashed
3/4 cup buttermilk
1/2 cup chocolate chips
Instructions
Place your oven rack in the center of your oven and preheat the oven to 350*F. Butter a 9×5 inch loaf pan and place it on two regular baking sheets stacked one on top of the other. (This keeps the bottom of the bread from overbaking…GENIUS!)
Sift together the flour, cocoa, baking powder, salt and baking soda.
In a stand mixer, fitted with a paddle attachment, beat the butter at medium speed until it's softened. Add both of the sugars, and beat for 2 minutes more.
Add the eggs, one at a time, beating for a minute after each one is added. (If the batter looks curdled, it's OK.)
Reduce the mixer to low, and mix in the mashed banana.
In three additions, add in the dry ingredients, mixing only until each addition blends into the batter. Still on low speed, add in the buttermilk, and mix until it is incorporated completely.
Stir in the chocolate chips, and pour the batter into the prepared loaf pan.
Bake for 30 minutes. Then, loosely cover the bread with a foil tent (try not to actually touch the bread or it will stick to the foil). The foil will keep the bread from getting too dark. Continue to bake for another 40-45 minutes, or until you can insert a thin knife into the middle and come out clean.
Transfer the pan to a wire rack and allow to cool for at least 20 minutes in the pan. Run a thin knife along the edge of the pan, and turn the bread out. Invert it so it's right side up, and allow it to cool completely before slicing.
ENJOY!