Directions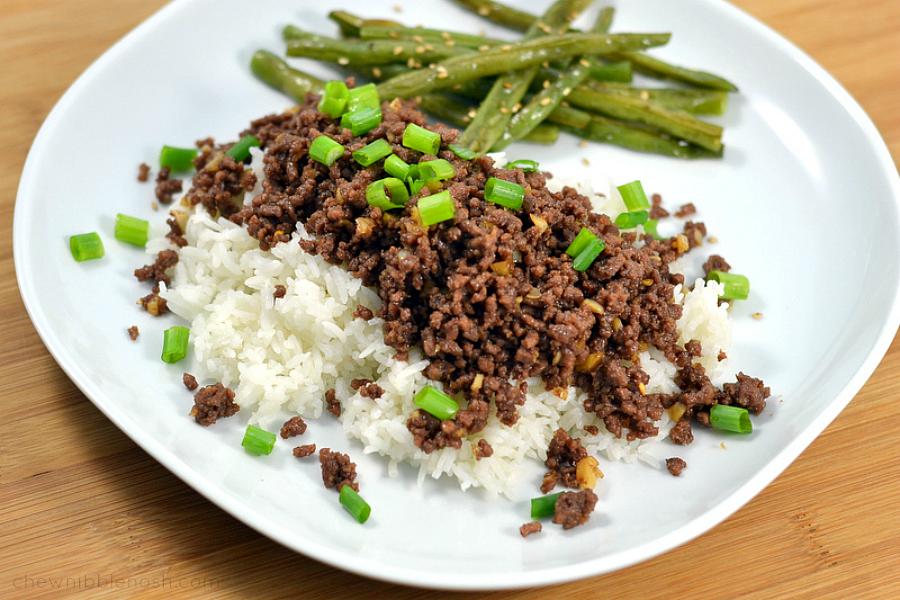 I know, I know.  My Korean friends are probably rolling their eyes and looking at this like I'm crazy.  But, hear me out.
May is what's CRAZY.  I have yet to talk to one parent of school aged children this month who isn't completely bogged down with school projects, after school activities, end of the year recitals and concerts, class trips, sporting events, etc. etc. etc.  May is just nuts.
That said, I still need to feed my family each evening, or they get grumpy.  Super simple meals like this Korean bulgogi knock-off come in really handy.  Bulgogi is one of my favorite dishes, and if I'm dining at a Korean restaurant, you can pretty much bet I'm going to order it.  Traditional bulgogi requires marinating the thinly sliced beef for a good chunk of time in a concoction not too different from the one here.  But marinating takes time, and I didn't have any.
So, yes, I know that this isn't the real deal.  I'm well aware.  But…it comes together in minutes, and right now, that's what I need.  Plus, it's super tasty, which is what we all need, right?
I started by getting everything together.
The sauce for the beef is simply a hefty dose of brown sugar, some soy sauce, sesame oil, garlic, ginger, and crushed red pepper.
I minced up the garlic, and gave it all a good stir.
I set the sauce aside and started browning my ground beef on the stove top.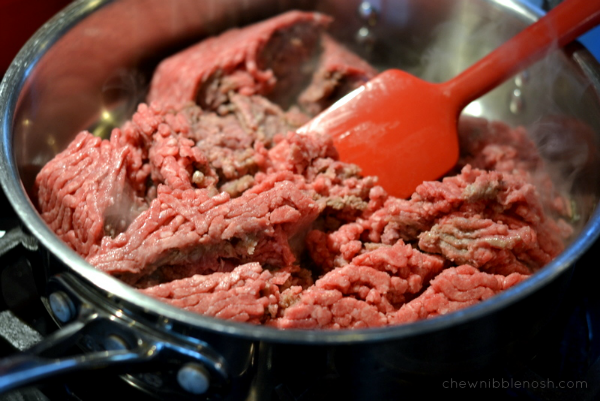 Once the beef was browned, I drained the grease from it, and then stirred in that garlic filled sauce.
The sugar melts down and as the sauce simmers with the beef, it quickly fills it with that flavor you'd get from marinating thin strips of beef for traditional bulgogi overnight.  Ginger, soy sauce and garlic is one of my favorite flavor combinations, and the sugar brings a sweet note to all that savory, and is just so tasty.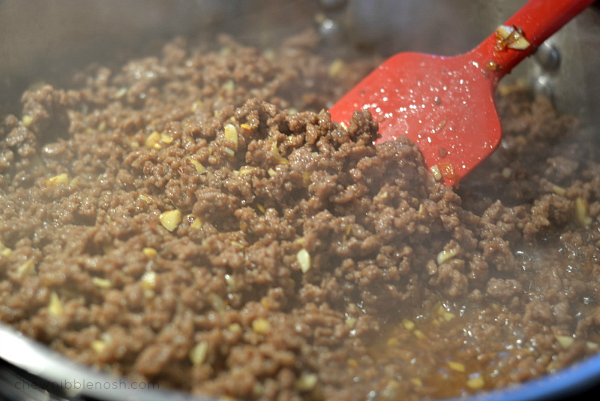 I let the sauce cook down a bit, allowing the garlic to soften and permeate the flavor of the sauce.  After the sauce had reduced down to almost nothing, and the sugar had almost coated the beef in a sweet, savory glaze, I was ready to serve it up.  I heaped the beef over steamed rice and sprinkled it with crisp green onions.
My family gobbled this up, and didn't seem to mind (or even really care) that I'd taken a super easy short cut for dinner that night.  Family fed, bellies full, simple clean up, happy me.  It's all good.
QUICK KOREAN BEEF
Adapted from LoveBakesGoodCakes.com
Quick Korean Beef
Author:
Prep time:
Cook time:
Total time:
Ingredients
1 1/2 lbs. lean ground beef
1/2 cup brown sugar
1/3 cup soy sauce
1 1/2 Tbsp. sesame oil
1/2 tsp. fresh grated ginger
3/4 tsp. crushed red pepper flakes
6 cloves garlic, minced
cooked rice, for serving
sliced green onions, for serving
Instructions
In a small bowl, whisk together the brown sugar, soy sauce, sesame oil, minced garlic, ginger, and crushed red pepper flakes. Set aside.
In a large skillet, brown the beef over medium-high heat, breaking into crumbles. Once completely browned, drain the grease from the beef.
Put the pan back over the heat and add the sauce to the beef. Cook, stirring, for a few minutes to allow the sauce to simmer until it reduces almost completely down, about 3 minutes.
Serve the beef over steamed rice, sprinkled with green onions.
ENJOY!