Directions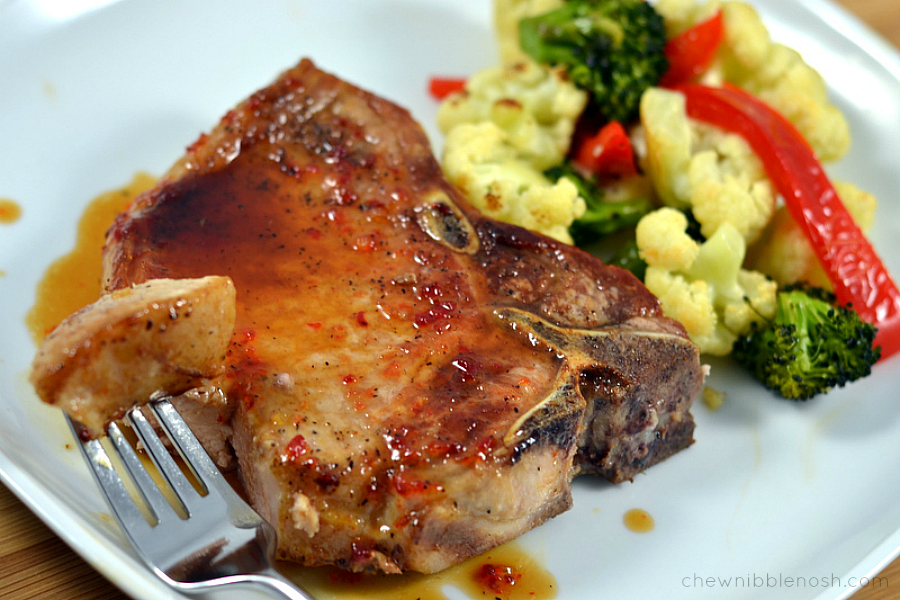 Back when my husband and I were first married, I remember buying a cookbook that boasted "Four Ingredient Meals". I made a few things out of it, and then, somehow, the book disappeared.  I either threw it away out of frustration or sold it in a garage sale.  I honestly can't remember.  What I do remember is the recipes I made from that cookbook were all so horrible, it was almost comical.
THIS four ingredient entrée, however, is worth keeping.  It's so simple, coming together in minutes, and was really, really tasty.
I started with thick, bone in pork chops.  They were a little over an inch thick and I sprinkled them with salt and pepper.  (OK, I guess the salt and pepper brings the ingredient list up to six.  Oops.)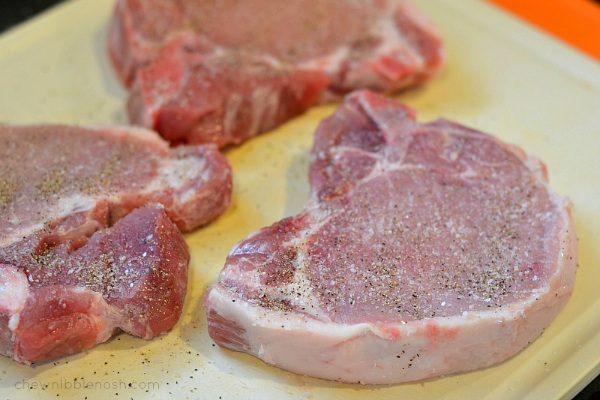 I measured out a half of a cup of sweet, spicy Red Pepper Jelly, and a few tablespoons of apple cider vinegar.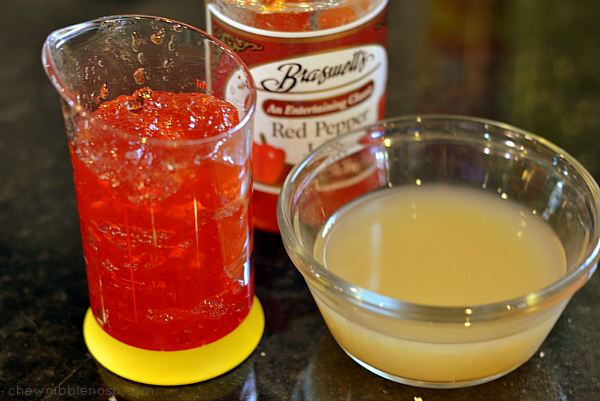 Having lived in the south for a good long while, I don't bat an eye when I see Red Pepper Jelly in the store.  It's not one I'd put on toast, although I'm sure there's someone out there who does, but most often you find it gracing the Southern table poured over a hunk of cream cheese and served with crackers.  (There's a three ingredient recipe for you!  Maybe pepper jelly is the key?)  It's both beautifully sweet and spicy, but not overpowering.  And in this case, it helps make a delicious glaze for those pork chops.
I started the chops on the stove.
I cooked them in just the slightest bit of oil on the stove top until they were golden and had reached 140*F internally.  I removed them to a plate and covered it with foil.
I wiped the fat from the pan, and then added in my pepper jelly and the vinegar to the empty skillet.  I whisked that around until it had melted into a thick, syrupy glaze.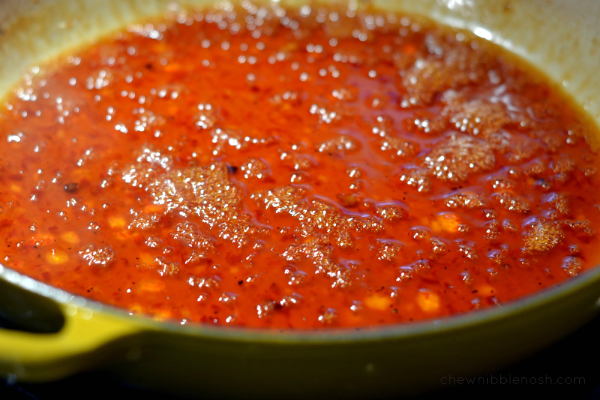 Once it was nice and thick, I put the chops back in to the pan and turned them in the glaze until they were completely coated, and then we were ready to eat!  I simply served them alongside some roasted cauliflower, broccoli and red pepper, and we had a delicious, simple, healthy meal in no time.  The chops were tender and juicy, and the simple glaze added a great punch of savory, sweet flavor.
It's a four ingredient recipe that's worth keeping!
SIMPLE PEPPER JELLY PORK CHOPS
Adapted from Cooks Country
Simple Pepper Jelly Pork Chops
Author:
Prep time:
Cook time:
Total time:
Ingredients
4 (10 oz.) bone in pork chops, 1 inch thick
1 Tbsp. canola oil
1/2 cup red pepper jelly
6 Tbsp. apple cider vinegar
salt and pepper
Instructions
Season both sides of the pork chops with salt and pepper.
Heat the oil in a 12 inch skillet over medium-high heat on the stove top. Add the pork chops, and cook until golden, about 6 minutes per side. Internal temperature should register at 140*F. Transfer the pork chops to a plate and loosely cover with foil.
Wipe the oil out of the pan, and add the jelly and vinegar. Whisk over medium heat until thick and syrupy, about 3 minutes. Season with salt and pepper to taste.
Add the chops back into the pan and turn to coat in the glaze before serving.
ENJOY!