Directions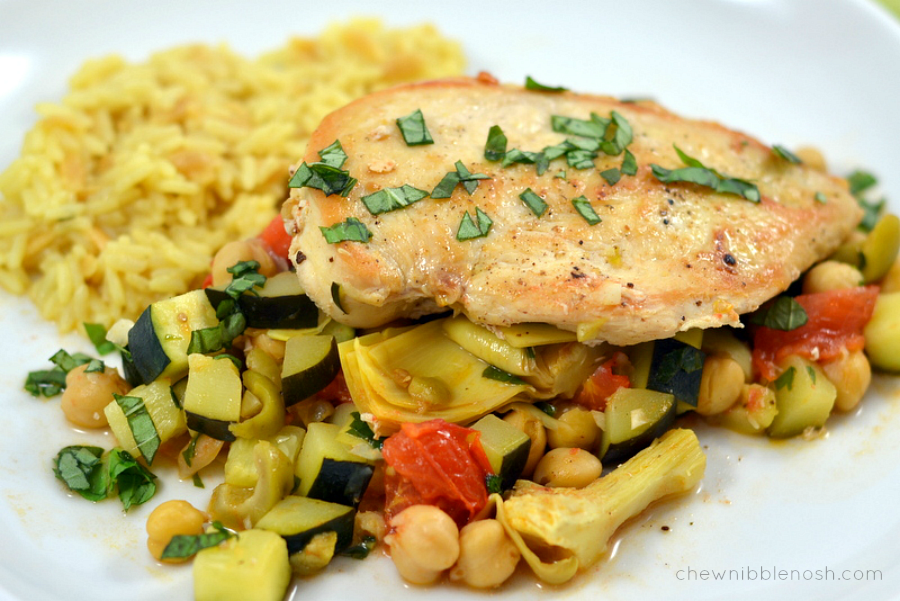 Fast, fresh, and healthy.
That's exactly what this meal is, and I love that something so colorful and fresh can come together this quickly and taste so darn good.
I'd made this meal before, and we'd really enjoyed it, so I decided to make it again and actually remember to take pictures (#foodbloggerproblems) so that I could share it with you.  As I was getting my ingredients together, I quickly realised that I was in a bit of a pickle.
You see, the beautiful, plump pint of grape tomatoes I'd purchased just the day before were now completely covered in mold.  (Well, that's not good.)  Thankfully, I had a handful of Campari tomatoes leftover from a salad I'd made a couple of nights before and I could use those.  Then, as I was looking at the recipe, I noticed that it called for a jar of marinated artichoke hearts.
(#shopping problems)
I didn't have marinated artichoke hearts.  I bought a can of regular, plain old artichoke hearts. Soooo, I decided to get the ball rolling by marinating the artichokes I had in a bit of Balsamic vinaigrette dressing while I prepped everything else, and hope for the best.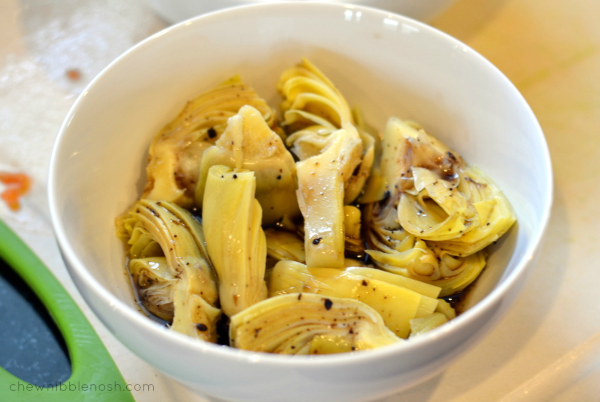 Once those were situated, I prepped all of my other veggies.  I sliced up those tomatoes, diced up a couple of zucchini, rinsed off a can of chickpeas, chopped up some green olives, and minced up a heap of garlic.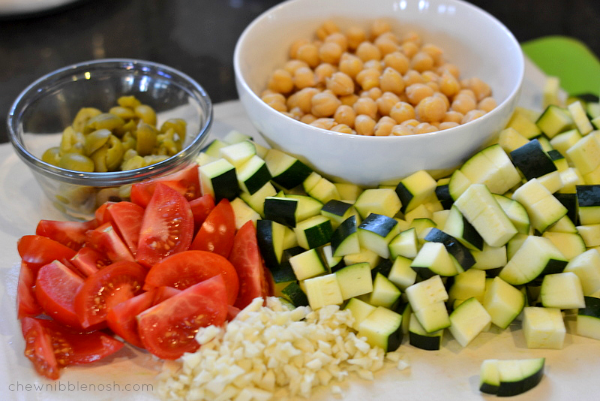 Once everything is prepped, the dish comes together quickly and simply.
I started by heating some olive oil in a large skillet and adding my chicken breasts.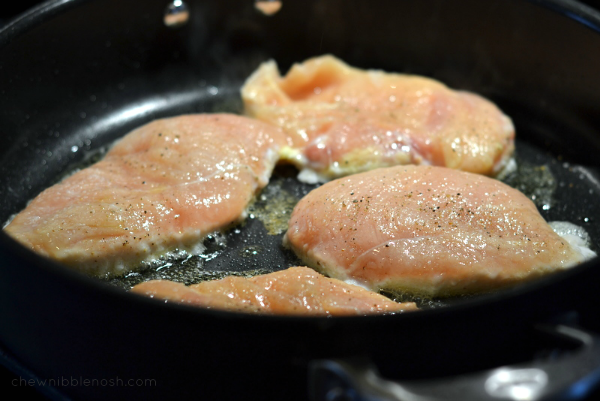 I cooked them for about four minutes on each side, until they were golden brown, and then removed them and set them to the side.
Into the pan went the zucchini and garlic for a few minutes, just enough to soften the zucchini a bit, and then I added in my tomatoes and cooked them until the started to break down.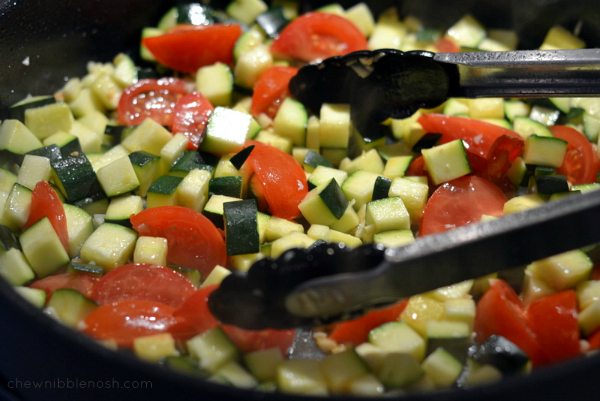 I added some white wine and scraped up browned bits from the bottom of the pan, and then added the olives, chickpeas, and the now marinated artichokes.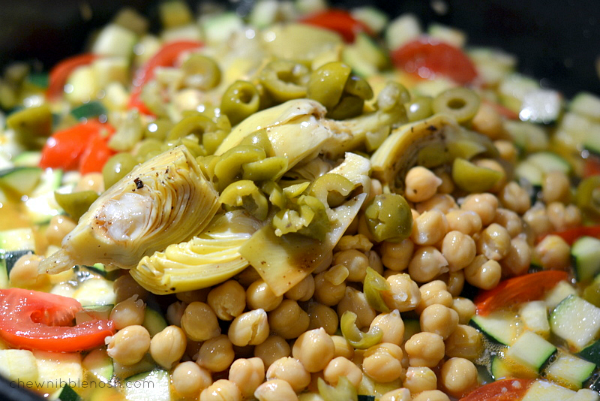 I gave those a good stir, and then nestled the chicken back in and let the whole thing simmer for a few minutes to finish cooking the chicken and bring the flavors together.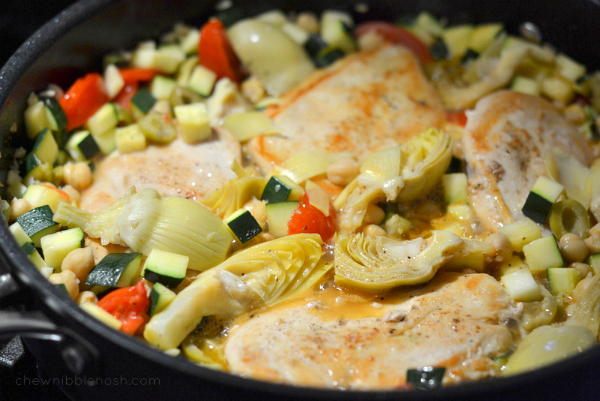 To finish things off, I removed the chicken for just the last couple of minutes, and let the sauce cook down just a bit.  Then, before serving, I sprinkled it all with some fresh chopped basil.
I have to admit, I think the artichokes that I messed up on ended up being an improvement!  The flavor was even brighter this time around, and from now on I'll make the same buying "mistake" when I hit the grocery store.
MEDITERRANEAN CHICKEN SKILLET WITH ZUCCHINI, CHICKPEAS, OLIVES AND TOMATOES
Adapted from Cooking.com
Mediterranean Chicken Skillet with Zucchini, Chickpeas, Olives and Tomatoes
Author:
Prep time:
Cook time:
Total time:
Ingredients
4 chicken breast cutlets
salt and pepper
2 Tbsp. olive oil
2 medium zucchini, diced
1 cup cherry tomatoes, cut in half or quartered
5 cloves garlic, minced
3/4 cup dry white wine
1 cup canned quartered artichoke hearts
2 Tbsp. Balsamic vinaigrette
1 can chickpeas, drained and rinsed
1/3 cup green olives, pitted and roughly chopped
1/4 cup fresh basil, chopped
Instructions
Place the artichoke hearts in a small bowl and toss with Balsamic dressing. Set aside.
Add the olive oil to a large skillet over medium-high heat. Sprinkle both sides of the chicken cutlets with salt and pepper. Once hot, add the chicken cutlets and cook until browned on both sides, 3-4 minutes each side. Remove to a plate and set aside.
Add the zucchini and garlic to the skillet and cook until garlic is fragrant and zucchini begins to soften, about 3 minutes.
Add the tomatoes and cook, stirring, until the tomatoes begin to break down.
Stir in the wine, and scrape up any browned bits that may be on the bottom of the pan.
Bring the wine to a simmer and add the chickpeas, marinated artichokes, and olives. Stir to combine.
Nestle the chicken cutlets back into the vegetables, and reduce heat to medium-low. Cook for 8 minutes, or until chicken is cooked through.
Remove the chicken, turn the heat to high and simmer until the sauce reduces a bit, about 2 minutes more.
Serve the veggies with the chicken, and sprinkle with fresh basil.
ENJOY!