Directions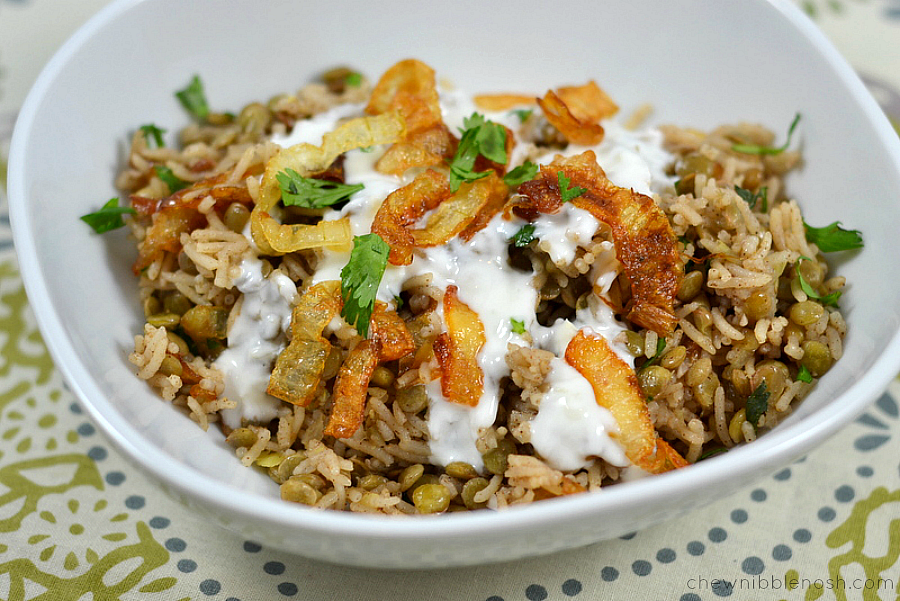 This is one of those meals that, ever since I made it, I've wished I hadn't run out of leftovers.  It's that good.  I first tried Mujaddara, basically the Middle Eastern version of beans and rice, when I was visiting family in Michigan.  Friends owned a wonderful little Lebanese restaurant, and we made sure to grab a meal there every time we were in town.  I remember my sister-in-law ordering Mujaddara, and telling me it was her favorite.  I thought, "Lentils and rice?  OK…" and I ordered some other delicious, meaty, item off the menu.  My dinner was perfect, but Kelly offered me a bite of hers, and I realized I should never doubt the power of a simple beans and rice dish.
The rice and lentils are seasoned with warm spices like cumin, coriander, cayenne, and cinnamon, and cooked until perfectly fluffy and tender.  Then, the crispy onions…oh, the onions…are stirred in AND piled on top.  And this version is finished off with a cool, garlicky yogurt sauce, that just brings the whole thing together.
It's addictively delicious, and not difficult to make, but it does take some time.  If you juggle the time correctly, though, it's perfectly manageable.  In fact, now that I've made it once, I'm pretty sure I could expedite the time even better next time…because there will be a next time.  (If I had the ingredients on hand, I'd honestly try to make it again tonight.  Did I mention that I ate every last bit of the leftovers?)
The first bit to tackle are those beautiful, crispy, sweet onions.  The version of this recipe that I decided to try was from Cooks Illustrated, and one of the things I love about their recipes is that they come up with these great little time-saving tricks to move things along. So, taking their advice, to speed up the fry process just a bit, I microwaved the sliced onions and some salt for about five minutes.
This softened the onions and helped draw out some of their moisture.  I gave them a good rinse, to rinse the salt off, and then ran them through my salad spinner to wick away as much of the extra moisture as possible.
I got out my Dutch oven that I planned on finishing the dish in and started the onions.  The "dried" onions and a cup and a half of oil went into the pot. I fried the onions until they were golden and crisped, about twenty-five minutes.
Once they were looking crispy, I drained the onions carefully over a bowl, reserving the oil, and then spread the onions over some paper towels on a cookie sheet, so they could drain.
Now, successfully executing this recipe really requires time management skills, or else you'll be in front of the stove forever.  So, while the onions were frying, I cooked my lentils in a saucepan with some water and salt until they were just tender, not mushy, about fifteen minutes.  While the lentils cooked, I soaked my rice in hot water which helped remove some of the starch and gave the grains a head start on their cook time.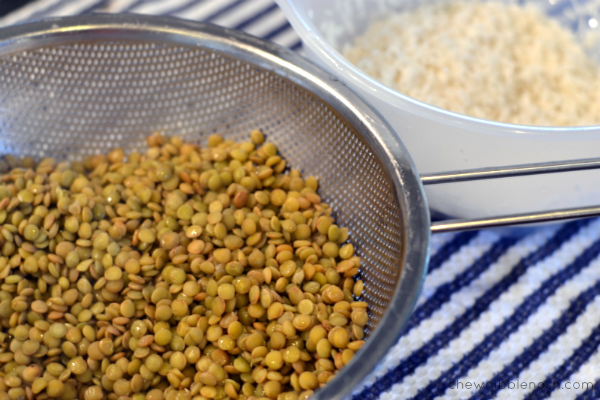 I also threw together the simple garlic yogurt sauce by combining some whole-milk plain yogurt, lemon juice and fresh garlic.  That went into the fridge until we were ready to eat.
Soooo, once the onions were done, I was really ready to get rolling.  Remember that reserved oil from the onions?  I put three tablespoons of it back in the Dutch oven and then added my spices.  Cumin, coriander, cinnamon, allspice, pepper, a dash of cayenne, and some fresh garlic went into the onion oil and were heated until fragrant, and then I added in my rice.
I stirred the rice in the seasoned oil and garlic until the edges began to turn translucent, just a couple of minutes, and then I added in some water, and a teaspoon of sugar and salt.  I brought the mixture to a boil and then stirred in the cooked lentils.
I reduced the heat to low, covered the pot, and let it cook until all of the liquid was absorbed, which took about ten minutes more.
Then, I removed the pot from the heat, and removed the lid from the pot.  I folded a dishtowel in half, placed it over the pot, and then put the lid back on.  I let the pot stand for ten more minutes.
Patience, Grasshopper.
After that last bit of waiting time, I removed the lid, fluffed the perfectly cooked rice and lentils with a fork, and then stirred in half of my crispy onions and a handful of chopped cilantro.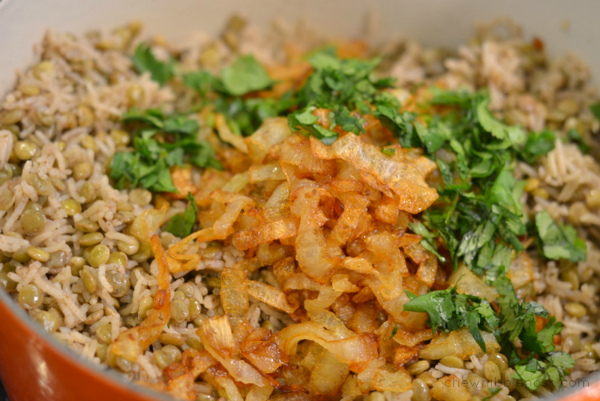 And then, at long last, (really not THAT long…I was just eager) we were ready to dive in.
I heaped the rice and lentils into bowls and topped it with more crispy onions and a heavy drizzle of that garlic-yogurt sauce. This simple "rice and beans" dish was a hit with every member of my family.  Every…last…one.  Even the picky one. In fact, she kept gobbling it up and saying things like, "This is different, but I like it."  She liked it!  Squeeeal!!
And if you haven't already guessed, I really liked it too.  Give it a try, and let me know what you think!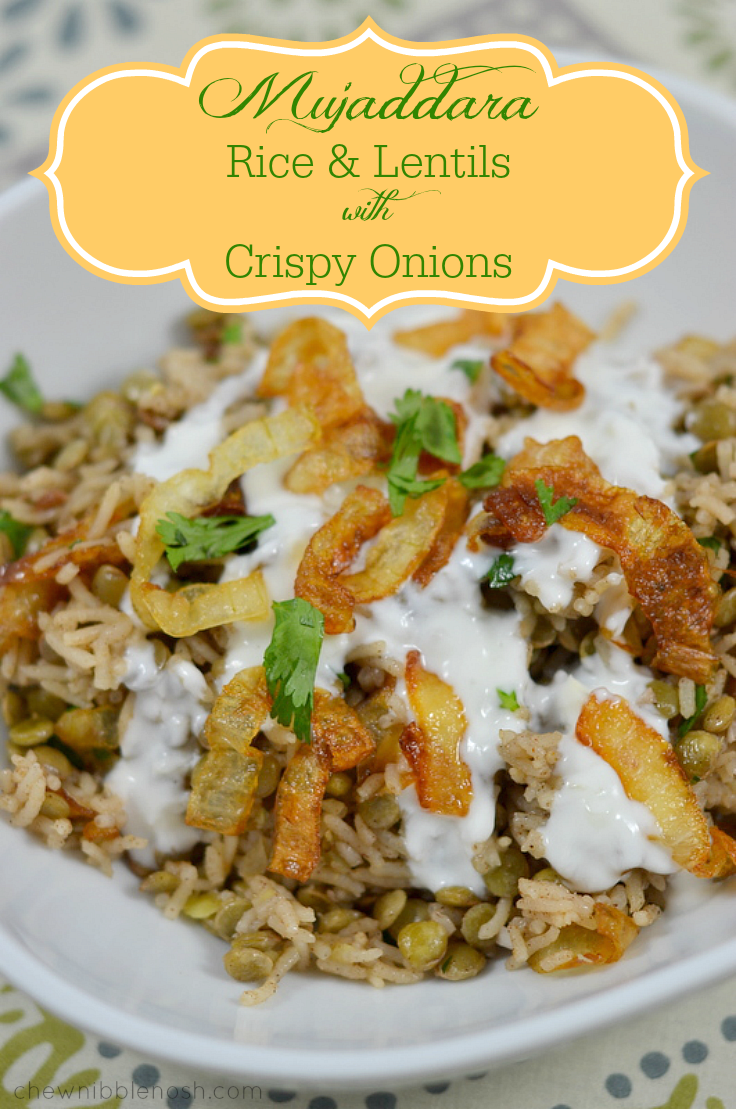 MUJADDARA: Rice and Lentils with Crispy Onions
Adapted from Cooks Illustrated
Mujaddara: Rice and Lentils with Crispy Onions
Author:
Prep time:
Cook time:
Total time:
**Read the full recipe first before deciding to tackle it. It's not difficult, but making good use of your time is key! Be prepared!
Ingredients
For the Crispy Onions:
2 lbs. onions, halved and sliced crosswise into 1/4 inch thick pieces
2 tsp. kosher salt
1 1/2 cups vegetable or canola oil
For the Garlic Yogurt Sauce:
1 cup plain whole-milk yogurt
2 Tbsp. fresh lemon juice
1 clove minced garlic
1/2 tsp. kosher salt
For the Rice and Lentils:
1 1/4 cups green or brown lentils, picked over and rinsed
1 1/4 cup Basmati Rice
1 recipe of the Crispy Onions, and 3 Tbsp. of the oil they cooked in
3 cloves garlic, minced
1 tsp. ground coriander
1 tsp. ground cumin
1/2 tsp. ground cinnamon
1/2 tsp. ground allspice
1/8 tsp. cayenne pepper
1 tsp. sugar
1/4 cup chopped fresh cilantro
Instructions
Make the Crispy Onions:
Toss the sliced onions with the salt in a large bowl. Microwave for 5 minutes.
Rinse thoroughly. Then dry thoroughly with paper towels OR even better, run the onions through a spin or two in a salad spinner. You want to remove as much liquid as possible.
Heat the onions and oil in a Dutch oven over high heat, stirring frequently, until the onions are golden brown and crisping up, about 25-30 minutes.
Drain the onions (Carefully!) into a colander, over a large bowl, reserving oil. Transfer the drained onions to a paper towel lined cookie sheet and set aside.
While the Crispy Onions are cooking:
In a medium sized saucepan, bring 4 cups water, 1 tsp. salt and lentils to a boil over high heat. Reduce the heat to low and cook until lentils are just tender, 15-17 minutes. Drain and set aside.
While the lentils cook, place the rice in a medium sized bowl and cover by two inches of hot water. Let the rice stand for 15 minutes.
Swish the rice grains in the bowl to help release the excess starch. Carefully, pour off the hot water, keeping the rice in the bowl. Add cold water, swish again, and pour off the water. Repeat a few times until the water runs almost clear. Drain the rice in a fine mesh strainer. Set aside.
Prepare the Garlic Yogurt Sauce:
Combine the yogurt, lemon juice, salt, and garlic in a small bowl. Refrigerate until serving time.
Cook the Rice and Lentils:
Heat 3 Tbsp. of reserved onion oil in the Dutch oven over medium heat. Add the 3 cloves minced garlic, coriander, cumin, cinnamon, allspice, 1/4 tsp. pepper, and cayenne. Stir until fragrant, about 1-2 minutes.
Add the rice and cook, stirring occasionally, until the edges of the rice begin to turn translucent, 3-4 minutes.
Add 2 1/4 cups water, 1 tsp. sugar, and 1 tsp. salt. Bring to a boil.
Stir in the lentils, reduce the heat to low, and cover. Cook until all of the liquid is absorbed, 10-12 minutes.
Take the pan off the heat. Fold a dish towel in half. Remove the lid of the pot, place the dish towel over the top of the pan and place the lid back on. Let stand for 10 minutes.
Fluff the Mujaddara with a fork. Stir in half of the Crispy Onions and the chopped cilantro.
Serve with Garlic Yogurt sauce and sprinkle with more Crispy Onions.
ENJOY!