Directions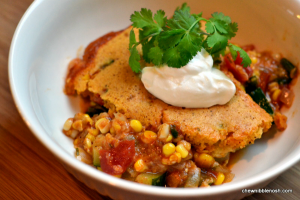 It was Monday, and I had a problem.  I was craving Mexican food.  The problem with that was twofold.  Our evening was busy enough that we couldn't spend time going out for dinner.  Plus there was the fact that we're leaving for a beach trip in a little over a week, so binging on tortilla chips and queso dip while sipping on a margarita, and then chasing it with enchiladas isn't exactly what I need to be doing a week before I spend a few days in nothing but a swim suit.
So, I wanted to find something simple to throw together, but something that would satisfy that craving enough that I wouldn't have to resort to mass quantities of queso.
I grabbed a cookbook, and no joke, it fell open to this recipe.  It's as if the Mexican Beach Trip Food Gods were smiling down on me.
This tamale pie is delicious, and so chock full of fresh summer veggies that you get a hearty, Mexican meal, without the post-queso-fried-chimi guilt.  Plus, it's really simple to throw together in a hurry.
I started by chopping up my fresh summer zucchini, two poblano peppers, and an onion.  Then, I cut the kernels from four ears of fresh summer corn.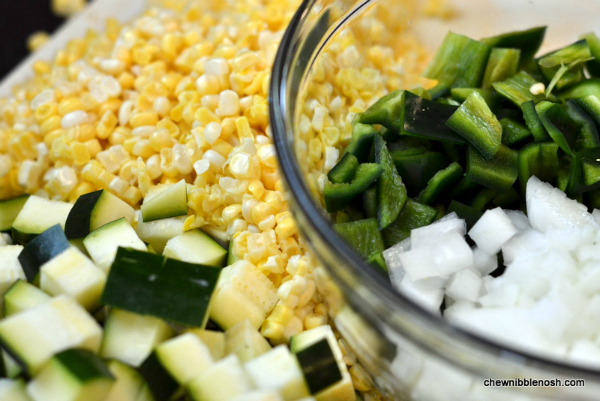 Chopping up the veggies is the most laborious part of this entire meal.  Once that's done, it all comes together quickly.
I started by heating a little bit of olive oil in a large skillet on the stove top.  Then, I added in my poblanos and onions, cooked them down a bit, and then added in the zucchini and corn.  Once they had softened up, I stirred in some chili powder.
I got the chili powder settled in, and then added a can of diced tomatoes, followed by a cup of shredded Pepper Jack cheese, and some fresh cilantro.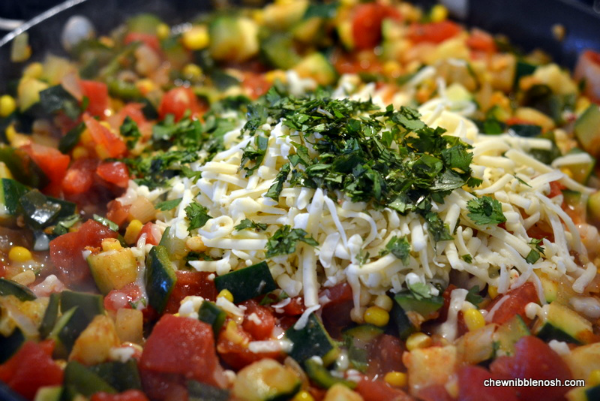 The cheese melted in perfectly, and it was just enough to make the veggie mixture just a little bit creamy.
As the veggies had cooked, I mixed together a package of cornbread mix (I used Betty Crocker) with some chili powder, an egg, milk, and a little more olive oil.  I poured the cornbread batter over the top of the veggies, and once every bit was covered in a thin layer of cornbread, I popped it into the oven.
I let the dish bake for about twelve minutes, until the cornbread on top was nice and golden brown, and baked through.  And then, it was time to dig in!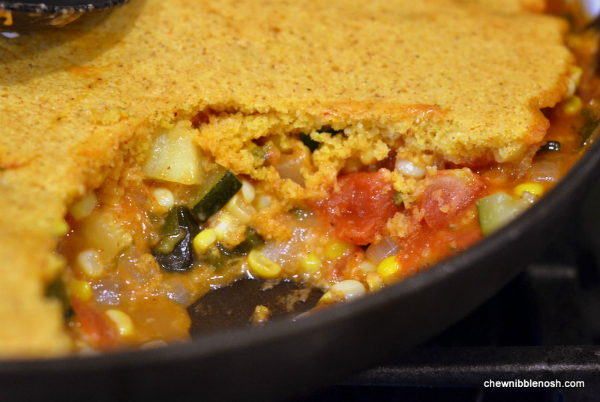 Yum!
This was amazing!  It's so fresh, light, and delicious, and it's even hearty enough that my Mexican food craving was tamed.
I'll save the chips and margaritas for the beach!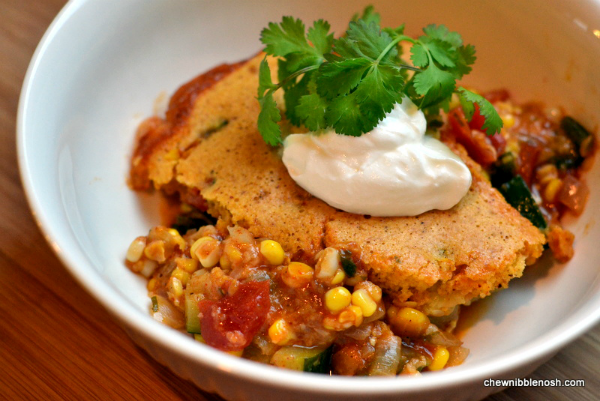 SKILLET SUMMER VEGETABLE TAMALE PIE
Adapted from Simple Weeknight Favorites
Skillet Summer Vegetable Tamale Pie
Author:
Prep time:
Cook time:
Total time:
Ingredients
4 Tbsp. olive oil, divided
1 onion, chopped
2 poblano peppers, stemmed, seeded, and chopped into 1/2 inch pieces
salt and pepper
4 small ears corn, kernels cut from cobs (or 2 cups frozen corn, added in with tomatoes in the recipe)
2 medium sized zucchini, cut into 1/2 inch cubes
1 Tbsp. plus 1 tsp. chili powder
1 (14.5 oz.) can diced tomatoes
1 cup shredded pepper-jack cheese
1/4 cup chopped fresh cilantro
1 (6.5 oz) package cornbread mix (I used Betty Crocker brand)
1/2 cup milk
1 egg, lightly beaten
sour cream and extra cilantro for serving
Instructions
Make sure the rack is in the middle of your oven, and preheat the oven to 450*F.
Heat 2 tablespoons of the oil in a 12-inch ovensafe skillet over medium high heat. Add the onion, poblanos, and 1/2 tsp. salt. Cook until the onion has softened a bit, about 5 minutes.
Add the corn and zucchini, and cook until tender, about 4 minutes more.
Add 1 Tbsp. of the chili powder and cook until fragrant, about 30 seconds.
Stir in the tomatoes, bring the mixture to a boil, and then stir in the pepper-jack cheese and cilantro. Season with salt and pepper.
Meanwhile, stir 1 tsp. of chili powder into the cornbread mix in a medium sized bowl. Add the milk, egg, and remaining 2 Tbsp. oil, and mix until smooth.
Once veggies are ready, pour the cornbread mixture over the top of the veggies.
Place the pan in the oven and bake, for 12-15 minutes, until cornbread is golden brown and baked through.
Serve with sour cream and additional cilantro, if desired.
ENJOY!