Ingredients
1 packet McCormick Grill Mates Teriyaki Mariade (liquid)

1 tsp. ground black pepper

3-4 lbs. pork shoulder roast

1 (6 oz.) can pineapple juice

2 carrots, peeled and chopped

For the Sauce:

1 tsp. fresh grated ginger

To Finish:

8 sweet Hawaiian sandwich buns
Directions
Mmmmm…these sandwiches. This is a recipe that I've been making for years, and I can't believe that I haven't written about it yet.  So, sorry about the wait folks.  Here it is.
This is a deliciously different take on pulled pork BBQ. It's slow-cooked tender, but with a little island flair, and perfect for everything from a weeknight dinner to a family picnic. The pork slow cooks in a teriyaki-soy sauce-garlic laced marinade, and then some of that marinade is cooked down to create a flavorful sauce. When you top it all with a pineapple slice, it's that perfect blend of sweet and savory.
I start by gathering all of my sauce and rub ingredients, and I chopped up an onion and a couple of carrots.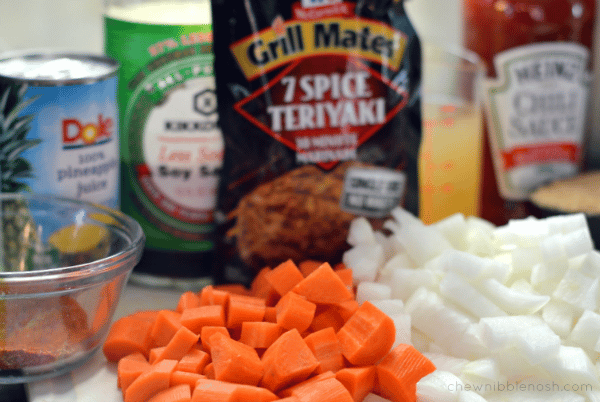 Carrots in BBQ, you say?  Don't knock it til you've tried it.
I put the carrots and onion into my slow cooker and got to work on the rub for my pork roast. The original recipe calls for a packet of dry Teriyaki seasoning, which I have had terrible luck finding.  The past few times I've made this, I've used a packet of McCormick's Grill Mates 7 Spice Teriyaki Marinade in its place, along with a hefty dose of paprika and pepper.  Even though it's not the dry rub the original recipe intended, it certainly does the trick.
I mixed together the marinade, paprika and pepper, dove in and rubbed that mixture all over my pork roast. Then it went in on top of the onions and carrots.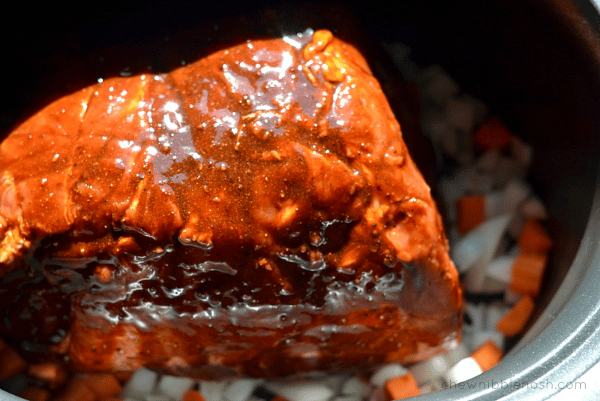 Once the pork was settled, I made my sauce base. I mixed together some pineapple juice, soy sauce, bottled chili sauce, chicken broth, and brown sugar until it was well combined.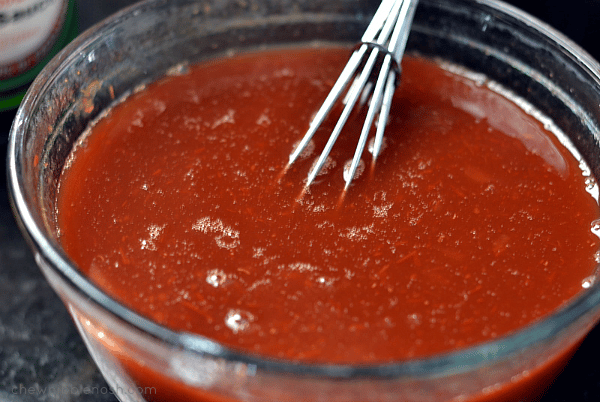 At this point, half of the sauce mixture was poured over the pork.  I covered the bowl and chilled the rest of it, and it would help build my sauce before we were ready to eat.
Once the sauce was poured over the pork, I popped the lid on the slow cooker and walked away for most of the day.
When we were ready to eat, I finished up that sauce. I sizzled some garlic and ginger in a little bit of oil in a saucepan to bring out their flavor, and then I poured in the reserved sauce I'd been saving in the fridge. I brought the mixture to a boil, and then let it simmer and thicken for about ten minutes.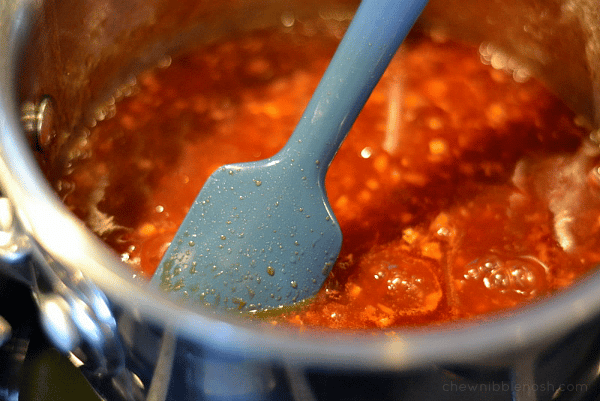 As the sauce was reducing, I removed the pork from the slow cooker.  Using two forks, I easily shredded the meat. It's fall apart tender at this point, and smells delicious.
Once all of the meat was shredded, I added it back into the slow cooker, to help keep it moist, and to let it absorb more of that island sauce flavor.
Once the sauce was thickened to my liking, we were ready to go!  We heaped the pork on sweet Hawaiian buns, spooned that wonderful sauce over, and topped it off with a slice of tangy pineapple.
My family gobbled it up.  In fact, my daughter who claims she doesn't like BBQ or pulled pork ate two sandwiches that night.  (Don't tell her, but I think she likes pulled pork BBQ.)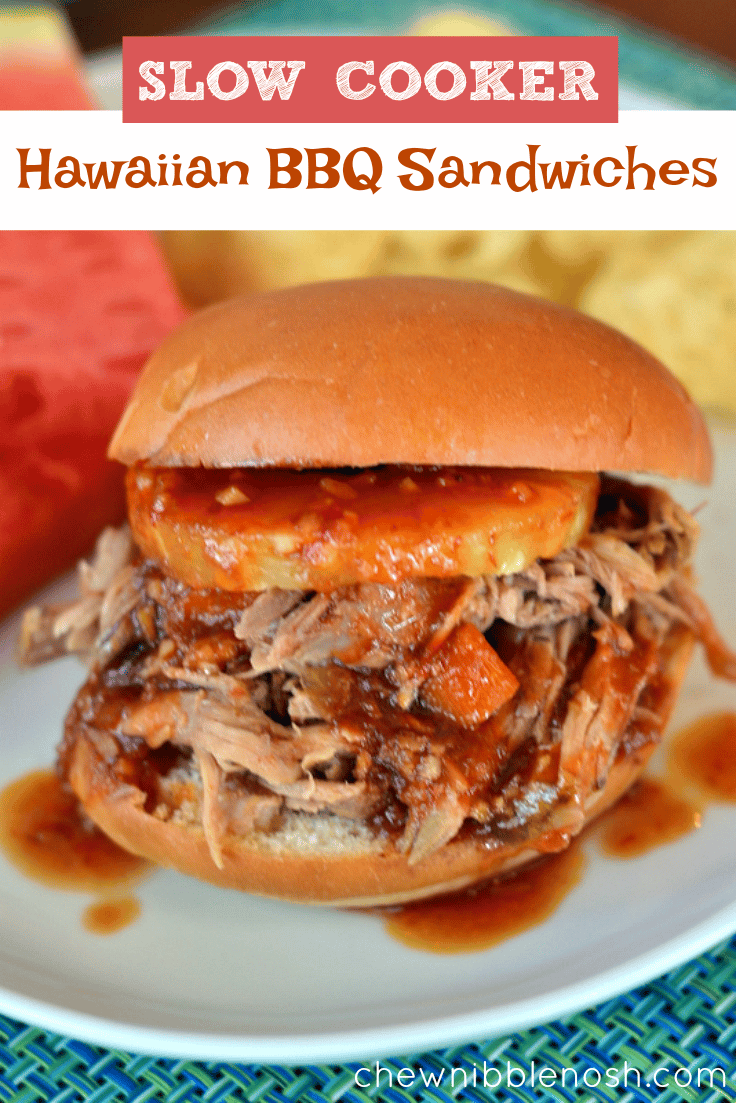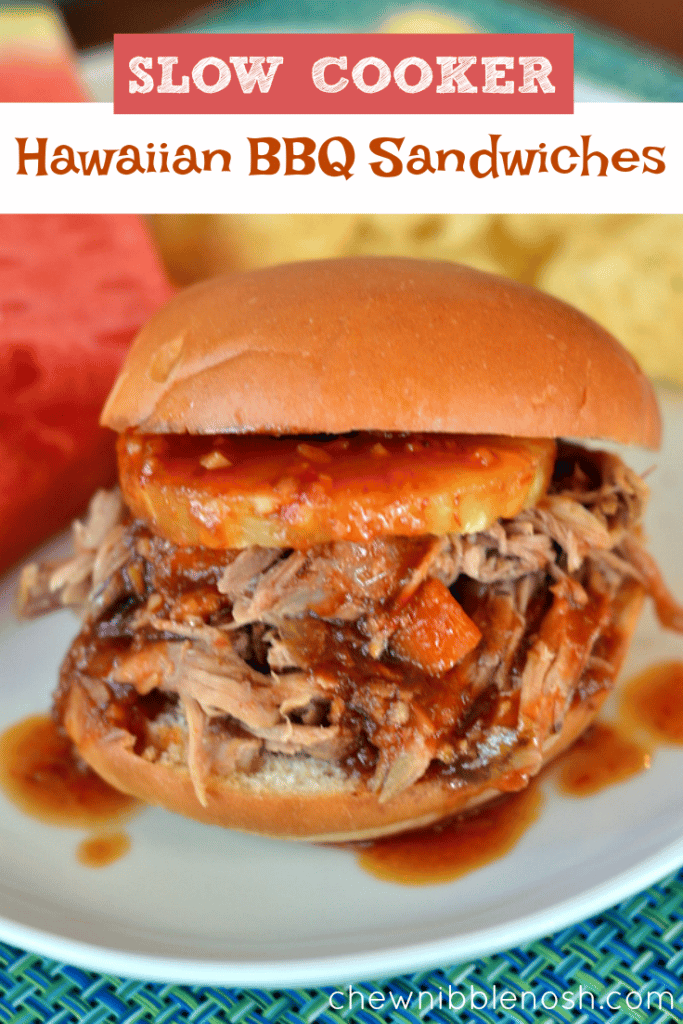 Adapted from Sandra Lee
Steps
| | |
| --- | --- |
| | Place the chopped onion and carrots in the bottom of a 5-6 quart slow cooker. |
| | In a small bowl, mix together the Teriyaki marinade, paprika, and pepper. Get messy, and rub the marinade mixture all over your pork shoulder roast. Place the roast on top of the carrots and onions. (And then, wash your hands!) |
| | In another bowl, combine the pineapple juice, soy sauce, chicken broth, chili sauce, and brown sugar. Pour half of this mixture over the pork roast in the slow cooker. Chill the remaining sauce until you're just about ready to eat. |
| | Put the lid on the slow cooker. Cook on LOW for 7-8 hours. |
| | About 30 minutes before you're ready to eat, start the sauce. In a medium saucepan, heat the oil over medium heat. Add the chopped garlic and ginger, and stir until fragrant and softened just a bit. Carefully pour in the chilled, reserved sauce. Bring the mixture to a boil. Give it a good stir, reduce the heat a bit, and allow the sauce to simmer for 10 minutes, or until it has reduced and thickened up just a bit. |
| | While the sauce simmers, remove the pork roast to a cutting board and shred with two forks. Place the shredded pork back into the slow cooker and combine with the cooking liquid. |
| | When you're ready to eat, pile the shredded pork on the buns, and top with a pineapple slice an a hefty drizzle of the thickened sauce. |