Ingredients
1/4 cup low fat buttermilk

2 Tbsp fresh minced Italian parsley

1 large garlic clove, minced

1 tsp apple cider vinegar

1/4 tsp ground black pepper

2-3 large tomatoes, sliced

1 cup cherry, grape or teardrop tomatoes, sliced in half

1 red onion, sliced into 1/2 inch slices
Directions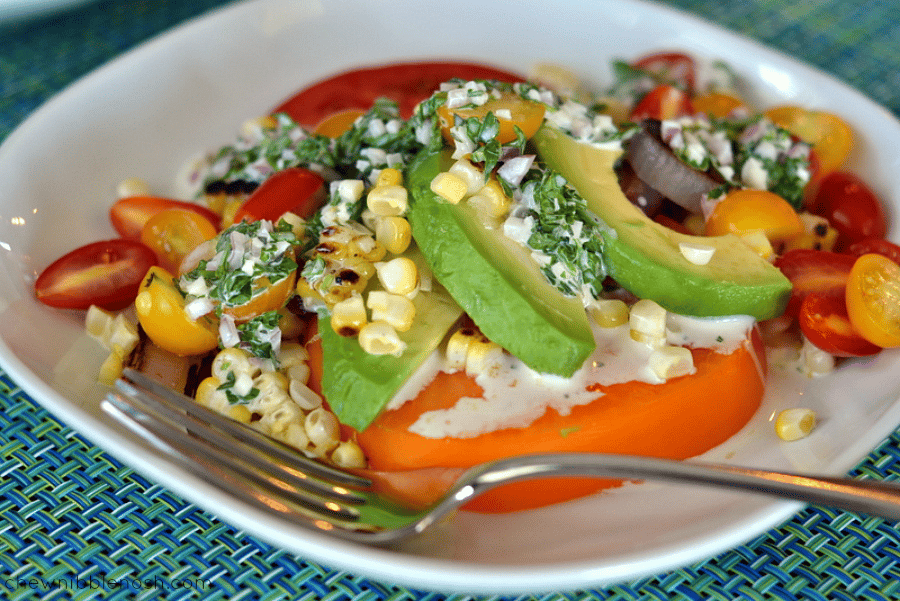 I've said it before, and I'll say it again.
When it comes to food, there is not much I love more than a perfectly summer-ripe tomato.  Summer tomatoes are, simply, the best. And even though they are perfectly wonderful just sliced and salted, sometimes, I like to dress them up a bit more.
I discovered this salad a summer-or-so back, and it's become my favorite "After the Farmers Market" salad because it is a fabulous vehicle for many of the treasures I manage to bring home from a visit to the market during the height of summer. This time, I made it with tomatoes, fresh Indiana sweet corn, avocados and red onions, but you could throw whatever into the mix and be perfectly happy.  The dressing is fresh, herbaceous, garlicky take on a creamy Ranch, and a little goes a long way.  The tomatoes are the star though, so make sure you let them shine.
I start by throwing together my dressing.  I minced up some garlic, shallot, fresh thyme and Italian parsley.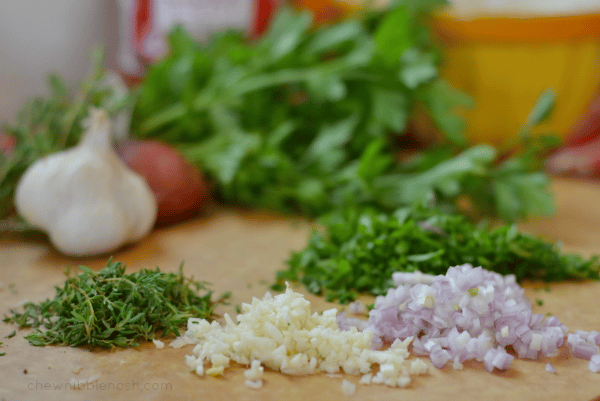 I add them to a bowl along with some mayonnaise and low-fat buttermilk, a splash of cider vinegar, and give it a whirl with my whisk. Then, I season it with salt and pepper, and the dressing is ready to go.  You don't need to chill the dressing all day, but try to make it up at least an hour before you're going to have your salad, so the flavors have time to come together.
Once the dressing is ready to go, you can get the vegetables ready before you're ready to eat.  I slice the red onion into thick slices and, usually, both the corn and the onion slices spend some time on the grill to char up a bit.  But, in the interest of honesty, this time I didn't grill them and it worked out just fine.  We're having some work done in our backyard, and firing up the grill with a landscaping crew trying to work around us didn't seem like the right plan for that night.  So, I got a pan good and hot on the stove, sprayed the onions with some cooking spray, and "grilled" them in a frying pan until they had that nice char around the edges and had begun to soften up a bit.  Then, I followed suit with the corn, turning it in the pan until the kernels were starting to caramelize and brown up a bit.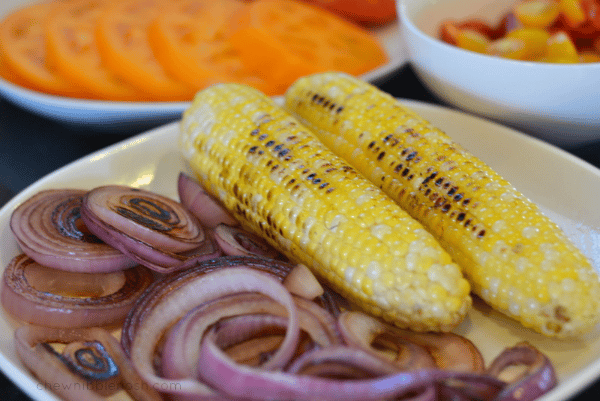 When both were sufficiently "grilled", I removed them to a plate and let them cool for a minute before I sliced the kernels off the cobs.
While the corn and onions were working, I sliced up those beautiful tomatoes.  Seriously…look at the color.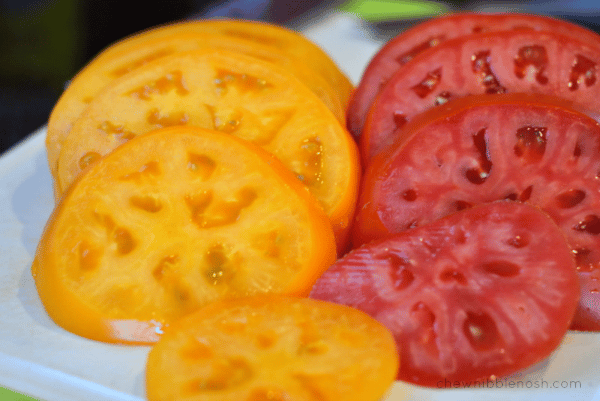 Perfect.
I also sliced up a handful of teardrop tomatoes and a ripe avocado.
Then, when it's time to eat, it's just a matter of layering up your veggies, and drizzling that chunky, herbed dressing over the top. The veggies pack so much flavor, you really don't want to drown them in dressing.  Let them shine.
It's an honest to goodness bite of summer, perfected.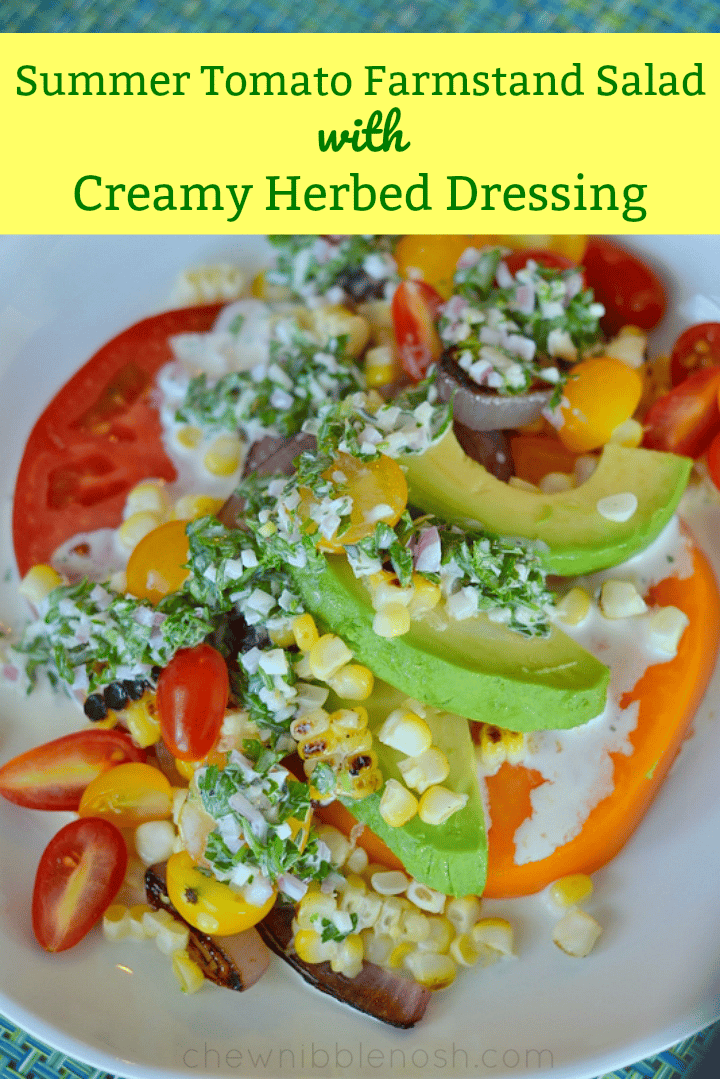 Adapted from Cooking Light
Steps
Make the Dressing

Combine the first 9 ingredients in a small bowl. Whisk to combine. Cover and chill until ready to use.

Prepare the Salad

Lightly coat the slices of red onion and the corn with cooking spray. Either grill the veggies, turning occasionally, until softened and slightly charred OR heat a large frying pan over medium-high heat. Place the onion slices in the pan and cook, turning, until charred and just starting to soften. Remove to a plate. Add the corn to the pan, turning until kernels start to brown up a bit. Allow the corn to sit for about 5 minutes off the heat before slicing the kernels off the cobs.

Arrange the sliced tomatoes, avocado, onions, and corn on each plate. Drizzle with the herbed dressing. Sprinkle with salt and pepper, and serve immediately. ENJOY!