Directions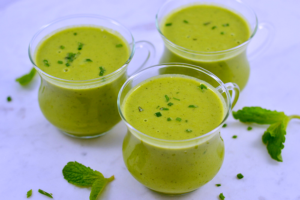 I think it's here, folks. For real this time.  I think we can (finally) safely say that Spring has arrived and won't take off again.  I know it's a risky statement, given the crazy weather we've had, but I feel good about saying that this time.  I really do.
(Fingers crossed.)
A couple of days ago, I met my beautiful sister-in-law, Karin, for lunch at one of my favorite local spots.  The restaurant changes their menu monthly based on what's seasonally available.  It's very much farm-to-table, homegrown, and delicious.  They were featuring a spring pea and mint soup that day, and as the sun was shining (finally!) and the birds chirping, I figured I had to give it a try.
It was light and fresh, and just the most vibrant, beautiful spring green.  It was seasoned gently with mint, and just so perfectly encompassed everything beautiful about spring.  And, as you can probably guess, I was kind of obsessed with it.
So, naturally, I came home and wanted to try to replicate it.
I found many similar recipes online, but I decided to try Ina Garten's version because, well, Ina never steers me wrong.
I started by chopping up a sweet onion, a handful of fresh mint, and a couple of leeks.  Leeks are grown in sand, so they can often be gritty in between those thin layers, so I always toss my chopped leeks in a bowl of cold water.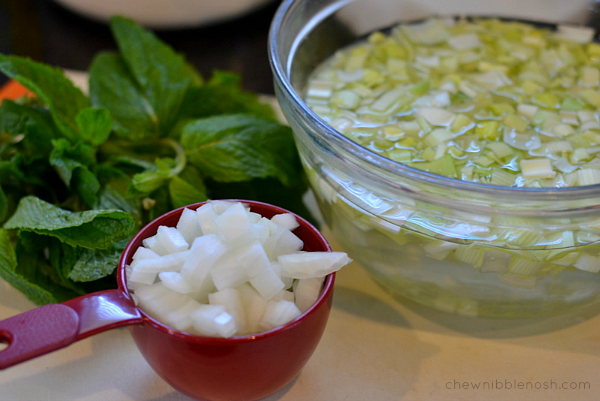 I give them a good swish, and all of the sand and grit falls to the bottom of the bowl.  Then, I just scoop the clean leeks from the top.
Once the few items that needed to be prepped were prepped, I got to cooking.  I melted a dab of butter on the stove top, and sautéed the onions and leeks over low heat until they had softened.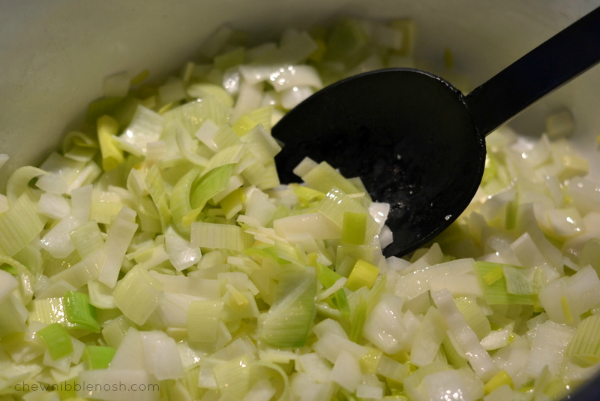 To that, I added in four cups of chicken stock, brought that to a boil, and then added five cups of frozen peas.  I was really hoping to find fresh peas, but I didn't have any luck.  The frozen peas worked beautifully, though.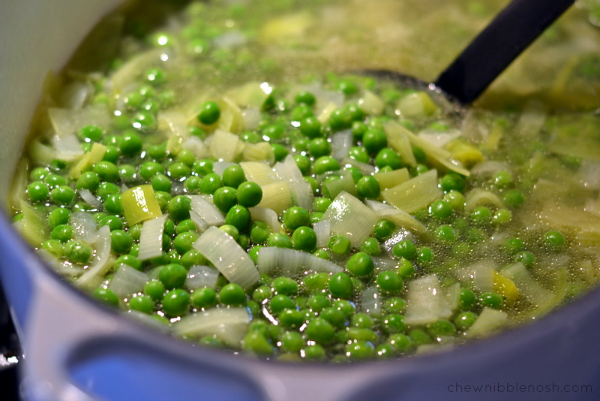 It only took a few minutes for the peas to cook through, and then I took the soup off the heat and stirred in salt, pepper, and a handful of chopped fresh mint.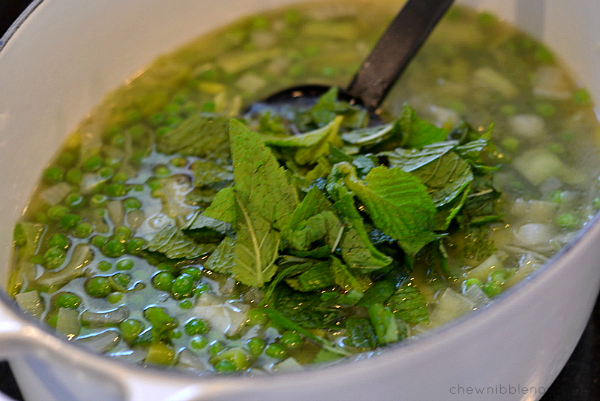 Then, the soup took a turn in the blender.  I blended it in batches, until it was perfectly creamy smooth and just the prettiest color.  This isn't split pea soup.  These peas haven't been cooked to death, so that bright spring green just absolutely pops through.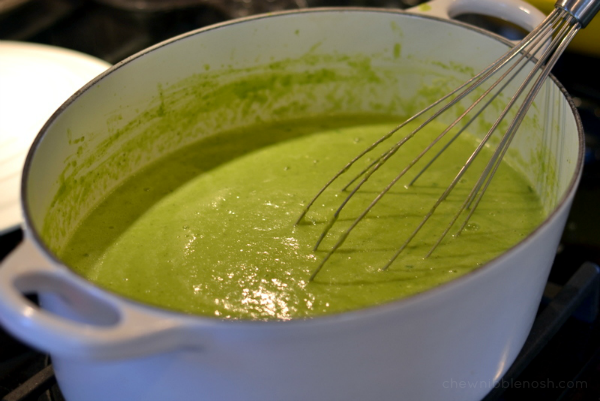 You could stop right here and serve it up.  It's that tasty.  But, I finished the soup off by stirring in some creamy creme fraiche and minced fresh chives.
You could substitute full fat sour cream for the creme fraiche, but be aware that it could curdle a bit if the soup simmers.  Your best bet would be to add the sour cream off the heat.  Creme fraiche is super creamy, and not quite as sour as sour cream.  A little goes a long way!
This simple pea soup was absolutely delicious.  It's so perfectly vibrant, and tastes light and fresh.  It's exactly the soup we need for spring, as we crawl out of our dens and into the sunlight…that I'm really hoping sticks around this time.
Fingers still crossed.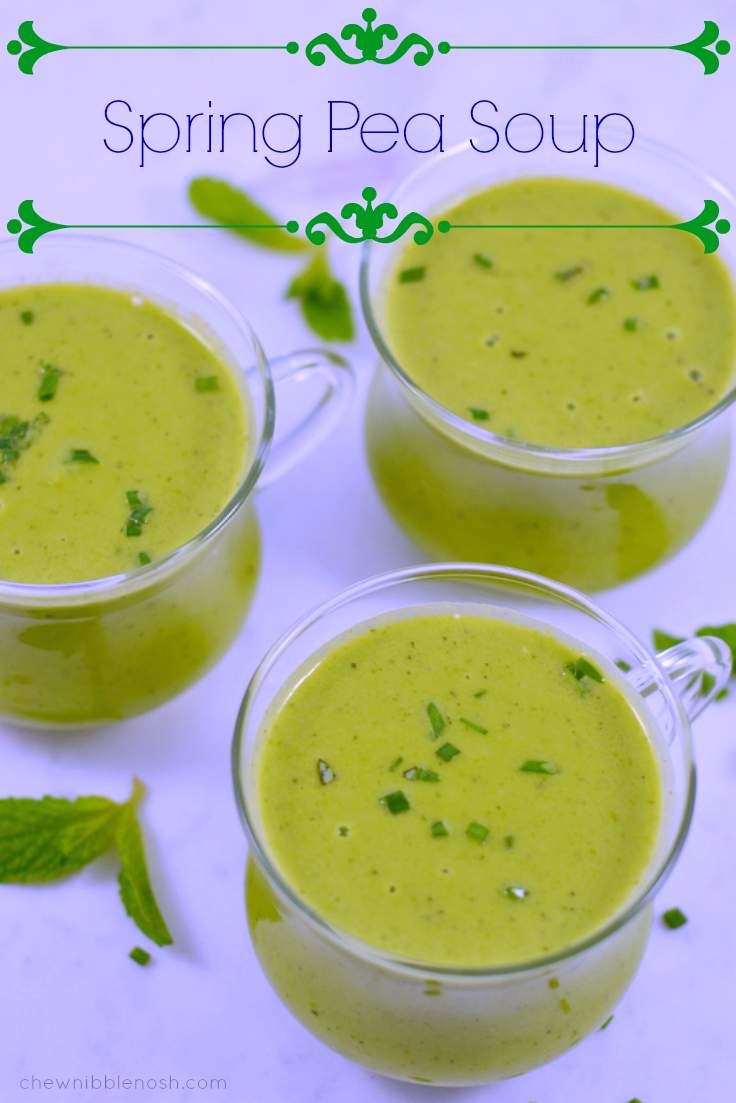 SPRING PEA SOUP
Adapted from Ina Garten
Spring Pea Soup
Author:
Prep time:
Cook time:
Total time:
Ingredients
2 Tbsp. unsalted butter
2 cups chopped leeks, white and light green parts (2 leeks), cleaned
1 cup chopped sweet onion
4 cups chicken stock
5 cups fresh shelled peas or 2 (10-ounce) packages frozen peas
2/3 cup chopped fresh mint leaves, loosely packed
2 tsp kosher salt
1/2 tsp freshly ground black pepper
1/2 cup creme fraiche, or full fat sour cream (*see note in post)
1/2 cup freshly chopped chives
Instructions
Melt the butter in a large saucepan over medium-low heat. Add the onions and the leeks to the pot, and cook, stirring occasionally, until the onions have softened, about 5-10 minutes.
Add the chicken stock and bring to a boil.
Add the peas and cook for 3 to 5 minutes, until the peas are tender (but not mushy). Frozen peas will take less time, around the 3 minute mark.
Remove the pot from the heat and stir in the mint, salt, and pepper.
Add one cup of the soup to a blender, place the lid on, and puree until smooth on low speed. Open the vent hole in the top and gradually add more soup as the blender runs, until the blender is 3/4 full. Pour the pureed soup into a large bowl, and repeat with remaining soup in the pot until all of it is pureed. Pour the soup back into the pot.
At this point, the soup could be chilled and finished off later.
When ready to serve, warm the soup back up over medium heat. Remove from the heat and whisk in the creme fraiche and chives before serving.
ENJOY!