Directions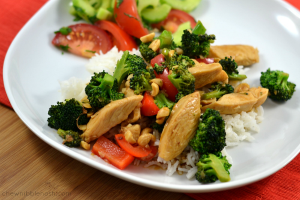 Have you ever had one of those nights when dinner just completely sneaks up on you?  That was last night for me.  I'd had a busy day, and was a little drained.  The kids were home from school, homework was done, I had a half an hour until my husband would be on his way home, and we needed to eat on the early side of the evening because Avery had to be somewhere.  I told myself that I'd sit down for a half an hour and just take a breather.
Just about an hour later…
(You see where I'm going with this, right?)
The phone rang.  Aaron was on his way home, later than planned, and my behind was still plopped on the couch. (Stupid Netflix.)  Dinner panic set in.
Thankfully, this was what I'd planned on cooking for dinner last night.  It's a simple stir fry rendition of a Chinese take-out favorite.  Sometimes, I feel like a lot of Chinese restaurant dishes skimp on the veggies, and what drew me to this version was all of the fresh broccoli.  Crisp-tender veggies outnumber the chicken, and as beach season quickly approaches, I can use all the help I can get.
I started by prepping everything, which is essential on an every day basis for me, but absolutely mandatory when it comes to stir fry.
Once veggies were prepped, chicken was sliced, and sauces whisked, I started by quick cooking my broccoli with some crisp red pepper and ginger in a little bit of oil.
I added a couple of tablespoons of water, popped the lid on and steamed the veggies for a minute until they were bright and crisp tender.
I removed the veggies, set them aside and got to work on my chicken.
Into the pan my sliced chicken breast went, with a little more ginger, and crushed red pepper.  I probably didn't add as much red pepper as my husband would have liked because I was nervous about the kids eating it, but I gave it a hefty sprinkle.
Once the chicken was cooked through and lightly browned, I poured in my sauce.  It was a mixture of chicken broth, Hoisin sauce, rice wine vinegar, soy sauce, cornstarch and fresh garlic.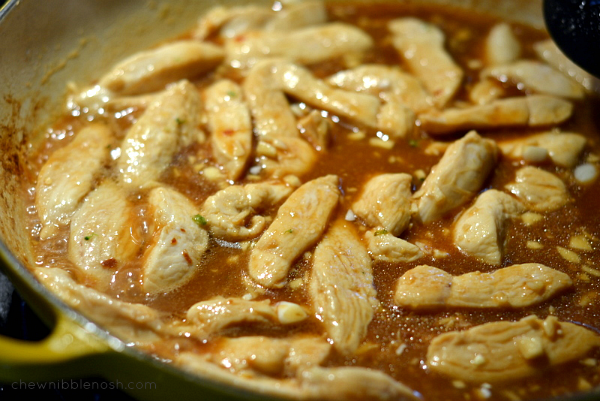 I let that bubble and simmer for a minute or so, until the sauce was fragrant and started to thicken a bit. Then, it was just a matter of adding my broccoli and pepper back into the mix.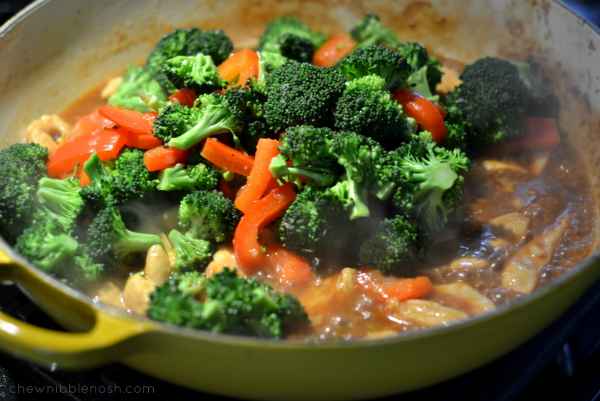 I gave it all a good stir, tossing the veggies with the sauce and chicken, sprinkled it with some chopped peanuts, and served it up over the rice that had, thankfully, been waiting for me because I actually remembered to set my rice cooker earlier in the day.
My husband would argue that this wasn't Kung Pao chicken.  Well, it's not really, it's an adaptation for sure, but truly delicious nonetheless. And it definitely didn't weigh me down like restaurant versions.  The sauce was really quite tasty, and you could add as little or as much heat as you'd like.  Tossed with the crisp veggies and tender chicken breasts, it was a dinner winner for sure…and not just because I managed to finish it in time for us to eat before running out the door again.
LIGHTENED UP KUNG PAO CHICKEN
Adapted from Cooking Light
Lightened Up Kung Pao Chicken
Recipe Type
:
Weeknight Dinner
Author:
Prep time:
Cook time:
Total time:
Ingredients
1 Tbsp. canola oil, divided
4 cups fresh broccoli florets
1/2 red bell pepper, chopped into large chunks
1 Tbsp. fresh grated ginger, or refrigerated ginger paste, divided
2 Tbsp. water
1/2 tsp. crushed red pepper, or to taste
1 lb. boneless, skinless chicken breast, sliced into 1/4 inch strips
1/2 cup fat-free chicken broth
2 Tbsp. Hoisin sauce
2 Tbsp. low sodium soy sauce
2 Tbsp. rice wine vinegar
1 tsp. cornstarch
4 cloves garlic, minced
1/4 cup coarsely chopped salted peanuts
cooked rice, for serving
Instructions
Heat 1 teaspoon of the oil in a large skillet over medium-high heat. Add the broccoli, red pepper, and 2 teaspoons of the ginger. Toss and saute for 1 minute.
Add the water, cover, and let steam for 2 minutes or until broccoli is crisp-tender. Remove the veggies to a plate and set aside.
Heat the remaining 2 teaspoons of oil in the skillet. Add remaining 1 teaspoon ginger, crushed red pepper, and the chicken. Cook, stirring frequently, for 4 minutes until chicken is cooked through and lightly browned.
Whisk together the broth, Hoisin sauce, soy sauce, rice wine vinegar, cornstarch, and garlic. Add the mixture to the chicken in the pan, bring to a boil and cook for 1 minute, stirring, until thickened a bit.
Return the broccoli and pepper to the pan to heat through. Toss to coat.
Sprinkle with peanuts.
Serve over rice.