Directions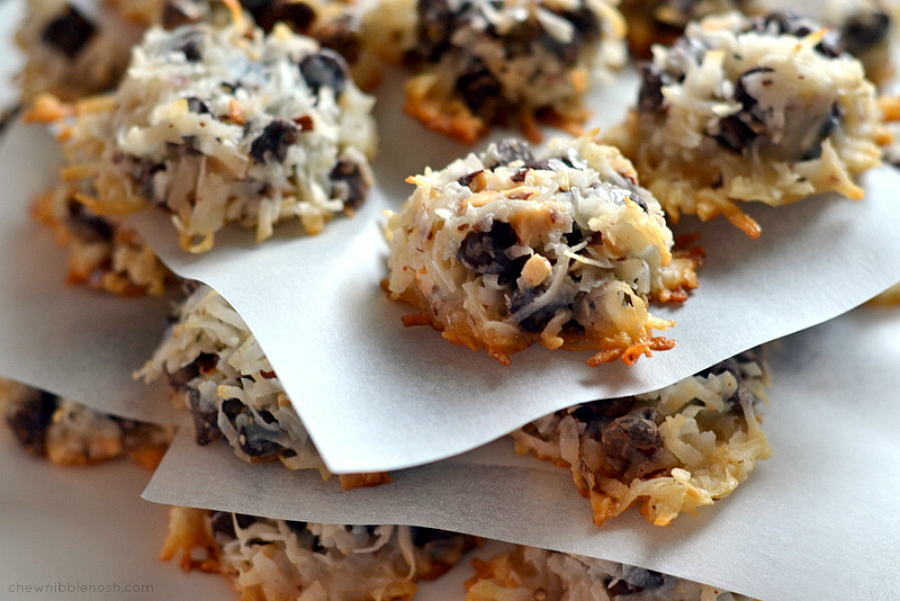 ***Feel like you're seeing double?  Yes, this is a repost of a previous recipe. I'm reposting it for the holidays, as it's become quite popular, and I'm adding in a couple of hints that might help you along come baking time….
 It seems that a lot of people are having a rough time with the cookies spreading.  My guess is that they haven't used the correct amount of coconut.  Make sure that you grab a 14 oz. bag of coconut.  There are 10 oz. and 14 oz. bags available at my grocery store.  Go big!
Also, parchment paper and wax paper are two completely different things.  Do not try to bake these on wax paper.  The paper will melt.  I recommend parchment paper or a Silpat mat.  The cookies are sticky, so take care in removing them from the parchment once they've cooled.  Slide a thin spatula under each cookie to remove it.
OK, back to the original post.  And…..go….***
Sometimes, simplicity is key. And in this case, simplicity is delicious.
These sweet little Almond Joy Cookies come together in no time flat with four simple ingredients.  They are a great last-minute cookie for any occasion, whether it be unexpected guests or just a solid hankering for something sweet.  I needed a little something extra for dessert when family came into town over the weekend, and with little time on my hands, these cookies were the perfect thing to whip up.  And, they were a big hit with my coconut loving crowd.
I started by chopping up some lightly salted almonds.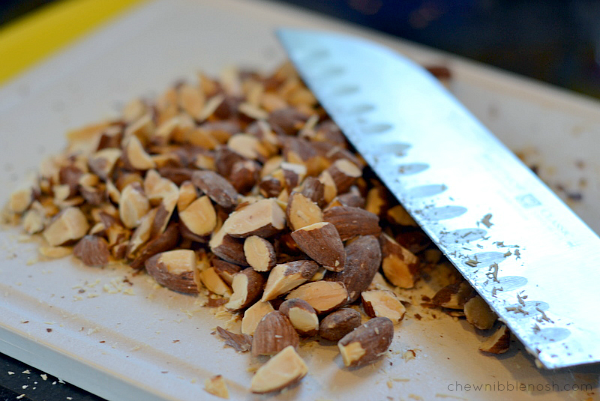 I didn't want huge chunks, but I didn't need to finely chop them either.  Middle of the road "You Still Know it's a Piece of Almond" chunks will do.
Once that was done, I threw them in a bowl with a bag of sweetened coconut flakes and a bag of chocolate chips.  I poured a can of sweetened condensed milk over the top, and then…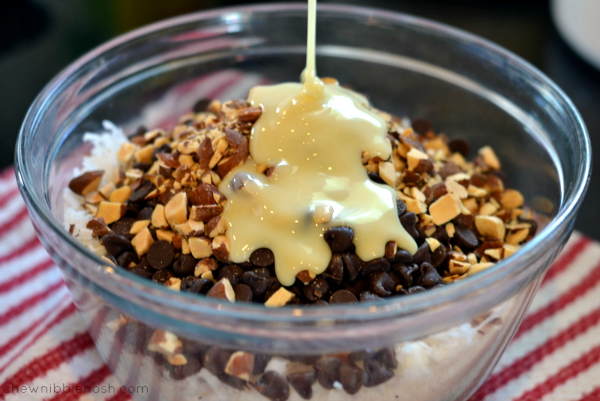 …stirred the lot up into a sweet, gooey, chocolaty, crunchy, coconutty bowlful of wonderful.
I scooped my cookies out onto a parchment lined cookie sheet, and then dipped my fingers in a little bit of water before patting the cookies down just a bit.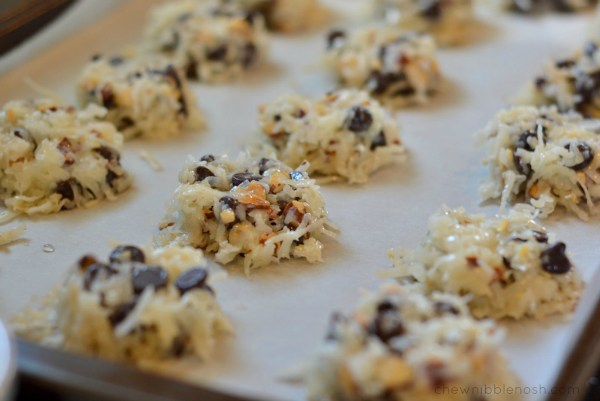 Another great thing about these cookies?  They don't really spread, so you can load up that cookie sheet and knock the whole batch out in no time.
I popped them into the oven for about thirteen minutes, just until the coconut around the bottom had turned golden and crispy and the coconut on top was just starting to toast up.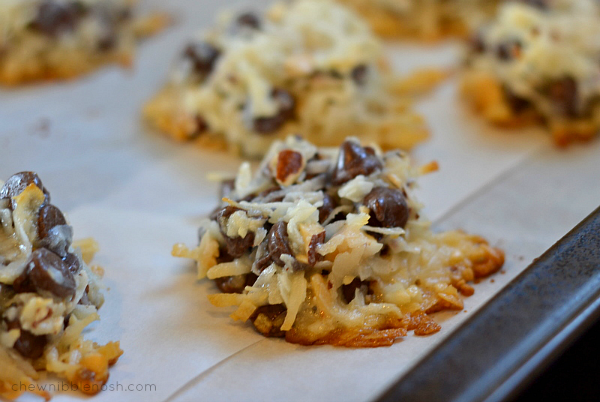 The cookies need to cool completely on the baking sheet, and then can be stored in an airtight container for a few days.
Easy, right?
They are just as tasty as they are easy to make, and that crunchy toasty coconut around the edges is the stuff dreams are made of.  The finished cookies are chewy, chocolaty and crunchy, in all the right ways.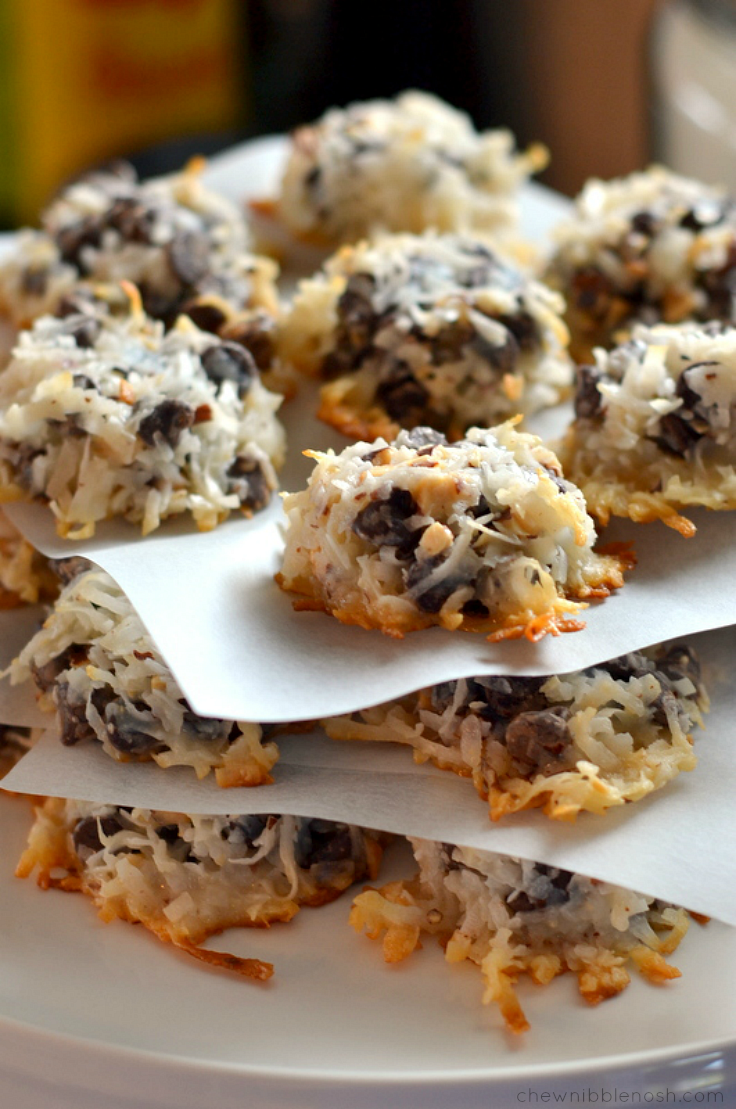 ALMOND JOY COOKIES
Almond Joy Cookies
Author:
Prep time:
Cook time:
Total time:
Ingredients
2/3 cup chopped lightly salted almonds
1 (14 oz.) bag sweetened coconut flakes (Please make sure your bag of coconut is the correct size. This makes all the difference!)
1 (12 oz.) bag semisweet chocolate chips
1 (14 oz.) can sweetened condensed milk (I used fat-free)
Instructions
Preheat the oven to 325*F. Line two cookie sheets with parchment paper and set aside.
In a medium sized bowl, combine the almonds, coconut, chocolate chips and sweetened condensed milk. Stir until thoroughly combined and coated.
Using a cookie scoop, or a spoon, scoop out bundles of the coconut mixture onto the cookie sheet. They don't spread while baking, so you can place many on one cookie sheet.
Dip your fingertips in a little bit of water, and pat down the tops of the cookies just a bit so they aren't too mounded.
Bake for 12-14 minutes at 325*, until the bottoms are golden and the coconut on top starts to toast.
Remove the cookie sheets from the oven and allow to cool completely on the cookie sheets before transferring to an airtight container. The cookies may be sticky. Carefully remove from the parchment with a thin spatula, and layer parchment in between layers of cookies in your container.
ENJOY!
 Recipe adapted from MomOnTimeOut.com