Directions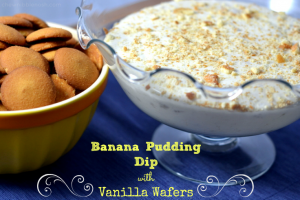 Years of living down south taught me a lot of things.  One of those lessons learned was that there's something special about a really good banana pudding.  When I came across this recipe, I knew I had to give it a try.  It seemed like a fun, simple twist on one of my favorites, and it's the perfect thing to serve up to friends and family during the spring holiday season!
It's also the perfect recipe to make with the help of the littlest cooks.  My girls are always wanting to help me out in the kitchen, which I love, but there are some recipes that are easier to bring them in on than others…especially when the lead cook tends to be a bit of a control freak in the kitchen.  (Who? Me?)  Avery was quite eager to give me a hand with this one.  I can't imagine why!
She started by whipping some cream into soft peaks.  I'll admit, I was a little bit nervous handing over the hand mixer.  I imagined splatters of cream EVERYWHERE, but she handled it like a champ, and wanted to get in on a picture to prove it.
 In another bowl, we beat together two blocks of cream cheese and some powdered sugar until it was nice and smooth.
Once that was mixed in, Avery poured in half of a can of sweetened condensed milk, and we blended that in until the mixture was beautifully creamy.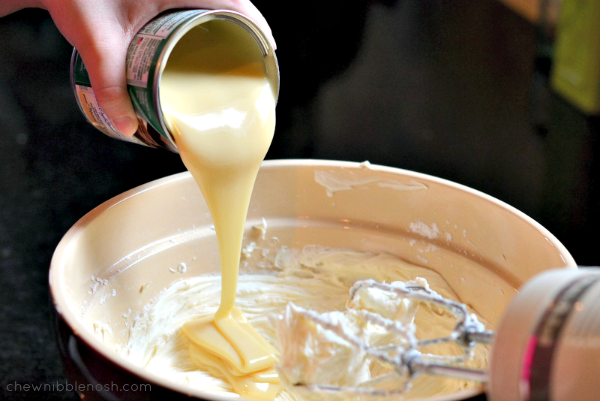 I'd made up a box of vanilla pudding earlier in the day to add to this recipe.  You only need a cup of pudding, though, so there's plenty left to share with your little cooking buddy once you fold some in to the cream cheese mixture.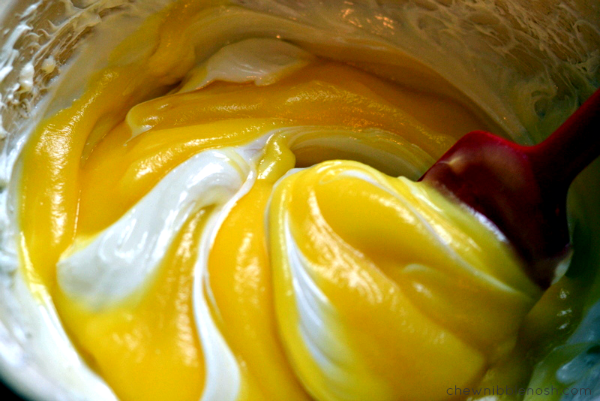 Once the pudding was folded in, I gently added the whipped cream to the mix before finishing it off with a few mashed bananas that we'd mixed with a dab of lemon juice.  The lemon juice helps keep your bananas just the right shade of, well, banana.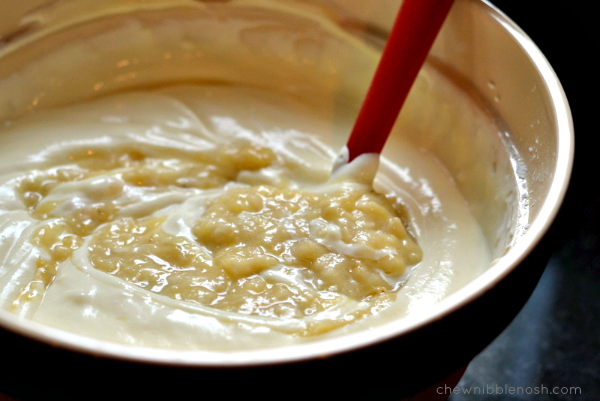 Once we'd finished it, we covered the bowl and put it in the refrigerator to hang out for an hour before serving.
The end result is smooth, and creamy, with just the right amount of tang from the cream cheese and lemon.  This dip is delicious enough that I would certainly not object to just scooping some into a bowl and eating it with a spoon.  It's pudding after all!  But, serving it alongside some crisp vanilla wafers turns a not so uncommon dessert into something fun and different!
Happy Spring!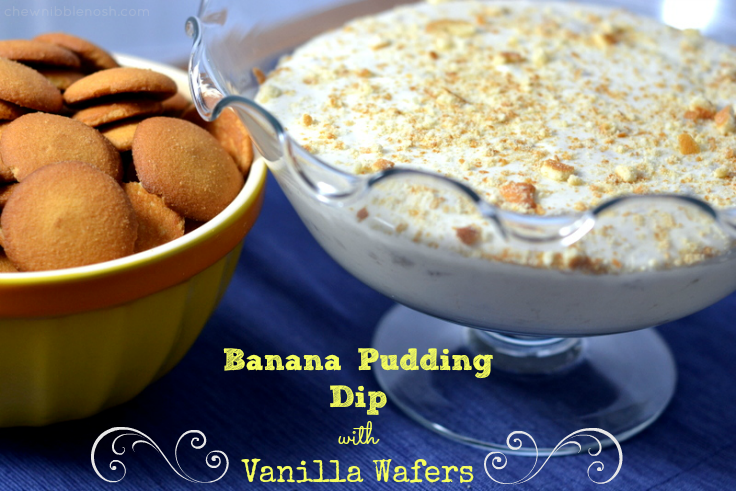 BANANA PUDDING DIP WITH VANILLA WAFERS
Adapted from DipRecipeCreations.com
Banana Pudding Dip with Vanilla Wafers
Author:
Prep time:
Total time:
**Make sure you prepare the vanilla pudding in the recipe before you start to make the dip!!
Ingredients
2 (8 oz.) blocks of cream cheese (I used reduced fat), softened
1/2 cup powdered sugar
7 oz. sweetened condensed milk (I used 1/2 of a 14 oz. can of fat free milk)
1 cup heavy whipping cream
1 cup prepared instant vanilla pudding (about 1/2 of a 3.4 oz box)
3 bananas
1 tsp. lemon juice
Vanilla Wafers, for serving
Instructions
In a small bowl, beat the whipping cream into soft peaks. Set aside.
In a larger bowl, beat the cream cheese and powdered sugar together until smooth and well combined. Slowly mix in the sweetened condensed milk.
Fold 1 cup of prepared vanilla pudding into the cream cheese mixture.
Fold the whipped cream into the cheese mixture.
Mash the bananas until they are the consistency you desire, and mix the lemon juice in with the mashed bananas.
Fold the mashed bananas into the dip mixture.
Cover and chill for 1-2 hours before serving.
Sprinkle with crushed vanilla wafers and serve with more vanilla wafers for dipping.
ENJOY!