Directions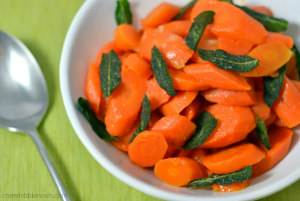 Here comes Peter Cottontail, hopping down the bunny trail, and what does he find?  Someone who can't believe that Easter is right around the corner.  Unbelievable!
If you need a festive, Spring side dish to share on Easter Sunday, I've got your back.  These carrots are delicious, beautifully springy, and they can be made ahead of time and reheated before serving, which is a standard qualification to reach Treasured Holiday Recipe Status in my book.
To begin, you'll need to quickly fry up a handful of sage leaves in a few tablespoons of olive oil.  The crispy sage serves as wonderful contrast to the savory, tender carrots in the finished product, but it serves double duty here.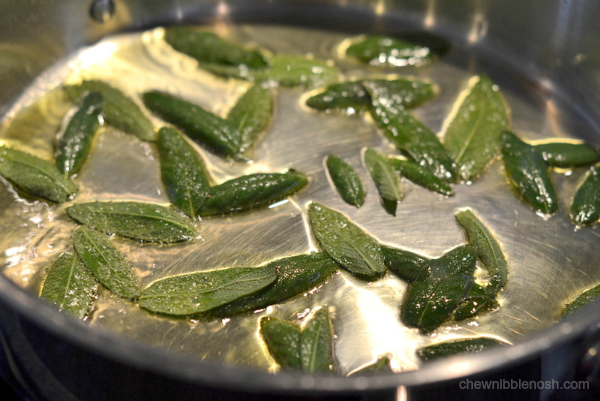 It also imparts some pretty amazing flavor into the oil that you use to begin cooking the carrots.
Once the leaves have crisped up, remove them with a slotted spoon and add two pounds of sliced carrots.  I sliced them on the diagonal, into large coins.
Saute them in the oil until they begin to soften and brown around the edges.
Once they have reached that point, add in some chicken broth, water, a quarter-cup of minced onion, and a bit of salt and pepper.  Bring the mixture to a boil, and simmer, covered, for about ten minutes until the carrots are just tender.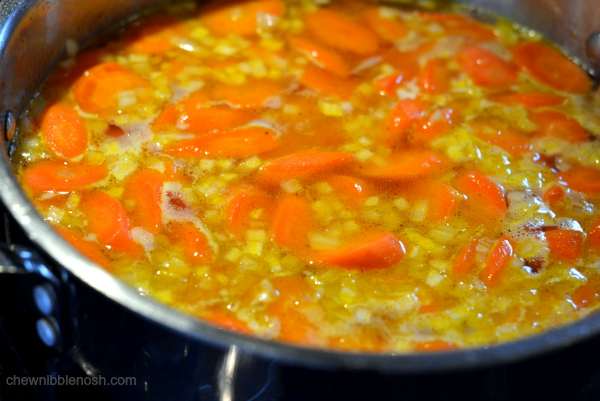 Then, remove the lid and let the liquid boil and reduce down until you're left with a beautiful glaze for your carrots.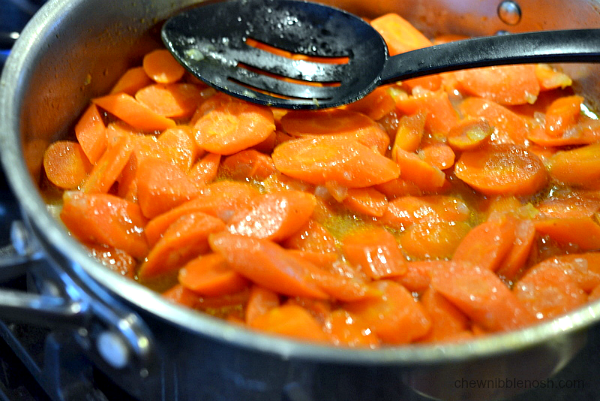 At this point, you can serve the carrots up right away, sprinkled with that tasty, crisped sage, or you can refrigerate the carrots, and just reheat them at meal time.
The carrots were so flavorful and tender and the crisped sage was just the perfect way to  finish them off.  And, look at how pretty they are!  They'd make a beautiful addition to your holiday table.
 BRAISED CARROTS WITH CRISP SAGE
Adapted from Gourmet Magazine
Braised Carrots with Crisp Sage
Author:
Prep time:
Cook time:
Total time:
**This dish is wonderful if made ahead! Just chill the carrots after they are done cooking, reheat slowly when you need them, and sprinkle with the crisped sage.
Ingredients
3 Tbsp. extra virgin olive oil
20 fresh sage leaves, rinsed and dried
2 lbs. carrots, peeled and cut, diagonally, into 1 1/2 inch pieces
1 cup chicken broth
1 cup water
1/4 cup minced onion
3/4 tsp. salt
1/4 tsp. pepper
Instructions
Heat the oil in a 12 inch straight edged skillet over medium heat until hot, but not smoking. Add the sage leaves and fry, stirring, until just crisp, 1-2 minutes. Transfer the sage from the pan with a slotted spoon to paper towels to drain and cool.
Add the carrots to the seasoned oil in the skillet. Cook, stirring occasionally, until the carrots begin to brown around the edges, about 8 minutes.
Add the remaining ingredients to the pan, bring to a boil, reduce the heat, and simmer (covered), until the carrots are just tender, about 10-15 minutes.
Remove the lid, and boil, stirring occasionally, until the liquid has reduced significantly and you are left with just enough to glaze the carrots.
At this point, you can transfer them to a container, and chill them until you're ready to reheat and serve, or you can serve the carrots, sprinkled generously with the crisped sage.
ENJOY!