Directions
What have we got?  We've got HAM!
Every year after Easter, I run into the same predicament…what to do with all of this leftover ham?  This deliciously light and fluffy quiche took care of a bit of it last night. This may be my new go-to quiche base as it baked up so nice and light. My girls, who are admittedly quiche-wary, even gobbled up their slices and openly discussed how much they were enjoying it.  What's up with that?  It seems the copious amounts of chocolate eggs and jelly beans put them in a good mood.
 You could easily change up what you add to jazz it up, but this version included a hefty dose of that tasty Easter ham, some fresh spinach, a bit of chopped onion, creamy fontina cheese, and chives.
As my crust prebaked in the oven, I prepped all of my ingredients.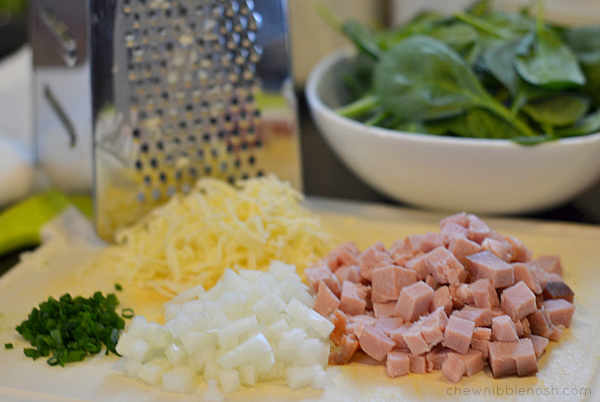 Once the ham, cheese and veggies were ready to go, I got to work on my egg base.  First, I put some cottage cheese in my food processor and whipped it until it was completely smooth.  A lot of quiches get their creamy from heavy cream, but using the low-fat cottage cheese in its place, was the first step in lightening up this recipe.
Once the cheese was smooth, I poured in nine egg whites and three whole eggs.
Bulking up the base with egg whites bumps up the protein, but keeps the calories and fat in check.
I pulsed the food processor until the cheese and eggs were perfectly fluffy and smooth, and then set them aside while I got to work on the stove top.
I heated up two teaspoons of olive oil in my skillet and added in my onion, cooking it until it was soft and just starting to brown up a bit.  Then, I added in my spinach, and tossed it with the onion until it had wilted.
Once it was completely cooked down, I added in my ham, chives, and a bit of crushed red pepper, and let that mixture cook together for a minute or so.
Once that was cooked up and smelling perfectly delicious, I spread it into the bottom of my baked pie crust, and then poured the creamy egg mixture over the top.
I sprinkled the quiche with the shredded fontina, and it was ready to pop in the oven.
The quiche took about forty minutes in the oven to firm up completely.  I started checking at around thirty minutes, but it needed a little more time.  If you check your quiche and it's still really jiggly in the middle, give it some extra time to set up.
It sure did smell good, though, and bringing it out of the oven brought everyone into the kitchen.
The filling baked up so perfectly light and fluffy, not heavy in the least, and the ham, cheese and veggies were so flavorful.  It really was, quite possibly, the best quiche I've ever baked up, and the best one for me, health-wise, as well.
It's a good thing I have even more ham left over to freeze for next time!
LIGHTENED UP HAM & SPINACH QUICHE
Adapted from Cuisine at Home
Lightened Up Ham & Spinach Quiche
Author:
Prep time:
Cook time:
Total time:
Ingredients
1 frozen deep dish pie crust, ready to bake (9 inch)
3/4 cup 2% cottage cheese
9 egg whites
3 eggs
1/4 cup diced onion
2 tsp. olive oil
3 cups baby spinach
1 cup diced ham
1 Tbsp. minced fresh chives
1/4 tsp. red pepper flakes
1/4 cup shredded fontina cheese (you could substitute another mild cheese, like mozzarella or provolone)
Instructions
Preheat the oven to 400*F.
Prebake the pie crust according to the directions on the package. Set aside.
Puree the cottage cheese in a food processor or blender until creamy and smooth. Add the egg whites and whole eggs, and pulse until thoroughly combined. Set aside.
Heat the oil in a skillet over medium heat. Add the onion, and cook until softened.
Add the spinach and toss until the spinach wilts down. Add the ham, chives and crushed red pepper. Cook, stirring, for 1 minute.
Spread the ham and spinach mixture in the prepared pie crust, and place the crust on a baking sheet.
Pour the egg mixture over the ham and vegetables, filling the pie crust.
Sprinkle the top with the fontina cheese.
Bake, at 400*F, for 35-40 minutes, until the filling is set in the center.
Allow to cool for a couple of minutes before slicing.
ENJOY!