Directions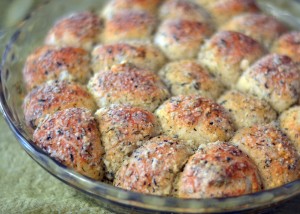 If you took a group of twenty people and asked them what their favorite smells were, I'm betting that a pretty high percentage of them would have "freshly baked bread" on their list.  There's no replacement for that smell.  Nobody's been able to bottle it up and sell it as a convincing air freshener.  It's yeasty perfection can't be found in candle form.  It's a tough one to duplicate.
I, like a lot of people, love that smell.  I've had an almost embarrassing amount of odd jobs over the years, but when I was in high school, I worked in a bakery.  Coming into work at 8 AM on a Saturday morning and being greeted by the delicious aroma of loaf after loaf of fresh-baked bread as I walked in the door almost (keep in mind, I was 15) made getting up that early worthwhile.
I don't bake a lot of yeast based breads.  Even though I was surrounded by the process as a teenager, baking a good loaf of bread really intimidates me.  Proper baking takes time, patience, skill, and special equipment.  Despite the amount of time I spend in the kitchen, I'm just not up to taking on the task quite yet.  Someday, I really want to buckle down and perfect the ultimate crusty, artisan loaf.  Until then, I'll play it safe and mess around with other people's hard work in the form of frozen bread dough, as I did here!
I made these rolls for dinner a few nights ago and they were a huge hit.  By the time dinner was cleaned up, the pie plate I'd baked these in was empty.  It wasn't a crowd at dinner, just the four of us, but because of these rolls, we all spent some time that night turning into major carbo-holics.
I started with some frozen dinner roll dough.  In your grocery store's freezer section, you should be able to find both frozen bread dough (in loaves) or plain, frozen rolls (the same dough as the loaves, just in tiny form).  Before I could work with them, they needed to thaw out just a bit.  I set twelve rolls out on a sheet of waxed paper on my countertop and allowed them to thaw for about thirty minutes.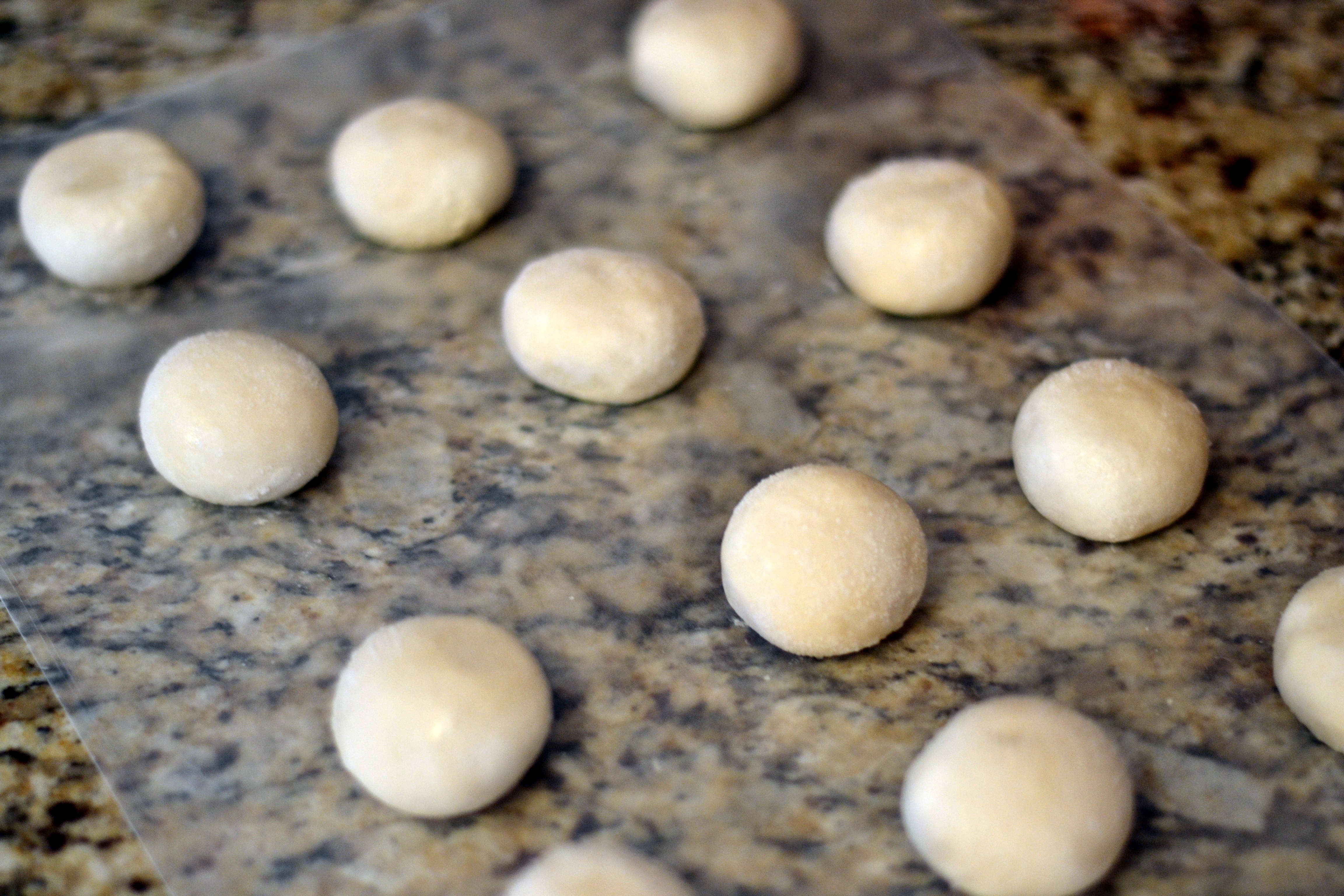 As they thawed, I got my cheese, herbs, and melted butter together.  I stirred together some grated Parmesan cheese with some dried dill, thyme, basil and rosemary.  In the other bowl, I melted down six tablespoons of salted butter and stirred in a couple of cloves of minced garlic.
Once the bread had thawed a bit, I tore each roll in half, rolled each half into a new ball and dipped it in the butter.  After the butter, the dough balls got a good roll in the herb and cheese mixture and then they were placed in a greased pie plate.
At this point, I put a dishtowel over the top of the pie plate and let the dough rise for about an hour.
After the hour passed, I popped the plate into the oven and baked it for just over 20 minutes. As they were baking, my house filled with that delicious, yeasty, freshly baked bread smell.  The yummy aroma filled every room and my family floated down to the kitchen, wondering what was about to come out of the oven, because it sure did smell good!
Once the rolls were out of the oven, they dove in.  My youngest instantly deemed the rolls "blogable" (a fairly new term around our dinner table).  My oldest and my husband agreed.  In fact, I think "Blogable, for sure!" was actually said by one of them.
And so, that's how these little rolls came to be on the blog today.  I hope you enjoy them.  They may not be fancy, the bread itself may not be "homemade", but nobody has to know that, right?  It will be our little secret.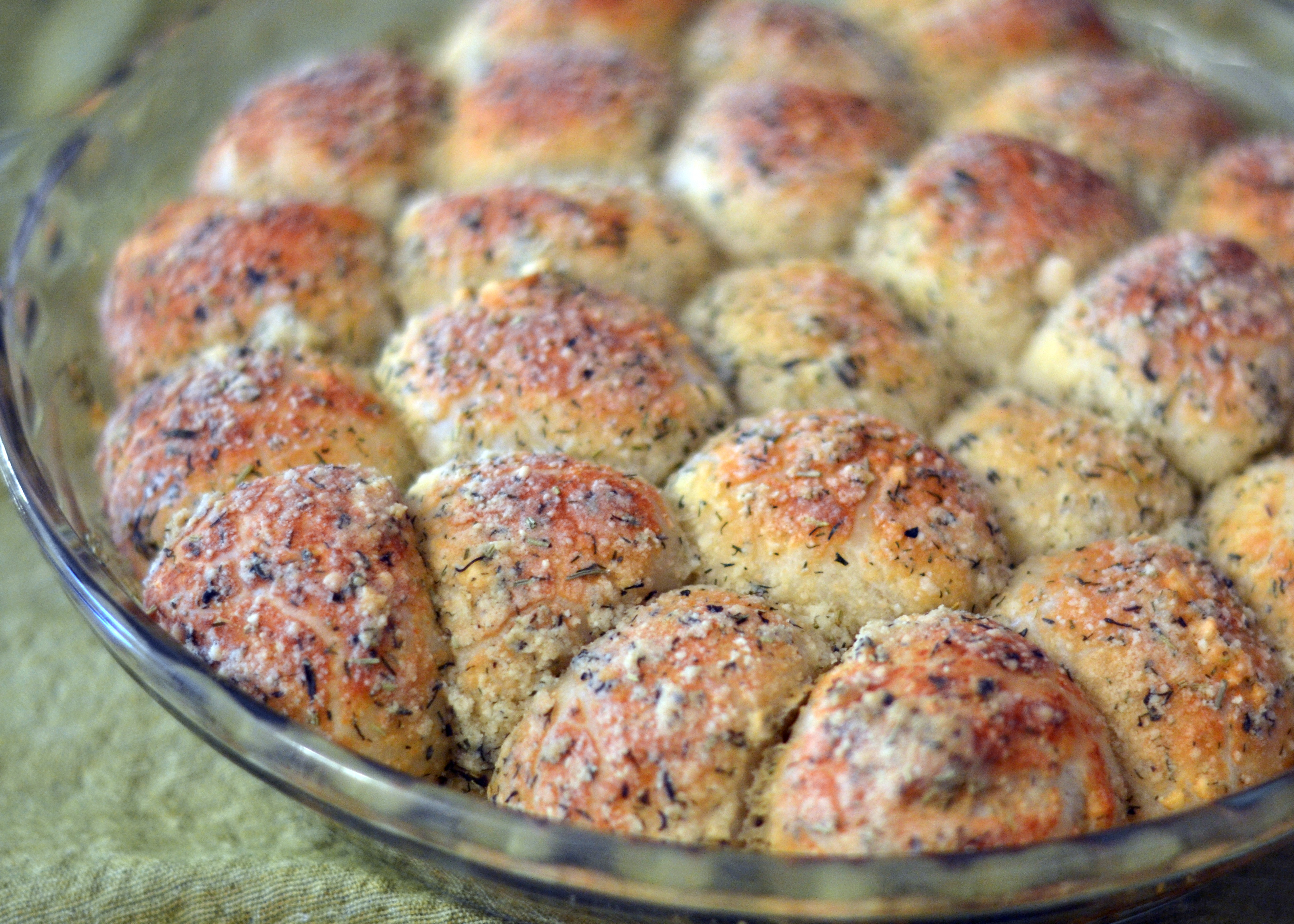 PARMESAN HERB BUBBLE BREAD
| | | |
| --- | --- | --- |
| Parmesan Herb Bubble Bread | | |
Author:
Total time:
1 hour 25 mins
Ingredients
12 frozen unbaked, yeast dinner rolls, thawed (I used Kroger brand)
3/4 cup grated Parmesan cheese
1 tsp. dried dill
1/4 tsp. dried thyme
1/4 tsp. dried basil
1/4 tsp. dried rosemary, crushed
6 Tbsp. butter, melted
2 tsp. minced garlic
Instructions
In a small bowl, combine the cheese and the herbs. In another small bowl, combine the melted butter and the minced garlic.
Divide each roll in half and roll each half into a new ball. Coat the dough balls in the butter mixture and then roll in the cheese mixture. Place the dough balls in a greased pie plate.
Cover with a dishtowel and let the dough rise for an hour.
Bake in a 350* oven for 22-25 minutes, or until golden. Cook for a couple of minutes before diving in. Pull apart rolls to serve.
Serve warm.