Directions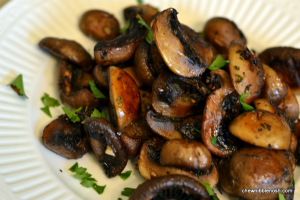 As you've probably guessed after reading this blog, there's not much I won't eat.  Up until recently, however, mushrooms were on my No-Fly list.  My parents have told me time and time again, that when I still small enough to be in a high chair, I loved mushrooms so much that my mom would saute some to have with dinner, and my dad would have to fight me for them.  I don't believe them. I don't ever remember a time as a child when I came near a mushroom without cringing.
As I've grown into an adult (The jury is, actually, still out on that one.), my hatred of mushrooms has waned just a bit.  I don't hate them, but they're still not my favorite.  I prefer them raw, in a salad or on a veggie tray.  Cooked?  Blech.  Nine times out of ten, cooked mushrooms just look and taste like muddy slime to me.
I ran across this recipe on Pinterest, though, and I decided to put my slimy mushroom heebie jeebies aside and give it a go.  Why, you ask?  Well, after roasting a kazillion different veggies and loving every one, I thought it may just work with mushrooms too.  Plus, I thought that maybe, just maybe, roasting them wouldn't leave them slimy.  Oh, and tossing anything in balsamic vinegar, garlic and thyme usually works for me.
I took out the ingredients and set to work.
My husband looked at me like I was crazy.
I still set to work.
I cleaned a pound of white mushrooms, took off the stems and cut the larger ones in half.  You could use fancier mushrooms, if you're a mushroom person, but I thought it was safest for me to stick with the basics this go round.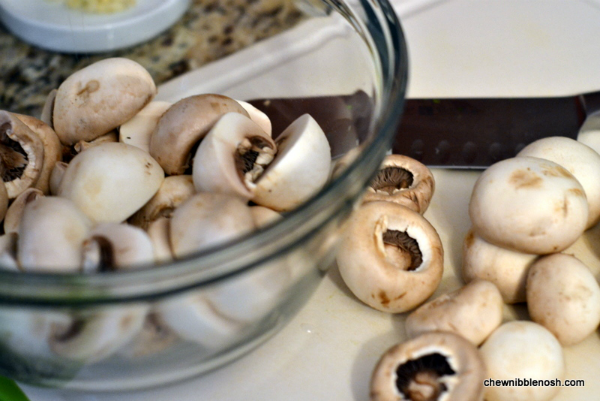 Once they were prepped, I tossed them with some olive oil (which soaked in immediately), spread them out on a cookie sheet, and sprinkled them with salt and pepper.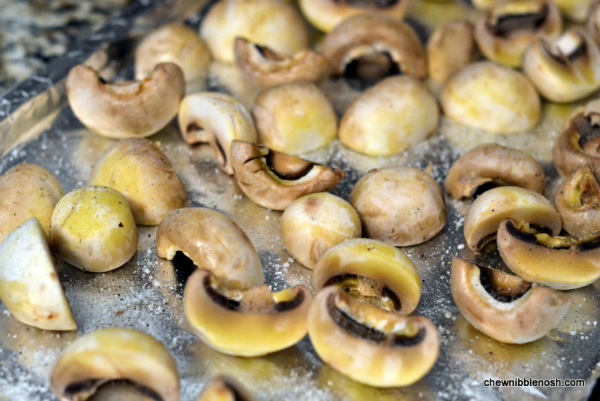 They went into the oven to roast for about fifteen minutes.
As they were roasting, I mixed together my "It's Got to Make it Taste Spectacular" mixture of Balsamic vinegar, minced garlic, fresh thyme, and olive oil.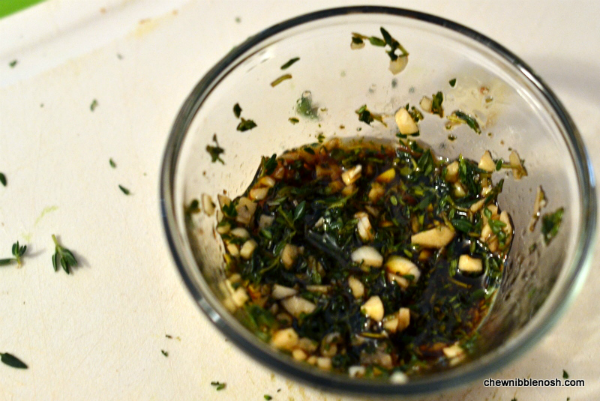 After fifteen minutes, I took the mushrooms out of the oven, poured off the liquid from the pan, and then tossed the mushrooms with the garlic mixture.
I crossed my fingers, popped them back into the oven, and hoped for the best.
They cooked for about fifteen minutes more, until I noticed that the mushrooms started to caramelize on the bottoms and started to look a little "drier".  Remember, I'm afraid of mushroom slime!  If you like them a little more slippery, you may want to remove them from the oven around the ten minute mark.
I served them up that night alongside some steak and salad, and I have to admit, they were pretty awesome.  They weren't slimy at all, but instead were packed with flavor, and meaty and rich.  If left to my own devices, I probably could have polished off the entire pan.  (DISCLAIMER: Mushrooms shrink while they cook, so it really wouldn't have been that difficult.)  My parents will be so proud.
I have a renewed faith in the fungi.
ROASTED MUSHROOMS WITH BALSAMIC, GARLIC AND THYME
Adapted from Kalyn's Kitchen
Roasted Mushrooms with Balsamic, Garlic and Thyme
Author:
Prep time:
Cook time:
Total time:
Ingredients
1 lb. fresh mushrooms
2 Tbsp. + 1 tsp. olive oil, divided
salt and pepper, to taste
1 Tbsp. minced garlic
1 Tbsp. Balsamic vinegar
2 Tbsp. minced fresh thyme
1 Tbsp. chopped fresh parsley, for garnish
Instructions
Preheat your oven to 400* F.
Clean and remove the stems from the mushrooms. Cut the mushroom tops in half.
Toss the mushrooms with the 2 Tbsp. olive oil and season well with salt and pepper.
Spread the mushrooms out on a cookie sheet.
Roast the mushrooms for 15 minutes.
As the mushrooms are roasting, mix together the Balsamic vinegar, minced thyme and garlic, and 1 tsp. olive oil.
Remove the mushrooms from the oven, pour off any liquid that has accumulated, and then toss the mushrooms with the Balsamic-garlic mixture.
Return the pan to the oven, and roast for another 10-15 minutes, or until the mushrooms have begun to brown and caramelize.
Sprinkle with chopped parsley. Serve immediately.
ENJOY!